Welcome to the new McKeen's Hockey website
We offer three levels of subscription in addition to a number of great products in our store, including our McKeen's Hockey Pool Yearbook and McKeen's NHL Draft Guide that we have been publishing for many years.
Our three levels of membership are:
McKeen's NHL Yearbook online – $7.99 for six months
 McKeen's NHL Draft Guide online – Starting at $4.99 a month
The Goalie Guild Premium content – $7.99 for six months, or $12.99 a year.
About the McKeen's NHL Yearbook online:

It has been our desire to provide the content from McKeen's Hockey Pool Yearbook online for some time. McKeen's Hockey Pool Yearbook has been published since 1994, founded by Iain Morrell, who is still writing and editing the magazine along with editorial director Gus Katsaros and other McKeen's contributors. It has been a trusted friend to many poolies on draft day for quite some time.
The most exciting thing about an online version of the McKeen's Yearbook, offered at the same newsstand price of $7.99, is our ability to update it throughout the year. It will not only be crucial and current at your draft, but will provide the tools and info you need for your roster changes and trades throughout the season. In order to provide a sample of what we offer, we have made the Anaheim Ducks team page and their top twenty player profiles available free without a subscription. This will provide a good understanding of what is included in a membership. Visit the NHL home page here to see the exclusive rankings, premium articles and expanded stats that are offered as well.
McKeen's editorial will provide updates, but we have also partnered with some great fantasy hockey resources to ensure you are up to date. Rotowire provides player updates and recommendations, including injuries, in real time. We also have current (the last three games) line combinations for players and teams rovided by Frozen Pool (of dobberhockey.com). Drawn from NHL game stats these are the real reflection of the lines coaches are currently using. A Google newsfeed and current career stats provided by eliteprospects.com complete everything you need to manage your team.
About McKeen's Hockey NHL Draft Guide online:
McKeen's Hockey has been an online presence on the Rivals Yahoo! Network for many years providing editorial on NHL draft eligible prospects on a subscription basis. We have also published the McKeen's NHL Draft Guide annually as a PDF for many years. Our team of scouts is based in Throughout North America and Europe. The team led by Morrell includes director of scouting, David Burstyn, a former NHL scout, Joakim Grundberg, director of european scouting and current head scout for Modo in the Swedish Elite league, Justin Goldman, director of goalie scouting and founder of The Goalie Guild, and a full team of 15, with contacts throughout the hockey scouting world. Our scouts attend the key tournaments and games and are on top of how players are progressing in their draft year.
If you are interested in the upcoming NHL draft, it is a critical tool to give you accurate, and timely, profiles on the players that are eligible. It will include a searchable database of current scouting reports on players, but also some great premium editorial content provided by our established team. McKeen's is well respected by the media and NHL personnel and can provide something of interest for fans and pros alike with subscriptions starting at $4.99 a month. You can find more detail and player page examples here.
The print version (PDF) of the McKeen's 2013 NHL Draft Guide can be purchased here: McKeen's store
About The Goalie Guild:
The Goalie Guild was founded by Justin Goldman offering a laser focus on goaltending at all levels. Comprehensive coverage with indepth analysis and scouting breakdowns of goaltenders in all leagues, from the juniors through to the NHL. There is quite simply no greater resource on goaltenders available. He joined McKeen's as Director of Goalie Scouting in late 2012., He is providing great free content and some invaluable premium content with a subscription. Included in the susbcription are  1. Top 100 prospects 2. 2013 Draft Watch list 3. The Graduates 4. Dark Horses
Our mobile web app is a handy resource wherever you are. It is accessed through the browser on your smart phone or tablet using the same log in credentials as the website. Please click on the links below for some examples on pages: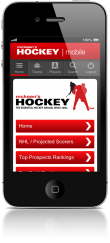 Draft eligible player page (2013 NHL Draft Guide)
We have had a lot of positive feedback, which we appreciate, but some questions as well. We hope you find the following answers helpful. Please keep sending us your comments. They help us build a better site.
FAQ's
Q: Is there a PDF available of the McKeen's Hockey Pool Yearbook magazine?
The online version is not a PDF of the magazine. It is an interactive website with sortable charts, line combinations, team analysis, and individual player pages. This format allows us to provide real time information on line combinations, injury updates, and to provide our McKeen's perspective on players all season long. It offers us a lot of flexibility in how we can continue to build the site, and present information and analysis that is not possible in a PDF.
We are planning to provide an e-book version for the 2013 -14 season, but it would be purchased as a separate product from the magazine and website subscription.
Q: Where do I find the mobile web app and how do I access it?
The mobile web app is accessed through the browser on your tablet or smart phone. It is not found in the app store. You will have access with the same username and password as your McKeen's subscription for both the NHL Draft Guide and McKeen's Hockey Pool Yearbook
Q: How do I access the team pages?
You can access the team pages through the team logos at the top of the website, or through their name links on the right hand side of the NHL Main page, in the subscription area.
Q: How do I access the player pages?
Most of the player names on any list, or depth chart, can be clicked through to the player's page. They are easily found through a player search, but some of the best ways are through the line combinations, the player predictions on the team page, or the top 475 projected player list among many other lists and rankings..
Q: Are the charts sortable?
Yes they are. Simply click on the category heading you are interested in ranking. We have tried to include stats not readily found elsewhere, such as quarterly points per game stats, blocked shots, hits, takeaways and giveaways. We will continue to find interesting ways to present stats and analysis.
Q: Can I print the charts?
Most of our charts are downloadable to an excel spreadsheet, in which you can add notes, do your own ranking, and print it for your draft. We will update it as much as possible until the season starts and through the first month if there are significant changes.