As a big hockey country but a small country otherwise, Sweden rarely wins gold at junior level. This age group of 2000-borns has been strong, with many players doing well for themselves at elite senior level already. I haven't done the math, but I can't remember an age group with so many players already playing senior hockey at this age in Sweden. Eleven 2000-born players played most of their games at elite senior level (SHL or Allsvenskan) this season.
As a national team they won the U17 WHC and won bronze at the Hlinka tournament. Obviously, they will miss their best player in Rasmus Dahlin who also did not play at the Hlinka or this tournament last year either because he played with men's national team. They will also miss some other key players like Rasmus Sandin (OHL-playoffs) and Filip Hallander (knee injury).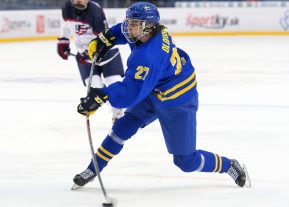 Absences notwithstanding, this is still a strong team with five returning players from last year's tournament. The big center Jacob Olofsson impressed in that tournament, especially with his highlight goal versus Canada in the quarterfinal. Adam Boqvist showed his skills that put him in the top of many early draft rankings for this years. The other returnees are big defenseman Adam Ginning and the big centers David Gustafsson and Oskar Back.
What stands out with this year's Swedish team is the skills on their core of defenseman and the size of the centers. Those assets in the team will make Sweden a hard team to beat. I believe that Sweden will have a good chance of achieving good results at this tournament and probably are the best European team on paper.
The weakness may be in goal, where Olof Lindbom have been the only goalie to continually count on over the three years of international hockey for this age group. His development has been injury prone but he has delivered for the national team. He will most likely be the starter in this tournament. The biggest goalie talent in the roster is the late 2002 born Jesper Wallstedt who has impressed at every level he has faced. This year will probably be more of a see-and-learn experience for him, but who knows?
The defensive core has good balance between offensive defensemen, two-way defensemen and defensive defensemen. The standouts in the categories are Boqvist and Nils Lundkvist (offensive), Filip Johansson (two-way) and Ginning (defensively).
This year's group of forwards have a very strong core of big centremen (Olofsson, Gustafsson, Back and Marcus Westfalt). All four will probably not play center though as they all are good enough to be big contributers. The wingers are speedy and creative (standout: Jonatan Berggren) and with some good goal scorers (standout: Samuel Fagemo and Lucas Wernblom).
TOP 10 to watch:
10. Nils Hoglander FW
- A potential surprise player with his individual skills. He has great balance and puck skills. He struggles a bit with consistency and can also be a non-factor depending on which role he gets.
9. Adam Ginning D
- Big with reach and sound positioning. He needs to be effective defensively for this team to win in the big games. He has mobility and okay puck skills as well.
8. Olof Lindbom G
- Lindbom was the MVP of the J18 playoffs in Sweden but can he deliver in the big games at this stage? He is big and plays a tight game, not a spectacular goalie.
7. Marcus Westfalt C
- Big and smart. He plays responsibly and can deliver both offensively as defensively. He has been a regular for his SHL team a big portion of the season. He has developed his skating this season.
6. David Gustafsson C
- Hard working two-way player that is strong in both power play and PK. He is strong physically and is a dangerous player in front of the goal on the power play.
5. Filip Johansson D
- A very smart and mobile two-way player who is a good puck distributor. He plays well positionally and has good control of the puck. Has been a regular for Leksand in Allsvenskan.
4. Jacob Olofsson C
- Center playing both power play and penalty kill for the best team in Allsvenskan. Steps up in big situations and tries to create offense. Sometimes sloppy and needs to cover the puck better but a very interesting prospect and an important tournament for him.
3. Jonatan Berggren FW
- Speed, creativity and smooth hands. The smallish forward is a very strong junior player that has been a point producer at all junior levels this season. He is the best point producer for this national team and was the top scorer in SuperElit.
2. Nils Lundkvist D
- A very smart player with strong puck control and skills. Has been charming his way into the SHL where he has been able to be an effective puck-mover. He likes to join the attack but rarely gets caught on the wrong side of the puck.
1. Adam Boqvist D
- His lack of defensive awareness has been keeping him out of regular minutes at senior hockey. His puck skills are tremendous though and he absolutely dominates at junior level, both in the Hlnika tournament as well as in the SuperElit. Needs to perform well here to keep his status as a high first round pick. Nobody doubts the potential but how much of a long-term project will he be?