Subscribe
Get in-depth hockey coverage from McKeen's Hockey Online!
We have profiled and scouted hockey players from junior (McKeen's NHL Draft Guide) through to the NHL (McKeen's Hockey Yearbook) since 1994
Our website is a deep resource of player profiles, scouting reports, feature articles and prospect coverage PLUS our three annual magazines
$12.99 for a 3 month subscription  Buy Subscription
$45.00 for 1 year subscription Buy Subscription
*Please note these are a recurring subscription - cancel at any time and

 receive full three months access to site and downloads  
INCLUDED IN YOUR SUBSCRIPTION:
Access to mckeenshockey.com
Premium features and the most extensive database of player profiles and scouting reports available.
Extensive NHL Prospect coverage
Full coverage of the NHL Draft with deep analytical features and detailed scouting reports.
2021 World Junior Championship coverage
NHL player profiles and 2020-21 previews
MCKEEN'S 2020-21 HOCKEY POOL YEARBOOK 
268 page full colour magazine format included with subscription to www.mckeenshockey.com
Top 475 player predictions with over 1000 player profiles
Feature articles
Downloadable charts online - predictions and line combos updated until the start of the NHL season.
Top 300 prospects, top 20 by team with profiles
Top 25 Rookies
The most exhaustive resource available
MCKEEN'S 2020-21 HOCKEY POOL YEARBOOK PRINT ON DEMAND NOW AVAILABLE
We have had a lot of demand for a print edition of the Yearbook and are pleased to make a black and white edition available. Shipping and Handling is extra and varies by territory. The print magazine is NOT INCLUDED IN the online subscription to www.mckeenshockey.com. Information is up to date to December 15th, 2020.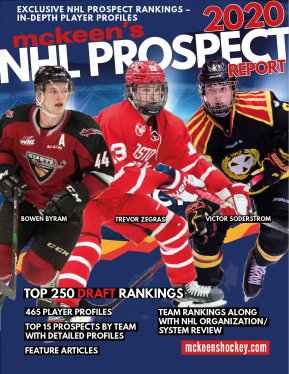 McKeen's 2020 NHL Prospects Report 
PDF full colour magazine format included with subscription to www.mckeenshockey.com
Top 250 NHL Prospects Ranked
Top 15 prospects by team with profiles (465 prospect reports)
Team Rankings along with NHL 0rganization/system review.
Feature Articles
McKeen's 2020 NHL Draft Guide
PDF full colour magazine format included with subscription to www.mckeenshockey.com
217 players ranked, 100 Honourable Mentions - notes and analysis on all.
Feature articles
Mock Draft
Online Draft reviews by team - Who  won, who lost
Feature Articles