The McKeen's team, led by Iain Morrell, publisher, and David Burstyn, director of scouting will be profiling draft-eligible players all season leading up to the publication of our McKeen's 2013 NHL Draft Guide in May. Take advantage of a free month online subscription with pre-purchase.
The 2013 Draft Guide (available as a PDF in May) will include:
Top 120 prospects eligible for the 2013 NHL Draft
Honourable mentions and sleepers
Top 30 prospects eligible for the 2014 NHL Draft
Top 10 prospects eligible for the 2015 NHL Draft
Top 4 prospects eligible for the 2016 NHL Draft
Our Digital Edition, available with a subscription, will include premium articles (found here) and a searchable database of player's, containing  the scouting reports and profiles that will contribute to the final guide. You can monitor a players performance as he progresses over the season. The player pages will be easily accessed through your smart phone or tablet with our web mobile app. You can check our scouting reports while at the rink!
Purchase the print edition (PDF), publishing on May 30th, 2013, here: McKeen's Store
 Here is Jonathan Drouin's player page, as an example. Click on the image for a larger version.
McKeen's profiles and Scouting Reports – Where there are multiple game reports and profiles we will include them all, and date them,  so you can chart a player's progress.
A Google newsfeed for each player.
McKeen's Notes – Some brief notes and observations.
Career Stats – these will be updated and current provided by eliteprospects.com.
Player Editorials - a round up of all the articles in which we have mentioned the player.
We have included some close ups of his page at the end of the article for you to look at in more detail.
The Player pages are accessed by clicking the

players name

on our draft rankings. Click on the photo for a larger version.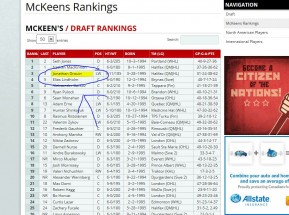 Our rankings are searchable and can be downloaded to an excel spreadsheet for you to print, or add your own notes and ranking
For easy and interesting searching we will offer multiple rankings to access player pages by:
North American Players – Sorted by OHL, QMJHL, WHL, CDN Jr., NCAA, US Jr, US High School, US National Team Development Program
International Players – Sorted by Country – Czech Republic, Finland, Sweden, Russian, Slovakia, Swiss.
About McKeen's Hockey NHL Draft Guide:
McKeen's Hockey has been an online presence on the Rivals Yahoo! Network for many years providing editorial on NHL draft eligible prospects on a subscription basis. We have also published the McKeen's NHL Draft Guide annually as a PDF for many years. Our team of scouts is based throughout North America and Europe. The team led by Morrell includes Burstyn, a former NHL scout, Joakim Grundberg, director of european scouting and current head scout for Modo in the Swedish Elite league, Justin Goldman, director of goalie scouting and founder of The Goalie Guild, and a full team of 15, with contacts throughout the hockey scouting world. Our scouts attend the key tournaments and games and are on top of how players are progressing in their draft year.
If you are interested in the upcoming NHL draft, it is a critical tool to give you accurate, and timely, profiles on the players that are eligible. It will include a searchable database of current scouting reports on players, but also some great premium editorial content provided by our established team. McKeen's is well respected by the media and NHL personnel and can provide something of interest for fans and pros alike.
Some quotes from NHL executives:
"McKeen's Hockey offers comprehensive and accurate scouting reports. Their reports are thorough and concise" – Joe McDonnell, Director of Scouting, Detroit Red Wings
"The guys at McKeen's know their stuff! Their reports are very detailed and paint the picture of a prospect." – Rick Dudley, Assistant General Manager, Montreal Canadiens
We hope you join us, but in the meantime we hope you enjoy the free articles. They are a good representation of the quality you can expect as a subscriber.
More Jonathan Drouin player page photos. Click on them to get a larger view: