While I continue to plug away on my first report on the top goalies for the 2013 NHL Draft, I wanted to check in and drop some notes and insights on a few NCAA goalies I've recently evaluated.
As we all know, big goalies are coveted by teams at all levels, and for good reason. If they have solid skating fundamentals and a strong work ethic, filling more space with a bigger body is a god-given advantage. This isn't to say smaller goalies can't be effective at the highest levels – quite the opposite, actually. But scouts know that size matters, so the taller goalies often get more opportunities.
Even with the advantages of size, bigger goalies still face a variety of technical obstacles. They have to shut down a bigger five-hole. They have to be mobile and athletic enough to still scramble well. They have to work just as hard to seal the space under their arms, and they have to work harder to stay low to the ice when pucks are moving back and forth behind their net.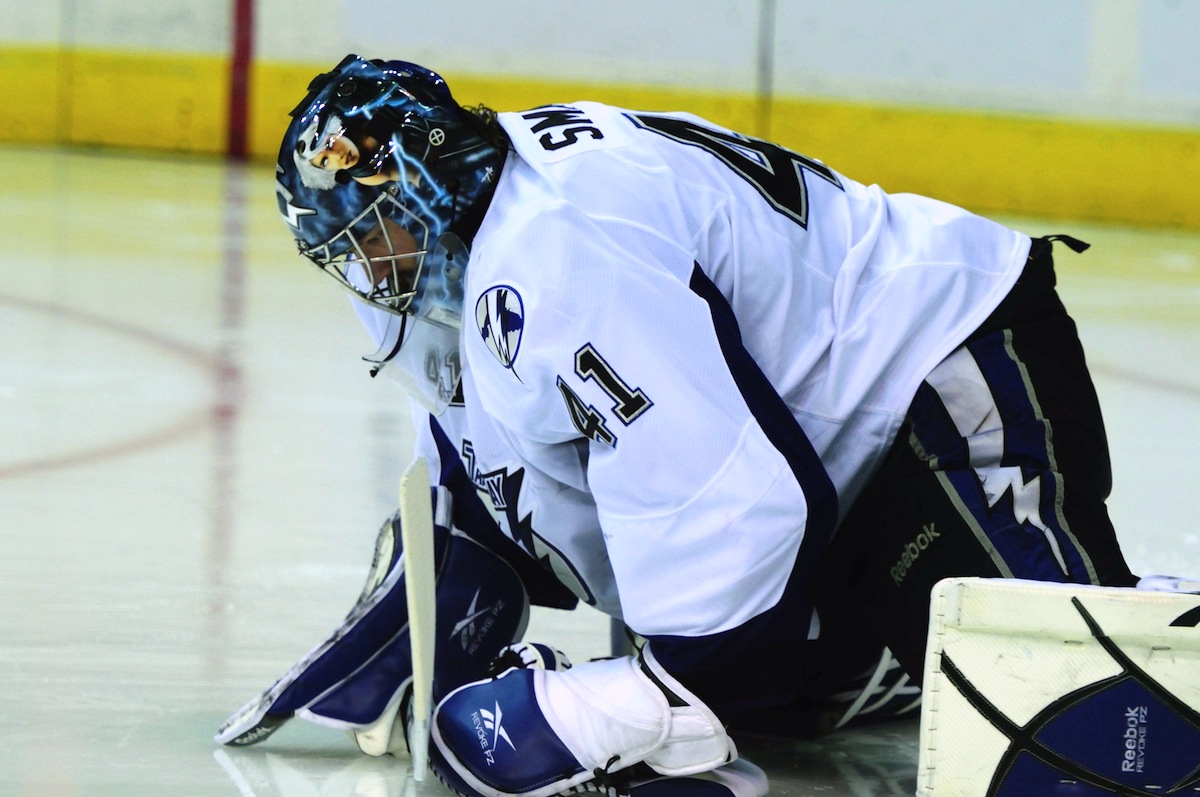 Mike Smith is a perfect example of a big goalie utilizing his size effectively
Photo Copyright: Tom Turk - Piratical Photography
They also have to know how to play deeper in the crease in a comfortable manner, and without over-moving or over-challenging. When you're 6-3 or taller with a massive wingspan, it's not always easy.
If a prospect suddenly hits a growth spurt, they must also work hard to be aware of exactly how much space their body covers. Some goalies simply don't have the best understanding of their actual size, and therefore they don't have the most effective angles or positioning in goal. I consider it an aspect of spatial awareness, which is why video feedback is so vital for developing goalies.
For example, a bigger goalie might hold their glove hand a few inches too high, which results in them covering space beyond the goal frame. As they get taller, they have to make slight adjustments to compensate. Too much depth can do the same thing, as a bigger goalie might square up to a shooter too high in their crease, which has them covering space outside of the goal frame. By making the minor adjustment to play a half-step or a few inches deeper, they're not only covering space more appropriately, they're moving less.
So even though bigger is certainly better, just like positioning is crucial for a smaller goalie, the same holds true for the big boys.
Even when bigger goalies go undrafted, I still pay close attention to their development into their early-to-mid 20's. These guys can still sign entry-level contracts as unrestricted free agents, and with many teams afraid to draft goalies in early rounds, it is often these "under the radar" big guys that earn opportunities when they're a little older.
A few recent examples include former Ohio State goalie Cal Heeter, who signed with Philadelphia and is already splitting time with Scott Munroe in Adirondack, and even European goalies like Niko Hovinen and Niklas Backstrom.
With that in mind, below are three "bigger" goalies that I feel could have a solid future at the pro level…and one could even be drafted this summer as a late-round steal.
Adam Clark - Salmon Arm Silverbacks - Photo copyright The Goalie Guild
Adam Clark: Currently playing for the Salmon Arm Silverbacks in the BCHL, the 6-5, 210-pound native of Sherwood Park, ALB has starting turning heads at the right time. With an 8-7-1 record and a 2.51 GAA and .924 SV%, he sits ninth in the league in GAA and fifth in SV%. Clark committed to the University of New Hampshire last month, and he recently popped up on NHL Central Scouting's watch list back on Nov. 22 as a C-level skater.
But I feel he has the potential to be a steal in a later round in this summer's draft.
Back in July, I spent a week evaluating Clark in Madison, WI during the 2012 Elite Goalies Mentorship Camp. He was one of four attendees in this exclusive camp, along with ECHL Rookie of the Month Josh Robinson and Wisconsin goalie Landon Peterson. As you can read about here, Clark's ability to improve crucial aspects of his angle play on a daily basis was quite impressive.
By the time camp ended, I knew it was only a matter of time before NCAA teams took notice. Unlike some bigger goalies that rely too much on their size, Adam can be explosive with his movements, and combined with his work ethic and the maturity to stay focused at the junior level, I think he is worth drafting late. With at least four more years of eligibility by taking the NCAA route, as long as Clark continues to work hard and put the pieces together with Salmon Arm, expect more NHL teams to notice him heading into 2013.
Matt O'Connor: My first time evaluating the Boston University freshman and Toronto native came back on Nov. 30 when he stared down arch-rival Boston College. He finished with 33 saves on 35 shots and was the story of the night, earning the game's No. 1 star and the 4-2 win. He stopped 18 shots in the first period alone, which set the tone for his team to play with confidence in all three zones.
What made O'Connor land high on my NCAA radar was more of a positional element and less of an athleticism element. He's certainly a great skater for his size, and that has played a big role in his ability to go 7-3-0 with a 2.22 GAA and .931 SV% in his first 11 games.
But what stood out to me was his aggressive positioning. Most goalies that stand 6-5 (at his age) opt to play deeper in their crease, but whether he was setting up for a faceoff or squaring up to a shot from off the half-boards, he was using all of his paint to make himself even bigger. Whether he did this consciously or not, what matters to me is that an NHL goalie coach could easily teach him to play a little bit deeper, thus maximizing his net coverage and economizing his movements just a little bit more.
Once that happens, and once O'Connor was able to get comfortable playing just a bit deeper in the crease, he could become that much more effective, and elevates his potential at the pro ranks. He's clearly comfortable playing at the top of his crease in most situations, but there's no reason why he can't learn to be just as comfortable playing deeper.
That screams "potential" to me, and while only time will tell, he's a prospect worth tracking as his college career continues.
Chris Rawlings: A senior at Northeastern, Rawlings stands 6-5 and 220 pounds, and has been the backbone of his team for the past three seasons. The North Delta, BC native has posted very steady and respectable numbers during his collegiate career, with save percentages of .913, .920, .916, and through 11 games of his senior season, he has a .924 SV% and 2.35 GAA.
What makes Rawlings such an interesting prospect is the fact that NHL teams have been watching him closely for a few years now. He has attended development camps for the Dallas Stars, Phoenix Coyotes, Montreal Canadians, and Vancouver Canucks, so scouts know he has potential.
Furthermore, I think teams realize that his age is by no means a detractor. That's the funny thing about signing goalies – sometimes the older they are, the more mature they are mentally, and therefore the more consistent they play. It removes some of the guesswork.
That being said, signing Rawlings as an UFA at age 24 brings less risk to the equation because he could provide an immediate impact. Combined with the leadership qualities he brings after excelling in the high-powered Hockey East conference, don't be surprised if a few NHL teams are lined up to sign him when he graduates.
More Big Men: Here are a few other big college goalies that are currently undrafted or unrestricted free-agents. These guys have some buzz surrounding them, so keep an eye on them when you get the chance. Brody Hoffman, Vermont … Jared Coreau, Northern Michigan … Eric Hartzell, Quinnipiac … Eric Levine, Robert Morris