1. ARTEMI PANARIN IS THE BEST KHL IMPORT YET
Panarin has played less than ten games and he's already the best KHL import we've seen yet. Skates well, has good vision and playmaking ability. A great get for Chicago.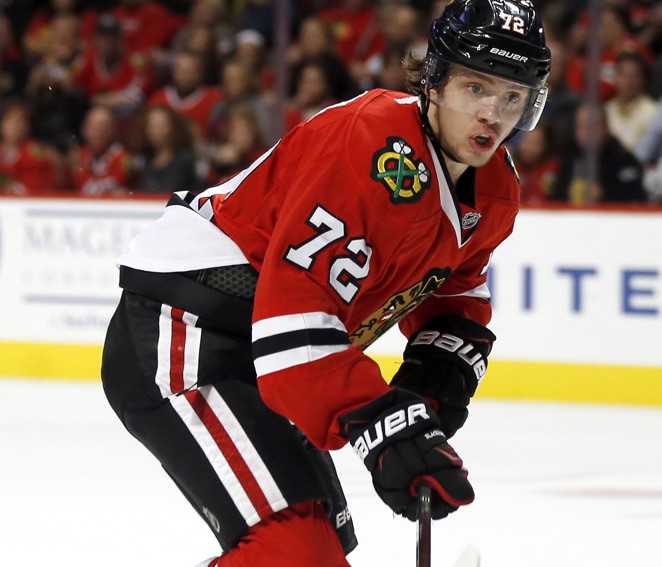 2. BARKOV BREAKING OUT
Barkov is ready to challenge for the Selke, and the Panthers are going to have a shot at the playoffs. It's a shame he got hurt Thursday night, but hopefully he won't miss too much time. 
3. DUCKS, FLAMES HAVE DUG HOLES THEY CAN GET OUT OF
Anaheim and Calgary have both struggled to start out the season, but news of their demise has been greatly exaggerated. The Ducks don't need to fire Bruce Boudreau (nor should they), and the Flames aren't Colorado 2.0. That Avs team didn't have remotely as talented a defense corps, and it still doesn't. Both the Ducks and Flames are too good not to bounce back. Besides, look around the NHL right now, you'll see lots of eye-popping stats -- David Krecji leads the league in points, Martin Hanzal has the most assists; I think we can agree neither will be the case when all is said and done. Anaheim trails Winnipeg (second Wild Card spot) by just five points, Calgary by six. Those are not insurmountable. 
4. COACHES ADJUSTING TO DYNAMICS OF USING CHALLENGES 
I think you're seeing mixed results with the coaches challenge so far. You've had cases where the video coaches have called for a review, you've had coaches take a shot at reviewing in the last few minutes of the game because there's nothing to lose. You've had some challenges that should obviously not have been made. So coaches are still getting used to this thing.
5. BLUE JACKETS, JOHANSEN DESERVE TORTORELLA AFTER HORRENDOUS START
The Blue Jackets need someone who will whip them into shape, and Tortorella is certainly capable of playing the part. I also think he made the right call benching Johansen. He's the star and he needs to be better (the points are there, but he has just one in his last four games). At the same time, if you're banking on Fedor Tyutin to be a key cog, your defense is in bad shape. That won't change overnight.