If I told you that, coming into Sunday's game against the Rochester Americans, the goaltender for the Hamilton Bulldogs had a .928 save percentage and 2.34 GAA so far this season, your response might be, "Sure. Joey MacDonald is an experienced and fairly proven NHL-calibre back-up netminder, so he should be a little too good for the AHL."
But the man in question isn't, in fact, Joey MacDonald. This netminder, though 24 years of age, was never drafted, and is in only his first season at the American Hockey League level. While questions about Montreal's more hyped goaltending prospect Zach Fucale have arisen with his ballooning goals against average and save percentage this season, Mike Condon has quickly thrown his name into the mix if the Canadiens should ever need reinforcements at the position.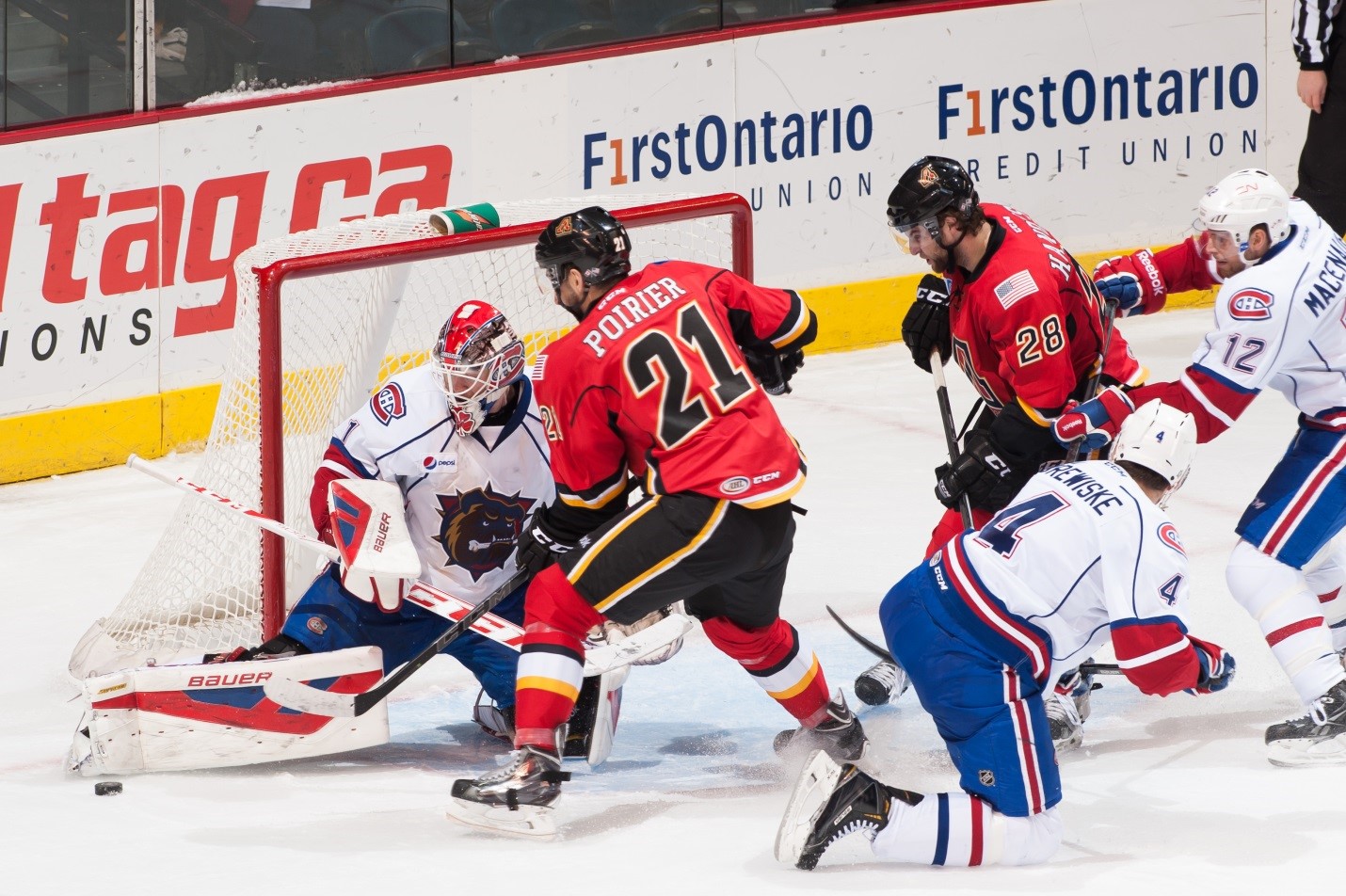 (Photo credit: Brandon Taylor / Hamilton Bulldogs Hockey Club)
Condon, a native of Needham, Massachusetts, went undrafted despite posting strong numbers in two seasons with Belmont Hill High of the USHL. His career continued at Princeton University, where his statistics improved every season, but again he received little attention, due largely to playing only 29 games total through his first three seasons with the Tigers. Finally given the starter role in his senior year, Condon's sparkling .923 save percentage and 2.48 goals against average earned him tryouts with the ECHL's Ontario Reign and AHL's Houston Aeros.
But when it came time to signing his full-time deal, the goalie opted for the two-year entry-level contract tendered by the Montreal Canadiens. A peculiar decision perhaps when you consider it meant slotting behind all of Carey Price, Peter Budaj, Dustin Tokarski, and arguably Robert Mayer in the organization's depth chart, but as Condon told The Trentonian last season, it served as a motivator for him, forcing him to work harder knowing he would constantly be in competition for playing time..
The crowd in front of him meant he spent his first pro season with the ECHL's Wheeling Nailers, finishing among the league's leaders with a .931 save percentage and 2.18 GAA in the regular season, continuing his success into the playoffs with a .926 save percentage and 2.50 GAA on a 10-game drive. With nothing left to prove at that level, the Canadiens made room for Condon in the AHL by first terminating Robert Mayer's contract, and then opting to keep Dustin Tokarski in Montreal by trading Peter Budaj.
This new challenge, however, also meant Condon would once again have to earn every start, as he was penciled in as a clear second fiddle to veteran Joey MacDonald on the Hamilton Bulldogs' 2014-15 roster.
"Whenever you move up a level, the shots are that much quicker. The margin for error is that much smaller. You can be exposed a lot easier. It's definitely a step up [from the ECHL]," summarized the keeper during a post-game scrum in Hamilton, conscious of the improvements needed in his own game. "I love playing with Joey Mac; he's a great partner. And he has a lot of experience that I can learn from."
Truthfully, both netminders had big shoes to fill as Tokarski's graduation left the 'Dogs without their most valuable player from the year prior. But MacDonald, with his 46 games of NHL experience over the past three years, should have been more than capable. Should turned out to be the operative word, as though he wasn't entirely to blame, a roster stacked with talent up front and plenty of depth on defense got out to a 4-7-2 start to the season.
While it's not uncommon for a coach to split his goaltenders in a back-to-back situation, MacDonald was outduelled by rookie St. John's starter Connor Hellebuyck, and so Sylvain Lefebvre turned to Condon to tend goal in the rematch. The move paid off, as the American registered is second win of the year, doing enough to outlast another strong effort from Hellebuyck, and getting Hamilton back to within two games of the .500 mark.
Condon is a fundamentally strong first save goaltender.  At 6'2" and just shy of 200 lbs, he has the size that teams are increasingly seeking in netminders, but his biggest strength is down low with lightning quick reflexes in his legs making kick pad saves his typical weapon of choice. At the other end of the spectrum, rebound control is the area he most needs to improve upon. He has an uncanny ability to have deflected pucks land near him, but he still struggles to find them thereafter, forced to track and smother them rather than absorb the initial attempts.
If trends continue as they have, it'll be interesting to see how Lefebvre manages his netminders the rest of this season. The win against the Ice Caps led to Condon getting consecutive starts for the second time this season, and though he was a part of Hamilton blowing a 4-1 lead, he came up big late to force overtime, and ended up recording a second straight win.
It's not that MacDonald has been terrible, but he has failed to make the big save with any kind of frequency, and has been guilty of momentum-shifting softies in some instances as well. We've already seen somewhat of an balancing of playing time between the two, but Hamilton's bench boss is typically hesitant to anoint a true starter, as evidenced last year when Tokarski should've been the obvious #1 over Mayer, but which wasn't always the case in the coach's rotation. Based on their play so far, Condon has earned the opportunity to get into more game action than his counterpart, but it may take more convincing for the staff to supplant an established veteran with a rookie.
The Canadiens will also have a decision to make a year from now, as Fucale will begin his professional career, and the ideal would be to have an established veteran in the AHL to mentor him. Will Condon with his one year in the league be a better choice because of his NHL upside as a possible future back-up? Or will he leave the organization for somewhere with a clearer path to the big league?
"Every year is an opportunity to show yourself. Whether it's practice every day at the rink, every game… I try not to think about that stuff too much. You can go crazy," the goalie said of his aspirations for this year and beyond. "One day at a time, and I'm just happy to be here." And if he can carry on at his current level of play, his teammates and coaches will be very happy he's here as well.
Follow Dan on Twitter @DanKramerHabs