The most illustrious trophy in major junior hockey will be welcomed in beautiful Quebec City as the 2015 CHL Memorial Cup championship heads east and commences Friday, May 22nd. The Western Hockey League (WHL), Ontario Hockey League (OHL) and Quebec Major Junior Hockey League (QMJHL) have all handed out their regional championship trophies, extending seasons for the Kelowna Rockets, Oshawa Generals and Rimouski Oceanic, respectively.
It was a year where all of the pieces seemed to fall into place as each league is sending one of their top teams. The Kelowna Rockets were deemed contenders from the start of the WHL season. The Oshawa Generals established themselves as the top ranked CHL team and dominated the OHL's Eastern Conference. Rimouski were expected to rise to the top and accomplished that as the top seeded QMJHL squad, which was led by veterans. And of course, the always debated host team, Quebec Remparts, showed that they weren't taking the "free" Memorial Cup bid as hosts for granted and made a memorable run to the league final to fairly earn their place in the tournament.
It was the Edmonton Oil Kings who hoisted the Memorial Cup in London last spring ending a three-year run by the QMJHL after championships from Saint John (2011), Shawinigan Cataractes (2012) and Halifax Mooseheads (2013). The Kelowna Rockets are a young exciting team who are looking to return the Memorial Cup back to the Western League. The Oshawa Generals might be the favourites to win as this big, physical, skilled and speedy team is one of the deepest and hardest to play against in the CHL. It's been since 2010, when the Windsor Spitfires won their second of back-to-back Memorial Cup Championships, that an OHL team has claimed CHL supremacy and the Oshawa Generals are a good bet to end that drought. In the East, Rimouski returns to the tournament for the first time in a decade when they last earned a berth in 2005 under the leadership of Sidney Crosby. The Quebec Remparts have a talented squad full of NHL talent that should prove to be a dangerous host squad.
With the Oshawa Generals knocking off the Erie Otters in a surprising five-game series, Connor McDavid won't be headlining the 2015 CHL Memorial Cup but there are plenty of prospects worth watching. Lets have a look.
Kelowna Rockets
Leon Draisaitl (Oilers – 2014, 3rd overall) Spent some time with Edmonton at the NHL level to start the season before being sent back to the WHL. Kelowna acquired his rights and upon his return, Draisaitl gave the Rockets a legitimate superstar finishing atop the WHL Playoff scoring charts with 10 goals and 28 points (19 games), including four goals and seven points in Kelowna's four-game sweep of Brandon in the Championship. Named WHL Playoffs MVP, Draisaitl is the legitimate top prospect heading to Quebec City.
Rourke Chartier (Sharks – 2014, 149th overall) After doubling his sophomore goal production with 48 goals and leading the entire WHL in playoff tallies with 13 goals in 16 games, Chartier has established himself as one of the most dangerous offensive players in the nation.
Tyson Baille (Re-entry for 2015 NHL Draft) Appeared as a free agent invite at the San Jose Sharks camp after going undrafted in his first go at the NHL draft, Tyson Baille rode the momentum to a breakout season (68GP-37G-76P). Dubbed an complete player providing value in all three zones, Baille will need to continue his productive season to give the Rockets some threatening top line scoring. Kelowna relies heavily on its top players so they must keep ticking.
Nick Merkley (2015 NHL Draft eligible) It's been a decorated season for Calgarian Nick Merkley capturing gold at the Ivan Hlinka Tournament for Canada and adding a WHL Championship to his accolades. The undersized yet extremely dangerous playmaker is the top prospect to watch among all NHL draft eligible players competing in the Memorial Cup. Merkley is very entertaining as he creates offence with smart puck distribution skills and a go-hard competitive approach. He was a top 10 WHL scorer in regular season piling up 90 points (with 70 assists including a league high 32 powerplay assists) and finished top 3 in post-season production.
Justin Kirkland (Predators – 2014, 62nd overall) Nashville pick Justin Kirkland took a small step forward this season but remains a fairly raw player in terms of NHL expectations. He's got great length and continues to learn how to use his size but keep an eye on Kirkland – he's the sort of skilled player who could have a great Memorial Cup showing and push Kelowna to the top. Nashville hasn't seen a prospect claim the Memorial Cup since Shea Weber did it in 2014…also with Kelowna.
Madison Bowey (Capitals – 2013, 53rd overall) In his (likely) final WHL season, Bowey is enjoying a memorable ride as he's added a World Junior gold medal, a WHL Championship and looks to finish off the dream season with a CHL Memorial Cup championship as well. Bowey is an elite skater and has settled into an excellent two-way threat showing that it's not all about offensive production. In saying that, Bowey was just a handful of points away from topping all WHL blue liners in scoring (60P).
Josh Morrissey (Jets – 2013, 13th overall) The main piece in one of Kelowna's two blockbuster trades, defenseman Josh Morrissey came in and posted near point-per-game numbers in the regular season (17P in 20 games) and eclipsed that pace in post-season action (14P in 13 games). He wasn't as productive this season (38P) as last year when he racked up 73 points but it was a very production campaign highlighted by a WJC gold medal with Canada and an member of the tournament All-Star team. In his final WHL season, Morrissey has the chance to cap off a tremendous dream season and should be among the top defensive scorers in Quebec.
Oshawa Generals
Michael Dal Colle (Islanders – 2014, 5th overall) The rangy winger with high-end distribution skills and scoring abilities paced all Generals skaters with 93 points and another 25 points in 16 post-season games. He was a surprise omission from Canada's WJC gold medal team but that didn't disrupt his play. It will be interesting to see how Dal Colle handles himself against some of the best defenders in the CHL. Many scouts are watching to see if he can maintain his effectiveness.
Cole Cassels (Canucks – 2013, 85th overall) A quick look back at the '13 draft class and Cole Cassels can easily be considered one of the draft's best steals. Sure, Dal Colle may have led the Generals in scoring but Cassels was easily the team's most valuable skater. Had Connor McDavid not ripped apart the OHL Playoffs, Cole Cassels likely would've walked away with MVP honours. It was Cassels who kept McDavid in check while chipping in a series high 12 points (5 games). Oh ya, his faceoff prowess and defensive presence was unmatched in OHL playoff play and that likely won't change heading into the Memorial Cup. Simply put, Cassels is destined to be a very good pro player.
Michael McCarron (Canadiens – 2013, 25th overall) Talk about taking big strides in development…literally. The 6-foot-6 winger moved to the middle and looked like a totally different player in his second OHL season. He blasted out of the gates with the London Knights showing more confidence, improved puck handling and a more consistent physical game rallying off 42 points, including 22 goals in 25 games. Then came the trade. Oshawa targetted size and skill and the addition of McCarron was the perfect fit. He's nearly impossible to contain and McCarron is now showing the first round talent that Montreal had hoped he'd eventually find.
Tobias Lindberg (Senators – 2013, 102nd overall) A Youngblood favourite this season, Tobias Lindberg is a big heavy winger with an impressive scoring touch. In fact, Lindberg kicked off the playoffs with a natural hattrick in game one versus Peterborough and is always a scoring threat. He was a bit inconsistent through the post-season but his 32 goals and 78 points as a first-year OHLer is stick tap worthy. In a tournament often separated by one big goal, look for Tobias Lindberg to be a factor and potential hero.
Mitchell Vande Sompel (2015 NHL Draft eligible) NHL evaluators will be dialed in on Mitch Vande Sompel as he takes the ice at the Coliseum because the jury is still very much out on this smooth skating versatile defenseman. A skilled puck distributor and breath-taking skater, Vande Sompel led all General defenders in scoring with a dozen tallies and 63 points (58 games), including another 12 points in 16 post-season games. Injuries have concerned some scouts and his size is a red flag but few players own his vision, puck skills and quarterback abilities.Using his experience as a forward in minor hockey, Oshawa bench boss DJ Smith isn't afraid to throw MVS up on forward during penalty kill time.
Hunter Smith (Flames – 2014, 54th overall) After going through his first attempt at the NHL Draft undrafted, Calgary snatched up 6-foot-6 power winger Hunter Smith in the second round last draft. Smith is one of several massive Gens players and his net front presence, physicality and ability to wear down opposing defenses is invaluable.
Anthony Cirelli (2015 NHL Draft eligible) A real feel-good story after going undrafted through the OHL draft, Anthony Cirelli signed on with the Generals as a free agent and almost immediately worked his way up into a top-six role. Cirelli is a hard-working winger who takes no shortcuts and has caught the eye of NHL scouts due to his smart and fairly skilled game.
Cirelli has a significant opportunity to really elevate his draft stock on the national stage.
Matt Mistele (Kings – 2014, 180th overall) Brought in from the Plymouth Whalers, Mistele has stepped into a supporting offensive role nicely without disrupting chemistry. An opportunistic scorer who sneaks into open slots undetected, Mistele has been the perfect compliment to Oshawa's star forwards.
Brent Pedersen (Hurricanes – 2013, 126th overall) Joining Oshawa from the Kitchener Rangers, Pedersen has been a welcomed addition providing a big powerful presence. DJ Smith is a master at utilizing his depth and players' versatility and Pedersen is capable of wearing several different hats.
Stephen Desrochers (Re-entry for 2015 NHL Draft) Taking advantage of increased ice-time after Will Petschenig was knocked out for the remainder of the season, Stephen Desrochers has elevated his game to new levels…launching himself up the draft boards. Passed over in 2014, the 6-foot-4 native of Toronto has displayed good mobility, calculated puck decisions and a rather impressive point shot. In Oshawa's 21 playoff games , Desrochers has chipped in four goals and 12 points, including five versus the Erie Otters to help clinch the championship.
Josh Brown (Panthers – 2013, 152nd overall) Picking up all of the tough defensive minutes, Josh Brown takes the ice against opposing teams' top offensive units and that won't be any different in Quebec. Brown will be used to stop the likes of Leon Draisaitl (Oilers), Anthony Duclair (Coyotes), Adam Erne (Lightning) and Frederik Gauthier (Maple Leafs) meaning the Gens captain's task will be challenged every second of play.
Dakota Mermis (Free Agent) Oshawa GM Roger Hunt made a lot of shrewd acquisitions to address team needs but his best might have been adding minute-munching defenseman Dakota Mermis from London. He's an excellent skater, proven powerplay contributor and downright determined defender who was one of the key fixtures of the Gens blueline. Mermis will be skating in his third straight Memorial Cup and will be playing for a pro contract…one that he undoubtedly deserves.
Sam Harding (2015 NHL Draft eligible) Buried a bit on a very deep Oshawa roster, Sam Harding didn't have the flashiest of draft seasons. Dating back to his minor hockey days, Harding has been an excellent two-way player with a smart hockey mind and the Memorial Cup will be one last opportunity to show that he's worth a late round selection this June.
Ken Appleby (Re-entry for 2015 NHL Draft) Learning the ropes and having to wait for his "time" behind Daniel Altshuller for two seasons, Ken Appleby stepped into the Generals crease and didn't look back, establishing himself as one of the leagues top puck stoppers. Blessed with great size and a competitive drive, Appleby eats up pucks using a blocking style. He posted the best goals-against-average (2.08) in regular season play and suited up as Oshawa's starter in every game of their Championship run. The Generals' 2nd round selection in 2011 is now looking to be drafted in his final chance of the NHL draft and he's certainly worthy.
Rimouski Océanic
Frédérik Gauthier (Maple Leafs – 2013, 21st overall) Playing in big games on big stages is nothing new for defensive minded pivot Frederik Gauthier after playing crucial shutdown roles with Team Canada's over the past two World Junior Championships. An exceptional defense-first centreman who owns massive size and notable faceoff prowess, Gauthier has also improved his skating substantially. He will never be leaned on for offensive production but he'll give it 110% every shift and has proven to be an instrumental piece on winning teams.
Anthony DeLuca (Re-entry for 2015 NHL Draft) It's been a waiting game for Anthony DeLuca as the small tenacious winger with underrated skill has never been drafted through two NHL drafts. After leading the Oceanic in scoring in 2013-14 (78 points) and finishing with a team high 44 goals and 91 points (2nd), it's time to take this little fireball seriously.
Christopher Clapperton (Panthers – 2013, 122nd overall) Arguably the Oceanic's most valuable forward, Florida prospect Christopher Clapperton (awesome hockey handle) is an industrious winger with a scorer's touch as evident by his 139 QMJHL goals over 299 career games. The 1.14 point-per-game Q forward plays in all situations and will be a vital part of Rimouski's MemCup success. Clapperton has yet to be signed by the Florida Panthers so he will have extra incentive on playing a strong tournament.
Alexis Loiseau (Free agent) Playing downstream of the Fleuve Saint-Laurent from hosts Quebec City, overage Rimouski forward Alexis Loiseau will use the national tournament to endear himself to hockey watchers outside of Canada's eastern region. A do-it-all type of player, 20-year-old Loiseau led the Oceanic in regular season scoring with 96 points and continued his production through the crucial moments of playoff action. Look for NHL teams to give this free agent a long look as a potential offseason signee.
Michael Joly (Re-entry for 2015 NHL Draft) Joly has been a point-per-game player in the Q for two straight seasons but his coming out party has certainly been during Rimouski's recent QMJHL Championship run. He's been the trigger man and Mr. Clutch for the Oceanic scoring 12 times in the post-season, including five against the Remparts to win the championship. His last goal was the double overtime championship winning snipe. Rimouski's hoping for much of the same from Joly over the next few weeks.
Samuel Laberge (2015 NHL Draft eligible) The 6-foot-2 winger isn't leading the offensive charge in Rimouski but that's to be expected from a secondary option on a veteran ladened team. Four of his five playoff points came against the Remparts in the final series. Will he be able to keep the momentum rolling and catch the eye of NHL scouts?
Jan Kostalek (Jets – 2014, 114th overall) Pacing all QMJHL defensemen in playoff goals (8) and points (21), Winnipeg prospect Jan Kostalek has been a revelation for the Oceanic and has logged tough minutes. Smart and polished, Kotalek is among the most valuable blue liners in the Q and the Jets have a valuable pro prospect emerging.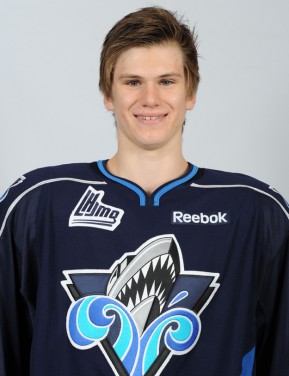 Samuel Morin (Flyers – 2013, 11th overall) Held to limited games due to a fractured jaw, Samuel Morin returned to the lineup and had a season to remember emerging with one of the highest points-per-game (0.84) paces among Q blueliners. The towering 6-foot-6 defender has always been an astute defender but tapping into his offensive potential was a pleasant development for the Rimouski and, longterm, for the Philadelphia Flyers.
Simon Bourque (2015 NHL Draft eligible) It's quite telling of his character and intangibles that sophomore defenseman Simon Bourque has already earned the trust of Rimouski's coaching brass to be named alternate captain. Only average in size, Bourque is an all-situations defender who relies on sharp instincts and gifted passing to transition the puck up ice. He broke out for 38 points, only a handful short of the team defensive lead, and topped all Oceanic defenders with 10 goals.
Philippe Desrosiers (Stars – 2013, 54th overall) After being entrusted with the bulk of Rimouski's workload in regular season play, goaltender Philippe Desrosiers fell out of favour after some shaky starts when the coaches were forced to turn to Louis-Philippe Guindon down the stretch. Heading into the Memorial Cup, it will be interesting to see who head coach Serge Beausoleil turns to for the starters position. Despite Desrosiers' inconsistency, he finished the season among the top statistical goaltenders and did make 47 saves in a tight game seven double overtime victory to win the QMJHL Championship.
Quebec Remparts
Anthony Duclair (Rangers – 2013, 80th overall; acquired by the Arizona Coyotes) After introducing himself to the NHL market with an impressive 18-game stint on broadway, Duclair was returned to Quebec after helping Canada win gold at the 2015 WJC. The Laval native racked up 50 goals and 99 points in his 2013-14 season with Quebec making his 15 goals and 34 points (26 games) look fairly disappointing given his previous production. Look for Duclair and Erne to be one of the most dominant duos at the Memorial Cup.
Adam Erne (Lightning – 2013, 33rd overall) Captured the 2015 Guy Lafleur Trophy as the MVP of the QMJHL Playoffs scoring a dominant 21 goals (a league best) and 30 points in Quebec's 22 game march to the cup. Big and powerful with a strong traffic game, Erne is at his best hovering around the scoring areas and working the gritty areas in cycles, looking to strike with his pro-calibre shot. If the Remparts want to take down the CHL powerhouses at the Memorial Cup, he will need to continue his dominance from the Q post-season.
Marc-Olivier Roy (Oilers – 2013, 56th overall) Brought in from Blainville-Boisbriand to bolster their front-line depth, Roy gave the Remparts another striker option as the former 2nd round pick filled the net 26 times. As a pro prospect, Roy will need to continue to produce as the Oilers' brass consider his long term value. At this point, Roy is a bit of tweener.
Dmytro Timashov (2015 NHL Draft eligible) Dmytro Timashov is a Ukranian-born Swedish forward playing his first year in the CHL. His 90 points led a stacked Remparts in scoring which is a remarkable feat and a true testament of his abilities as an 18-year-old import. He plays a dynamic style of game and his dazzling puck skills and ability to dangle will surely raise fans at the Coliseum out of their seats. The undersized Timashov is one of only a few draft eligible prospects to watch in Quebec City.
Kurt Etchegary (Free agent) Quebec's leader and captain, Kurt Etchegary will be using the Memorial Cup to showcase his versatility, high character and toughness in hopes of landing a contract in the pro ranks. He is a warrior-like competitor willing to skate through a wall for his teammates. He's battled through some serious injuries in his career, including a scary heart procedure, but there's value in a hard-working character player like Etchegary so he's worth watching as action kicks off in old Quebec City.
Vladimir Tkachev (Re-entry for 2015 NHL Draft) Edmonton Oilers' failed to sign Vlad Tkachecv correctly after thinking he was a available as a free agent so he re-enters the draft. It was shocking that an NHL team didn't use a late round pick on the undersized dazzling offensive winger during his first go-round at the NHL draft. Tkachev will be, once again, available for the draft in Florida and it's expected that the young Russian goes sometime through the middle rounds. After arriving from Moncton in a trade, the slippery Tkachev posted 33 points in 33 games with Quebec.
Ryan Graves (Rangers – 2013, 110th overall) Pegged as a defensive specialist early in his career, New York prospect Ryan Graves had a mini-breakout in his fourth Q campaign unloading 15 goals and 39 points. As nice as it is that Graves is chipping in points, Quebec has given up a lot of goals during playoff action so he will need to ensure that his defensive game is sharp in order to go deep in the tournament.
Nikolas Brouillard (Re-entry for 2015 NHL Draft) After factoring in 17 goals and 57 points, fourth year veteran defenseman Nikolas Brouillard was the QMJHL top scoring defenseman in both goals and points. The knock against Brouillard is his 5-foot-11, sub-170 pound frame but he owns the tool kit you want in an offensive defender. Blessed with confident elusive puck carrying skills, good vision, efficient passing abilities and strong point shots, Brouillard is deserving of draft consideration. He has attended the Winnipeg Jets camp in the past.
Cody Donaghey (signed by the Toronto Maple Leafs) After turning heads at Leafs camp and earning himself a contract as a walk-on, Cody Donaghey's season took an unfortunate turn when he was sidelined for from a knee-on-knee collision in December ending his season. Unfortunately for Leafs fans, Donaghey will miss the Memorial Cup.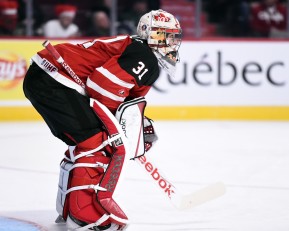 Zachary Fucale (Canadiens – 2013, 36th overall) Heavily scrutinized by the general public after a pedestrian start to the season, Zach Fucale eventually elevated his game, as most star goaltenders do, to peak at the perfect time. He was instrumental and clutch for Team Canada posting the best GAA (1.20) and save percentage (.939) of the tournament en route to capturing gold. When Fucale was returned from the WJC, he found himself wearing some new threads as the new addition in Quebec. Fucale took some time to get his feet wet in his new home but eventually found his groove just in time for their championship run. He will need to remain at the top of his game for Quebec to contend.
Callum Booth (2015 NHL Draft eligible) The former forward turned goaltender had a very interesting draft season when he started the season as a member of Canada's Ivan Hlinka gold medal winning squad. From then, Booth took the Remparts crease and suited up in 41 games earning 23 wins while ranking 6th in both GAA (3.05) and save percentage (.900) before yielding his starter's role to incoming veteran Zach Fucale. If there is any signs of Fucale struggling, expect coach Philippe Boucher to quickly turn to a more-than-capable Callum Booth. He's a luxury the Remparts have waiting in the wings.
The 2015 CHL Mastercard Memorial Cup action begins Friday evening with hosts, Quebec Remparts, taking on the WHL Champions, Kelowna Rockets. For complete event information, be sure to visit the CHL Memorial Cup website.
Prediction:
In a short tournament where one bounce, one penalty and/or one goal can change the entire outcome, it's tough to predict a winner with any certainty. While every participating team has its strengths and weakness, on paper there are two teams that stand out above the rest. As a result, Youngblood Hockey is willing to name the Oshawa Generals and Kelowna Rockets as the two teams to emerge from the pack and reach the final. In the end, Oshawa's depth, speed and bruising style will be too much for the Kelowna to handle.
Generals will capture the Memorial Cup championship for the fourth time in history and return the trophy back to Oshawa for the first time since 1990 when Eric Lindros led them to victory.
Follow @RossyYoungblood on Twitter for coverage of the CHL Mastercard Memorial Cup and its participating prospects.