There are not many draft eligible prospects who are also Olympic medalists. Šimon Nemec, who was part of the bronze Slovak team in Beijing, is one of the few. Even though he was not a shining star of the tournament like his fellow Slovak 2022 NHL Draft top prospect Juraj Slafkovský, Nemec did gain valuable experience and can´t be stripped of it.
Nemec has returned to the Slovak top tier league and continues on the same path before leaving for Beijing. Prior to being called up to the National Team, he had twelve points in eleven games, including his first goal of the season. Having returned from China, he slowed down his scoring tempo and had three assists in seven Tipos Extraliga matches.
The Slovak defenseman has established himself as the leader of his position on the draft. The #2 on our board in the McKeen´s mid-season rankings, Nemec is a mature, two-way defenseman with a more than decent offensive touch. He has an excellent hockey IQ and vision, complimenting his pass-first style of the game. Undoubtedly, there are parts of his game that he can improve – Nemec should work on his physical play and skating and learn to be more aggressive overall. The NHL-sized rink at the Olympics has shown he should head for North America after the draft. However, his potential is very high. At the very least, he should become a solid two-way defenseman with an offensive touch. I´m not shy to admit I see a lot of Adam Fox in his game – that is the ceiling for Nemec, and it is not unreasonable at all.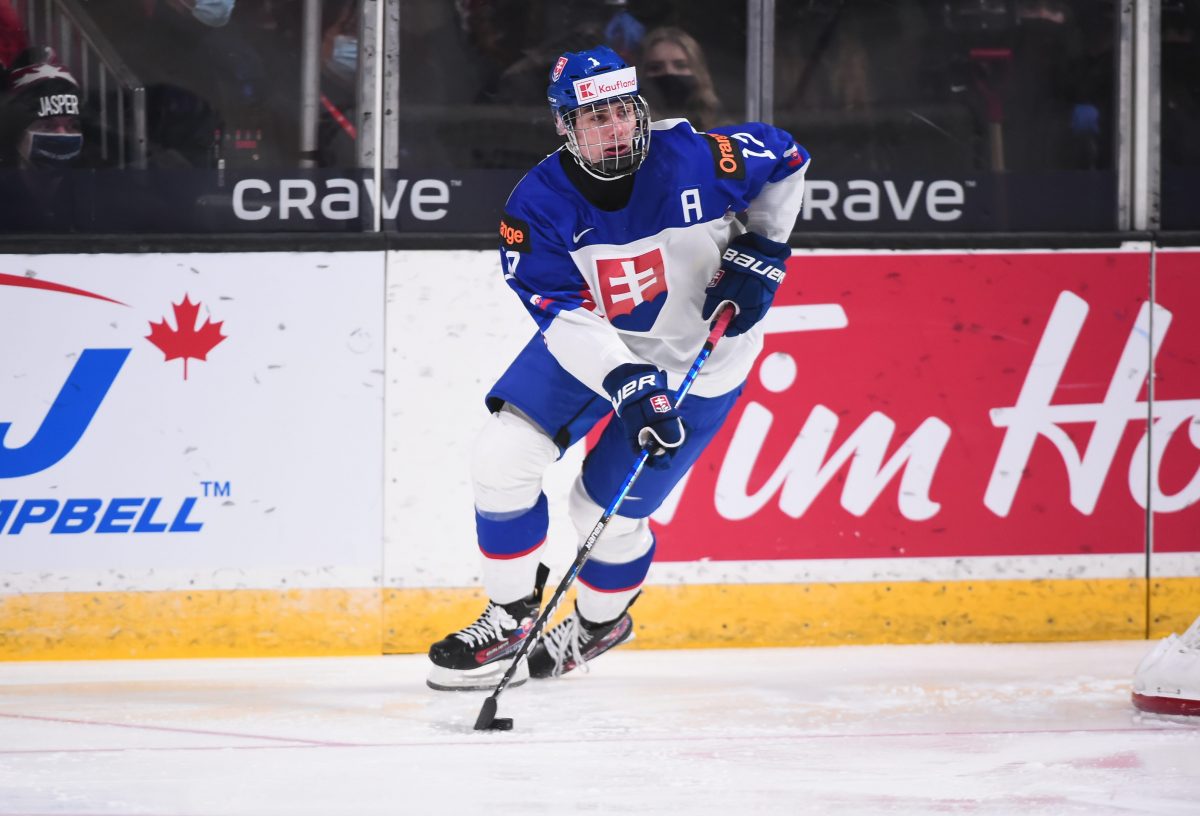 | Šimon Nemec | Date of Birth: 2004-02-15 |
| --- | --- |
| Position: D, Shoots: R        | H/W: 6´1", 192 lbs |
| Stats to Date: (GP-G-A-PTS-PIMS)    | HK Nitra, (39-1-25-26-20) |
Skating
Nemec has quick feet and a decent skating style as he is smooth on his skates and excels at quick turns and crossovers. His mobility helps him to get rid of forechecking opponents and create plays; it compliments his puckhandling skills well. On the other hand, he is not very explosive and lacks top end speed, which does limit some of what he can do offensively.
In this clip, Nemec starts the attack from behind his own net. He fakes the direction he supposedly wants to go, makes a turn, and maintains puck possession, even though two forechecking forwards are trying to strip it away from him. Nemec doesn't have the speed to pull away, but he uses smart moves to keep the puck, slides to a safer zone and passes the puck to start the attack.
This might look like a mistake that fits the "Smarts" category more, but I've added this clip to the "Skating" category, because it represents well how Nemec was often out of position at the Olympics when the tempo was too high for him. Obviously, it is not an easy task for a fresh 18-year-old to keep up with the best European pro leagues' forwards. It has been shown a North American league (ideally the AHL) should be the next step for Nemec to improve his quickness and skating overall. He needs to adapt to the smaller ice to pursue his NHL dream.
This is a very positive sequence for Nemec. He gets the puck in his own zone near the blue line and immediately goes for the zone entry. He effectively loses the forechecking opponent by making a quick turn and continues to the offensive zone. Using his skills, Nemec successfully enters the zone and continues to the net, but instead of shooting, he goes behind the net, dragging the opponent with him. Nemec is not stopped, he is faster than the opponent, and controls the puck well. He goes to the blue line and finishes the play with a dangerous shot to the net. Again, he lacks top end speed, but has a smooth skating style and can lose opponents using only his overall four way mobility and edgework.
Grade: 55
Shot
This is the one trait that strips Nemec away from being a complete offensive threat. Nemec is a true pass-first player, even his stats (1 goal vs. 25 assists this season) say so. He rarely uses his slapshot, even though he gets a lot of power-play time.
Most of his shots are meant to be tipped by the forwards to the net, as shown in the clip above. Nemec has a nice wrist shot and sends a lot of pucks from the blue line. Nevertheless, the release is a bit slower and he should work on the accuracy. I´ve seen him score from the blue line only a couple of times in his career. He is able to surprise everyone with his bomb slapshot when he wants to, but the problem is, he hardly ever does that. The projection is also not very promising.
Grade: 50
Skills
Nemec had been labeled as an offensive defenseman before, but he has improved his defensive play a lot in recent years. While defending in his own zone, Nemec usually relies on his strong positioning game. He is not overly aggressive in the D zone; one could possibly say he's almost passive, but he is very effective in puck battles. He is also able to use his body well and often does so.
For a defenseman, Nemec has surprisingly soft hands. He likes to have the puck on his stick and plays with confidence. He's able to get rid of multiple opponents at once and keep the puck even in difficult situations. Nemec is a skilled puck holder who is often used to start the attack on the powerplay. He uses a lot of pump fakes in his game too and can create passing lanes out of nothing.
His offensive game relies on passing and finding open teammates, as Nemec has great vision and strong passing play. He acts like a quarterback on the powerplay and serves dishes to his teammates. There is still room for improvement when it comes to Nemec´s passing, but he is definitely skillful when it comes to moving the puck and has decent accuracy even in stretch passes that extend through multiple zones.
Grade: 65
Smarts
Truly the best part of his game. Nemec has been playing in men's professional leagues since the age of fifteen and due to his exceptional hockey sense, he has not looked lost. His decision-making ability is on a high level, Nemec can find his way out, even in the most difficult situations.
Just a fantastic play by Nemec, actually one of my favorites. He lures the opposing player with him at the offensive blueline, then makes a backhand no-look pass to an open teammate, who scores. This just screams great "hockey IQ" to me.
Nemec is a quick thinker and is often the first player to find the puck on the ice. His ability to track and make quick decisions is impeccable. In the clip above, Nemec at first looks a little bit out of position, but he quickly realizes what he needs to do and steps in front of the opponent to block the shot. He finds the puck first and shoots it away from his defensive zone, since it's a shorthanded situation.
This is the video of Nemec´s first goal of the season. He quickly realizes when his teammate fools the two opposition players, who make a positional mistake, immediately goes to a shooting position, calls for a pass and capitalizes on the 2-on-1.
Grade: 70
Physicality
Physicality is one of the aspects of the game Šimon Nemec should work on. He has decent size (6-1", 192 lbs) and isn't weak by any means, but he does not excel in the physical side of the game. He is very rarely actively involved in it. Although he can hold on his own quite well, he should learn to use his body more to strip the forwards from the puck.
Nemec realizes what the strong parts of his game are and uses them in physical battles. Even though it's not unusual for him to be physically overpowered by the opponents, (since he's playing among physically superior men), he has learned to use his stick and skill to help him protect the puck.
As shown in the clip above, this situation happens a lot in the Slovak league. Nemec gets overpowered along the boards by a stronger opponent, but he uses his quick thinking and stickwork to pass the puck to an open teammate in his own zone.
Nemec is quite strong on his feet and he is able to hold his own. In the clip above, he holds the puck and realizes the opponent waiting for him, prepares for the bodycheck and uses his upper-body muscles to absorb the clash and push the opponent away.
Grade: 55
OFP: 60.5