As teams around the league approach and pass the midpoint of the season, there are players making their names known. Around the NHL, numerous players are experiencing breakout seasons whether they've just elevated their games or received an expanded role that's given them the chance to shine.
So, let's dive right in to look at a few of this season's breakout forwards.
Before this season, Eriksson Ek had been defined by his defensive play. In all situations, he averaged closer to bottom-six minutes before just approaching the low-end of second line territory last year at 15:43 minutes. But after a few pivotal subtractions, including Mikko Koivu and Eric Staal, there was an opening for Eriksson Ek to play more this season.
The lefty-center is averaging more than 17 and a half minutes per game which is almost a minute more than last year's average. That average ice time is on the higher end of second line minutes. While his promotion was due in part to the lack of center depth in Minnesota after their offseason changes, his play has solidified his role and importance to the team.
The Wild have been one of the best defensive teams in the league for years. In each of his seasons to this point, Eriksson Ek's only added to that as they've been much better in their own zone with him on the ice as the HockeyViz heat maps below reflect with the bottom row showing his defensive impact, and blue areas indicating where shots have been limited.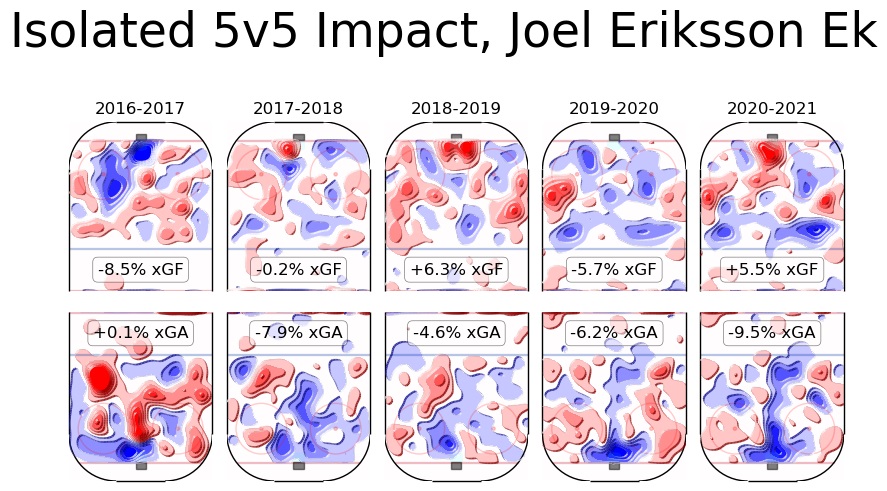 Via HockeyViz
That holds true this year, as Minnesota's limiting teams from creating much of anything in the scoring areas in front of the crease with Eriksson Ek on the ice. Before Sunday's tilt against Arizona, the Wild limited their opponents expected goal generation to just 1.66 per 60 with their shutdown center deployed; he's been one of the best defensive influences relative to his teammates. What's even more commendable is who the 24-year-old is going up against. Eriksson Ek's tasked with playing their opponents best, and he's shutting them down consistently.
Unlike last season, Eriksson Ek's breaking out offensively. The Wild control a team-leading ~66 percent of the expected goal share with him deployed thanks to his offensive efforts, tied to his shutdown play. He's spent essentially all season alongside Jordan Greenway, who has also taken strides this year; Marcus Foligno and Kevin Fiala have often rounded out the trio.
Through 26 games, Eriksson Ek has 11 goals and 16 points produced at a career-high rate of 2.1 points per 60. While he hasn't increased his individual shot rate from years past, he's more consistently concentrated those shots to the quality areas inside the home plate that typically give a shooter a higher percentage chance of scoring. His impact has boosted the Wild's chances of scoring while he's on the ice; his on ice expected goal rate of 3.16 per 60 is second on the team, although the team is currently outperforming that with 3.76 goals per 60.
The combination of Eriksson Ek's defensive instincts, along with his offensive creation, have helped him emerge as one of the best two-way players in the league — and should land him in the forefront of the Selke conversation later this year as well.
Chandler Stephenson, Vegas Golden Knights
Staying in the West, let's look at Stephenson who is putting together a career-year.  He's already eight points shy of reaching a career high (26) in points, just in 40 fewer games with 18 in 25 tilts.
Like Eriksson Ek, Stephenson's seen a boost in minutes this season. Last year, his average ice time was in total 14:19. Breaking it down by team tells a different story. With the Capitals, the center never averaged more than 12 minutes per season; he was 10 seconds shy of that at 11:50 through 24 games before being moved. In that time, he earned just five points. All of that changed immediately in Vegas; he saw increase of about four minutes on average bringing him up to 15:47 minutes and boosted his production with 22 points in 41 games. This year, he's seen even more time, 17:15 on average, and he's responded with 18 points in 25 games.
A change in quality of teammates influenced Stephenson's game. After playing alongside the likes of Brendan Leipsic, Richard Panik, and Travis Boyd, among others, in Washington last year, he's primarily been slotted between Max Pacioretty and Mark Stone often in Vegas.
Stephenson had the opportunity to earn that role between Pacioretty and Stone after ending last year with them. The chance to play alongside one of the best two-way players in the league in Stone, and Pacioretty, whose had an offensive resurgence in Vegas the last two seasons, was crucial to a potential breakout season. This year, the trios already spent about 236 5-on-5 minutes together, which makes them the fifth most consistently deployed in combination in the league. And with them on the ice, the Golden Knights have controlled about 58 percent of the shot share and expected goal share.
The heat maps below from HockeyViz help reflect that 5-on-5 puck control with the trio deployed. The left represents offensive production, with red areas highlighting where they're overloading opponents with shots; on the right, the blue areas show how they're helping limit quality chances against.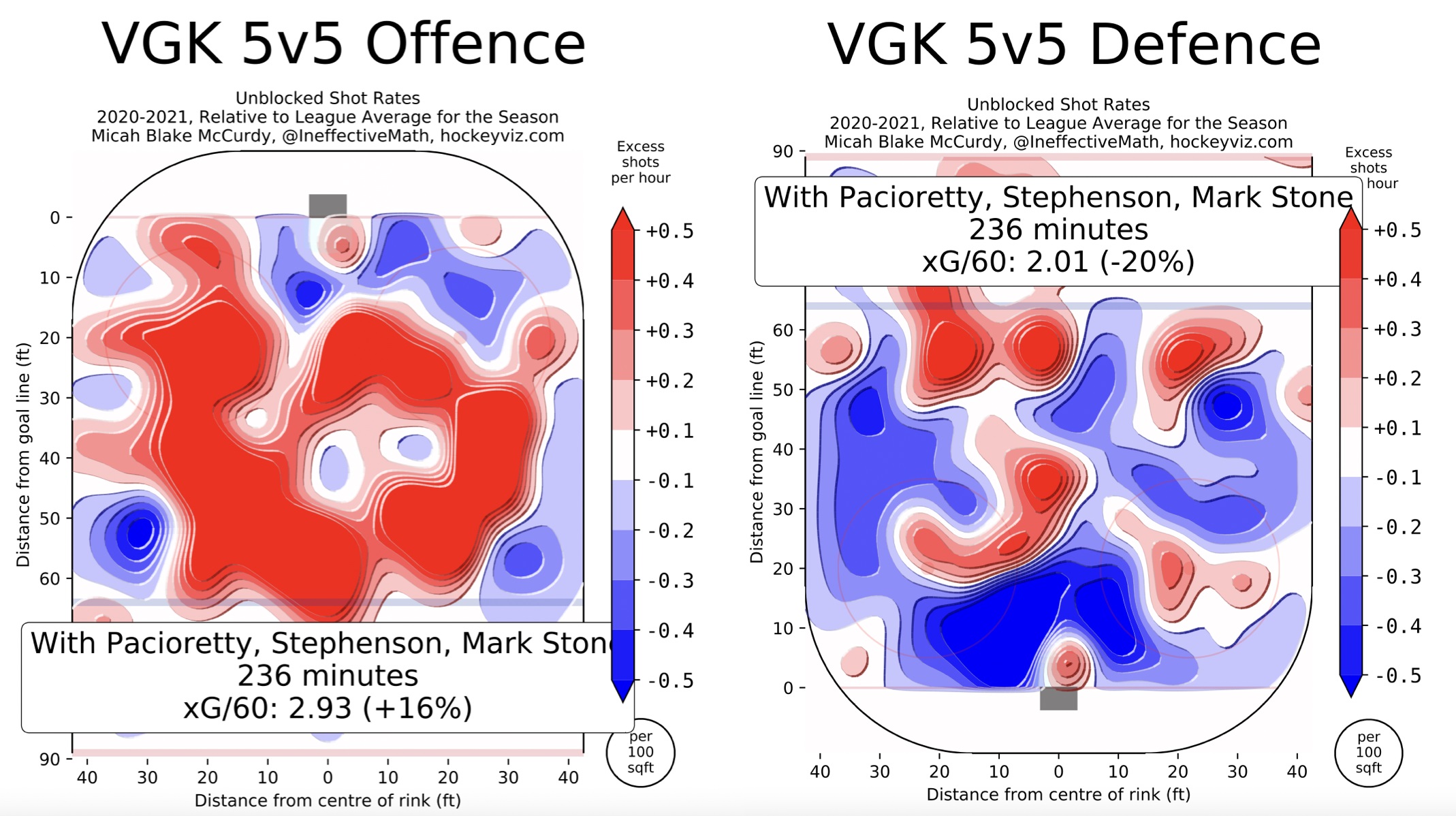 Via HockeyViz
The pivot's unquestionably experiencing a massive boost from his teammates, Pacioretty's one of the best frequent shooters in the league, and he has a very effective shot. And few players are as efficient at picking opponents of the puck as Stone. But Stephenson isn't just a passenger in this combination, he's a key part of it.
With the Capitals, whether it was due to usage and role, or systems, Stephenson's transition game didn't stand out. But with the Golden Knights, that's become a major aspect of his game. The speedy center frequently transitions the puck out of the defensive end and up the ice into offensive zone with possession. While he isn't the most frequent shooter, data tracked by Corey Sznajder helps us see how much his passes have contributed to Vegas shots.
Carter Verhaeghe, Florida Panthers
Once there was a depth player in Tampa Bay who departed as a free agent for more of a playing opportunity after the Lightning were crunched for playing time and cap space. So, he moved across the state to sign with the Florida Panthers and thrived in an expanded role.
No, we're not talking about Jonathan Marchessault. We're talking about Carter Verhaeghe who followed a very similar path to the aforementioned former Panther. Ideally this time, there's a better ending than him becoming expansion draft fodder for Florida's sake.
Verhaeghe reached the NHL level in 2019-20 with Tampa Bay after spending a few seasons in the AHL. He appeared in 52 games after his debut, where he earned nine goals and 13 points before skating in eight postseason games with the Stanley Cup-winning Lightning.
In those 52 games, Verhaeghe averaged fourth line minutes and produced at the rate of a third liner. In his limited minutes, which became more consistent in the second half of the season before the trade deadline, he spent a good chunk of time with Yanni Gourde and Mitchell Stephens. His play below the surface was encouraging, as the Lightning created more offense in terms of quality and quantity while he was deployed, and they allowed less against.
After the Lighting didn't qualify Verhaeghe, he signed a two-year contract with an average annual value of $1 million with the Panthers. The question he faced was whether he could build on that encouraging start to his NHL career over a longer span of games, and in a larger role.  So far, he's done that and more in Florida in a leading role on Panthers' first line where he averages 17:24 in ice time (more than an eight-minute increase from last year's 9:22 average).
The former bottom-six'er has also already surpassed his 13 points in by seven in 25 fewer games. Verhaeghe's production has translated below the surface as well. Few players have boosted their team's offensive creation relative to their teammates like Verhaeghe has. The HockeyViz heat map below shows just how impressive that generation has been with bright red highlighting so much of offensive zone.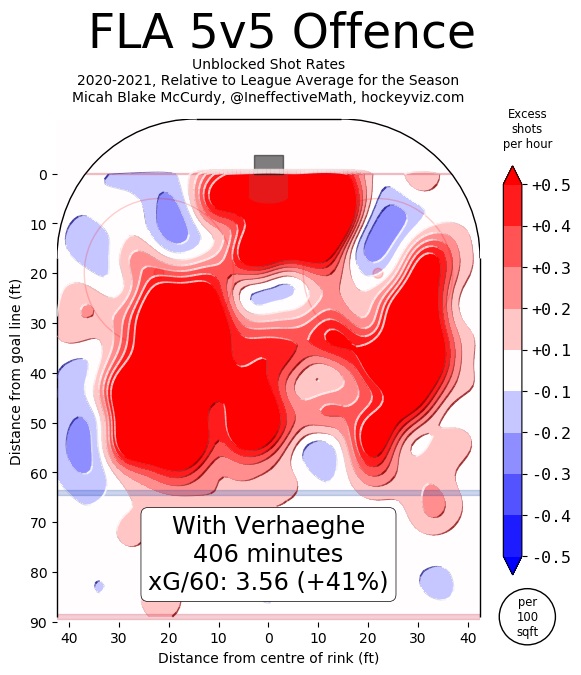 Via HockeyViz
Like Stephenson, Verhaeghe's benefited from both an increase in ice time and teammates. At 5-on-5, the Panthers' winger has spent 337 minutes, or over 83 percent of his ice time, alongside Aleksander Barkov, who is one of the best two-way centers in the league and in the midst of an outstanding season.
The trio originally was completed by Anthony Duclair, but recently, it's been Frank Vatrano rounding out the line. In a limited sample of 47 minutes, the Vatrano-Barkov-Verhaeghe line has helped the Panthers control about 69 percent of the expected goal share (15th in the league). The trio has created both in terms of quantity (78.8 shot attempts per 60, eighth best ranking in the league) and quality (4.01 expected goals for per 60, sixth in the league). That indicates that their production should continue.
Verhaeghe's delivered on the opportunity he's received in Florida and has helped them have more offensive balance by splitting up their best forwards in Barkov and Jonathan Huberdeau.
Data via Evolving-Hockey.com, HockeyViz.com, and Corey Sznajder.