Summary: This may be the most interesting series in the first round. You've got a pair of very capable offenses going head-to-head, and the possibility for a major upset – if Pekka Rinne can return to his former glory – and wins the battle against unproven sophomore John Gibson – this is a closer series than first appears.
The offenses matchup over four lines, and they both have good, mobile defense - giving an edge to Weber and Josi as the top pair in the NHL. Some key battles will decide the series, none more important than goaltending. The Nashville forwards need to continue their late season production against the Jennings Trophy winner.
PREDICTION: Anaheim in 7 (note: Daniel is calling for a Nashville win in 7 games, for a spoiler pick)
Key Injuries: ANA – Frederik Andersen had a late season concussion, plus a number of day to day injuries expected to be back for the playoffs, including Gibson, Kesler, Bieksa and Rakell. and Perron – They are a little banged up. NSH – nothing major.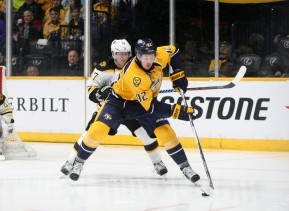 Critical Factors: The addition of Ryan Johansen has given Nashville the big center they have coveted, and he and James Neal are finding some chemistry heading into the playoffs. Filip Forsberg continues his climb to a superstar and could be a difference-maker. Ryan Kesler provides secondary scoring (see Breakouts below), shutdown acumen, and a big game temperament. The emergence of Richard Rakell provides further depth.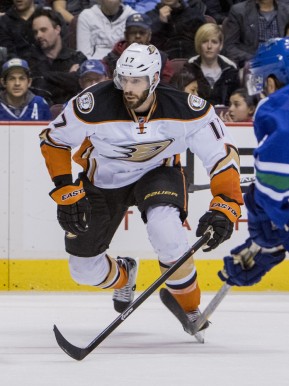 The Kesler/Johansen matchup could decide the series on its own, particularly if Ryan Getzlaf and Corey Perry begin to roll. Anaheim gets the edge on the top two lines, but the Nashville depth over four lines should not be underestimated with some veterans that can provide a gritty game, with timely goal-scoring. Both teams boast mobile, creative playmakers who contribute to the offense. Anaheim's young, quick group, featuring Sami Vatanen, Cam Fowler and Hampus Lindholm - all under 24 years of age (six starting defenseman altogether - seriously), and may be overmatched by Nashville with arguably the top pairing in the league in Shea Weber and Roman Josi - and their own young mobile defensemen emerging this season in Matias Ekholm and Ryan Ellis. Pekka Rinne tied for the 8th worst save percentage this season with 0.908 and struggled. In 34 playoff starts he has a losing record and a save percentage of 0.914, - and finished with 0.901 SV% in March and April to raise further flags – contrasted with John Gibson's 0.925 SV% over the same time period. The Ducks have gone 34-10- 5 after the Christmas break, overcoming adversity, and buying into a team first/defense first approach in the new year under Boudreau. Additions of Ryan Garbutt and Jamie McGinn mid-season bring more grit and defensive prowess over the third and fourth line.
Potential Break-out Players: Ryan Kesler has been on fire since January 1st since a brutal start and has managed close to a point a game pace (43-17-24-41) since the New Year – remember he delivered 13 points in 16 games in last year's playoffs. His linemate Jakob Silfverberg broke out last year in the playoffs and has been hot down the stretch, scoring 11 goals in 14 games (14-11-5-16).
Filip Forsberg was a point a game in his last 30 games (30-19-15-34). Ryan Johansen finished with 18 points in 19 games (19-4-14-18). Roman Josi could make his statement as one of the elite defenseman in the league and step out of Shea Weber's shadow (if he hasn't already) – he finished the season at a superstar pace (30-4-22-26).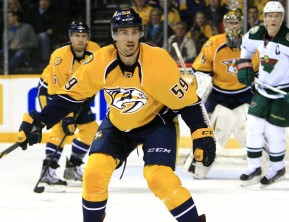 David Perron was a good addition, scoring 20 points in 28 games as a Duck (28-8-12-20) and returns from injury in time for the playoffs.
Season Matchup: Nashville 2-1. Both wins were in regulation. Most significantly they have not met since November, with all three games at the start of the season,  and they were very different teams then.
Key Stats:
CF% 5v5 (war-on-ice.com): ANA 52.4% (5th) NSH 52.5% (4th)
PDO (war-on-ice.com):  ANA 99.0 (27th) NSH 99.l5 (21st)
Power Play (NHL.com): ANA 23.1% (1st) NSH 19.7% (10th)
Penalty Kill (NHL.com): ANA 87.2% (1st) NSH 81.2% (16th)
Goals For per-game (NHL.com): ANA 2.62 (17th) NSH 2.73 (13th)
Goals Against per-game (NHL.com): ANA 2.29 (1st) NSH 2.60 (14th)
Notes: Anaheim's excellence on special teams, leading the NHL in both categories, provides a big advantage. While they are largely even on offense, Anaheim's number one ranked defense could be the difference, depending on goaltending. Anaheim had the second worst Osh% (6.6) in the league over the season – from the start of 2016, they were 9th (8.9) posting a ridiculously low 4.8 Osh% and 97.2 PDO before the New Year. Nashville were middle of the pack in both time periods (7.3 and 7.7).