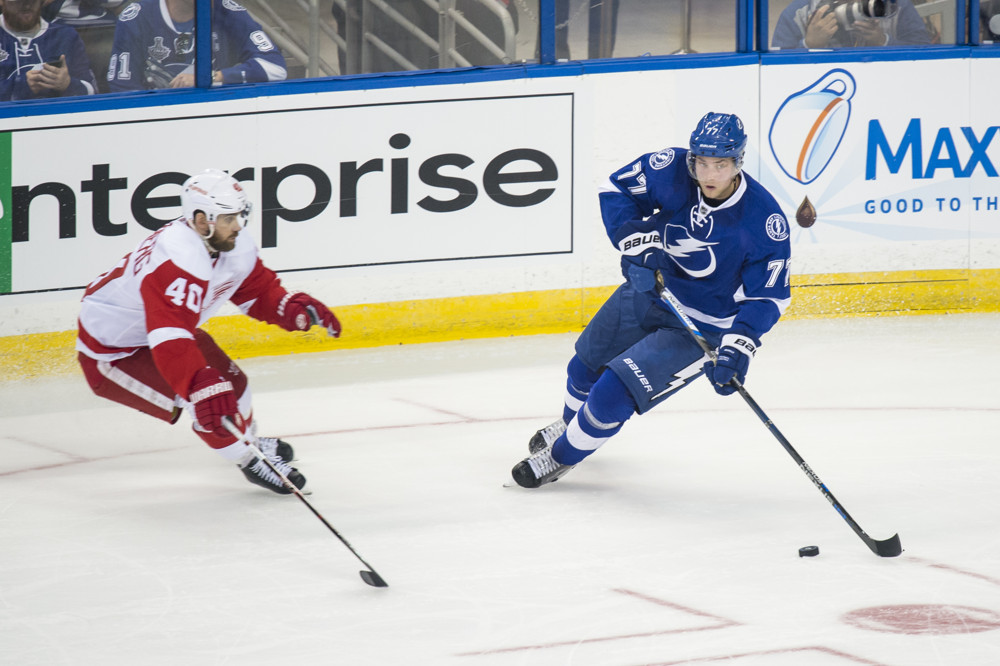 Summary: The Lightning hobbled its way into the playoffs, and will be without the services of Steven Stamkos and Anton Stralman for the foreseeable future. 
Not exactly an ideal situation, but not one that's impossible to overcome, either. The Bolts should have enough depth to win a seven-game series against the Red Wings. 
Let's not forget that Nikita Kucherov, Tyler Johnson, Ondrej Palat, Alex Killorn and, yes, Jonathan Drouin, are no slouches. Victor Hedman is pretty darn good as well, assuming he returns strongly from an upper-body injury that's kept him out since April 4th. 
As for the Wings, who've managed to sneak into the playoffs for the 25th consecutive year, they struggled for much of the season with consistency under new coach Blashill, and don't seem to have their usual moxie. Dylan Larkin, Gustav Nyquist and Tomas Tatar will have to step up if Detroit wants to win this thing.
Meeting again in the first round, Tampa won in seven games last year.
PREDICTION: Lightning in 6
First Game Update: Nikita Kucherov delivered two goals and an assist. Ben Bishop stopped 34 of 36 shots, including seven from the stick of Pavel Datsyuk and four from Gustav Nyquist, but neither hit the score sheet. Dylan Larkin was on the ice for 11:30 minutes, with 2:08 on the power play. Victor Hedman played 28:56 minutes.The line of Kucherov, Johnson and Killorn were the three stars. Tampa leads the series 1 – 0.
Key Injuries: TB – Steven Stamkos, Anton Stralman.  
Critical Factors: Ben Bishop delivered a career year with a 2.06 goals against and 0.926 save percentage. Tampa Bay's penalty killing is amongst the league leaders finishing 6th  If Jimmy Howard can match his performance down the stretch, this may not be as one-sided as expected, but inconsistency has plagued the team this season, including both goaltenders – big advantage to Tampa .. Victor Hedman returning to health and playing a standout series at both ends will solidify the back end .. Henrik Zetterberg and Pavel Datsyuk, in likely their last playoff together, can still perform magic on occasion. Can they rise to this one? .. Does Nikita Kucherov arrive as a leader and superstar, after pacing a point-a-game since the beginning of December (52-24-29-53). He has 3 goals and 2 assists in 4 games versus Detroit this season.
Potential Breakout Players: Jonathan Drouin with something to prove could make a nice late round pick in your fantasy pool. Dylan Larkin and Gustav Nyquist are essential to Detroit's hopes, so if not now
 .. Hedman was showing signs before his injury with 10 points in his previous 9 games (4-6-10) after registering only a single point in the previous 13 games. 
Head to head record: Tied: 2-2-0
Key Stats
CF% 5v5 (war-on-ice.com): TB 52.2% (6th) DET 51.7% (9th)
PDO (war-on-ice.com): TB 100.9 (5th) DET 99.6 (17th)
Power Play (NHL.com): TB 15.8% (28th) DET 18.8% (13th)
Penalty Kill (NHL.com): TB 84.0% (7th) DET 81.5% (14th)
Goals For per-game (NHL.com): TB 2.73 (12th) DET 2.55 (23rd)
Goals Against per-game (NHL.com): TB 2.41 (5th) DET 2.67 (17th)
Notes: Detroit had a better power play, but is still the 23rd highest scoring team in the NHL. Tampa's 7th ranked penalty kill, and 5th ranked defense should nullify that advantage.