Summary: Every year, the Blues are a tempting pick to go on a Cup run and every year, they are a letdown. A fact they are very aware of themselves. 
Still, that's not the reason for picking against them this time. This has to do with the fact that Chicago is simply the better hockey team. 
The two are pretty even in most categories, but the Hawks have more firepower on offense, which is what gives them a very slight edge here. It will be a shame as a very good team with champion potential will be eliminated.
PREDICTION: Blackhawks in 7
First Game Update: St. Louis takes a 1-0 lead on a re-directed overtime goal by David Backes, and a 35-save performance by Brian Elliott. The Hawks outshot the Blues 35 to 18, including seven to two in overtime. St. Louis out hit the Hawks 41 to 24, as they have all season in head to head matchups (167 to 102), setting the tone for a grueling series of two very good teams.
Key Injuries: Duncan Keith (game 1 – suspension – back for game 2),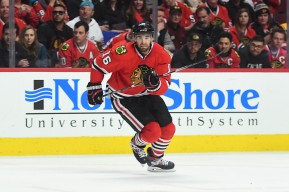 Critical Factors: St. Louis is healthy going into the playoffs, something that has been a problem in the past. Chicago is not the same team as a year ago, as the CF% decline (see Notes below) attests, after another remodel due to salary cap issues. The loss of experience in Johnny Oduya and Patrick Sharp were addressed with aggressive deadline acquisitions Andrew Ladd, Dale Weise and Thomas Fleishmann. There was not a noticeable improvement in possession after the deadline, however. Oduya's loss has not been addressed on the back end. They have replaced it with a high octane scoring line with the emergence of Artemi Panarin, helping Patrick Kane to win the scoring title.
Brian Elliott has been excellent this season finishing second behind Ben Bishop with a 2.07 GAA, and leading the league in save percentage 0.934 SV% (more than 20 games) – matching his regular season, and putting past playoff demons behind him, could make the difference in a tight series. Corey Crawford was enjoying an excellent season as well, before getting hurt and missing a month, with a 0.924 SV%, and 2.36 GAA setting up a potential goaltenders duel if he is 100%. 
Season Matchup: STL 3-2-0 Possession gave a slight edge to STL (222 CF (53%) vs. 191 CF (47%)) in the five head-to-head games this season (war-on-ice.com).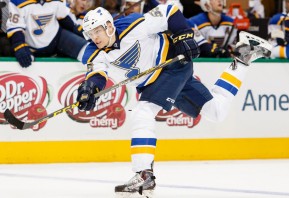 Potential Breakout Players:  Colton Pareyko will be interesting to watch in his  first playoff, he posted 33 points in his rookie season, even if he has been quiet as of late. His size will be welcome as the Western Conference can be a physical grind. He posted an exceptional 4.09 CF%Rel. Kevin Shattenkirk thrives on the power play and Chicago is vulnerable if they take too many penalties. Andrew Ladd returns to his previous team, and fills a big hole on the top LW, and will come up big alongside Jonathan Toews when it counts. Paul Stastny has played much better in his second season and could be unheralded surprise on the second line, posting 0.88 points per game since the All Star break (30-5-21-26).
Key Stats:
CF% 5v5 (war-on-ice.com): STL 51.9% (6th) CHI 50.7% (15th)
PDO (war-on-ice.com): STL 100.3 (12th) CHI 99.5 (22nd)
Power Play (NHL.com): STL 21.5% (6th) CHI 22.6% (2nd)
Penalty Kill (NHL.com): STL 85.1% (3rd) CHI 80.3% (22nd)
Goals For per-game (NHL.com): STL 2.67 (15th) CHI 2.85 (6th)
Goals Against per-game (NHL.com): STL 2.40 (4th), CHI 2.52 (1oth)
Notes: Chicago has not had much 'puck luck' compared to St. Louis due to a 6.7 OSh% - 4th worst in the league. The Hawks dropping to 15th in 5v5 CF% after finishing 3rd last season, 2nd in 13-14, and 1st in 12-13, representing a significant development. They and LA have largely owned the top two possession spots for the prior three season, with demonstrable results. The 2nd ranked power play vs. the 3rd ranked penalty kill promises to be an interesting match up. Chicago at 22nd on the penalty kill is over-matched by the 6th best power play.