Summary: It should be a drama-filled series with some painful history between the teams. The Sharks collapse after being up 3-0 to LA two years ago in the playoffs, is a ghost rattling in the hallway - regardless of what the players say. LA finished out of the playoffs last year, so bring their own motivation to this tournament.
LA boasts as strong a core as there is in the NHL with Kopitar, Doughty and Quick able to dominate at their respective positions. San Jose brings three 70-point players in Burns, Pavelski and Thornton – all finishing in the top 11 in the league - but LA's supporting cast including Jeff Carter, Milan Lucic, Tyler Toffoli, Tanner Pearson, matches up favorably against San Jose's. The top NHL possession team will prove difficult to match throughout the lineup. 
Quick is the difference maker over Martin Jones, in his first year as a starter, or James Reimer -barring a Hollywood ending.
PREDICTION: Kings in 7
Key Injuries: LA – Marian Gaborik, Alec Martinez, Matt Greene SJ- Matt Tennyson
Critical Factors: San Jose's power play could be a difference maker if LA is undisciplined, having spent the fifth most minutes (464 mins) on the penalty kill in the NHL, while SJ had the sixth lowest time (385 mins) – while San Jose spent the sixth most time on the power play (449 mins) and LA spent the fifth least amount of time with the man advantage. In what should be a physical, chippy, series between old rivals it is something to watch. Both teams have strength down the middle and are very close on face-offs (LA 50.5% to SJ 50.7%), a matchup that will be telling, given how much they both rely on having the puck. San Jose has an experienced defense corps, but Drew Doughty anchors the LA defense and can be dominant at both ends– He and Burns are both making a case for a Norris trophy, and present another interesting matchup. Call it even on the back end.
Jonathan Quick is the major X factor for LA capable of winning a series by himself, and has largely owned these Sharks in the playoffs in the past. If he gets in their head early, it could be devastating – however, he has lost all three starts against San Jose this season - allowing 13 goals. The Sharks have the best road record in the league (28-10-3) and open the series in Los Angeles. Goaltending looks like a mismatch, but James Reimer has been miraculous since joining the team, going 6-2-0, with a save percentage of 0.938% and a GAA of 1.62 .. many playoff stories begin and end with a hot goalie rising to the occasion – Reimer is straight out of central casting – Jones will start, but a lot rides on one of their performances.
Potential Breakout Players: It is curious to rank the 4th leading scorer in the league as a breakout, but Joe Thornton is due, given his largely undeserved reputation for poor playoff showings. There is a confidence there that is hard to ignore – including the impressive beard. In his final 44 games he scored at a torrid 1.25 point a game pace (44-12-43-55) and finished second in league scoring behind Sidney Crosby since the all-star break. Which Milan Lucic will show up? Creating havoc, providing fore-checking pressure and playing physical while remaining composed? or come in like a wrecking ball .. he can be effective paired with Anze Kopitar – who can be dominant when rolling – and finished the season very strongly – 67 points in his last 63 games (63-20-47-67) – 28 years old, is this his playoff to make a statement? – he scored 26 points in 26 games in their last cup win in 2014. Vincent Lecavalier has been a good addition with limited minutes, but will be a third or fourth line soldier .. don't expect offense to suddenly re-ignite. Jeff Carter and Tyler Toffoli could give the Sharks trouble, if they focus on Kopitar. Logan Couture has been largely hidden this year due to injury, but they are a much better team with him in the line-up. He and Joel Ward, who is a noted playoff performer, could be a surprise story line, if they click.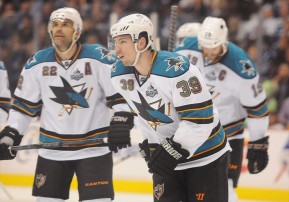 Season Matchup: San Jose 3-1-1 – all three wins were in regulation. Quick was in goal for all three losses. 
Key Stats
CF% 5v5 (war-on-ice.com): LA 56.4% (1st) SJ 51.7% (8th)
PDO (war-on-ice.com): LA 99.7 (16th) SJ 100.0 (13th)
Power Play (NHL.com): LA 20.0% (8th) SJ 22.5% (3rd)
Penalty Kill (NHL.com): LA 81.4% (15th) SJ 80.5% (21st)
Goals For per-game (NHL.com): LA 2.72 (14th) SJ 2.89 (4th)
Goals Against per-game (NHL.com): LA 2.34 (3rd) SJ 2,52 (10th)
Notes: LA leads the league in CF% 5v5 by a remarkable 3.8% over the second place team (Dallas – 52.6%) On special teams they  are largely well matched with an advantage to San Jose's power play (see Critical Factors above).