Between Carey Price's long-term injury and the team's inability to score (more than three goals only four times in their previous 19 games), the Montreal Canadiens are looking set to pick higher than they have since selecting Alex Galchenyuk third overall in 2012, and their second top ten pick since Price was drafted fifth overall in 2005. Of course, any player taken this June would not be ready to suit up for the Habs for a few years at best. Setting our sights to a nearer future, a look at the Montreal system leads to mixed results, but there are some players who have shown well this year.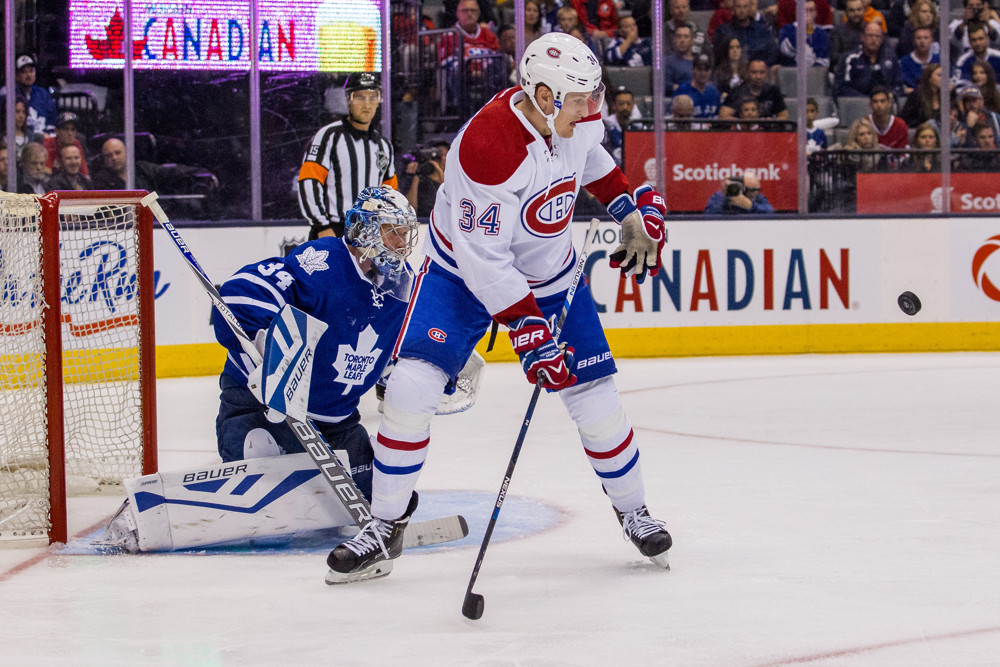 Long considered a divisive prospect, former first round pick Michael McCarron has continued the positive steps he had taken with Memorial Cup winning Oshawa last season and has turned heads in a good way in his first professional season. Listed at 6-5", 238, he is still a massive specimen and is still a lumbering skater. Those two characteristics will never change. I suppose it is possible that shedding a few pounds could increase his top speed, as he can raise his tempo for short bursts, but I do not foresee any major change in that area. Where he has changed drastically in the past two years is in his approach to the game. He has improved in his tendency to make smart hockey decisions, to the point where he is already a trusted penalty killer as a rookie pro. His neutral zone play has improved and his panic threshold has increased. While he used to be at least as much a right winger as a center, the Habs look at his as a pivot and are developing him accordingly. McCarron's faceoff technique leverages his heft, as he will aim to lean on his opponent in the circle before wedging the puck backwards. In spite of his size, the Michigan native is not an exceptionally physical player, although he is effective when he uses his body to impose on the ice. McCarron's top attribute is his shot, as the wrister is a veritable weapon that should be able to beat goalies at any level. The release is quick and he can pick his spots. Considering the massive (in more ways than one) strides he has taken to puck his career forward, he should be ready for sustained NHL action by this time next season, if not earlier. He can turn himself into a solid second line center, if he is sheltered in the sense of needing to play with speedy wingers. A more likely scenario is as a third liner who contributes in all three zones and all man-power situations.
Another AHLer who is showing that he is close to ready for the show is blueliner Morgan Ellis. A fourth round pick out of Cape Breton five years ago, Ellis' ascent up the prospect pipeline has been slow and circuitous. There were points last year where it seemed as if his career would fizzle out before it really got going as he spent half of the season – his third full year as a pro – in the ECHL. That experience may have been important, though, as it was the first time he had contributed offensively regularly since leaving the QMJHL. The 29 points he has contributed in 52 games with St. John's this year are more than he had produced over 157 games combined in the previous three seasons. Ellis has no spectacular traits, but rather does a lot of things well enough that he profiles as a solid #4 blueliner. Not a burner, but moves around well enough to never be a liability. Ellis' shot is strong enough to be useable on the second power play unit. He can step up and step into a puck in open ice, or employ a half-wind up to catch a defense – and goalie – unawares. Ellis will engage in the offensive zone, but I have never seen him go in deep. Instead, he steps up a few paces above normal blueline positioning, making him an extra option for a shooting lane. He is very heady and responsible, and not really one to pinch too often or take unnecessary risks. Not overly tall, the PEI native is stocky and can be a handful along the boards, although his physicality is not as effective in open ice or in front of the crease. It is also notable that Ellis will be an RFA at the end of this season. Montreal needs to see what they have in him and he should get some NHL time before the season is out, particularly if GM Marc Bergevin waves the white flag and sells some pieces for improved draft position.
For most for the season, the Ice Caps have used two offensive wingers who should be looked at together in Sven Andrighetto and Charles Hudon. Both are undersized, with Andrighetto listed at 5-10", 187 and Hudon at 5-10", 195. Both wingers have also scored at very similar paces as AHLers, with the Swiss Andrighetto accumulating 110 points in 150 games while Hudon has 96 points in 132 games. Despite the similarities, one of the two should be able to establish himself as a bonafide NHLer while the other may never rise above a role as an extra forward.
Hudon, the younger of the two players, has appeared in two NHL games and has two assists to show for it. Despite that promising start, he is the less likely of the two to establish himself at the highest level of the game. He is a good passer and displays a patient, unselfish streak on the ice. Hudon's puck skills and general skating ability are both good enough, but he is very much a one-way player who can easily be neutralized physically. He can disappear for long stretches of the game and while talented, he does not bring enough to the table to overcome his lack of a two-way game.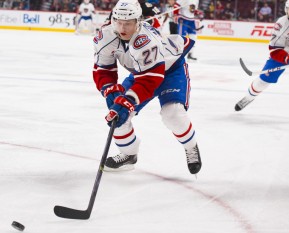 Andrighetto, on the other hand, plays with some fire in his belly. He has a nose for the puck and has shown no fear of getting dirty to make a play. Although undersized, he has demonstrated the ability to shake loose from tight, physical coverage to get in the right position. The two-time WJC participant (Hudon represented Canada once, since we are comparing the two) has plus acceleration and is an able finisher. As an added bonus, he is the type of player who can get under the skin of opponents, which combined with his skills, will enable him to draw more than his share of penalties. At this time last year, I was 50-50 on Andrighetto's chances of an NHL career. Since being recalled from the AHL at the start of February, he has become a regular, getting bottom six minutes, but helping to drive possession in Montreal's favor. In short, he already is an NHL'er.
Before moving on from their AHL team, we should spend a moment on 2014 first rounder Nikita Scherbak. Scherbak has seen his professional career get off to a rocky start with an injury keeping him off the ice for approximately half of the season so far. In limited time, he has not produced too much, but the Montreal organization wisely considers him to be their most skilled player on their AHL affiliate. Although drafted as a winger, they are working him as a center, hoping that he can fill a massive organizational need within the next two years. He is a creative player with very skilled hands. In a recent post-injury viewing against Albany, I saw him create a beautiful goal for himself as he wove the puck across the slot with his backhand to the net in wide stick movements before using his backhand from 12-15 feet out to beat the netminder to the far side. He needs a lot more AHL experience before Montreal will need to sew his last name onto an NHL jersey, but his early setback will soon be relegated to memory as he is trending in the same direction that has always been expected of him.
Before closing this organizational snapshot, I would like to profile the development of a couple of deep sleepers in the system, both of whom were drafted with the 207th pick of their respective drafts. More recently, the Habs chose Jeremiah Addison out of the Ottawa 67s system. Hockey Prospectus contributor Craig Smith (@Red_Vikreig) has seen plenty of Addison both before and after being selected by the Canadiens are reports on a likely fourth line type who will never be a big producer, but plays well in all three zones and adds energy to his team by driving the net or by dishing out a big hit or two. A decent skater with a wide stride, his offensive game has not developed very much, but he was not drafted for offense as much as for his style.
The other player I wanted to highlight is a guy who has grown on me with each additional viewing. Taken with one of the last picks of the 2014 draft Jake Evans was always a long shot as are any players taken out of the OJHL. His first year of collegiate hockey at Notre Dame was nondescript, but he has taken his game to a new level as a sophomore and currently leads the Fightin' Irish in points with the regular season winding down. Evans is a decent skater, albeit his speed short of average for the NHL game. A responsible, two-way player, he does not hesitate to sell out to block a shot if a situation calls for it. What has made Evans a bonafide NHL prospect is his playmaking skills. The Toronto native has great vision in the offensive zone and plus passing skills. He would be best served by at least one more season on campus as the college game is well suited to help him gain much needed muscle. For now, his is a name that Habs fans should get familiar with.