The NHL trade deadline is a little over a week from now and the clock is ticking on many leagues roster freeze deadline. With that in mind, here are some depth players who may contribute some short term help if you have a hole in your roster.
Brad Boyes, RW – Toronto Maple Leafs 10% Owned
Boyes has been a scratch from the lowly Leafs roster, but they have been showcasing him lately and he has responded with a four game point streak. Boyes is fighting for a contract next season, and for an opportunity to be traded to a contender. He is highly motivated.
Mark Arcobello, RW – Toronto Maple Leafs 8% Owned
Like Boyes, Arcobello is fighting for his NHL career and is being showcased by the Leafs who would love to trade players for picks. Arcobello had a terrible start to the season and in 16 games, has only four points. However, he has three points in the last four games and is currently on a hot streak. In his time in the AHL this season he has been good scoring 44 points in 34 games.
Erik Haula, Centre – Minnesota Wild 10% Owned
The speedy centre has been a bright light lately for the slumping Wild. Haula had back-to-back two point nights with six points in his last six games. He has also been dominating on the draw going 10-5, 7-4, and 11-2 in his past three games.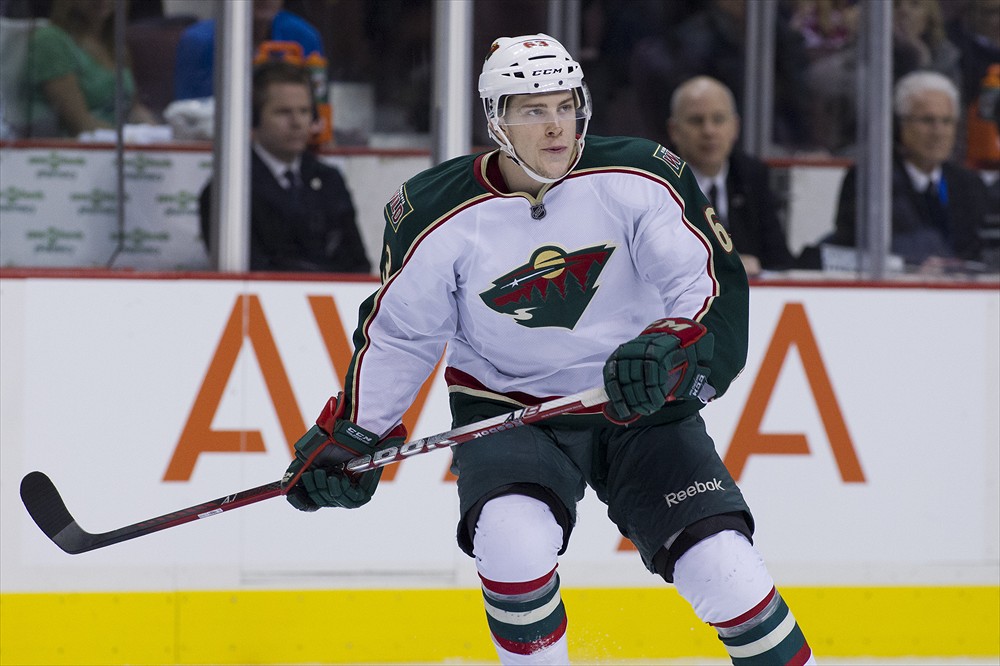 Charlie Coyle, Centre – Minnesota Wild 56% Owned
Currently riding a three game goal scoring streak, and eight in his last 12 Coyle has been heating up in the second half of the season. Coyle is poised for a career year with 31 points in 58 games, four points shy of his career high of 35 and he has played in 24 fewer games.
Riley Nash, Centre – Carolina Hurricanes 8% Owned
Nash has been playing some of his best hockey of the season lately and has five points in his last four games. Despite playing on the fourth line with Jay McClement and Chris Terry, Nash is producing points and has seven shots and nine hits in his last four games as well with a shoot-out goal and a game winner to boot.
***
For those of you in deeper keeper leagues, here are some prospects tearing it up in the AHL who may be relevant next year if you are looking to the future and can add prospects via waiver wire or free agent claims.
Jason Dickinson, Centre – Dallas Stars (Texas) 16% Owned
Dickinson scored 231 career points in 253 games with Guelph in the OHL, and won the Gold with Canada at the 2013 U18 WJC. In his rookie AHL season he has 40 points in 54 games. He will push for a roster spot in Dallas next year.
Brandon Montour, Defence – Anaheim Ducks (San Diego) 17% Owned
The Ducks are stacked with young defencemen, so don't be surprised if they trade one by the deadline for forward depth. If Montour is moved, he could debut with his new team at the NHL, or if a roster player is moved from the Ducks back end he could be recalled as a replacement. As an AHL rookie, he is second overall in defencemen scoring with 38 points in 46 games. The Ducks second round pick in 2014 was a point per game player in junior and college and has transitioned that offence to the pro level. He is a fantasy hockey sleeper bluechip prospect.
Matt Lorito, Left Wing – New Jersey Devils ( Albany) 1% Owned
The former Brown University forward made his AHL debut last year following a 106 point career in 118 games with 12 points in 11 games for the River Rats. In his first full season he has scored 38 points in 45 games in an impressive rookie campaign.
Daniel Altshuller, Goal – Carolina Hurricanes (Charlotte) 8% Owned
His first pro year was bumpy, spending most of his time in the ECHL and battling injury, his sophomore season has been resurgence. He has played in 19 games I the AHL so far and is 9-6-1 with a 2.55 GAA and a .913 save %. With Cam Ward heading into UFA status this summer, Altshuller will try to crack the NHL as Eddie Lack's backup.