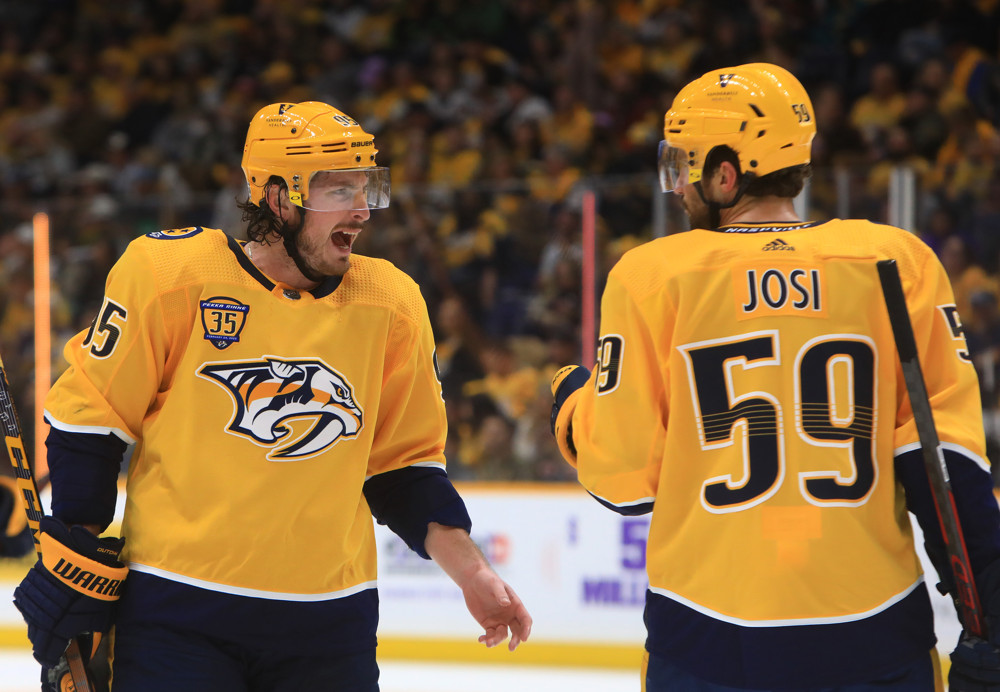 There are few players who are enjoying the league's influx in offense more than Nashville's Matt Duchene. Two years into a massive $64 million contract and only 19 goals over 100 games to show for it, Duchene was unanimously considered an anchor on Nashville's cap sheet. So much that he was exposed to in the expansion draft this past summer. Nobody batted an eye when the Kraken passed on him in July, but the tides have turned dramatically.
Duchene has set career highs across the board this year, on-pace for his first 40+ goal season and having one of the best years by a forward in franchise history. Having a bounce-back year is one thing. Scoring 40 goals and having the most productive season 13 years into your career is an entirely different conversation. The law of averages (along with common sense) told you that Duchene was a better player than the dismal 13 points in 34 games he posted in Nashville last season. However, there were some legitimate concerns on how productive he can be in his 30's, especially with so many forwards struggling to produce in Nashville.
One year later and things couldn't be more different. Nashville is a playoff lock with two forwards on pace for 40+ goals (a franchise first) with Duchene being front and center alongside Filip Forsberg in that department. How does a turnaround like this happen? It's an interesting situation to tackle because most stats that are independent of goals and assists will tell you that Duchene has been fine in Nashville. It's just a matter of the puck not going in the back of the net, which is a tough thing to deal with when you're making as much money as him. You're expected to be a difference-maker and drive results. Saying that you're just not getting the bounces isn't enough for some even if it is true, especially when you only have 19 goals over 100 games after signing a monster contract.
The truth is that a lot of random things can happen during a season, even more when that sample is fragmented by injuries, inconsistent linemates and coaching changes. The environment in Nashville has been more stable for Duchene this year. He has a couple of regular linemates in Mikael Granlund and Filip Forsberg, as opposed to bouncing around between second and third lines in search of chemistry. Still, a "normal" bounce-back year for Duchene would be something in the 20-30 goal/50-60 point range instead of the career high numbers he's putting up now.
What led to this? Other than it was unlikely that a 13% career shooter forgot how to score goals, Nashville's done a better job of catering to Duchene's strengths. With the Avs, he was a guy who used his speed to create odd-man rushes and breakaway chances. He's still a fast player who can do this, but when you look at the shots he was getting in his first two years with Nashville, it's a different profile than what he's doing this year.
Matt Duchene's shots in 2020-21 vs. 2021-22 courtesy of HockeyViz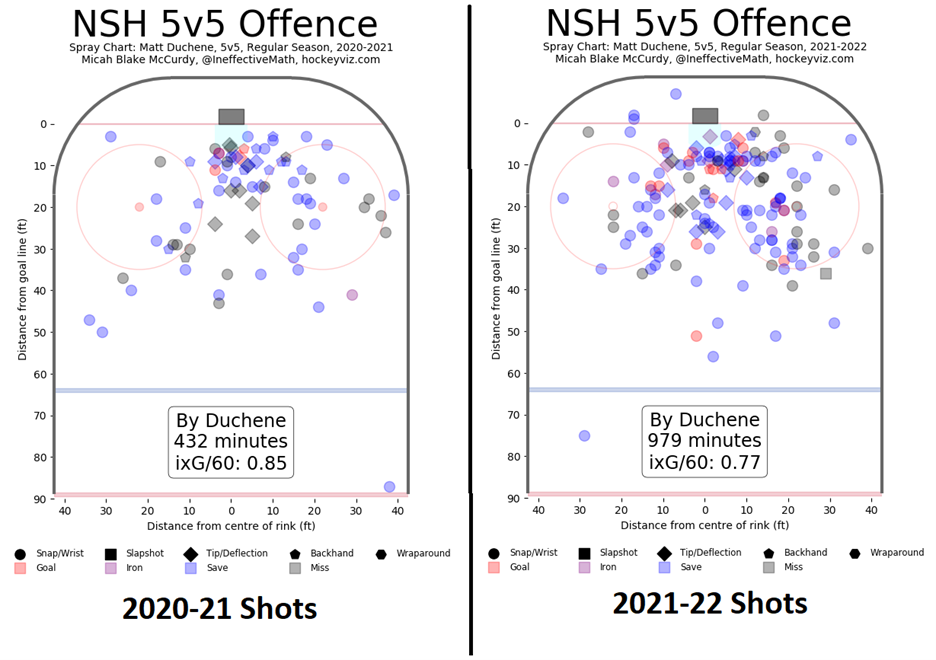 The main thing to look at when comparing Duchene's shot locations is how most of his offense from last year (along with 2019-20) was concentrated around the net. This year, it's a little more spread out in the slot area with more looks in the faceoff circles. What's interesting is that most models will tell you that Duchene was unlucky last year because of where he was getting his chances. Intuitively it makes sense, most goals are scored around the net and a talent like Duchene is going to figure things out if he keeps getting chances. Not every scoring chance is created equal, though. Sure, shots from close range are going to find the back of the net more often, but are they coming off deflections? Breakaways? Players stuffing rebounds into the goalie's pads hoping for a bounce? Looking at some of the footage of his goals and scoring chances before this year will tell you there were some conflicts.
Saving this for the "why can't Duchene score goals anymore" piece. pic.twitter.com/Pei20Gcn1C

— Corey Sznajder (@ShutdownLine) August 17, 2021
This was a typical shift from Nashville's top lines before this year. The puck would usually have to travel through the points and the forwards were left to fight for a loose puck around the net or create something down low. There were a lot of variables that needed to go right for them to get any sort of scoring chance that wasn't off the rush, which can happen when Roman Josi is the one running your offense, but there might have been some diminishing returns when it came to their forwards putting points on the board. Even if they were getting "chances", being able to fight off sticks and corral loose pucks around the net is a skill that some players have and others don't. Duchene can do this, but it's never been his best attribute. At least not compared to what he can do off the rush or in the slot. The footage of the goals he's scored this year show that.
Almost every goal here comes in transition. Even if Duchene isn't the one leading the rush, he's supporting the play, flying the zone early once the Preds force a turnover or quickly getting the puck to Forsberg or Granlund to start a break. The payoff is that you have more direct plays that are tougher to defend, and Duchene can put his top level skill to more use than just "getting to the net." They create more two-on-ones and if they're attacking with support, that gives Duchene more time and space to skate into a shot or get more of a clean look from the slot, rather than forcing a quick play to the net. It all ties into what works for a player and the Preds found a good formula for getting the most out of a player they've invested a lot of money in.
One area that Duchene has always done well at is the micro-level stats, which basically show where a player is creating his offense, how they're doing it and the context behind it. His first two years in Nashville, Duchene's been one of Nashville's best players in terms of shot creation. He does a lot off the rush, off cycles and is one of their best players at creating scoring chances off zone entries. In other words, he (and his linemates) were doing everything except actually putting the puck in the back of the net. That has changed this year and most of his stats here have stayed consistent, except for how he's generating these shots.
The first chart shows that Duchene was a "do everything" kind of guy for the Preds last year, whereas this year he's been more of a one-trick pony with him creating most of his offense off the rush. He is averaging the same number of shots off the rush per 60 minutes, but the difference is that the majority of his offense is coming from there instead of just a fraction of it, as he's only creating an average number of shots off the forecheck. The Preds lower two lines doing the bulk of the work there instead. What makes this work is that Duchene is still one of their best players at turning zone entries into scoring chances and the Preds have done a better job at surrounding him with players who compliment him.
Creating off the rush is a category Duchene has always excelled in since he entered the league. Even in worst seasons with Nashville, he was still one of the better players in the league at going coast-to-coast to create chances. Nothing has changed here, except that he's gotten more regular ice-time with Filip Forsberg and the two have done a fantastic job of reading off each other to create dangerous chances off the rush. Forsberg is a very different player than Duchene stylistically, but both do well at creating those quick strike plays with one leading the other into the zone or playing give and go along the wall to get defenders to back off when they're attacking the slot. Pair that with a solid support center in Mikael Granlund and you have a very dangerous line. Duchene's been able to create offense with the likes of Calle Jarnkrok and Erik Haula before, so it only makes sense that he can have better results with an elite talent like Forsberg on his line. That and having the same set of linemates for the entire season allows you to build more chemistry, something he had none of last year.
Duchene's career season is an interesting look into how the law of averages work and how not all scoring chances are created equal. If Duchene was in the same playing situation he was last year (no ice-time boost, no Forsberg, more cycle offense), there's a good chance he would have better results than his first two seasons in Nashville. He's too good of a player to be stuck in single digit goals forever. However, a simple change in offensive philosophy turned that rebound season into an offensive renaissance for him and the Preds in general.