Last offseason, one of the more significant trades the hockey world witnessed came right before the Draft when the Montreal Canadiens traded Max Domi and a third round pick to Columbus in exchange for Josh Anderson. Anderson was coming off a season lost to injury (shoulder) and Domi was looking for opportunity to play in the center of the ice among the top six forwards. The trade gave them each a new home to prove their worth.
Now, as the regular season ends, one team (Montreal) is post-season bound, while the other plummeted to the bottom five in the league. But interestingly, both players finished their 2020-21 campaign with the exact same number of points. Anderson scored more (17-7—24) while Domi provided more helpers (9-15—24).
If the players' box scores are the same, but the team results are so disparate, did one team "win this trade" or was each player just a piece in two different team's journeys?
Let's take a look.
First Impressions
Let's look at how the players performed compared to their career averages, as well as compared to their last season immediately preceding the trade in a few key individual measures in all situations.

What we see is that Anderson held pretty true to form, while Domi definitely had a down year. It's worth noting however, that Anderson got a huge boost in shooting percentage this season…of course, after last year saw him finishing at just a rate of 1.9-percent, that factors in, but he was actually shooting less while putting pucks in the net more.
Early on, it looks like Montreal got the player that they thought they were getting. But an individual effort does not a successful trade make. Let's look at how each player contributed to their team's efforts.
The Ask and The Answer
A trade isn't just made because of what a player can do, but also because of what she or he can do within the structure of the team to which they are being traded. Both teams made clear what spot was open for their newest additions: Anderson went to a team coveting a power forward who was also offensively skilled. While Domi went to a Blue Jackets squad that wanted to see him make the full-time move to center and fight for a top-six spot at that.
Let's take a look at what – if anything – changed in terms of each player's usage and resulting production using visuals from HockeyViz.com.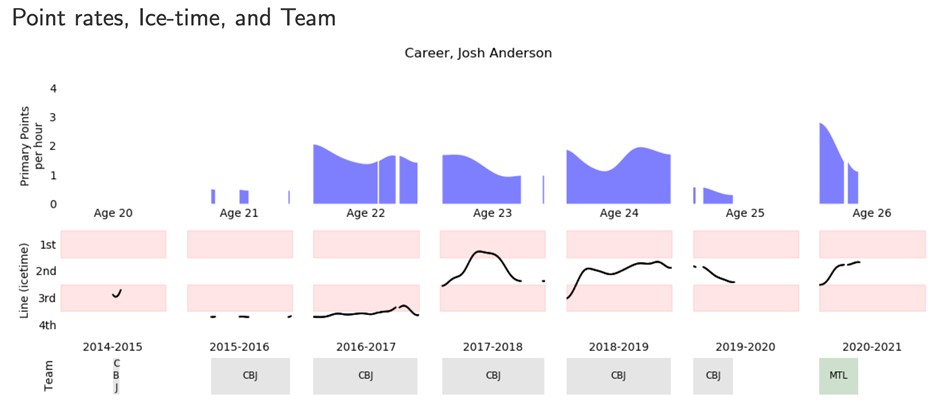 Viz via Micah Blake McCurdy, HockeyViz.com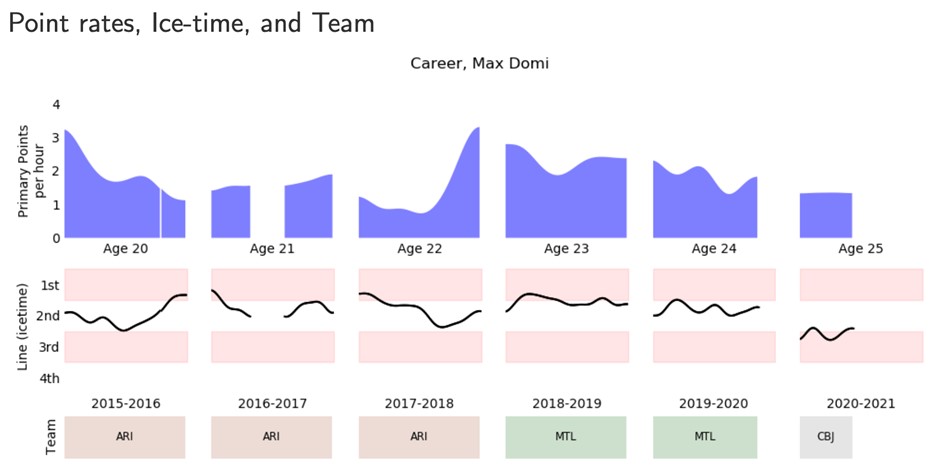 Viz via Micah Blake McCurdy, HockeyViz.com
We see that Anderson stayed right about where he'd been playing and while he experienced an early burst in offensive production, it still leveled out to be mostly in line with the majority of his career. Domi on the other hand saw his usage completely change for the worse. He moved back and forth between wing and center, and saw his ice time decrease mightily including two healthy scratches late in the season.
Further, if we look at team performance with each player on the ice, while Domi's team struggled, Anderson saw his team produce more while preventing opponents from producing. In fact, Anderson was on one of the top ten forward lines in the league this season according to MoneyPuck.com.
Let's be very clear, this doesn't hang an entire team's success or failure on the player in question. Rather, it raises the question of the fit of each player coming to their new team and begs the question of how they were able mesh with the new organization and vice versa. In this case, the match between Anderson and Montreal was more successful than that between Domi and Columbus.
What's Next?
The short term returns are in on this trade, but both players involved aren't done playing hockey after this year. Domi has one more year on the contract he signed with Columbus just after the trade that comes with a $5.3M cap hit. Anderson comes in at an oh so slightly higher $5.5M per year for six more seasons, also signed just after Montreal acquired him. How does this trade look down the road? Is there a clear winner?
Let's take a look at each player's projected impact using Dom Luszczyszyn's Game Score Value Added (GSVA).
First up – Anderson.
Viz via Dom Luszczyszyn
Anderson comes into this new contract already feeling the impact of his "lost season" during 2019-20. From there, as with all players, age brings a projected decline in performance. For Anderson, specifically, while his contract is still an overpay, he's expected to hold onto a top nine position for the majority of his contract.
Now, Domi.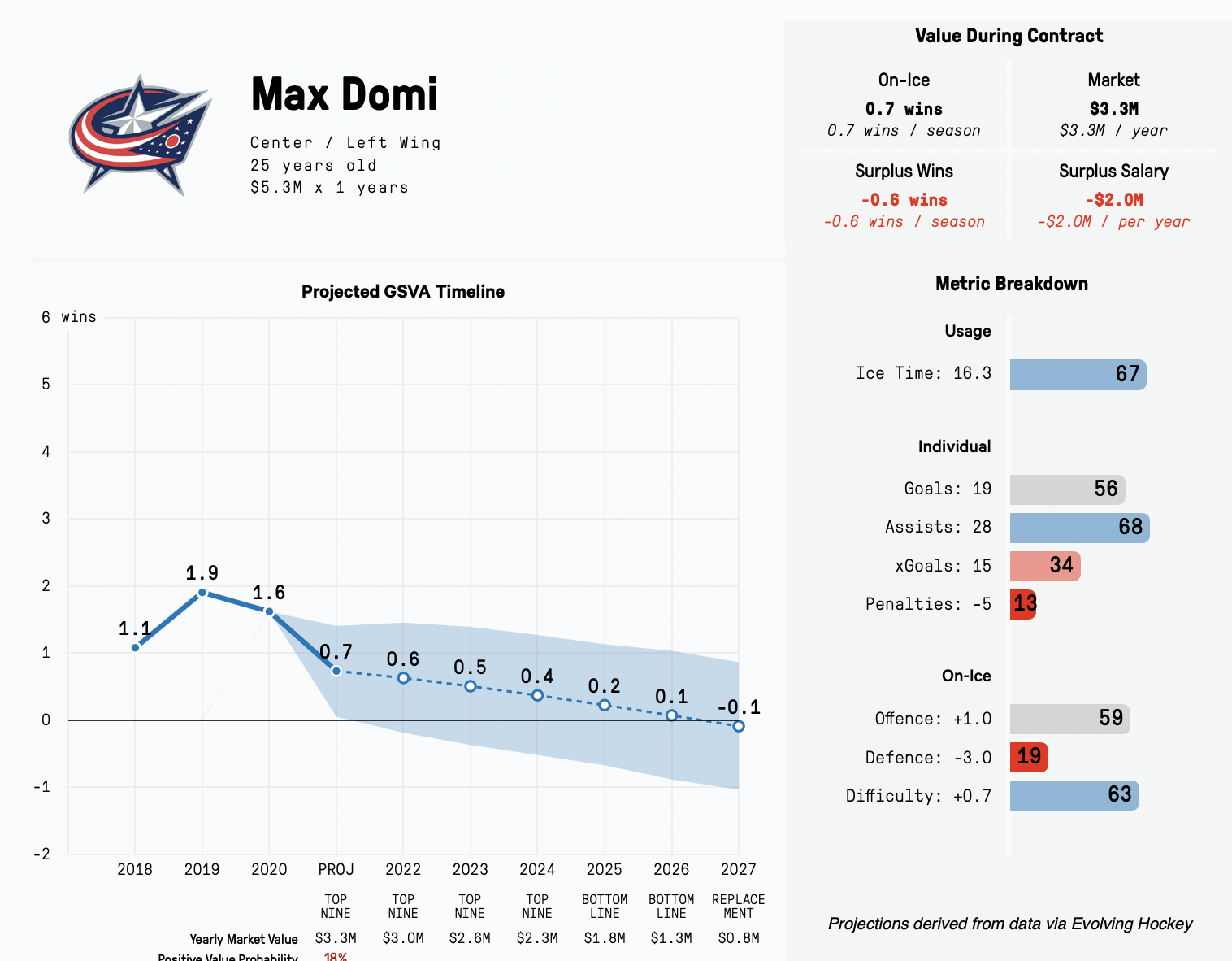 Viz via Dom Luszczyszyn
While Anderson's biggest drop in GSVA occurred before his current contract, Domi suffered his this past season. But interestingly, the two players going forward fall more or less in line with one another as far as projected value. The variance is just enough, however, to shave one year off Domi's projected top nine viability and never truly cements him as a top six player.
We also see here in the metric breakdown for each player much what we saw in their current performances this season: Domi contributed more in playmaking and driving offense while Anderson measures out to produce more offense directly while also balancing his game with a better defensive impact.
The difference that may have the most significance, however, is term. Whereas Columbus has Domi under contract for just one more year – allowing for some readjustment of terms should performance dictate – Anderson's contract runs the life of Luszczyszyn's projection resulting in a far larger overall negative impact (minus-$15.2M / minus-4.5 wins) compared to Domi's minus-$2.0M and minus-.6 wins.
Overall
So which team "won" this trade?
Short term, it appears Montreal did because they got the player they thought they were getting based on past performance and have played him in a role that has allowed him to flourish. Columbus made a bigger ask of the player they received and thus far, the response has not consistently been present.
Long term however, the answer may change. Columbus has an out clause if Domi isn't what they thought they were getting; of course, they are then left with a hole to fill on their roster. But conversely, any decline in Anderson's game bears the burden of a longer (and thus more expensive) contract.