While Cole Caufield's lack of size sticks out immediately, the winger is more Alex DeBrincat than Sean Dhooghe. And NHL teams will not make the same mistake with Caufield as they did with DeBrincat, who was passed over 38 times in his draft year. DeBrincat, as of this writing, has 38 goals in 66 games in his age 21 season. Caufield could do the same.
Like many goal scorers, he can be streaky, but his finishing touch is among the very best of all players in this draft class. The Wisconsin native and University of Wisconsin commit should come off the board by the middle of the first round and would likely be a top ten pick if he had an extra three inches and 25 pounds on his frame.
| Cole Caufield | 2019 Draft Eligible |
| --- | --- |
| Position: RW, Shoots R | H/W: 5-7", 157 lbs |
| Stats to date (GP-G-A-PTS-PIMS) | U.S. National U18 Team, USDP (47-43-22-65-30) |
| | USNTDP Juniors, USHL (20-18-11-29-18) |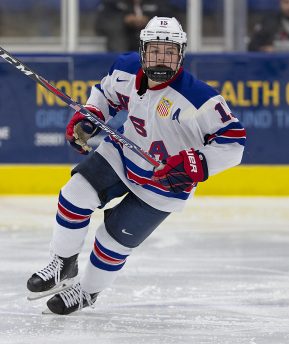 Skating: It is often said that for a small player to survive in the NHL – even the modern-day NHL where brawn is a diminished asset – a player must be fast. Thankfully for Caufield, he can move. A very fast skater with excellent acceleration and solid top speed, he is able to find holes in offensive one coverage simply because he can get to them before defenders can. He is also a shifty player, able to wiggle free from tight checks near the boards. He is also strong on his feet, and better able to stay upright under physical pressure than might be assumed. Grade: 60
Shot: Caufield sniffs out scoring chances like dogs sniffing out territory to mark as their own. As can be seen with his near goal-per-game exploits of this season, he is a natural born finisher. The shots are not exceptionally hard, but they are accurate and his release is lightning fast. Most of his goals come from within the homeplate area and he can score in a variety of fashions, but quick snapshots seem to be his go-to. I have also seen him score with wrist shots from the middle-slot, one-timers from all over, tap ins from the goal-mouth, and deflections. Grade: 60
Skills: Talented mitts here. His hands are extremely soft, which is best shown in the way he smoothly collects passes and almost never seems to fumble. He is patient with the puck, able to maneuver the puck in tight spaces. He can make the opponent guess wrong with his intentions. While he does not have many assists this season, he has spent much of the year playing with Jack Hughes, and the latter gets most of the puck touches. But given different circumstances, he has the ability to create for others. Grade: 60
Smarts: Caufield is an attentive player in terms of his play off the puck. He does not merely wait for a turnover before sprinting forward. He keeps his stick at the ready and will force turnovers in his own zone to begin the counter attack. He reads the play well and plays within his game.  Grade: 55
Physicality: There are a number of positive things I could say about Caufield's physical game, but the honest truth is that the accolades would only be in terms of exceeding the expectations placed on a player of his tiny stature. He is braver than his size would suggest and is stickily built. I have seen him fight off checks to get his stick free to score. He doesn't give up on plays. But he is tiny.  Grade: 45
Overall Future Projection (OFP) = 57.75
A note on the 20-80 scale used above. We look at five attributes (skating, shooting, puck skills, hockey IQ and physicality) for skaters and six for goalies (athleticism/quickness, compete/temperament, vision/play reading, technique/style, rebound control and puck handling). Each individual attribute is graded along the 20-80 scales, which includes half-grades. The idea is that a projection of 50 in a given attribute meant that our observer believed that the player could get to roughly NHL average at that attribute at maturity.