Ryan Wagman takes an in-depth look at Scott Reedy of the USNTDP who is ranked near the end of the second round at #60 by McKeen's, but could be a wild card at the draft as his projections is a few years out.
A note on the 20-80 scale used below. We look at five attributes (skating, shooting, puck skills, hockey IQ and physicality) for skaters and six for goalies (athleticism/quickness, compete/temperament, vision/play reading, technique/style, rebound control and puck handling). Each individual attribute is graded along the 20-80 scales, which includes half-grades. The idea is that a projection of 50 in a given attribute meant that our observer believed that the player could get to roughly NHL average at that attribute at maturity.
| Scott Reedy | 2017 Draft Eligible |
| --- | --- |
| Position: C/RW, Shoots R | H/W: 6-1", 205 lbs |
| Stats to date (GP-G-A-PTS-PIMS) | USNTDP Juniors, USHL (21-10-4-14-39) |
| | US National U18 Team, USDP (60-22-20-42-51) |
| | USA U18, WU18 (7-1-1-2-2) |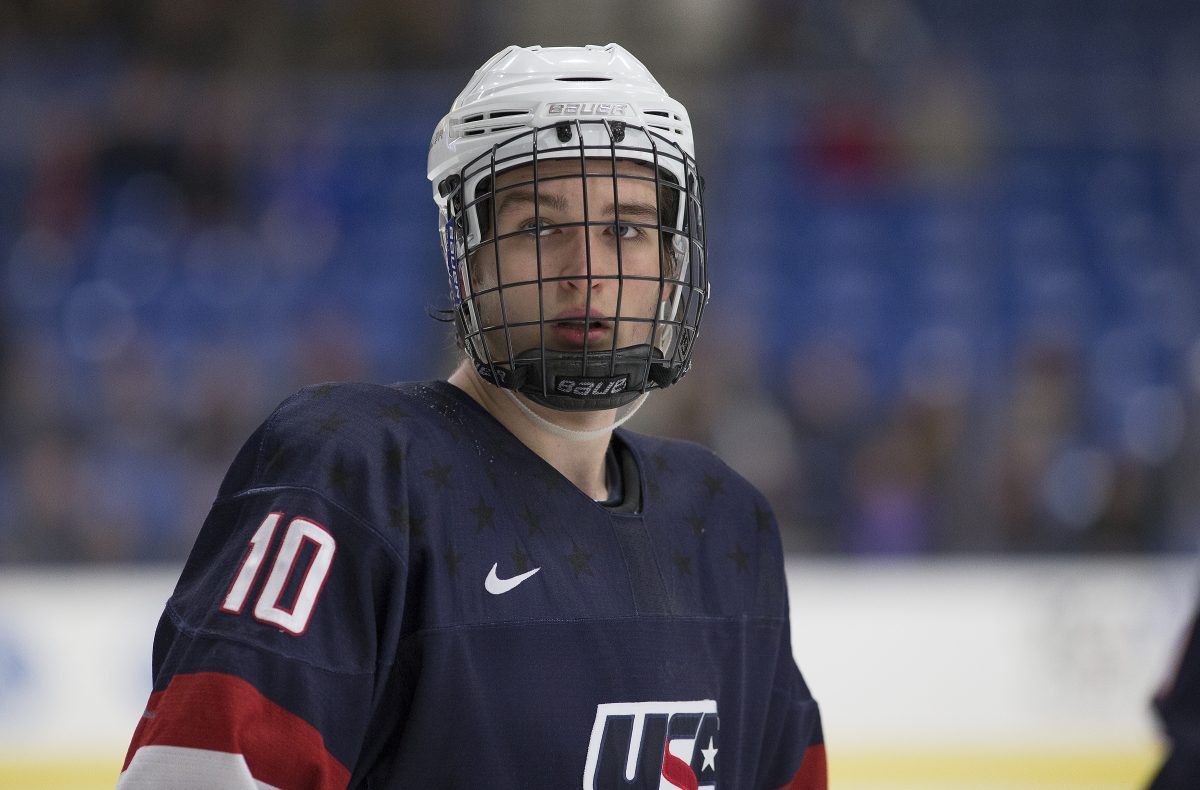 Skating: In light of the physical maturity that is common to all 17 and 18 year olds, Reedy put on a good bit of weight over the past 12 months. The added heft has muted what had been a key selling point to his game in his impressive speed. When he is on his game, he is still a very strong skater, but he can run out of steam too quick. This grade is somewhat reflective of the belief that as he acclimates to his adult frame, his stamina will rebound. Grade: 60
Shot: Reedy's shot is roughly average. Many of his goals are scored through advantageous positioning. He will get right to the opponent's crease and try to deflect attention from his teammates. His wrist shot is definitely his weapon of choice when getting the puck on the net. His shot can finish the job when he gets into the right position to activate it, but will not be a game breaker. Grade: 50
Skills: Projects as more of a playmaker, or supportive player, than a goal scorer at the next level. Reedy has quick hands and solid puck protection skills. His vision allows him to execute relatively tricky passes through traffic. Has one-touch passing ability and knows how to work well with others. He sticks to a system and utilizes his teammates well.  Grade: 55
Smarts: The hallmark of USNTDP alumni is high level hockey IQ. Reedy certainly fits that mold. He is trusted in high leverage defensive situations, such as when his team is trying to protect a tight, late lead. He is heavily involved in both ends and profiles as a reliable 200 foot player. A very strong player in his own zone, he takes advantage of his reads, anticipation and quick hands to force more than his share of turnovers. His smarts will allow him to play up and down the lineup as needed. Grade: 55
Physicality: Reedy plays a clean game, but recognizes that he has the frame to succeed in the dirty areas of the rink. Leverages his size well in the offensive zone, playing around the net and protecting the puck in the corners. Will play with some jam, but not high level aggression. Grade: 50
Summary: After being impressed with his work as an underager in the national development program last year, 2016-17 was a mild disappointment for Reedy as he was not able to establish himself as a clear cut top six scorer. That said, he is still a prospect of great interest as the University of Minnesota commit is still a plus skater with above average hockey IQ and skills. At this stage, he projects as a solid third line option down the road, with the chance for more as he gets comfortable in an adult-sized body. He could be drafted anywhere from the back end of the second round to the middle of the fourth. He will likely need at least three seasons with the Golden Gophers before he is ready to try his hand at professional hockey.