A note on the 20-80 scale used below. We look at five attributes (skating, shooting, puck skills, hockey IQ and physicality) for skaters and six for goalies (athleticism/quickness, compete/temperament, vision/play reading, technique/style, rebound control and puck handling). Each individual attribute is graded along the 20-80 scales, which includes half-grades. The idea is that a projection of 50 in a given attribute meant that our observer believed that the player could get to roughly NHL average at that attribute at maturity.
McKeen's welcomes Craig Smith to the team. Craig has lived in Ottawa his entire life. He grew up playing hockey, eventually coaching at the Bantam level and became a Referee officiating up to Midget AAA. He visits "The Bob" in Gatineau on a regular basis to catch the QMJHL. When the schedule allows it he will head over to TD Place and watch some OHL action as well. When he is away from the rink he spends his time attempting to keep up with his daughters, aged five and two. He also contributes to the6thsens.com, senschirp.ca, and an occasional podcast on The Cost Per Point Cast via silversevensens.com . On twitter @Red_Vikreig.
| Nico Hischier | 2017 Draft Eligible |
| --- | --- |
| Position: C, Shoots L | H/W: 6-1", 175 lbs |
| Stats to date (GP-G-A-PTS-PIMS) | Halifax Mooseheads, QMJHL (39-33-34-67-14) |
| | Switzerland U20, WJC (5-4-3-7-2) |
Skating: The Swiss born forward has seen mixed reviews on the caliber of his skating. No matter what the comment is one thing is certain: Hischier is a fantastic skater. The discussion settles around his speed. Is it elite? His ability to skate laterally and use is edges earns high grades.  He can stop suddenly and change direction like a running back in football cutting into a hole through the offensive line.  He uses the ten and two o'clock angle with his skates to help pivot in the corners and escape, even when pressured by up to three opponents. There is no debate surrounding his agility. The speed debate starts with his acceleration. While he changes direction quickly, his first three steps in accelerating need some technical adjustments. The stride is there to accelerate within the first three steps, he just needs to cut out the fourth stride or create more push from the first stride. His breakaway speed is not always present as there are multiple occasions where he creates a turnover but is unable to separate from the opposition. Grade: 65
Shot: One of the subtle characteristics of his shot is that his shoulders remain square to the net. If his hips are turned to help receive the puck he still gets a quick accurate shot off thanks to his square shoulders. He controls the velocity.  He will take some power off the shot in order to ensure it is accurate. His release is a smooth forward motion. He has several different ways in which he can score. No matter what shot he is using it is better than most. His backhand elevates quickly, his slap shot consistently finds its way through potential blocks, and his wrist shot is lethal. Grade: 70
Skills: He extends what seems to be far beyond his expected reach. He will move the puck in and out of other players skates when in tight traffic all while keeping the puck close to his stick. The puck is rarely outside of his reach where if he made a mistake he would not have an opportunity to recover the puck. He can use toe drags, puck flips, or push the puck past a defender then skate past him and pick up the loose puck. He is dynamic and tons of fun to watch. His passes match the finesse and creativity of his stick handling. His passes are easily handled by their recipients. He is also able to make accurate passes without having his shoulders square to the receiving player. Being able to make accurate passes without adjusting his body allows him to maximize his agility and puck handling. Grade: 65
Smarts: Hischier's awareness is present in all three zones. He times his turn and exit from the defensive zone well and does not leave his teammates stranded and outnumbered. Once in the neutral zone he uses the complete area trying to break the defenders formation. He uses excellent judgement on the best avenue to enter the offensive zone. He will pass it in over the blue line, dump it in, or carry it. When he is in the offensive zone or the neutral zone he uses the complete ice surface to create offence and set up the attack. He is able to anticipate and react earlier than the other players on the ice. He just processes the information quicker. Grade: 60
Physicality: Luckily for the Swiss born star he does not need to play a physical game. He is able to avoid physical contact with or without the puck. If he does get pressed he can slither out and continue on with the puck. Far too often he is knocked on the ice and separated. He should be able to add another 15-20lbs onto his frame and reduce the amount of times he is pushed off the puck. The grade is low and could improve if he shows added strength this offseason. Until he shows that the muscle is growing the score will remain low. Grade: 45
Summary: "The Swiss Connor McDavid", is a title that some have branded Hischier with. He is the best prospect to ever come out of Switzerland. Early in the year he was ranked by many in the bottom half of the first round. Thanks to a remarkable performance at the U20 World Championships and unmatched production in the QMJHL this season he has sky rocketed up ranking lists and has cemented his position as a top three pick in the draft. He is the most exciting player in the draft to watch. The skills he displays on a nightly basis graded high and it is reasonable to expect his physicality to improve. He has a chance to be one of the few impact players that come out of this draft.  There is a slim but not impossible chance he supplants Nolan Patrick as the number one pick.
| Nicolas Roy | 2015 Draft (96th - Carolina Hurricanes) |
| --- | --- |
| Position: C, Shoots R | H/W: 6-4", 200 lbs |
| Stats to date (GP-G-A-PTS-PIMS) | Chicoutimi Saugeneens, QMJHL (31-21-25-46-28) |
| | Canada U20, WJC (7-3-1-4-0) |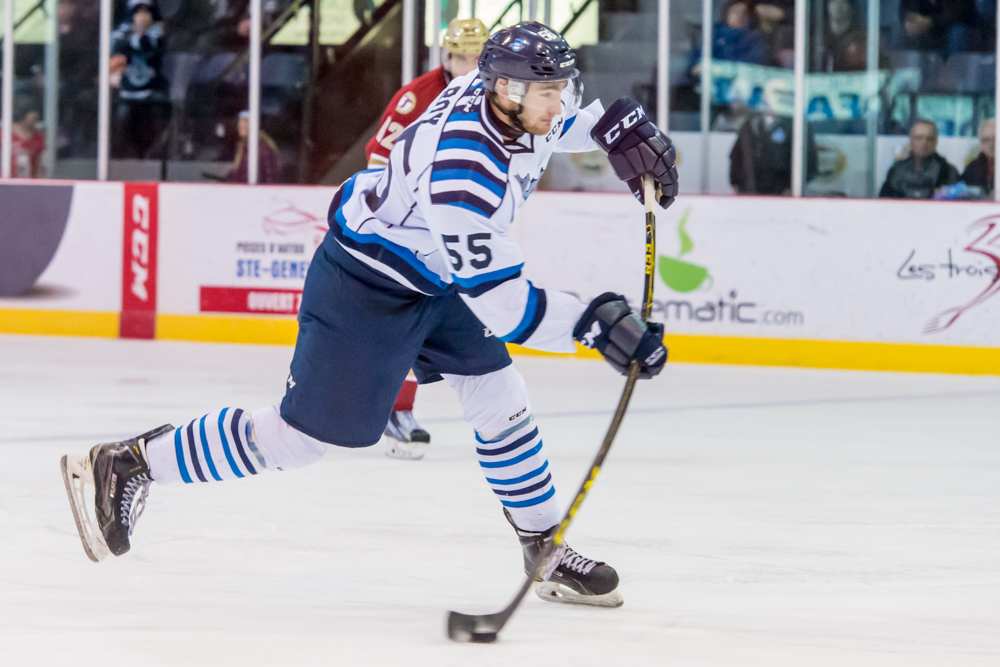 Skating: The QMJHL's first overall pick in 2013 is a sturdy skater. His stance is technically sound. His stride is long and powerful. It is hard to have great acceleration for someone of his size, but he has good speed for his size and turns quickly. His skating will allow him to be deployed in almost any role his coach feels is needed. Grade: 55
Shot: Roy takes almost all of his shots from a very small area on the ice. His shots come from in between the faceoff circles just inside the hash marks. His shot itself is average. His wrist shot's release does not have any obvious tells, but he does take a longer time to wind up and let go of the puck. It is hard to foresee his shot being overly effective in the NHL. He has the ability take some high level shots, just not on a consistent basis. He will need to score his goals from the dirty areas. Grade: 50
Skills: Roy stands 6-4" and has a long reach. He uses his reach well when handling the puck. He does a first-rate job of holding the puck out then quickly bringing it back close to his body. When he leans on the checker and keeps the puck out of reach but then quickly changes the position of the puck it freezes defenders. In and around the net he can pick up loose pucks or deflect shot points.  Grade: 50
Smarts: He is a smart, low risk player. He is a defence first player. Now that he has learned the defensive side of the game he has been able to focus more on the offensive side. He will typically stick to a north-south style of game. When he is forechecking he takes good angles and forces the puck up the boards. Defensively he is disciplined and stays with his zone and supports the defence.  Grade: 55
Physicality: Roy was selected to the Canadian junior team in part because of the physical element he is able to bring.  He has a massive frame and has put the strength on that frame to wreak havoc on the opposition. He is very difficult to separate from the puck. He can and will lay the big hit on the opposition. His size, strength and skating ability combined can create a hesitation in other players forcing turnovers. Grade: 65
Summary: Roy is starting to look like another prospect gem for the Hurricanes. He may help fill a role that is missing for their roster's future projections. Having Roy start out as a third line winger eventually transitioning to the third line centre role would be a great addition to the young and improving Hurricanes. His skills and skating ability will allow his coaches to deploy him on any of the four lines.  Similar to some other top players in the QMJHL this season Roy has seen a big swing in his development arch. He has the skills, skating, and strength to play in the NHL. Given that aside from having a high score in physicality his closer to average skill set will limit his offensive ceiling.
| Mathieu Joseph | 2015 Draft (120th - Tampa Bay Lightning) |
| --- | --- |
| Position: RW, Shoots L | H/W: 6-0", 165 lbs |
| Stats to date (GP-G-A-PTS-PIMS) | Saint John Sea Dogs, QMJHL (34-28-26-54-33) |
| | Canada U20, WJC (7-1-4-5-0) |
Skating: His top speed creates separation from defenders. He also closes in quickly when on the back check. The Lightning prospect accelerates to that top speed in a flash. His quick feet and first two steps also allow him to find some extra space in the offensive zone to get off his shot.  He is not the most agile of skaters. He does not use his edges often as his straight line skating is so good. Grade: 65
Shot: Joseph is a shooter. He is currently sitting second amongst QMJHL players with over 80 shots on goal with a 21.54 shooting percentage. He is 15th leaguewide in shots per game, and third in goals per game. His shot comes off the blade quickly. He has an accurate shot and it's hard as well. He does take some shots that go directly into oncoming blockers. When he gets a clear lane it is difficult for goalies to track his shot.  Grade: 60
Skills: He is an underrated passer. He uses the attention he is given to get the puck to his teammates when they are awarded the extra space. He has 20 primary assists this season. He has ordinary hands. He will get stick checked and sometimes will mishandle the puck. He can handle the puck with speed and can come straight on defenders or goalies then make a last second move to win the battle. Grade 50
Smarts: He is a nightmare to play against inside the neutral zone. He applies incredible pressure on the opposing team during their transition. He uses his size, speed, and strength to interfere in passing lanes and force turnovers. In the defensive zone he keeps good spacing between himself, the point, and the half boards. He works hard and does not give up on his own mistakes.   Grade: 55
Physicality: The fourth round pick was originally a grinding forward who focused on playing a physical game. He has developed the rest of his skills and taken a slight step back in terms of the frequency in which he is playing the body. He is physically gifted and can overpower most players at the junior level. Once he becomes a pro he will still be able to play his physical style but may not be as dominant. Trying to get him off the puck is almost impossible given how fast he moves and how strong he is. Grade: 60
Summary: The Lightning must be ecstatic with Joseph's development curve. He was a fourth round pick and is on track to return second round value. He took a back seat and played a support role with team Canada at the WJC. He was effective even though his point totals were probably lower than he would have wanted. He will assume a similar role in the NHL. He will be a complimentary player best suited as a middle six winger who can provide some occasional offense while being defensively responsible.
| Pierre-Olivier Joseph | 2017 Draft Eligible |
| --- | --- |
| Position: D, Shoots L | H/W: 6-2", 160 lbs |
| Stats to date (GP-G-A-PTS-PIMS) | Charlottetown Islanders, QMJHL (44-6-28-34-30) |
Skating: When you are smaller than the other players on the ice you need to be quicker. Joseph has notable speed and acceleration. He is agile and deceptive when coming across the blue lines. He has good edges as a defender should. He uses them in bursts out to pinch up into the play. Grade: 60
Shot: Sometime it is hard to tell if a defender is being safe and ensuring that his shot is getting on net or if his shot just lacks quality. Joseph's shot is just slightly below average. It lacks velocity but is accurate. He is shooting at 6.38 % this season. Grade: 50
Skills: Joseph has been given the rope and been put in situations to let his skills thrive and develop. Playing on the point of a powerplay that has Filip Chlapik, Daniel Sprong, and Francois Beauchemin will provide some options for a defender thinking of passing the puck. He is not a strong shooter and therefore does look to pass. He is a good passer who makes simple, easy passes and lets his talented forwards do what they are good at. He can keep the puck on his stick and maneuver beyond a stick check with little effort. Grade: 55
Smarts: Junior coaches do not always entrust large amounts of important ice time to 17 year old players. The Islanders are a well-coached team that plays in a strict system. Joseph is entrusted to run the point of one power play unit and will even see some time on the penalty kill. He is sheltered defensively having faced a lower quality of competition this year. It is a prerequisite to continue learning the defensive side of the ice for young players. Joseph is not exempt from this. He is aggressive on offense. He will pinch to keep the puck in and even press down below the faceoff dot to keep pressure in the attacking zone. Grade: 50
Physicality: The Charlottetown defender is as aggressive with his physical play as he is with his offensive play.  He will jump up to attempt the big hit. He is forceful when pressing players up against the boards.  He still has room to grow and strength to add. His checks are not always successful but it does not prevent him from trying. He can be pushed off the puck, but usually has the puck off his stick before the hit arrives. Grade 45
Summary: Pierre-Olivier Joseph may earn the bragging rights in his house. His older brother Mathieu was drafted in the fourth round by the Tampa Bay Lightning in 2015. Pierre-Olivier may be as high as a first round selection if his growth continues with a strong second half, although the second round is more likely at this point. He has been improving all season and has had some long streaks with consistent production. He is getting more ice time than team captain and Canucks third round pick Guillaume Brisebois. That may change with the recent trades for QMJHL veterans and NHL prospects Nicolas Meloche and Carl Neill. The changing views on smaller defenders who play an offensive game will help ensure that P-O Joseph is not overlooked come draft time.
| Filip Chlapik | 2015 Draft (48th - Ottawa Senators) |
| --- | --- |
| Position: C, Shoots L | H/W: 6-1", 195 lbs |
| Stats to date (GP-G-A-PTS-PIMS) | Charlottetown Islanders, QMJHL (34-24-31-55-74) |
| | Czech-U20, WJC (5-2-1-3-0) |
Skating: Filip Chlapik does not rely on his skating to help him achieve his gaudy production totals so far this season. His technique is heavily flawed and therefore he does not maximize each stride. His knees are too close together and are not bent enough. It limits his ability to quickly change direction or make a lateral move. He is often slow on the backcheck as his straight line acceleration is poor. The surprising aspect is his top speed. If given the time and space he can achieve a top speed that will allow him to enter the opposition's zone with ease. When on his edges his technique improves exponentially. His crossover creates a much faster rate of acceleration than his straight line skating. Luckily for Chlapik skating is his weakest attribute. Grade 45
Shot: The Czech born player has a mixed level of skills when it comes to shooting. His wrist shot has both strong accuracy and above average velocity. It is the efficiency of the wrister's release that may hinder his chances of scoring goals at high rates in the NHL. He tends to pull the puck back prior to shooting. His inside shoulder also drops and moves forward allowing the goalie to prepare for the upcoming shot.  His slapshot scores lower than his wrist shot. It still has good accuracy, but the velocity is slightly less impressive. Chlapik is on pace to double his shot rate from 2015-16 and has shown an improvement in shot selection. He shoots the majority of the time from high danger areas. Grade 50
Skills: The exceptional flashy play is not something that will be seen often from Chlapik. He has good hands in close but prefers to use simple toe drags and other basic dekes to create space and avoid the defender's poke check. The ability to amaze is present and can appear from time to time. The Senators' second round pick is a low risk player. His passes are accurate and crisp. He is able to use touch and feather a pass or use a saucer pass when a change of pace is required for timing or a one timer. His vision and passing ability is confirmed as he ranks eighth overall in the QMJHL with 0.56 primary assists per game. He is patient and intelligent when making a pass. He ensures the lane is open and that if the pass is intercepted the risk of a dangerous transition is minimal. Grade 55
Smarts: Unquestionably the strongest and most important part of the Charlottetown top center's game. He is always positioned well when without the puck. He plays the center position as it should be. He is a good distributor of the puck, but he also supports his teammates by providing easy to see passing lanes. He understands his role on the fore check and consistently places himself in the high slot area ready to force a break out into his team's desired direction. In the defensive zone he is steadfast as he does not allow the opposition to pull him out of his assigned position.  He runs one of the Islander's power play units. During the powerplay he is positioned on the right side half board. He is the main distributor but also has a green light to shoot. He does an excellent job of evaluating and deciding where to move the puck or if shooting is the best option. Grade 65
Physicality: When Chlapik transitions to pro hockey next year, there will be very few story lines from the broadcasters about this 19 year old's physical dominance. It is not that he is soft or incapable. He plays the puck. He will avoid contact when in position and will attempt a stick check as his primary defence. When the whistle goes and some of the good old time hockey kicks in he will not shy away, sometimes he is the instigator of the post whistle scrum. He is well balanced enough to bounce off a check and maintain his chosen path. Grade: 50
Summary: At the end of the 2015-16 QMJHL season there were legitimate concerns about Chlapik's legitimacy as a NHL prospect. After a long discussion with the Senators development team, a plan was put in place and goals were set. Chlapik has admitted that his previous off ice habits were poor and beginning to affect his on ice product. Refocused and motivated he has proven himself and was award with his ELC prior to his World Junior appearance. He is second in the QMJHL with 1.62 P/GM, 4.79 SH/GM, and fifth in primary points per game. Needless to say he has been enjoying an outstanding season. There is still a long road ahead as he will need two or three AHL seasons to fine tune some aspects of his game. He and his Charlottetown Islanders teammates are one of the favourites to make a run for the league title. If that does happen, Chlapik will be a major reason why.