The 2015 NHL Draft is shaping up to be dominated by high-end prospects out of the OHL or the USA Hockey National Team Development Program, including a couple of players making early jumps to the NCAA in Jack Eichel and Noah Hanifin. 
OHL names like McDavid, Konecny, Strome, Zacha and Marner will also grab headlines as the year progresses and draft lottery odds begin to shape up for the non-playoff teams in the NHL.
In what is shaping up to be one of the strongest drafts in recent memory, there also exists a standout crop of QMJHL players with high-end talent, after just one QMJHL product was selected in the 2014 draft's first round, Halifax's Nikolaj Ehlers (Winnipeg Jets).
With early signs pointing to a shot at half a dozen QMJHL prospects going in the first round in 2015, there is considerable intrigue, setting the table for an excellent mid-to-late first round in Sunrise, Fla., in June.
Here are 10 QMJHL players to watch this season.
The cream of the crop:
Daniel Sprong: RW, Charlottetown Islanders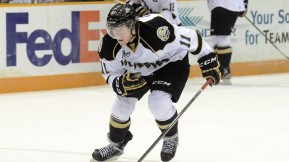 There are few players In the QMJHL capable of controlling play in the way Daniel Sprong can. Drafted small, Sprong has since grown into his frame, scoring nearly one in five of Charlottetown's goals in 2013-2014.
Frequently referred to by head coach Gordie Dwyer as the team's most dynamic forward, Sprong has a keen eye for the ice, strong hands and a heavy shot.
Sprong led all Islanders in scoring before registering five points in a four game sweep at the hands of the Halifax Mooseheads.
After spending his summer training in Toronto, Los Angeles and Kelowna, if Sprong can improve on his 68-point rookie season, he's got a chance to be taken in the first half of the first round.
Evgeni Svechnikov: RW, Cape Breton Screaming Eagles
One of the premier Russian prospects of the 2015 draft, Svechnikov joined the Screaming Eagles after having been selected in the second round of the CHL Import Draft.
Elite offensive instincts, Svechnikov is fresh off a stint in the KHL as a 16-year-old after dominating with Bars Kazan in the Russian junior ranks.
A hot early start has the young winger attracting a lot of attention from opposing defensemen early on this year. There's a chance his production actually grows as the season progresses and he adjusts to the game in the QMJHL. If he can show steady progression, he may climb into top-10 discussions.
Jeremy Roy: RD, Sherbrooke Phoenix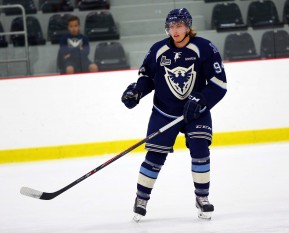 Jeremy Roy, simply put, is one of the strongest defensive prospects the QMJHL has produced in recent memory and there's a strong chance he's still taken outside the top 10. 
A perfect example of the depth of the 2015 class, Jeremy has the tools to be a stronger prospect than Haydn Fleury, who was taken seventh overall by the Carolina Hurricanes in the 2014 draft.
Extremely intelligent, and mobile, Jeremy has the potential to put himself into conversations with the truly elite of the class. Don't be surprised if he plays his way into talks for Canada's right side at the World Juniors (on a deep team), or is the first QMJHL player taken in the 2015 draft.
Nicolas Roy: C/RW, Chicoutimi Saguenéens
After being selected first overall in the QMJHL Entry Draft by Cape Breton, and subsequently not reporting, Nicolas ended up with Chicoutimi, registering 41 points in 63 games as a rookie.
After a strong showing for Canada at the Ivan Hlinka Memorial Tournament, Nicolas has gotten off to a comparatively slow start with a weak Chicoutimi team.
An enticing package at 6'4", Nicolas plays a two-way game, controlling play with strength and good hands. If he can improve his skating, he's got the tools to be a complete player.
Jakub Zboril: LD, Saint John Sea Dogs
A highly touted Czech prospect since a young age, Jakub Zboril has been selected in CHL, KHL, and USHL drafts, ultimately making his way to Saint John after they selected him 5th overall in the import draft.
Zboril is eager to join the rush and has one of the heavier point shots in the class. After dominating Ivan Hlinka, Zboril will likely take on a prominent role at this year's World Juniors on a pretty strong Czech team. If Zboril can come together with 2014 draftees Jakub Vrana, David Pastrnak and Vaclav Karabacek, and 2015 prospects Pavel Zacha and Filip Chlapik, the Czechs could surprise.
Potential risers:
Nathan Noel: C, Saint John Sea Dog 
A teammate of Zboril's, Noel isn't the biggest or strongest centre in the draft, but he's one of the more elusive pivots.
Extremely creative with the puck, Noel has high-end offensive upside and great speed. He'll score in bunches and he'll wow you with his ability to create at off the rush. Strength and the defensive side of his game could be concerns moving forward.
The Sea Dogs look to be turning a corner after an awful 2013-2014 season, and Noel could be at the forefront offensively. He's worth keeping an eye on.
Guillaume Brisebois: LD, Acadie-Bathurst Titan
Less offensively gifted than his counterparts Zbroil and J. Roy, Brisebois is a heady two-way defensemen with a good first past and a smooth stride.
Brisebois is another member of Team Canada who impressed at Ivan Hlinka, playing reliable minutes on the second and third pairings. Brisebois is a low-risk player who will be counted on to take on a heavy workload for Acadie-Bathurst.
Filip Chlapik: C, Charlottetown Islanders
After registering 35 points in 38 games with HC Sparta Praha in the Czech U20 league, Chlapik has made his way to the CHL.
Chlapik looks to be the full package down the middle and could be a sleeper moving forward this year.
Big and strong with an excellent shot, solid vision and a knack for dominating on the defensive side of the puck as much as the offensive, Chlapik has the tools to be a dominant pivot at the junior level and is off to a strong early start, playing at a point-per-game pace early on this season.
Nicolas Meloche: RD, Baie-Comeau Drakkar
Another smart, heady defensemen, Meloche played in all situations as a rookie on a competitive Baie-Comeau team.
He's not a strong skater and often has trouble controlling his gaps off the rush but he's smart enough and strong enough to make up for it, at least at the junior level. If his skating can improve, his got the ability to be considered as a later pick in the first round.
Dennis Yan: LW, Shawinigan Cataractes
Arguably the most intriguing player to watch in the QMJHL, Yan was outstanding at this year's Ivan Hlinka tournament for the United States. Known for icing their "B-Team" at Ivan Hlinka, Yan was given an opportunity to play big minutes and the result was eight points in five games, good for second in tournament scoring 
A dual-citizen in Russia and the United States, Yan already has eight goals in 10 games with Shawinigan. He's got the physicality and the skill to be one of 2015's better left wings.