For an organization known for a rich history of drafting and developing high end blueliners (Shea Weber, Ryan Suter, Roman Josi, Seth Jones), the Nashville Predators are suddenly awash in skilled forwards bubbling up through the pipeline. This is not to say that they were mistaken in dealing Jones to Columbus for Ryan Johansen, who immediately steps into the role of their top line center, but rather that this will soon be a problem relegated to history.
There can be some doubt as to which forward prospect is the most appealing, but most observers (including this one) would agree that there are three that stand out above the rest – not just the rest within the Nashville organization, but among the entirety of the hockey prospect world. As of mid-January, the most prominent of the troika is Kevin Fiala, if for no other reason than that he is playing with Nashville right now.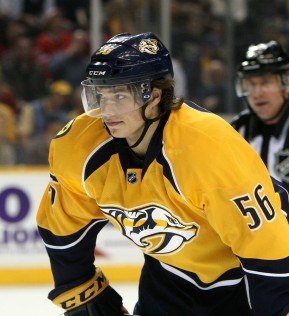 His lofty placement on this list is not to see that his ascent to the NHL has been seamless. Through roughly one full season's worth of experience in North America, there have been bumps in his path and even some questions as to how well he can adapt to the game away from the more spacious rinks of Europe. On the other hand, his game has shown signs of improvement through this season, making the question of his promotion a matter more of when, and not if.
The Swiss former first rounder is known for his puck game. His hands are high end with clever and quick moves to help keep the disc away from the sticks of opposing defenders. Whether carrying or passing the puck, Fiala raises the level of excitement on the ice. He has good vision, and his passes are both hard and on the money. When he is on top of his game, he can control the proceedings. When he is off, he lacks a sense of calmness and assuredness, seemingly playing hot potato with the puck and rushing plays, which never ends well. In general, he could stand to simplify his puck game a touch, and cut down on the risky plays, although he has made progress in that area this year.
Experience and consistency stand in the way of Fiala demonstrating the entire tool set needed to cement a top six forward spot in the NHL. If there is an area of his game that seems unlikely to develop too much it is his physical side. Not that today's game – or a game like Fiala's – relies overmuch on physical play, there is a modicum of strength needed to avoid it being an area that can be exploited by opponents. Oftentimes, the graduate of the HV71 program in Sweden plays a perimeter game in the offensive end. At the hint of contact, he will often pull up shot and let the play get away from him. Even when he is trying to stay engaged, he is too easily bumped off his stride and the puck, demonstrating a clear need to add muscle to his frame. He doesn't need to be a physical force, but needs just enough to prevent opponents from shutting down his game without too much difficulty.
For now, he can probably hold his own in the NHL, if lined up with more physical and defensively responsible linemates. Ideally, Fiala would spend the majority of the remainder of this season rounding out his game in the AHL before getting a lengthier opportunity in training camp next year.
Vladislav Kamenev, C, Milwaukee (42nd overall, 2015)
Another forward with quick hands, particularly notable for his wrist movements, Kamenev plays a far more physical game than his erstwhile Milwaukee teammate Fiala. The former second round pick, who captained the Russian squad at the recent WJC, combines elements of North American North-South with the Russian zest of quick passes in the offensive end, giving him multiple paths with which to make his presence felt on the ice.
In spite of what those who only saw him in the Gold Medal game, when he was ejected from the match late in the third for a moment of severe unsportsmanlike conduct, Kamenev is actually a very responsible player on the ice (between the whistles), given plenty of PK time his coaches and showing a zest for tracking back in his own zone, plus a proclivity for wrecking opponent offensive sallies. He still needs more development time to round out his defensive zone game, but he is trending in the right direction and definitely showing that he gives full effort on both sides of the puck.
After dissecting is off-puck play, we can enjoy the 19-year-old for his main qualities of which reside on the puck. Kamenev has a nose for the puck, anticipating where it will go and when and is able to get himself into little areas from where he can do some damage, whether that is in space, or by the crease. When he has the puck he is equally as proficient passing as he is shooting. He can perform either on a single touch, and either reach his teammate on a line or pivot and fire a strong wrist shot towards a piece of unguarded net.
The upside with the Magnitogorsk product is lower than that of Fiala, but Kamanev is also less likely to flame out altogether. His reasonable best case scenario is as a solid, versatile middle six forward who can slot into the lineup as needed, where needed.
Jimmy Vesey, LW, Harvard (66th overall, 2012)
While Fiala and Kamenev are front of mind prospects for Preds fans, Vesey can be somewhat forgotten, playing in the hockey hotbed of Boston on weekends only, and not even yet under contract. Now a senior at Harvard, his professional future will commence as soon as the Crimson have their season end in late March or early April. If the Crimson make all the way to the Frozen Four, their season will end during the same weekend as the end of the NHL regular season. This is relevant as some close to the organization view the Hobey Baker Award challenger as the equivalent as a late season trade addition, someone who could step right into an NHL lineup out of campus and contribute at a high level immediately.
As insane as his point totals are in the NCAA, they are all earned. Vesey grades out better than average in the skating and shooting categories, but he really excels when we watch the traits of his game, both on and off the puck, which both grade out as upper echelon components. Starting with his puck skills, the Boston area product is as creative as he is smooth. He makes tremendous puck decisions, of what to do, when to do it and how. His puck possession skills allow him to calmly cycle the puck in the low end of the offensive zone, knowing he can hold the disc until a lane opens up for a shot, or a teammate opens up for a cutting pass. He makes passes that few other collegians can. He also has a long reach, which he will sometimes employ to dangle, although I expect that to be less featured once he turns pro.
Vesey's off-puck is just as impressive, as might be expected from the son of a former professional. Not a physical player per se, he knows how to use his body to gain leverage, such as bracing his feet against the boards to ensure a backchecker will expend his energy into the boards through Vesey's legs instead of his more vulnerable back. He tracks the play very well and plays hard in the dirty areas of the rink without getting himself into penalty trouble.
Assuming the Predators can come to terms with him quickly and are in a playoff race, expect to see Vesey in the NHL in the postseason this year. If not, this may be the second most coveted free agent in the summer class behind only (maybe) a fellow named Steven Stamkos.
Juuse Saros, G, Milwaukee (99th overall, 2013)
An undersized netminder, Saros is one of the most electric goaltending prospects in hockey, serving as another unneeded reminder that teams should not be wasting first round picks on netminders as the middle and late rounds are filthy with them.
Saros has plus lateral agility and minimizes his size deficiencies by cutting down on the angles whenever possible, challenging the shooter and reducing the amount of open net that is visible from the point, particularly when the puck is between the dots. He trusts in the speed of his legs to stay tall as long as possible and never seems to back down, even when in tight. The 20-year-old Finn is also a strong puck handler, who can help the transition game with early passes out from behind the net.
Some will not be able to get past Saros' shortness of stature (compared to most goalies), standing only 5'10", but the combination of his other tools makes him impossible to ignore. Having played heavy minutes as a teen in Finland's top league, there is a chance he can carry a starter's workload and his age and lack of North American experience gives the Predators' organization a lot of time to hone his craft in the AHL. Outside of emergencies, he should not appear in the NHL until the 2017-18 season, but if Rinne is past his prime, Saros is the best bet in the system to be able to one day replace him.
Tyler Moy, C, Harvard (175th overall, 2015)
A nice find as a late round pick last June, Moy, a teammate of Vesey's at Harvard is a smart player with a good wrist shot complete with a tricky release. He is a smooth stickhandler who sees the ice pretty well and prefers to pass than shoot. Already a Junior with the Crimson, Moy will never be a big point producer, but plays a stocky and heady style that gives him a chance to emerge as a candidate for a lower line role in three or four years. His lack of acceleration will prevent him from a ceiling any higher than that, but his physical and intelligent game will make him a trusted player by coaches and a favorite by fans.
Max Gortz, RW, Milwaukee (172nd overall, 2012)
Another forward with hidden upside, Gortz has made a number of fans for himself in his first season in North America after 161 games in the SHL. Not a fleet skater, Gortz plays a 200-foot game which he supplements with an above average shot that is dangerous whether he wrists them in from close range, or fires a slap shot from distance. Growing up between the Malmo, Farjestads and Froluna systems, Gortz plays on both special teams' units for Milwaukee and has shown to be a quick study of the subtleties of the game on the smaller ice surface and of his opponents on any given night, allowing him to anticipate the play before it happens and making up somewhat for his average footspeed. While Gortz was on few radars prior to this season, he should expect to make his NHL debut by early next season, if not this one.