Notes:
The mock draft is not a ranking of players but rather a "best-guess" projection on where they might land. To see the most current Youngblood ranking, click here.
The order does not follow the NHL draft lottery and is current as of February 4, 2015
The First Round
1st Buffalo Sabres – Connor McDavid, C, Erie (OHL)
The Lowdown: The Sabres possess one of the best prospect systems in the NHL and with three first round selections in 2015, it will only get better. Adding a generational talent like Connor McDavid to a future lineup that will feature two-way standout Sam Reinhart will be the key to a rising team in Buffalo. The future face of the Sabres, McDavid has the potential to step right into the NHL and immediately become an impact forward.  
2nd Edmonton Oilers – Jack Eichel, C, Boston University (H-EAST)
The Lowdown: Racking up high-end picks, including three 1st overall selections in the past five drafts hasn't worked out like many expected. However, Jack Eichel could just be that big franchise pivot that the Oilers have been seeking. Few prospects combine skill, power and intelligence as well as Eichel does and the fact that he's leading the nation in scoring speaks to his special talents.
3rd Carolina Hurricanes – Noah Hanifin, D, Boston College (H-East)
The Lowdown: The unanimously top-ranked defenseman, Noah Hanifin is an elite puck moving defenseman who displays similar upside on the defensive side of the puck as well. The Hurricanes ice a fairly talented young blue line already but Hanifin would provide them with an elite level option, similar to the role that Oliver Ekman-Larsson plays in Arizona.
4th Arizona Coyotes – Mitch Marner, RW, London (OHL)
The Lowdown: Don Maloney understands that his team needs to add more dynamic options up front and with great success drafting out of the London Knights program, Mitch Marner would fit the billing well. Playing alongside Coyotes' draftees Max Domi and Christian Dvorak, Marner has proved to be one of the OHL's most lethal setup men and would add a serious bite to the 'Yotes offense.
5th Columbus Blue Jackets -  Dylan Strome, C, Erie (OHL)
The Lowdown: An improving skater, Dylan Strome's offensive creativity and scoring touch certainly makes up for any kinks in his developing stride. It's not easy to standout when playing in Connor McDavid's shadow in Erie but this big 6-foot-3 pivot casts an impressive shadow himself. Versatile as both a winger and a centreman, Strome has the ability to create chances and owns an impressive ability to finish off plays.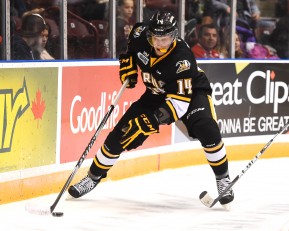 6th Toronto Maple Leafs – Pavel Zacha, C, Sarnia (OHL)
The Lowdown: With new age analytics thinker Kyle Dubas and savvy veteran Mark Hunter arriving as new members of the Leafs management team, many are eager to see what the duo do come draft time. It's time to swing for the fences in Leaf-land and Pavel Zacha might be the right player to call up to the plate as the big aggressive pivot owns slick puck skills and a pro-level shot to be a difference maker at the next level. As the former London Knights GM, Hunter already has a history of drafting defenseman Zach Werenski so he might remain a viable option come draft day as well.
7th New Jersey Devils – Zachary Werenski, D, Michigan (Big Ten)
The Lowdown: In need of a stalwart on the blueline, New Jersey would be glad to add Zach Werenski, college hockey's young defensive standout. Werenski is an evolving intelligent two-way defenseman equally as efficient shutting down top opposing lines or initiating the rush up ice. He's an asset on the powerplay with his veteran-like poise and heavy seeing-eye point shot.
8th Ottawa Senators –  Lawson Crouse, LW, Kingston (OHL)
The Lowdown: Void of a first round selection in 2014, Ottawa feels fairly lucky to land Lawson Crouse in the 8th slot, adding another high character winger to join pivot Curtis Lazar. Ranked in the Top 5 by some experts, Crouse is a highly competitive physical winger with a dominant possession game and a goal scorers' shot.
9th Philadelphia Flyers – Oliver Kylington, D, Farjestad (SHL-AL)
The Lowdown: Despite missing the World Junior Championships, Kylington remains a top European prospect for the upcoming draft. Touted as one of the top skaters in the draft, he can spearhead the rush with advanced puck movement skills or by engaging his feet. Kylington would surely help the Flyers' blue line as they look for their "go-to" number one rearguard.
10th Los Angeles Kings – Ivan Provorov, D, Brandon (WHL)
The Lowdown: Russian WHL import Ivan Provorov has been the most notable riser in the draft rankings and while his eye-opening production out West has been outstanding, he's been tagged as one of the most complete defensemen of the draft. Despite being undersized, Provorov excels in gap control and his first pass is extremely effective. If he lands in warm California, Provorov could be mentored under an NHL all-star in Drew Doughty.
11th Dallas Stars – Mikko Rantanen, RW, TPS Turku (FIN)
The Lowdown: Pegged as a potential Top 10 pick, Rantanen highlighted many scouts' top performer's list at the 2015 WJC with his four goals for Finland. Known for his creative vision and slick passing abilities, the highly competitive Finn showed that his shot is as equally as dangerous.
12th Minnesota Wild – Mathew Barzal, C, Seattle (WHL)
The Lowdown: Mathew Barzal has missed significant time with a knee injury but a strong second half should see him surge back up the rankings. He's been hyped as a top prospect for quite some time and justifiably so. Barzal owns a rare ability to create scoring chances with his shiftiness and creative attacks feeding into his playmaking style.
13th Florida Panthers – Jérémy Roy, RD, Sherbrooke (QMJHL)
The Lowdown: Ranked all over the board from a potential top 10 selection to a second round pick, Roy's  skill level warrants a selection somewhere closer to the former than the latter. An offensive defenseman with high-end skating tools, Roy plays the game gritty for an undersized blueliner. Playing in Florida, Roy would give the Panthers an authentic powerplay quarterback.
14th Colorado Avalanche - Nick Merkley, C, Kelowna (WHL)
The Lowdown: A highly creative pivot with a impressive motor, Merkley combines high-end puck handling ability, imaginative vision and a competitive puck pursuit that constantly puts opponent's on their heels. With the uncertain future of Colorado centre Ryan O'Reilly, Merkley gives the Avalanche a top-six talent for their future frontlines.
15th Vancouver Canucks – Travis Konecny, RC, Ottawa (OHL)
The Lowdown: The Canucks could address a number of organizational needs with middle first round pick and Travis Konecny would certainly strengthen their frontline prospect depth. Plus, wouldn't it be a nice storyline for cousins Konecny and Bo Horvat to be united in Vancouver?
16th Winnipeg Jets – Kyle Connor, C, Youngstown (USHL)
The Lowdown: With few flaws in his game and a balanced offensive skill set, University of Michigan commit Kyle Connor will be highly coveted come draft day. As a gifted skater with good instincts, Connor is equipped with the tools to excel as a skilled top-six forward and with Winnipeg's up-and-coming talent, he would blend in well.
17th San Jose Sharks – Timo Meier, RW/C, Halifax (QMJHL)
The Lowdown: A Youngblood favourite, Timo Meier is the most recent product from the Halifax Mooseheads program. His fiery competitive approach would fit in flawlessly with the Sharks organization as he can play throughout the top-nine. Smart and extremely poised in possession, Meier operates well in a skilled game featuring quick puck movement but can also wear teams down in the physical department as well.
18th Calgary Flames – Colin White, C, U18 USA NTDP (USHL)
The Lowdown: The Sean Monahan selection has worked out splendidly and with Sam Bennett nearing a return from injury, Calgary's top six looks very promising moving forward. Good teams learn how to build down the middle and if the Flames have the opportunity to draft two-way pivot Colin White then he could be a high-end third-line Flames centreman capable of facing tough competition.
19th Boston Bruins – Brock Boeser, RW, Waterloo (USHL)
The Lowdown: Built to score goals, Brock Boeser has a knack for getting to the scoring areas and finishing off plays. He is willing to compete in traffic and owns the strength to defend off checkers in the possession game. Boston hasn't necessarily been breaking twine or striking fear into their opponents with their goal scoring but Brock Boeser might be the missing piece to do exactly that in the future.
20th Washington Capitals – Jeremy Bracco, RW, U18 USA NTDP (USHL)
The Lowdown: Known for targeting products from the US NTDP, Washington could be the one team to cash in on Jeremy Bracco and his tremendous offensive upside. After breaking records held by Patrick Kane, Bracco's style isn't too far off from the Blackhawks' star winger. He's not overly big or strong but his elusive mobility and creativity with the puck generates scoring chance after scoring chance.
21st Chicago Blackhawks – Daniel Sprong, RW, Charlottetown (QMJHL)
The Lowdown: There has been no denying Daniel Sprong's individual offensive skills, which are among the best in the draft but some scouts have soured on his decision making recently. With Chicago's established NHL roster, he makes a good long-term investment. With no pressure to rush a prospect up the depth charts, Sprong is a skilled winger who could spend time ironing out his weakness in the 'Hawks system.
22nd Tampa Bay Lightning (formerly New York Rangers) – Evgeny Svechnikov, LW, Cape Breton (QMJHL)
The Lowdown: A Catch-all term like "power forward" doesn't quite accurately describe import Evgeny Svechnikov's skill set because he's much more dimensional than just a north-south banger. Blessed with advanced puck-handling skills and good creativity, Svechnikov has the ability to make checkers miss but can also employ a dominant possession game and thrive on the cycle. Tampa Bay has a slew of speedy forwards and Svechnikov's versatile attack game would complement both their skilled players and add an ability to play in the trenches where he can retrieve pucks to initiate scoring chances.
23rd Buffalo Sabres (formerly New York Islanders) – Paul Bittner, LW, Portland (WHL)
The Lowdown: With the luxury of a deep prospect cupboard and several first round picks, Buffalo has the opportunity to swing for a homerun selection and Paul Bittner could be the perfect target. Playing with the Winterhawks, Bittner has shown good long-term potential featured around his lengthy stride, strong hockey sense and notable finishing ability. Not a dynamic forward nor a true "power" guy, Bittner has time to figure out the style that best maximizes his skills.
24th Edmonton Oilers (formerly Pittsburgh Penguins) – Jakub Zboril, D, Saint John (QMJHL)
The Lowdown: After landing their top-line centre Jack Eichel with the 2nd overall pick, Edmonton shifts their focus to their blue line and adds two-way defenseman Jakub Zboril. The skilled mobile rearguard displays smart puck movement and blends in a good physicality, offering several layers to his game for the Oilers to build from.
25th Detroit Red Wings – Thomas Chabot, D, Saint John (QMJHL)
The Lowdown: Elite level skater with an excellent first pass, Chabot offers an intriguing upside to his defensive game. He shows impressive competitiveness and the willingness to engage physically in the defensive zone but it will be his offensive tools that determine his true value. The Red Wings will certainly have eyes on this high potential blueliner.
26th Montreal Canadiens – Filip Chlapik, C, Charlottetown (QMJHL)
The Lowdown: As with most draft eligible prospects, Filip Chlapik is far from a finished player but one has to be impressed with his Islanders rookie season. The Czech-born forward possesses high-end hockey sense and his effectiveness is a direct result of it, showing timely offensive positioning, clever playmaking abilities and advanced anticipation skills. Playing just east of Montreal, GM Marc Bergevin might be attracted to his intelligent game.
27th Tampa Bay Lightning – Brandon Carlo, D, Tri-City (WHL)
The Lowdown: Looking to add another defensive piece, Tampa Bay calls on Brandon Carlo to join their organizational depth charts. Currently, Carlo offers a sound defensive game featured around utilizing his physical strength, gaining positional advantage and executing safe passes. In the long term, there might be more upside to draw out of him as he is a strong skater and he is beginning to land on score sheets  more frequently as of late.
28th Buffalo Sabres (formerly St. Louis Blues) – Jordan Greenway, LW, US NTDP (USHL)
The Lowdown:  Teams won't be able to overlook Jordan Greenway's massive 6-foot-5, 220-pound frame and given that he's still developing the finer points of the game, he could be a good long-term investment. While one would like to see more dominant offensive numbers out of this physically imposing winger, Greenway does have the tools to mold into a top-nine forward.
29th Anaheim Ducks – Jens Lööke,
The Lowdown: A spirited forward with some very promising emerging offensive tools, Jens Lööke has quickly made ground up the draft rankings and with the Anaheim Ducks' strong history of finding Swedish talent, it wouldn't be surprising to see them invest in him. At first sight, Lööke should be applauded for his high compete level but upon further observation, his elusive attacks and intelligent puck directives are equally as impressive.
30th Nashville Predators – Jake DeBrusk, LW, Swift Current (WHL)
The Lowdown: The ultra-competitive Jake DeBrusk isn't following in the same footsteps as his tough-guy father did but the eventual destination of reaching the NHL should be the same. Nashville, known for rewarding and drafting smart versatile forwards, would surely have DeBrusk high on their lists. He displays great anticipation skills fighting his way to scoring areas and his offensive timing ensures that when he retrieves the puck, he's ready to strike quickly.
The Second Round
31st Buffalo Sabres – Nicolas Roy, C, Chicoutimi (QMJHL)
32nd Edmonton Oilers - Jansen Harkins, C, Prince George (WHL)
33rd Carolina Hurricanes – Tomas Novak, C, Waterloo (USHL)
34th Arizona Coyotes - Matthew Spencer, D, Peterborough (OHL)
35th Columbus Blue Jackets - Jacob Larsson, D, Frolunda (SWE)
36th Columbus Blue Jackets (formerly Toronto Maple Leafs) – Roope Hintz, LW, Ilves (SWE)
37th New Jersey Devils – Nikita Korostelev, RW, Sarnia (OHL)
38th Ottawa Senators – Joel Eriksson Ek, C, Farjestad (SWE)
39th Boston Bruins (formerly Philadelphia Flyers) – Erik Cernak, D, Kosice (SVK)
40th Los Angeles Kings – Filip Ahl, HV71 Jr. (SWE)
41st Ottawa Senators (formerly Dallas Stars) – Jakob Forsbacka-Karlsson, C, Omaha (USHL)
42nd Minnesota Wild - Nicolas Meloche, D, Baie-Comeau (QMJHL)
43rd Florida Panthers – Adam Musil, C, Red Deer (WHL)
44th Colorado Avalanche – Ryan Pilon, D, Brandon (WHL)
45th Vancouver Canucks – Parker Wotherspoon, D, Tri-City (WHL)
46th Winnipeg Jets – Rasmus Andersson, D, Barrie (OHL)
47th San Jose Sharks - Anthony Beauvillier, LW, Shawinigan (QMJHL)
48th Calgary Flames – Jonas Siegenthaler, D, ZSC (SUI)
49th Boston Bruins – Alexander Dergachev, RW, SKA-1946 St. Petersburg (RUS)
50th Washington Capitals – Christian Fischer, C, US NTDP (USHL)
51st Chicago Blackhawks - Mackenzie Blackwood, G, Barrie (OHL)
52nd New York Rangers – Dennis Yan, LW, Shawinigan (QMJHL)
53rd Buffalo Sabres (formerly New York Islanders) – Daniel Vladar, G, Kladno (CZE)
54th Pittsburgh Penguins – Ryan Gropp, LW, Seattle (WHL)
55th Detroit Red Wings - Sebastian Aho, RW, Karpat (FIN)
56th Montreal Canadiens – Blake Speers, RW, Sault Ste. Marie (OHL)
57th New York Rangers (Conditional on Callahan re-signing with Tampa Bay Lightning)  - Denis Guryanov, RW, Ladia Togliatti (RUS)
58th St. Louis Blues - Mitchell Vande Sompel, D, Oshawa (OHL)
59th Nashville Predators – Michael Spacek, C, Pardubice (CZE)
60th Anaheim Ducks – Jesper Lindgren, D, Modo Jr. (SWE)
For additional prospect and #2015NHLDraft reading, please follow @RossyYoungblood on Twitter and Youngblood submissions at McKeensHockey.com