Sixteen of the Ontario Hockey League's twenty franchises have survived the grueling 68-game regular season and will move into post-season action starting Thursday, March 26th. Overcoming the challenge of the regular season is step one of many in a season presented with the hardships of trades, injuries and unfortunately lost jobs, felt throughout organizations. The 2014-15 regular season was particularly tough after the Belleville Bulls and Plymouth Whalers found out they were relocating to new cities, changing the future landscape of the OHL forever.  Belleville will have the opportunity to give its fans one last hurrah in the playoffs before moving to Hamilton as the Bulldogs. For the Plymouth Whalers, they have played their final game at the Compuware Centre and look towards next season when they get re-branded as the Flint Firebirds.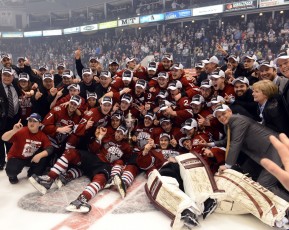 The horn has sounded on the regular season and the reset buttons have been hit, representing a fresh start for many franchises with new hope. The Erie Otters, Sault Ste. Marie Greyhounds, Oshawa Generals and North Bay Battalion added tremendous depth at the trade deadline and are playing tremendous hockey heading into the post-season. Will their moves pay off? The Niagara IceDogs and Kingston Frontenacs have experienced resurgences of their own and are looking to prove that they are among the best in the league.
With an eye on the opening round, let's take a closer look at what is in store.
EASTERN CONFERENCE
Oshawa Generals (1) vs. Peterborough Petes (8)
Breakdown: The Generals remained the Canadian Hockey League's top ranked team for what seemed like forever before being knocked down to 3rd in the final rankings. Oshawa is looking to knock off the Peterborough Petes and eliminate their divisional rivals. Peterborough failed to have any player clear the point-per-game mark this season and will need to somehow figure out goaltender Ken Appleby and/or Jeremy Brodeur, whom combined to win the Dave Pinkney Award for the lowest team goals against. On the other side of the rink, Oshawa ices an extremely deep and talented lineup capable of rolling out four scoring lines. With Peterborough struggling to show consistency down the stretch and Oshawa maintaining momentum, this series could be over quick.
Youngblood Prediction:  Generals in 4
Generals to Watch: Michael Dal Colle (NYI), Cole Cassels (VAN) and Mitchell Vande Sompel (2015 NHL Draft)
Petes to Watch: Eric Cornel (BUF), Hunter Garlent and Matt Spencer (2015 NHL Draft)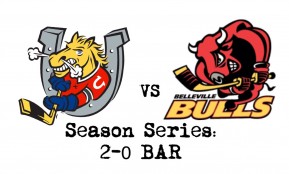 Barrie Colts (2) vs. Belleville Bulls (7)
Breakdown: With emotions running high in Belleville this series has the potential to be an entertaining one as fans look for more reason to fill the Yardmen Arena one more time. Barrie has leaned heavily on their top line of Joseph Blandisi, Kevin Labanc and Andrew Mangiapane, all of whom cleared the 100-point plateau so Belleville's focus will need to be on shutting them down. With Brendan Lemieux, Justin Scott, Garrett Hooey and defenseman Rasmus Andersson producing offensively, Bulls' goaltending will need to be on their toes. Belleville relies on a scoring by committee approach led by defenseman Jordan Subban and was one of the lowest scoring teams in the league so beating the talented Mackenzie Blackwood will present other challenges. Emotion may help the Bulls to one or two wins but Barrie should come out on top.
Youngblood Prediction: Colts in 5
Colts to Watch: Joseph Blandisi (NJD), Rasmus Andersson (2015 NHL Draft) and Mackenzie Blackwood (2015 NHL Draft)
Bulls to Watch: Jordan Subban (VAN), Brett Gustavsen and Charlie Graham
North Bay Battalion (3) vs. Kingston Frontenacs (6)
Breakdown: The well-coached Battalion match up against the surging Frontenacs who have welcomed back star scorer Sam Bennett with open arms. Can Stan Butler and his staff find a way to shut down Sam Bennett, Spencer Watson and Lawson Crouse? North Bay added former Front Ryan Kujawinski at the deadline to help boost their offense but Kingston's Peressini has been very difficult to beat. It's a series to watch as one of the best defensive teams in North Bay attempt to stifle the red hot talented Kingston squad. In the end, it could come down to goaltending (edge to Kingston) and/or special teams (North Bay was ranked in the upper echelon for both powerplay and penalty kill efficiency). Don't count out North Bay's experience after winning the Eastern Conference in 2013-14.
Youngblood Prediction: Frontenacs in 7
Battalion to Watch: Nick Paul (OTT), Mike Amadio (LAK) and Nick Moutrey (CBJ)
Frontenacs to Watch: Sam Bennett (CGY), Spencer Watson (LAK) and Lawson Crouse (2015 NHL Draft)
Ottawa 67's (4) vs. Niagara IceDogs (5)
Breakdown: Throw the lopsided season series record aside because the Niagara IceDogs are a totally different team from the first half squad we watched. Ottawa's captain Travis Konecny's status remains uncertain after missing the final games due to injury and even if he suits up, can he play his rough and tumble style effectively? Niagara rolls into the post-season red hot and will surely find ways to score so this is a match-up that could be dictated by goaltending. Between Ottawa's Liam Herbst and Niagara's duo of Brandon Hope and Brent Moran, one of these goaltenders will need to step up because is series is loaded with firepower.
Youngblood Prediction: IceDogs in 6
67's to Watch: Travis Konecny (2015 NHL Draft), Dante Salituro (2015 NHL Draft) and Liam Herbst
IceDogs to Watch: Josh Ho-Sang (NYI), Carter Verhaeghe (TOR) and Brendan Perlini (ARI)
WESTERN CONFERENCE
Sault Ste. Marie Greyhounds (1) vs. Saginaw Spirit (8)
Breakdown: Geographically, the Greyhounds are likely looking forward to playing their West Division rivals from Saginaw. The Spirit must look at the 'good news, bad news' about facing the top-seed. Good news - Saginaw actually played the 'Hounds fairly tough this season winning three games. Bad news – Saginaw is without goaltender Jake Paterson after dealing him to the Kitchener Rangers. On paper, Sault Ste. Marie is arguably the most stacked roster in the entire Canadian Hockey League and fortunately, the team has had no problems meshing together after loading up at the trade deadline. The 'Hounds have game-breakers at every position led by the OHL's highest scoring defenseman Anthony DeAngelo and two-way stalwart Darnell Nurse on the blue line. At forward, Nick Ritchie, Jared McCann, Justin Bailey, Sergey Tolchinsky, Blake Speers, Zach Senyshyn…you get the point…could skate on any top line in the league. New York Rangers draftee Brandon Halverson has also been stingy between the pipes. The Spirit has some great young talent but they are likely to be severely overmatched against the Soo.
Youngblood Prediction: Greyhounds in 4
Greyhounds to Watch: Sergey Tolchinski (CAR), Nick Ritchie (ANA) and Anthony DeAngelo (TBL)
Spirit to Watch: Dylan Sadowy (SJS), Mitchell Stephens (2015 NHL Draft) and Tye Felhaber (2016 NHL Draft)
Erie Otters (2) vs. Sarnia Sting (7)
Breakdown: The Sarnia sting have surprised many this season with their ability to skate with the top teams. Head coach Trevor Letowski has taken the promising young talent GM Nick Sinclair provided him and iced a very competitive team. Sarnia isn't without their inconsistencies, as most young teams struggle with, but it's also been a group that has been ravished with injuries and still persevered. Led by top selections Jakob Chychrun (2014 OHL Draft) and Pavel Zacha (2014 Import Draft), Sarnia will need to find a way to shut down the OHL's top scorer in Dylan Strome (129 points) and some kid named Connor McDavid. Stars pick Remi Elie, Buffalo prospect Nick Baptiste and 51-goal scoring rookie Alex Debrincat represent the second wave of attack Erie will throw at Sarnia. Needless to say, it's a tough task for Sarnia but these youngsters won't roll over and die. The big question with Sarnia is how healthy their big guns are after several of them missed time down the stretch nursing injuries (Chychrun, Korostelev, Zacha, Lindberg). Look for Sarnia to lean on Zacha, Korostelev, rookie forward Jordan Kyrou and goaltender Taylor Dupuis as they attempt to sting the Otters.
Youngblood Prediction: Otters in 5
Otters to Watch: Connor McDavid (2015 NHL Draft), Dylan Strome (2015 NHL Draft) and Remi Elie (DAL)
Sting to Watch: Jakob Chychrun (2016 NHL Draft), Pavel Zacha (2015 NHL Draft) and Nikita Korostelev (2015 NHL Draft)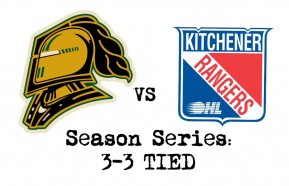 London Knights (3) vs. Kitchener Rangers (6)
Breakdown: The Knights and Rangers match up very well against one another as the season series indicates but Kitchener took it to London the last time these teams faced off, spanking the Knights 8-1 on London's home ice. Acquiring Red Wings prospect goaltender Jake Paterson has put Kitchener into a position to make a run, even if it is as underdogs in every season. He's capable of stealing games and the Rangers have been playing great hockey. London has their three headed monster - Mitch Marner, Max Domi and Christian Dvorak – that will give Kitchener their share of problems but the Knights will need secondary scoring to step up, an area that's been struggling lately. How well can London's goaltenders and defense play? Does Kitchener's depth outscore London's top trio? This could be decided on special teams and Kitchener will have to be aware of London's outstanding powerplay (2nd only to Erie with a 29.1% efficiency).
Youngblood Prediction: Rangers in 7
 Knights to Watch: Max Domi (ARI), Christian Dvorak (ARI) and Mitch Marner (2015 NHL Draft)
Rangers to Watch: Ryan MacInnis (ARI), Max Iafrate and Jake Paterson (DET)
Guelph Storm (4) vs. Owen Sound Attack (5)
Breakdown: The Storm are the OHL defending champions but it's a much different looking team than the one that raised the J. Ross Robertson Cup last spring. The Owen Sound Attack are built to make a run at the 2016 league title with a strong group of 95/96/97 born players and they are very well coached by Greg Ireland. The Attack are deep from top to bottom and they're a team capable of playing tough playoff hockey. Robby Fabbri returned to the Guelph lineup in time to find his legs and joined Tyler Bertuzzi, Jason Dickinson and Pius Suter as the offensive group to lead this team. There are concerns around whether Guelph has enough experience on the blue line as they've dipped into several of their '97 and '98-born defensemen to eat minutes. The Storm-Attack matchup is an extremely hard series to predict but in the end, Guelph's home-ice advantage and experience gives them a slight edge.
Youngblood Prediction: Storm in 7
Storm to Watch: Robby Fabbri (STL), Tyler Bertuzzi (DET) and Jason Dickinson (DAL)
Attack to Watch: Zach Nastasiuk (DET), Kyle Platzer (EDM) and Chris Bigras (COL)
Follow @RossyYoungblood on Twitter as he covers the OHL Playoffs and prospects involved.