It wasn't too long ago that this Youngblood series warned the hockey world that Mitch Marner had something special to offer. His standout performances started being noticed by OHL scouts back during his minor midget days in Don Mills. It was size that seemed to be evaluator's biggest concern back then but now, nearly five inches taller than his 5-foot-7 OHL draft year stature; it's his high-end skill that is garnering most of the attention. McKeen's Sean Lafortune certainly recognizes his mistake on Marner during his draft year and he's learned a valuable lesson that he will take with him for the remainder of his scouting career. Lafortune tweeted out last month, "Wake up call for me was Mitch Marner's success. We had him 18th overall in Ontario, but the skill dictated he should have wen't higher". The assessment part of scouting is an important procedure as evaluators honestly consider where they might have gone wrong.
The NHL has witnessed many undersized players fight their way through the cracks including Art Ross Trophy winner Marty St. Louis and current Lightning leading scorer Tyler Johnson. Sure, for every success story of an undersized player succeeding there are thousands of talented small guys that didn't make it. But the point is, today's NHL isn't turning a blind eye to these types of players like they used to and a chance is all that these skilled players need to show their stuff.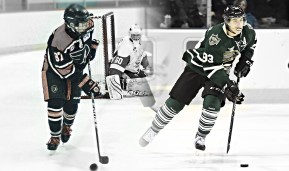 Considered "small" by NHL standards at just shy of 6-feet, Mitch Marner's size is no longer a glaring concern. His ability to shake off defenders with his elusive agility allows him to navigate about the ice with ease, often earning more space simply because opposing defenders "respect" his skill. That skill doesn't end with his skating ability as Marner's best attribute may be his overall sense of the game. Ask Marner himself how he executes such difficult plays and he likely won't be able to explain it since these instincts come natural to him.Thinking steps ahead of the competition, Marner anticipates and reads the game at an elite level allowing him to innately manipulate time and space to his advantage. It's these exact qualities that permit Marner to play the game with such confidence, executing highly creative plays under intense pressure and in split seconds.
Coming off the latest of his OHL-leading three Player of the Week honours, Thornhill's Marner capped off a fantastic three game week with five points (two goals, three assists) in Sunday's 7-4 win over Highway 402-rival Sarnia Sting, bringing his weekly totals to three goals and 10 points. Just when junior hockey followers started to believe that a healthy Connor McDavid had an outside chance of catching Marner in the OHL scoring race, Marner made sure to nix that hope quickly.
With 10 games to play in the Knights' schedule, Marner's lead (110 points and counting with an eight-point lead) should remain fairly safe. It's become a rare feat for a player to win the OHL scoring race as an NHL draft eligible skater, placing Marner in some elite company. The last OHLers to finish atop the scoring race were Taylor Hall and Tyler Seguin when they shared the Eddie Powers Trophy with 106 points each in 2009-10. Marner will shatter those totals. A year prior, 2009 1st overall pick John Tavares skated away with the title after notching 104 points – again, short of what Marner has already racked up. There is one player who Mitch Marner is chasing and he also wore London's green and gold. Before being selected 1st overall in 2007, Patrick Kane rifled off 62 goals and an astonishing 145 points as a London Knights rookie, earning more OHL hardware then he could handle. Marner will be hard pressed to match those totals but his success has certainly put him into an elite category.
In any other draft year, Mitch Marner would be considered a legitimate candidate to be selected first overall. Thanks to the generational talents of Connor McDavid and Jack Eichel, Marner will have to wait a few spots to hear his name called but his accomplishments and on-ice play have certainly warranted a long discussion on whether he should be selected in the third slot. Considered the 3rd overall favourite, Noah Hanifin (Boston College) is a smooth skating intelligent two-way defenseman who could change the landscape of an NHL blue line. Fellow high-scoring OHLer Dylan Strome needs to be considered too as NHL teams seek out that sizeable top-line pivot. Regardless of where Marner, Hanifin and Strome sit on team's draft lists, scouting teams are going to have some long intense debates on which player best suits their organization.
Marner has been London's best player for over a year now and is establishing himself as one of the OHL's all-time best forwards – which is a testament to his superb talents. He's been a star at every level of competition dominating scoring sheets but also displaying a commendable work ethic. Those betting against Marner reaching star-status at the NHL should be advised to hold onto their cash.
Follow @RossyYoungblood on Twitter for prospect updates.