One of the best parts about sports, and specifically hockey, is that it always delivers on the entertainment factor – regardless of the league. Six-year-old newcomers to hockey can be equally entertaining as 20-year veterans of the game. No scripts are needed. A sheet of ice and two teams driven to prove their worth are the only necessary ingredients.
Over the past week, twenty teams from across Ontario and northern USA converged on Toronto's Scotiabank Pond (Buckingham Arena) looking to capture the OHL Cup, a showcase tournament for the provinces' top teams and regional winners. Mixed in among the hundreds of scouts and agents were eager hockey fans looking to get a glimpse at the next superstars of hockey - Steven Stamkos, Drew Doughty and soon to be NHL-star Connor McDavid are just a few of the OHL Cup alumni group.
The OHL Cup peaked on Monday night as the Don Mills Flyers and Toronto Marlboros took the ice at Mattamy Athletic Centre as the last two standing teams in front of Sportnets' national cameras. Leading up to the Championship event was a week of emotional highs and lows including a nervous few hours for the defending champs (Toronto Marlboros) as they waited to hear whether they'd advance into the quarterfinal games after a three-way deadlock in the Nash Division. Fortunately for the Marlboros, they held the tiebreaker over the Mississauga Reps and would move onto playoff rounds where they eventually picked up steam.
Fast forward to Monday's thrilling OHL Cup Championship game and it was a rematch of the GTHL Championship series between Don Mills and the Marlboros. That previous series went the distance needing all eight games plus two overtime periods before Toronto's Elijah Roberts played hero sending the blue and white into celebration. On Monday, March 23rd, the Flyers scored a late goal to send the OHL Cup into extra time but again, it was the Marlboros who'd eventually win as Matthew Strome, younger brother to Islanders forward Ryan and 2014-15 OHL scoring champion Dylan, found the back of the net to cap off an outstanding week of hockey and thrilling year of minor midget hockey.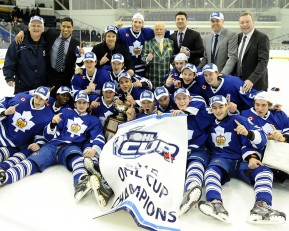 That was the Toronto Marlboros second consecutive OHL Cup championship.
Now that the tournament is behind us and all eyes have turned to the OHL Priority Selection draft on April 11th, it's a perfect time to take a look at the players who impressed over the course of the week.
Notes: The following is not a draft ranking but rather a list of players who performed particularly well at the 2015 OHL Cup. The 2000-born prospects were not included in the ranking.
There is a Top 10 for the 2000-born OHL Cup performances at the end of the article. 
OHL Cup Top 50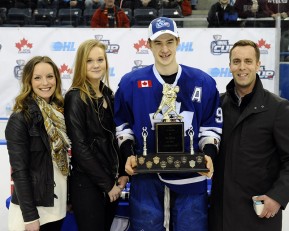 1. Ryan McLeod, C, Toronto Marlboros
For a player who's struggled with consistency in his production over the course of their draft season, McLeod certainly found a great time to peak. After an outstanding Canada Winter Games showing and a dominant GTHL playoff run, McLeod has vaulted himself into discussion as a potential top overall selection. He rightfully won MVP honours at the OHL Cup which he can add to his GTHL Player of the Year honours that he captured last Thursday. McLeod is a two-way pivot who excels at playing at a high pace, showing crafty hands and a pro-level shot.
2. Jacob Paquette, D, Ottawa Jr. 67's
In my opinion, Jacob Paquette had one of the most eye-opening OHL Cup performances from start to finish. An extremely poised defender with no panic threshold, Paquette exudes a calming influence throughout the Jr 67's lineup. Uses a long powerful smooth stride to propel himself up ice and he isn't afraid to jump into the rush. His skating stride looks very similar to Sean Day's in the way that it's effortless. Showed outstanding gap control and never allowed attacking forwards to gain the zone, closing the gap at the blueline. Paquette found open seams under pressure and senses pressure well, using reversals or spinning off and regrouping.  Simply put, this low-maintenance, big-minute defenseman had an outstanding tournament.
3. Jake Tortora, LW, Don Mills Flyers
Easily my favourite player in the draft despite owning a 5-foot-6 slender frame, Tortora is a game-breaker who plays the game at an unrelenting pace. His jack rabbit-like acceleration is driven by quick sharp edges that reach top speed instantaneously. His ability to gain the offensive zone is impressive and he's shown to be one of the most creative passers in the draft.  It's astonishing to see this small (yet very feisty) forward knock around players 8-10 inches taller than him. He has a knack for drawing defenders in and then blasting by them. Tortora masks his intentions well and certainly prefers to operate as a playmaker. Tortora is committed to Boston College but remains VERY high on my personal rankings.
4. Nick Suzuki, C, London Jr. Knights
After watching Suzuki all season, it was nice to see this highly intelligent center have an outstanding final tournament showing off the potential we've all believed him to have. There were times during the OHL Cup when Suzuki single-handedly took his team on his back and lifted them to victory showing elite defensive skills to force a turnover and elite offensive skills to capitalize the other way. It was exactly the type of showing that Suzuki needed to show scouts that he's a top round player.
5. Quinton Hughes, D, Toronto Marlboros
Hughes missed Saturday's playoff action because of he was in Ann Arbor at the US Under-17 NTDP camp but when he was in the lineup, he proved to be an absolute game-changer. Arguably the most intuitive puck-moving defenseman in the draft, Hughes' ability to dissect the opposition and attack the middle of ice with speed is unmatched. In many ways, this University of Michigan commit reminds me of a younger Anthony DeAngelo (OHL's leading defensive scorer).
6. Kyle Auger, D, Thunder Bay Kings
Right-handed shooting defenseman, Kyle Auger, was a shoe-in as a Top 10 OHL Cup performer after impressing with his smart puck rushing ability. Quick and deceptively agile on his skates, Auger navigated about the ice with ease showing an outstanding aptitude for gaining the zone. He utilizes subtle misdirection and fakes as he attacks through the neutral zone and certainly improved his draft stock.  
7. Greg Meireles, RW, Ottawa Jr. 67's
Meireles sat atop the OHL Cup scoring ranks for the majority of the tournament and finished there in a tie with five others (nine points). The projected Top 10 pick did nothing to hurt his draft stock and continued to play a hard-to-contain high-paced game. Continually impressed with his effort on both sides of the puck and it's quite clear that his competitiveness may be unmatched in this draft. With Meireles, an OHL team is going to get an offensive player with high-end upside who just happens to be a determined defensive player as well.
8. Anthony DeMeo, D, Elite Hockey Group
The top skater on the Elite Hockey Group team, Anthony DeMeo is a gifted puck rushing defenseman whose ability to gain speed in possession and enter the offensive zone virtually untouched is elite. Elusive in four-ways and blazing top speed make him almost impossible to contain in flight. He appeared to struggle in identifying options once he gained the zone but that could also be a result from the lack of chemistry on this "all-star" team. DeMeo owns first round talent and has not committed to a college.
9. Matthew Woroniuk, G, Don Mills Flyers
There's value in goaltenders who step up and shine in big games and Woroniuk did exactly that down the stretch in the GTHL playoffs and then again in a long OHL Cup run. When Woroniuk is on his game, he's extremely focused tracking pucks with ease. He's a big goaltender who takes up a lot of the net and his lower lateral coverage stems from quick pad reflexes that resemble pinball flippers. He does wander out of position occasionally but has the athleticism to make that much needed game-saving stop in recovery.
10. Jaden Peca, LW, Toronto Marlboros
The Marlies' do-it-all winger had one of the more impressive OHL Cup performances. Peca battles for pucks and gets his nose dirty, forcing turnovers with his hounding competitive drive. His quick stick and strong routes collapse quickly on defenders and it opens up a lot of space for his linemates to operate. Peca led the Marlboros in scoring with eight points in the OHL Cup.
11. Nick Celotti, C/RW, Toronto Jr. Canadiens
Celotti is another personal favourite prospect for the 2015 OHL Draft and it stems from his ability to dictate the offensive pace. His first step quickness is excellent and at top speed, he is difficult to contain. He has the ability to drive wide on defenders and cut hard to the net or pull up and hit a trailing teammate. He tends to operate more as a distributor than a shooter but with his skill he will flank a top-six line.
12. Aidan Hughes, G, London Jr. Knights
One of the biggest goaltenders available in the draft finished off a great second half with one of the best OHL Cup crease performances. He looked dialed in all tournament long and led this team to a semi-final showing. Few goaltenders can combine the size and mental focus as well as Aiden Hughes.
13. CJ Clarke, RW, Toronto Marlboros
When the Marlboros were desperate and needed goals, CJ Clarke answered the bell. Without Clarke's two big goals against the Ottawa Jr. 67's, Toronto may have never found the momentum they needed to get their offense on track and earn a quarterfinal berth. Clarke is a competitive and aggressive winger who uses sheer determination in puck pursuits. He engages, operates well on the cycle and can strike quickly walking off the half-wall.  He uses his length well to protect the puck and knows how to use defenders as screens during attacks.

14. Jack Studnicka, C, TPH Thunder
Studnicka entered the OHL Cup as one of my favourite first round sleepers, mainly because he's such a talented player who owns some raw attributes that can easily be developed. The Belle Tire leading scorer oozes hockey sense and relies on his vision and anticipation skills to exploit time and space accordingly. He's a big body with great length to his game, using his wide wingspan and long stride to shield off checkers. Because of his reach, Studnicka has the ability to hold the puck out wide and then quickly pull it in for a swooping toe-drag or fluid windup for his wicked shot. He prefers to be creative inside the top of the circles and is prone to passing when he should be utilizing his shot in that scoring area. His frame can carry a lot more muscle and when he physically matures, he should be a force to contain. Stylistic wise, Studnicka reminds me of Mark Scheifele.
15. Matthew Strome, LW, Toronto Marlboros
The OHL Cup hero after scoring the championship winning goal (adding an earlier goal too), Matt Strome is known best as the younger brother of Ryan Strome (Islanders budding star) and Dylan Strome (projected Top 5 NHL Draft pick) but he's got skills of his own. A clever passer who reads the ice very well, Strome owns the offensive instincts to develop into an impact player. He continues to work on his skating, which is definitely a work in progress, but beyond that concern, there's a lot to like with his game. At the OHL Cup, Strome strung together some great games when it mattered most and was very good at utilizing his size advantage to work the possession game and drive to the net.
16. Colin VanDenHurk, D, Quinte Red Devils
The Red Devils lean on VanDenHurk in all situations which is a testament to his overall hockey intelligence. He walks the blueline with his head up, always surveying his options, and promptly identifies his options. He is a flawless passer who supports the puck extremely well. With improved pace, VanDenHurk has the potential to become an extremely valuable top-four defenseman. His one-timer was especially effective at the OHL Cup and his overall playing style compares to a younger Chris Bigras (Owen Sound/Colorado Avalanche).
17. Skyler Brind'Amour, C, TPH Thunder
The son of former NHL star Rod Brind'Amour, Skyler was one player who immediately caught my eye at the OHL Cup. He's a big kid with a great frame to build on and he owns some solid fundamental skills. At 6-foot-1, Brind'Amour has good length and he uses it as an advantage in his attacks. His puck skills, especially in traffic, are very impressive showing very little panic. His on-ice reads were excellent identifying soft areas and playing to them. Brind'Amour plays an OHL-style of game using quick touches and can extend possession time with his confident puck handling abilities. He came into the tournament as an unknown for me but quickly climbed my draft rankings.
18. Nick Isaacson, LW, Mississauga Reps
Tall and rangy winger with tantalizing long-term potential, Nick Isaacson flashes creative puck touches, a strong powerful stride and the hunger to score. Isaacson enters the zone at top speed and drives wide on defenders before cutting hard to the net, shielding off defenders using his reach and long stretched-out legs.  He is one of the drafts most appealing projects on forward because technically he has the raw physical tools but also combines that with smart instincts and elements of creativeness.
19. Robert Thomas, C, York Simcoe Express
Thomas is the spark-plug that drives the YSE offense and he's the type of player that can make an offensive impact every time he touches the ice. His start-up gear instantly gets him to top speed and the agility he displays in flight is a bonus for a smaller player. Thomas utilizes quick cuts and tight curl-offs as he enters the offensive zone and then identifies his options, setting up as the quarterback. He owns a separation gear and one-on-one creativity to beat defenders as well.
20. Devlin Shanahan, LW, Mississauga Reps
From a pure upside perspective, Devlin Shanahan won't immediately jump out at you but he's the straw that stirs the drink on the Reps. He's the type of forward that makes things happen all the time and he's always around the puck. Shanahan isn't blessed with paralyzing quickness but his sheer determination and puck pursuit suffocates the opposition and forces turnovers. In possession, Shanahan makes smart passes moving the puck crisply and most importantly, never concedes possession. He's more likely to throw the puck into his feet if out of options and battle or send it to an open area to be retrieved by a teammate. Shanahan likely won't be selected in the top rounds but I wouldn't be surprised to see him be that late round pick that has a solid OHL career.
21. Noah Benjamin, LW, Waterloo Wolves
22. Carter Pearen, G, Elgin-Middlesex Chiefs
23. Michael Leach, G, Ottawa Valley Titans
24. Nicholas Grima, D, Toronto Titans
25. Liam Hawel, C, Ottawa Valley Titans
26.Jason Robertson, RW, Don Mills Flyers
27. Simon Boyko, RW, Toronto Jr. Canadiens
28. David Levin, LW, Don Mills Flyers
29. William Sirman, C, York Simcoe Express
30. Max Wright, G, Waterloo Wolves
31. Matthew Rehding, LW, Toronto Jr. Canadiens
32. Brenden Stanko, LW, TPH Thunder
33. Ryan Wells, D, Mississauga Reps
34. Nathan Schnarr, C, Waterloo Wolves
35. Owen Lane, LW, Kitchener Jr. Rangers
36. Kole Scott, LW, North Central Predators
37. Donovan Cowan, D, Elgin-Middlesex Chiefs
38. Jason Willms, C, Kitchener Jr. Rangers
39. Sullivan Sparkes, LW, Waterloo Wolves
40. Max Vinagradov, RW, London Jr. Knights
41.Eric Sutherland, D, Ottawa Valley Titans
 42. Matthew Philip, C, Elgin Middlesex Chiefs
43. Matthew Stoia, D, TPH Thunder
44. Keegan Ferguson, D, Quinte Red Devils
45. Steven Agriogianis, C, Elite Hockey Group
46. Matthew Titus, RW, Ottawa Valley Titans
47. Cole Tymkin, RW, Thunder Bay Kings
48. Thomas Stevenson, D, Ottawa Jr. 67's
 49. Noel Hoefenmayer, D, Don Mills Flyers
50. Matthew Struthers, C, Halton Hurricanes
51. Alex Peterson, D, Thunder Bay Kings
 EDIT: The original list was edited after it failed to paste one player in correctly, explaining the 51  players instead of 50.
Top 10 OHL Cup Performances from Underage Players (2000-born)
Ryan Merkley, D, Toronto Jr. Canadiens
Eric Guest, C, Elgin-Middlesex Chiefs
Allan McShane, C, Toronto Jr. Canadiens
Blade Jenkins, C, TPH Thunder
Ryan Bangs, D, Ottawa Valley Titans
Aidan Dudas, C, North Central Predators
Jacob Goldowski, G, Elite Hockey Group
Brady MacDonald, D, Elgin-Middlesex Chiefs
Nathan Dunkley, RW, Quinte Red Devils
Dennis Busby, D, Don Mills Flyers
Honourable Mentions:
Jake DeBoer, F, Elite Hockey Group  *son of Peter DeBoer*
Ian Vucko, RW, York Simcoe Express
The Youngblood series will return prior to the April 11th OHL Priority Selection Draft to post Brendan Ross' final draft rankings. 
Feel free to follow @RossyYoungblood on Twitter for your OHL Draft needs