Just months after Connor McDavid and Jack Eichel landed in Edmonton and Buffalo, respectively, by way of the draft forever changing their organization's landscape, we are back in the scouting notebooks looking for the next vital piece of the puzzle. With the 2016 NHL Draft season about to commence, it's time to return to the frosty rinks to get to know our next draft class.
It's safe to say that there will be no Connor McDavid-calibre of skater but Auston Matthews will certainly do his best to follow suit. If Matthews is this year's pacesetter then it's Sarnia Sting defenseman Jakob Chychrun and Finland's Jesse Puljujarvi who will be looking to knock the American off his pedestal. Scouts are cautiously calling the 2016 draft class a "strong" one but that will be better determined mid-way through the season.
At the top, there's a strong American influence with six of the top 10 ranked skaters trained in the US of A, including Auston Matthews, Jakob Chychrun, Matthew Tkachuk, Max Jones, Clayton Keller and Chad Krys. That number gets inflated if Logan Brown and Charlie McAvoy, two players who are worthy of Top 10 consideration, are considered in the mix.
From a European standpoint, it's a very strong class, particularly from the Land of the Midnight Sun where Finns Jesse Puljujarvi, Patrik Laine, and Olli Juolevi lead the pack. Creative swede Alexander Nylander, brother of Maple Leafs top prospect William Nylander, and sharp-shooting Russian Dmitri Sokolov round out the European's top end talent.
The 2016 draft class is littered with familiar hockey names as hockey bloodlines run deep. Jeff Chychrun, father of Jakob, had a successful stint with the Philadelphia Flyers. Former NHL captain Keith Tkachuk has passed on his hockey knowledge to his son Matthew. Fellow American Max Jones' father, Brad Jones, donned jerseys of the Winnipeg Jets, Los Angeles Kings and Philadelphia Flyers after an illustrious NCAA career at the University of Michigan. Chad Krys' father, Mark, was a draft pick of the Boston Bruins. Current Ottawa 67's coach Jeff Brown was a seasoned NHLer and now watches his son, Logan Brown, chase his dreams with the Windsor Spitfires. Kiefer Bellows watches highlights of his dad, Brian Bellows, as an All-Star with the Minnesota North Stars. Brett Howden roots on his older brother, Quinton, as he attempts to crack the Florida Panthers while Jacob Cederholm does the same with his brother Anton and the Vancouver Canucks. Julien Gauthier talks hockey with his uncle, Denis Gauthier, who was a first round selection and NHL defenseman with the Calgary Flames. Needless to say, hockey is buried in the roots of many of these talented prospects and each of them are attempting at creating a hockey bloodline for their own future families.
Note: The following rankings are constructed from viewings over the past view seasons using international tournaments (World Under-17 Hockey Challenge and Ivan Hlinka Memorial) as well as league play. As is expected with "Preliminary" rankings, the list will grow and shuffle throughout the season as new players are viewed and analyzed.
1. Auston Matthews, RC (ZSC, SUI)
After smashing Patrick Kane's NTDP records, it's easy to see why Auston Matthews will start the 2016 season as the consensus top draft prospect. With that said, Matthews is doing something rather unprecedented in that he has opted to play his draft season abroad joining ZSC in the Swiss professional leagues rather than compete in the NCAA or CHL ranks. Matthews is a rare hockey breed due to his strong power game and exceptional possession skills but it's his dogged worth ethic and suffocating hunger for loose pucks that makes him absolutely exhausting to defend. He's got the size, wingspan and strength to fight off checkers and the skill, puck touch and finishing abilities to excel in tight spaces. Not very often do you see a high-end skill player combine such finesse and power in an ultra-competitive approach. He'll be loved wherever he ends up.
2. Jakob Chychrun, LD (Sarnia, OHL)
With all of the attributes of an elite top pairing defender, Jakob Chychrun tops all 2016 draft eligible defensemen and it's for good reason given his combination of maturity, mobility and three-zone impact. Off the ice, given Jakob's father Jeff had a ten year NHL career, it's not surprising that he's one of the most mature young prospects to come around the game in quite some time. On the ice, Chychrun is a fiery competitor who oozes confidence in possession. As an advanced skater, gifted puck handler and physically blessed defender, Chychrun displays elite abilities to activate into the rush while also maintaining sound defensive awareness. He's an intelligent attacker, punishing checker and executes difficult plays at high speeds with ease. Chychrun enters his draft season on the mend from off-season shoulder surgery and should establish himself as the leader on a young talented Sarnia Sting roster.
3. Jesse Puljujärvi, RW (Karpat, Liiga)
In a strong Finnish draft class, Jesse Puljujärvi will start the season as the nation's top player and vye to be a first overall selection. He's a hungry attacker who blends size, quick in-tight mobility and a seeing-eye shot earning him the reputation as one of the draft's best shooters. Puljujärvi is a high volume shooter who attacks seams with quick powerful strides allowing him to separate from opposing checkers in a split second. Inside the offensive zone, Puljujarvi evades defenders using elusive cuts on the fly as he slashes off the half wall striking quickly. The promising Finn utilizes his lengthy reach to shield off pressure extremely well. He was outstanding at the 2015 World Junior Championship as the only 1998-born player and was, arguably, Finland's most dangerous player.
4. Matthew Tkachuk, LW (London, OHL)
NHL bloodlines are strong with new arriving Knight Matthew Tkachuk, who is the eldest son of long-time NHLer Keith Tkachuk. Coming off a standout season with USA's NTDP Under-18 team, Tkachuk will impress scouts with his high-pace attacks and physically dominating game. With his size and strength advantage, clever playmaker's touch and skilled reads, Tkachuk has the chance to step right into the OHL and produce as one of the league's top scorers. Tkachuk plays a pro-style game and he should remain a top five candidate throughout his draft season.  
5. Max Jones, LW (London, OHL)
A "throwback" player in every sense of the word, Max Jones is a highly competitive, sharp shooting winger with the physical gifts to dominate as a trigger man. His pro-level shot features blazing quickness, combining rare timing on his release and pin-point accuracy,  that snaps twine before goaltenders can even begin to react. He utilizes a wide powerful skating stride to burst out wide before cutting inside to unleash one of his lethal shots. Jones displays solid skill in possession with precise passing abilities and an ability to dangle when needed but he definitely projects as a shoot-first type of player. He's extremely hungry for loose pucks and uses his size and strength advantages to gather up possession quickly. With him slated to join a talented London Knights squad, Max Jones projects to do a lot of damage if he lines up next to premium distributors Mitch Marner and/or Matthew Tkachuk.
6. Clayton Keller, C (USNTDP, USHL)
An offensive catalyst with USA's national program, Clayton Keller is a world class puck handler who blends his puck-on-a-string dangles with elite vision to confidently dissect opposing defences. His passing abilities are in a class of their own and he needs very little time and space to execute creative, highly difficult attempts. He mixes in deceptive fakes, clever stick misdirection and paralyzing agility to keep opposing teams guessing. In a similar mold as a Patrick Kane or Mitch Marner, Keller's the type of player that teams run their offenses through due to his creativity and confidence under pressure. He's not a one trick pony either because his shooting abilities have dynamic elements as well. At 5-foot-9, Keller fits the prototypical small skilled forward mold and it'll be everyone's biggest harping point this season. He excels as a smaller forward due to his elusiveness, smart on-ice awareness and reputation as a dangerous playmaker – an element that earns extra space from defenders. With the rise of smaller offensive talents throughtout the NHL, it's easy to see why Clayton Keller starts so high on this list.
7. Patrik Laine, RW (Tappara, Liiga)
The 2016 draft class is trending towards players combining above-average size, power, strength, as well as skill and Patrik Laine meets all of that criteria. The burly winger owns a shoot-first mentality yet remains a viable playmaker with slick puckhandling ability. His skating remains a work in progress and while there appears to be plenty of questions regarding his character, work ethic and defensive commitments, Laine's package of brute strength, hockey sense and feared shooting abilities earn him top 10 consideration. The Sarnia Sting own his CHL rights after selecting him in the 2015 Import Draft so it'll be interesting to follow whether they'll be able to lure him from overseas in future seasons. For now, Laine looks to establish himself as a threat in Finland's top professional league.  
8. Dmitri Sokolov, C/LW (Sudbury, OHL)
North American scouts will be thrilled with Dmitri Sokolov's choice to play his draft season in the CHL with the Sudbury Wolves. It was back in November when Sokolov introduced himself on North American soil as a standout performer with Russia's Under-17 squad. Physically, Sokolov is a stocky forward who flashes creative, highly skilled no-look passes that are generally unexpected given his bullish stature. He's not a high-end skater as his stride can be sluggish and heavy, particularly in lateral movements but he does use changes of pace and direction well.  Because he owns such crafty puck skills and thrives in tight quarters, he hasn't had trouble creating chances with just average skating ability. Sokolov is armed with a downright wicked shot that's extremely effective due to its quick velocity and a tricky release point. Sokolov's quick mitts, unpredictable attacking routes and natural finishing abilities has him starting the year as a top 10 talent. If he can become a more dynamic skater, he stands to move way up the rankings.
9. Alexander Nylander, RW (AIK, SuperElit)
The apple doesn't fall too far from the tree as Alexander Nylander shows a similar skill set to his older brother William Nylander (Maple Leafs top prospect). His compete level and attention to defensive detail appear to trump his brother in those categories as he shows impressive hustle and a willingness to battle for loose pucks. Alexander may not have the same level of poise, patience or creativity as his older brother but he's advanced in all those areas and owns a similar flair that can bring fans to their seats. Nylander is one of the draft's most dynamic offensive players and he'll spend the year showcasing his all-world creativity and confident one-on-one dangles in hopes of being a high draft pick. It remains to be seen whether Alexander Nylander will play his draft season with the Mississauga Steelheads (OHL) who own his rights in the CHL.
10. Chad Krys, D (USNTDP, USHL)
The second blue liner to crack the top ten, Chad Krys edged out NTDP teammate Charlie McAvoy and BCHLer Dante Fabbro who were knocking on the door as well. Gifted in many aspects of the game, it's Krys'quick hockey processor and smooth skating ability that stand out. His ability to set the pace of the game is a rare skill set. Krys is capable of speeding up the tempo and slowing it down when needed as a means of cleverly opening up lanes and creating more time/space for his linemates. Committed to Boston University, he will thrive as a top pairing defenseman and establish himself as a natural puck mover. He operates with such comfort and efficiency in his game - controlling the puck, surveying his options and executing highly difficult passes while making it all look so easy. He's proven to be an offensive catalyst with his ability to disguise his intentions, curling off of pressure then zipping off a back door pass to a wide open teammate for a high quality scoring chance. Teams looking to add quarterback as part of their arsenal will be eyeing up Chad Krys.
11. Tyler Benson, LW (Vancouver, WHL)
Established himself as a hockey prodigy early, Tyler Benson has been a prime target for scouts for for years and based on his overall hockey sense, astute two-way play and phyiscal gifts, he stands to be a high pick next summer. He's a calculated attacker who can execute high-end plays off the wing as a shooter and playmaker. He's strong, powerful, thinks the game extremely well and his determined compete level rounds out a near-perfect pro package.
12. Logan Brown, C (Windsor, OHL)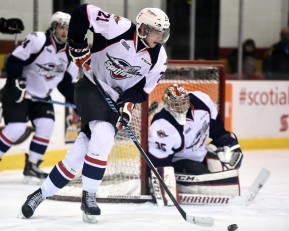 Despite the influx of undersized skilled forwards at the NHL level, size remains a very coveted attribute when considering the "ideal" hockey prospect. At 6-foot-6, Logan Brown gets a big check mark in the physical attributes column and fortunately, he owns coveted smarts and offensive touch to justify Top 10 consideration as well. Staying true to the traditional 'big forward' mold, Brown doesn't lean on creative dangles but rather uses intelligent positioning, subtle puck touches and a powerful net drive game to earn his edge over his opponents. He'll challenge for a Top 10 selection but there's some areas to work on first.
13. Dante Fabbro, D (Penticton, BCHL)
Opting to remain in the BCHL for his NHL draft season to keep NCAA eligibility, the average-sized Fabbro remains a top defensive prospect among his peers. His low-maintenance style combined with an elite hockey mind that anticipates and reads his competition extremely well projects him as a high-end transitional defender. Given his poise, calming demeanour and mature two-way game, Fabbro has all the tools to climb up this list with a dominant BCHL season.
14. Sam Steel, C (Regina, WHL)
Tagged with some of the best skating ability in this draft, Steel uses his blazing feet to push the pace up ice, driving defenders onto their heels. His high-paced attack is exacerbated for his opponents because his slick hands at top speeds cause equivalent problems for defenders. Steel handles very well in traffic with an ability to quickly slash into scoring areas untouched. Speed, hockey sense and a highly competitive attitude will ensure Steel success moving forward.
15. Charlie McAvoy, D (USNTDP, USHL)
An easy-to-watch defender who competes hard, flashes fine offensive abilities and owns some fairly enticing pro skills. McAvoy owns fluid mobile, extremely efficient puck control and the confidence to operate as a prime distributor. Defensively, McAvoy is calculated in his approaches displaying advanced anticipation and timely gap closures. It's rare to catch McAvoy make mistakes and with his overall package and untapped upside, he's a potential riser.
16. Kiefer Bellows, C (Sioux Falls, USHL)
After lighting the lamp with 33 goals, Brian Bellows' son Keifer captured the USHL Rookie of the Year honours easily establishing himself as a top contender entering his draft season. In the tightly packed group featured from 10th to 20th, Bellows plays the throwback style that NHL scouts love and will be in the discussion for the Top 10. His power game blends perfectly with his natural scoring abilities and it's easy to envision him as a future trigger man in the NHL.
17. Kale Clague, D (Brandon, WHL)
High upside offensive defenseman with experience captaining Canada internationally, Kale Clague uses creative vision, attacks lanes aggressively with his plus skating ability and shows an affinity for leading the powerplay. He's a defender that does everything well and it'll be interesting to see how big of a step he takes this season.
18. Pierre-Luc Dubois, LW (Cape Breton, QMJHL)
Competitive and driven, Pierre-Luc Dubois is a versatile skilled winger that fits the mold of high character players perfectly. Extremely smart, Dubois anticipates and reads the play very well establishing a natural feel for the game. He's the type of high character player that will leave it all on the ice and owns that "it" factor that has become so valuable when the game is on the line.
19. Olli Juolevi, D (London, OHL)
In a Finnish draft class chalked full of high-end talent, Juolevi leads the pack among defenseman, following in countrymate Olli Maatta's footsteps as he prepares himself for a debut with the London Knights. At 6-foot-2, Juolevi possesses ideal size but it's his confident puck control, precise passing, a big league shot and steady two-way commitment that should earn him top minutes right out of the gate.
20. Tyson Jost, C/LW (Penticton, BCHL)
Jost is a versatile speedy forward that causes all sorts of problems for defenders because of his suffocating puck pursuit. Uses smart reads along with sound basic hockey technique to establish himself as a factor in all three zones. He's not a pure dangler but he does flash some slick fakes and misdirections as a means of picking up extra space. He's not a punisher but he's shown capable of excelling in traffic, particularly off of the cycle with his quick hands and dynamic feet.
21. Brett Howden, LC (Moose Jaw, WHL)
A standout WHL rookie season reassured that Brett Howden, brother of Florida Panthers prospect Quinton, is a first-round talent for the upcoming draft - checking off all of the boxes that scouts covet: good skating, well sized pivot with solid puck skills and good hockey IQ. Now that he's an established threat in the 'Dub, can he maintain his dominance against the leagues top checkers?
 22. Samuel Girard, D (Shawinigan, QMJHL)
Mesmorizing elusiveness, creative seam passes and aggressive attacks are just three exciting components to this slick defender's game. Girard will need to round out his defensive responsibilities but few players can keep plays alive at the blue line as well as this mobile and creative defenseman.
23. Rasmus Asplund, C/LW (Farjestad, SHL)
Asplund is an intuitive forward who is dedicated to all three zones, excellent in the faceoff dot and rarely cuts corners. Asplund's been a leader in international play for Sweden and should return to the WJC's as a go-to player for his nation.
24. Michael McLeod, C (Mississauga, OHL)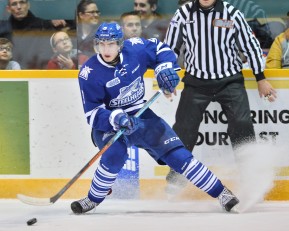 As the middle sibling of a well-known hockey family, Michael McLeod has quickly established himself as one of the most dynamic OHL skaters in the draft. Blessed with all-world skating ability, McLeod is the source of envy for anyone who has ever struggled staying on their skates. His gifts aren't limited to his blades because his puck handling abilities are high-end as well. Heading into his draft year, McLeod needs to produce and become the leader on an up-and-coming Steelheads squad to launch himself into the next tier.
25. Julien Gauthier, RW (Val-d'Ors, QMJHL)
Shone at Canada's World Junior Summer camp as the only underager, showcasing his brute strength and on-the-edge compete level. Gauthier shows promise offensively with his ability to drive the net and operate well in traffic for a big player. He owns a big time shot and a nose for the net and there is still plenty of growth remaining in Gauthier's game. 
26. Victor Mete, D (London, OHL)
Effortless skating abilities, confident puck distributing abilities and dynamic (yet responsible) offensive attacks make Victor Mete one of the draft's premier puck movers. He's not big and his strength is a work in progress but he's dialed in on both sides of the pucks and should contend for the OHL defensive scoring title.  He starts at number 26 on this list but he'll move up – guaranteed.
27. Jordan Kyrou, RW (Sarnia, OHL)
Snuck into the OHL by way of a late second round pick by Sarnia and established himself as one of the most impactful rookie forwards in the OHL last season. Jordan Kyrou finds himself higher on this list than most others due to his rare offensive skill set and high ceiling. He's far from a finished prospect but his dazzling dangles, creative vision, high-end passing ability and confident possession game give him the necessary tools to light up a game sheet. He's risky at times but his attacking skills could help a young and talented Sting squad move to the top of the Western Conference standings. Come the New Year and it wouldn't be surprising to see Kyrou jump ten spots in these rankings.
28. Mikhail Sergachev, D (Windsor, OHL)
Big, strong late-birthday defender who excels playing tough minutes. Destined for Windsor for his draft season, Sergachev will strengthen the Spits blue line and strike fear into OHL opponents with bone crushing hits.
29. Carl Grundström, RW (Modo, SuperElit)
Pitbull mentality combines lethally with a sharp quick release and an unrelenting net drive. Grundstrom's well-built frame, powerful and aggressive attacking game and shooting abilities provide him with the essential goal scoring tools to prosper. He'll need to clean up his footwork and polish his puck skills to move up the ranks.
30. Jacob Cederholm, D (HV 71, SuperElit)
The younger brother of Canucks' prospect Anton Cederholm, Jacob is cut from a similar cloth as a player focused on his defensive responsibilities. He won't be pulling Erik Karlsson-like rushes up ice but there's value in his astute defensive play and calculated transition game.
31. Jake Bean, D (Calgary, WHL)
32. Luke Green, D (Saint John, QMJHL)
33. Sean Day, D (Mississauga, OHL)
34. Vitali Abramov, LW (Gatineau, QMJHL)
35. Taylor Raddysh, RW (Erie, OHL)
36. William Bitten, C (Flint, OHL)
37. Dillon Dube, C (Kelowna, WHL)
38. Ryan Lindgren, LD (USNTDP, USHL)
39. Tye Felhaber, LW (Saginaw, OHL)
40. Filip Gustavsson, G (Luleå HF J20, SuperElit)
41. Timmy Gettinger, LW (Sault Ste. Marie, OHL)
42. Alex DeBrincat, RW (Erie, OHL)
43. David Quenneville, D (Brandon, WHL)
44. Nick Pastujov, LW (US NTDP, USHL)
45. Riley Tufte, LW (Fargo, USHL)
46. Tarmo Reumanen, D (TPS U20, Jr. A SM Liiga)
47. Michael Campoli, D (US NTDP, USHL)
48. Joey Anderson, RW (US NTDP, USHL)
49. William Fallström, C (Djurgårdens IF J20, SuperElit)
50. Max Lajoie, D (Swift Current, WHL)
51. Adam Mascherin, LW (Kitchener, OHL)
52. Otto Somppi, LW (Jokerit, Jr. A SM Liiga)
53. Jacob Moverare, D (HV71, SuperElit)
54. Otto Måkinen, LW (Tappara, Liiga)
55. Linus Weissbach, LW/RW (Frolunda, SuperElit)
56. Evan Cormier, G (Saginaw, OHL)
57. Markus Niemelainen, D (Saginaw, OHL)
58. Dylan Wells, G (Peterborough, OHL)
59. Evan Fitzpatrick, G (Sherbrooke, QMJHL)
60. Pascal Laberge, C (Gatineau, QMJHL)
Follow @RossyYoungblood on Twitter