It's easy to get immersed in the hype when covering prospects as talented and rare as Erie Otters' superstar Connor McDavid and NCAA scoring sensation Jack Eichel. Head over to your favourite internet search engine and type in C-o-n-n…and up pops "Connor McDavid" with thousands of articles following. Yours truly is guilty of getting wrapped in in the world of McDavid and all of his mesmorizing skills that follow. It's difficult not to really. McDavid aside, OHLers Mitch Marner, Dylan Strome, Travis Konecny and Lawson Crouse have all been heavily discussed and debated, for both positives and negatives in their game play. It's time now to turn the spotlight onto some lesser known 2015 NHL Draft prospects and give them the coverage they rightly deserve.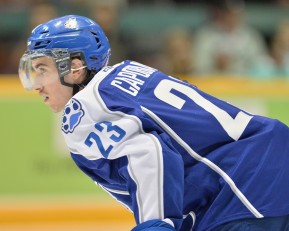 Kyle Capobianco (D, Sudbury Wolves)
There's not a lot of good news coming out of Sudbury this season but Kyle Capobianco, a Youngblood draft favourite, is certainly worthy of some recognition. Ignore his minus-37 rating on this squad and focus on Capobianco's ability to create offense. Scoring on 30% of Sudbury's 126 goals, Capobianco is running red hot with two goals and nine points over his last eight games, bringing his season totals to nine goals and 37 points. A high-end skater with a great feel for the game, Capobianco relies on above-average agility and instinctual anticipation as he employs his exciting puck rushing style. Capobianco is ranked 67th among North American skaters by NHL Central Scouting but he should trump that ranking by season's end quite easily.
Zach Senyshyn (RW, Sault Ste. Marie Greyhounds)
An explosive skater with admirable technique, Senyshyn's game revolves around his outstanding mobility but his shooting arsenal is earning applause as well. Coming into his draft season, Senyshyn was considered a depth pick landing deep on most scouting agencies' lists but he's quickly climbing up the rankings. Mark Seidel, head scout of North American Central Scouting, compares Senyshyn to Niagara's Brendan Perlini (Arizona Coyotes, 12th overall) conceding that Perlini is a better finisher but both operate well as a shooter. Senyshyn is a definite "sleeper" with a chance to push for an early second round selection. As part of the Soo's tremendously deep front lines (Jared McCann, Sergey Tolchinsky, Justin Bailey, Nick Ritchie, Blake Speers, et al), it's even more impressive that Senyshyn is able to find a way to provide consistent secondary scoring. More on Senyshyn from McKeen's David Burstyn .
Chris Martenet (D, London Knights)
Skating at 6-foot-7 and it's not surprising that first-year OHL defenseman Chris Martenet is drawing attention from scouts. On a young and inexperienced London blue line, Martenet has been a welcome addition and he's improving with each passing game. His lanky long stride allows him to cover ice quickly and with his wide-wingspan Martenet has shown to be very difficult to beat on the outside. For a big man, Martenet owns good mobility and he hasn't been shy to carry the puck up ice either. Gathering points will never be Martenet's go-to skill set but he's proving to be very valuable, replacing the tough minutes left behind after Nikita Zadorov's departure last season. He's very raw as a prospect but it's hard not to love his size (obviously) and his overall demeanour/confidence on the ice is very attractive as well.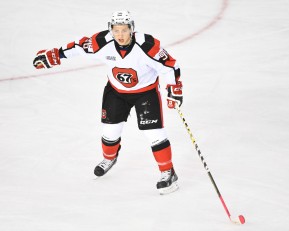 Dante Salituro (RC, Ottawa 67's)
Dating back to his minor midget days where he starred with the Don Mills Flyers, Dante Salituro has always been an exciting talent to watch because he always leaves everything on the ice. Salituro has developed into an excellent OHL player and now, in his draft year, is hoping that scouts see NHL value in his game as well. On a team featuring top prospect Travis Konecny, Salituro is actually outscoring his teammate by 10 goals/points. Like Konecny, Salituro's best attribute is his natural sniping abilities which is highlighted by an extremely quick release. Small players are certainly getting more looks then they used to as NHL prospects and one would have to think that Salituro gets picked up at some point during the 2015 draft.
Andrew Mangiapane (LW/C, Barrie Colts)
Mangiapane fell inside Youngblood's Top 100 ranking for the 2014 NHL Draft but went undrafted despite posting impressive rookie numbers in Barrie last season (68GP-24G-51P). Mangiapane is familiar with proving his worth after he went undrafted in the OHL Priority Selection eventually signing on with Barrie and fighting his way onto the OHL First All-Rookie Team. Mangiapane is a highly competitive and skilled forward who's always buzzing around the puck. His ability to "make things happen" and prove himself as an impact player should ensure that he gets scooped up as a re-entry player. Over the past 14 games Mangiapane has tallied 10 goals 24 points and is currently riding a five-game point streak (five goals, 13 points), sitting just a half-dozen points back from entering the 100-point club. Youngblood considers Mangiapane a legitimate second round prospect.
Rasmus Andersson (D, Barrie Colts)
Swedish import defenseman Rasmus Andersson entered his first year of draft eligibility as a highly regarded prospect. After getting his feet wet in Barrie, Andersson is beginning to reclaim his once-high billing. He's unlikely to climb into a Top 20 spot (as was suggested to begin the season) but this late '96 defenseman is turning heads with his point-per-game production (56GP-10G-56P). Andersson has been red hot as of late registering 13 points in nine February games. The young Colts' blueliner displays excellent vision and anticipation while executing precise outlet passes. His ability to find seams in traffic and headman the puck projects well as a future puck-moving defenseman. With room for improvement in his clunky acceleration and general attention to detail, Andersson has room to grow as a player but his current production and puck-moving abilities need to be recognized.
Follow @RossyYoungblood on Twitter for your prospect news and opinions