*******NOTE -- We have added a google doc with a breakdown of points on a quarterly basis as it was presented in the magazine in the past. To access click here.
Site navigation has been a topic brought up in doses regarding the 2013-14 McKeen's Hockey Pool Yearbook. Due to the demand, this is a primer intended to answer questions about where to find content on the site.
STARTING FROM THE TOP

Immediately, across the top are icons with logos to all NHL clubs that house the individual team items similar to the magazine. Access a team by clicking on the icon and the first landing page is the team breakdown.
On the right side of the page is a navigation bar where Team Stats and Top Prospects are housed.
The team page is broken down into various tables containing information or links. At the bottom right of each table is the option to download the available data directly into an excel spreadsheet. The benefit here is to keep all the statistical information on a local drive and slice/dice and do any further analysis that poolies may require to get them ready for the season.

The list of tables in order of appearance:
2013-14 Team Predictions
2013-14 Player Predictions
Top Prospects
Line Combinations/Depth Chart
             This is where all the player profiles are housed
 Power Play
Current Line Combinations – provided by Frozen Pools
2012-13 Team Scoring
Team Editorials
             Information tagged with the team pages are displayed here.
From the main page across the bottom of the banner are links leading to different areas of the site.

For Top Calder Trophy Candidates and Top prospect rankings, follow the drop down menu to access the pages.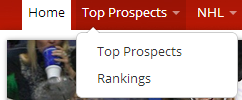 The NHL setup starts in the NHL Main tab from the NHL drop down menu. The projected top-10 scorers appear just above Editorial and Feature sections where users will find articles by McKeen's fantasy writers: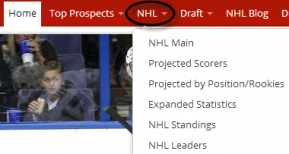 Carl Lemelin – Finding Value in Fantasy Hockey Drafts
Peter Harling.- Armed and Dangerous
The magazine staple BREAKOUTS AND HIDDEN GEMS is also housed off this main page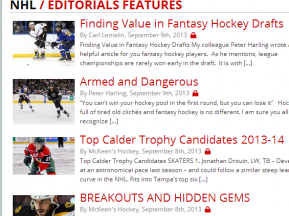 The TOP 475 (which has actually been expanded and includes over 700 player projections) is accessed through the link Projected Scorers in the NHL menu. Similar to every other table the rankings are also available for download onto an excel spreadsheet.
The link Projected by Position/Rookies allows users to filter by position, and rookie status.