Brad Lambert - C/RW - JYP/Pelicans #92/50 - Avg. Rnk - 11.47
49GP - 4G+6A - 3.38% G% 6.76% INV% - 5.81 NHLeS
We here at Scouching HQ are a Survivor family, and have been since Season 28 back in 2013, and over the years, they've tried a twist where whoever gets voted off has to live alone on an island with their thoughts for a period of time, wondering what it is about them that made everyone else pick them to go through that experience. That, to me this season, has been my experience with Brad Lambert, of the Lahti Pelicans from the Finnish Liiga. Early in the year, while Joakim Kemell shot the lights out, Brad Lambert not only couldn't buy a goal, but couldn't even find one to buy in the first place in the discount bin in the electronics section at Wal-Mart. Kemell shot up to the top of people's draft boards, and like Andy after getting his Buzz Lightyear, Brad Lambert hit the floor, rarely to be thought of again. A team change he's being maligned for, and the nondescript personal rumours that often seem to get out there with skilled European players over the years have followed him since, but there I was, continuously having faith in the guy through the year, and I'm here to show you why.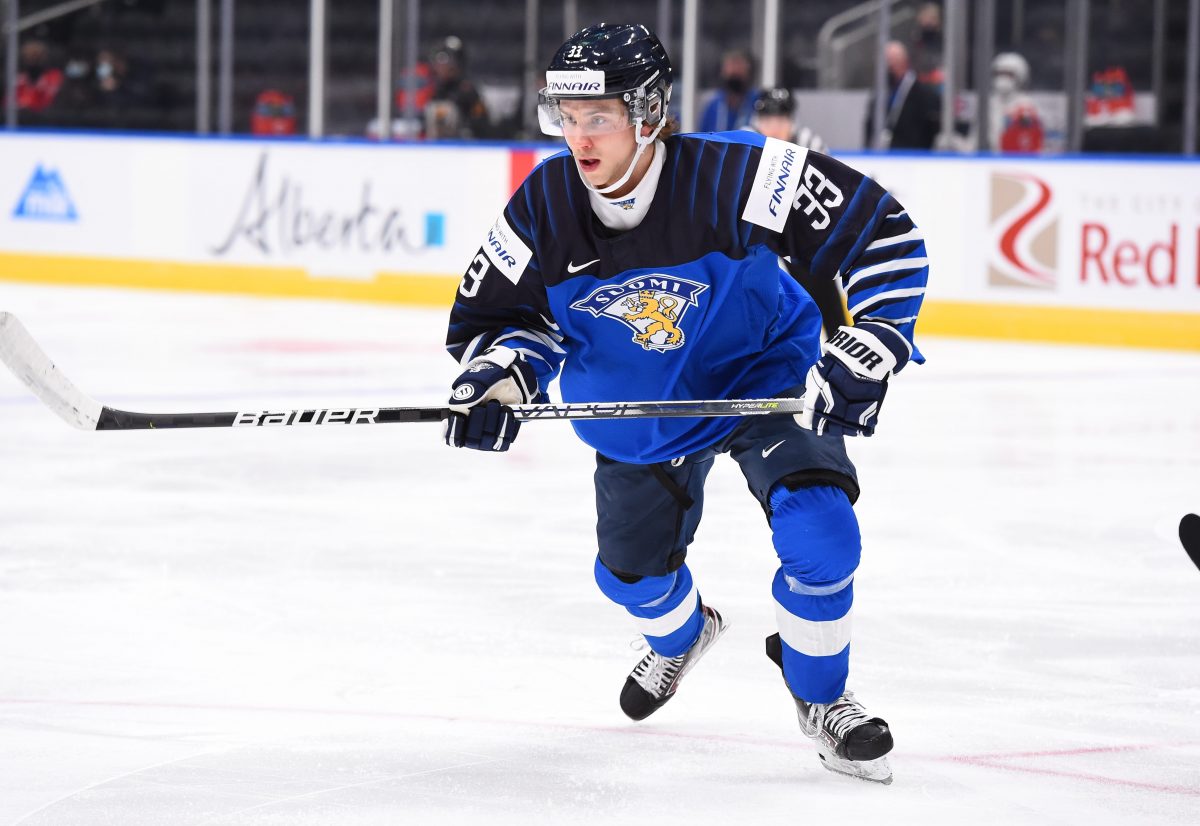 If you haven't read the background on my work and approach, please read the embedded article before continuing below.
Once you have read the article, or are familiar with Scouching, here is the full video. Powered by Instat.com
We'll start with data, and tracking Brad Lambert was one of the most confusing, frustrating, bizarre, wonderful and silly experiences I've had watching this draft class. So, in terms of pure possession and offensive production indicators, Brad Lambert was… Bad… Really, really bad. With a 21% DSAT%, he sits second last among forwards. He's 80th offensively, and 73rd defensively. His rate of dangerous pass attempts and dangerous shot attempts was 67th and 69th respectively. Sitting 50th in shot assists, 56th in the percentage of team shot attempts that were his, and 71st in completing the limited dangerous passes he attempted, it's easy to see why plenty of folks have moved on to greener pastures from Lambert. The transition data is where things start to look very different, maintaining control on 75% of offensive transitions, involved in 34% of his team's transitions, with the 21st highest involvement in defensive transitions, shutting down almost 60% of them, using physical imposition successfully more often than many forwards in the draft, let alone the ones who are playing against men.
But what I really, really need to highlight here before we get into the video, is how pretty much across the board, his data went from exceptional in some areas in his time with Jyväskylä to pedestrian at best after transferring to Lahti midway through the year. His pass percentage dropped from 82% to 60%. His offensive transition involvement went from 40% to 25%. He went from 58 controlled offensive transitions per 60 to 30. 58 controlled offensive transitions per 60 would have put him in the top-10 among forwards and well ahead of every men's league player in my sample. His rate of control on offensive transitions went from 83% to 59%. He was a breakout target in the neutral zone 19 times in his four-game sample with Jyväskylä, and just four times in his three-game sample with Lahti. I can keep going. He had four of Jyväskylä's six high danger shot attempts over his sample there, and two of Pelicans… two dangerous shot attempts of any kind in his sample there. He went from two shot assists in each game with Jyväskylä to one in each Lahti game. This one is just hilarious. Game by game, Lambert's team's rate of total shot attempts steadily declined from 101 in game one to 24 in game seven and he was often the only one taking meaningful play-driving chances as time wore on. It was simply agonizing.
So, there's a clue to why he might not be scoring much. Changing teams unequivocally put him in a worse position pretty much across the board, and any actually dangerous offense when he was on the ice with Pelicans came from him. The guy had four total shot attempts and three shot assists with Pelicans and his line with him on the ice took 18 total shot attempts across my sample, but with Jyväskylä, at least in terms of offensive transitions and quarterbacking play up the ice, he was clearly a cut above the rest. An 80%+ transition efficiency with 40% involvement and an 80%+ pass percentage is an unbelievable starting point, and to see it completely fall apart and see him fade into the background broke my tiny black little heart, but to help make us all feel better, I think there's plenty of hope, and the video will show as much.
So, in terms of pure, raw speed, skill and pace in combination at a high level, Brad Lambert is likely the top name in the draft. With Jyväskylä, he found open space flying up the ice, making himself a target, with enough skill to take poor passes, gaining control of pucks and showing the puck management ability to create creative passing lanes that drove his tremendous transition results. I'll also get this out of the way. I will never, ever, ever listen to someone who questions how hard he can work, or that he doesn't care about playing without the puck, considering how often he caught up and pressured opponents on loose pucks and did what he could to gain possession and make space for linemates. Chasing down potential icings, that speed can come in handy, even if he couldn't beat out every call. Reading oncoming pressure, his agility and skill level allow him to get around players constantly and continue driving play up the ice, and with refinement and experience, the potential could be massive.
You can't fault his work rate, especially when possession is at stake, constantly using his feet to apply pressure, showing good natural instincts to put in the work more often than quite a few young players this year. Along the boards he brings this as well, driving into physical contact at times, although this felt inconsistent to me to a certain extent. His edges also allow him to escape oncoming pressure and look for other options. It wasn't always perfect, but at this level, showing this ability is important at the pace he plays at.
Lahti didn't seem to use him at centre as much as Jyväskylä did, and that was extremely confusing to me, considering the speed and pace he plays at both with and without the puck, preventing dangerous defensive situations through challenges and imposition. I just love players who don't give opponents time to think, pressure them, and has the speed to get around the ice to the right places quicker. He had exceptional pass percentages with Jyväskylä as well, largely driven through complex pass lane creation and drawing pressure to himself and finding ways to extend possession. Solving issues through pressure with his quick hands also helped him get pucks through feet, but as time wore on, he just became far less active and accurate in this area. He just covers ice so well and shows the right instincts to try to gain possession and hang onto it, all while being a great offensive transition quarterback, and he often made life easier for teammates.
So even with Jyväskylä, why was he not scoring? His production rate has stagnated since playing at the Liiga level for the entirety of last season, and that is a legitimate concern when things are going so well in other areas. Well, honestly, part of it was luck. He got his chances, but sometimes the dang puck just doesn't go in the dang net while still displaying great skill and finishing potential. But there are actual issues that follow Lambert around that some have stated with my least favourite term in hockey: "Hockey Sense", but Lambert did show lapses in awareness of trailing forecheckers and could take too long to execute on his decisions. He could find good routes and lanes to get to scoring areas, but with possession of the puck, I felt he looked for the most dangerous passing lanes he could to his detriment, leading to unnecessary lapses in possession and killing offensive momentum. He was getting to scoring areas, even if I would like him to be more of a backdoor option here, but ideally four forwards collapsing along the boards with no support down low also kills this offensive cycle. He had a bit of an inability to spot clear, dangerous passing lanes as well that could've driven offense that are almost definitely in his line of sight, again limiting his production.
Defensively, he showed good initiative most of the time and played hard to win battles and races, but on extended defensive cycles, of which there were many with Lahti, Lambert seemed to have trouble using his quickness and imposition to monitor and close out lanes and challenge shooting threats. Men could be left wide open in scoring areas where Lambert is almost certainly not a legitimate breakout option and being able to read play on defensive zone cycles will be pivotal to shoring up his defensive game, especially if he wants to play centre down the line. His pressure application at times was a bit lacklustre in transition as well, slowing down his backcheck and taking him out of position. Working on his pivots and agility should help him get around the defensive zone better and challenge cycles more effectively. These extended cycles were a big reason for his defensive results to be so poor.
But holy god, I'm also absolutely positive that he just got no support from linemates in most situations and was not put in a position to best utilize his abilities with Lahti especially. He was moved to the wing after transferring, and he's a player that makes a great breakout target up the middle of the ice, able to use his speed and skill to his advantage, but Lahti felt he was better suited to sticking along the boards with their weird, gross and momentum killing five wide breakout where Lambert may as well be any other player out there. Lambert could so clearly be an easy offensive zone entry at times, but his defenders would dump pucks that Lambert still manages to win a race to. It was just a total, complete mess that couldn't have helped his confidence. When Lambert fetched pucks below the goal line, I'd go "ok, here we go, do the thing Brad", only to see him make a strange decision, make a quick cut and use his skill to get the puck to safety, only to have a sloppy reception on the other end.
Bringing things back to how he could improve personally, I would want to see a better first few steps of quickness and more consistent willingness to directly challenge puck carriers, rather than trying to anticipate from a distance. Taking calmer, simpler and more effective reads using pre-pass scanning could also make him a more effective linemate, but his most common linemates this year consisted of illustrious names such as Reid Gardiner, Antti Tyrvainen, Miika Roine and Braden Christoffer, with his best results coming with more notable offensive talents in Jerry Turkulainen and Patrik Puistola. It'll be a matter of settling in, not trying to do too much, but still having the confidence to make those high end plays when necessary, while also having the mind to recognize simpler but effective options around the ice, and knowing when to choose the right path.
The Best Part- Speed+Skill Combination
The hands, the agility, and confidence are all there in spades at his best, walking through traffic and controlling pucks with ease. When hit as a breakout option, he was often nearly an automatic offensive zone entry with control of the puck. Dropping a shoulder, using his body to protect the puck while still keeping his feet moving allowed him to be a good quarterback with the puck on his stick, it'll just be a matter of finding the balance of what can and can't work for him.
The Good Part - Defensive Intensity
His speed couples with a real hunger for the puck, especially when the puck is loose in open space, chasing down loose pucks and winning races far more often than many other players in this draft, especially outside the offensive zone. He wasn't always the first one on every race, but he challenged puck retrievers and got physical if necessary. His ability to push defenders deep in the offensive zone and challenge them, forcing decisions is a good indicator in my view, keeping the game coming to them rather than having them dictate things, and with Lambert, further development will only serve to help him here.
The Not-So Good Part - Puck Management+Consistency
There is absolutely truth to how frustrating Lambert can be as a player. You can clearly tell the level of talent and upside he has but hasn't been able to put it together as a reliable offensive producer at high levels as of yet. He could bite off more than he could chew at times in terrible situations, but I think this was rarer than some are portraying. For all that defensive intensity I've seen, on defensive cycles things got a lot softer and slower to react to changes in play which led to too many extended possessions. Refining his defensive game will go a long way to fix his results in the defensive end, but making better, less greasy decisions with the puck will also go a long way to improve results driving overall offense for his team.
Final Thoughts
Last year during the 2021 IIHF U18 tournament, I was talking to noted good friend Sam McGilligan and told him that Brad Lambert reminded me of a higher skill and pace version of Kent Johnson. The processing issues led to similar frustrations, but the potential is so blatantly clear that it's frustrating when he's falling short. He's speedy but getting more explosive will help him escape pressure with the puck a little more easily, and not box him in as often as it did. It isn't like this guy didn't try to score points, landing some high danger chances and combining the small area playmaking trying to keep pucks in front of the net. There was also a capability of misdirecting opponents with body language only to send a pass to open space to keep cycles going. The dude spent a long time being snakebitten, then spent a long time (in my opinion), being misused and deployed as if he were any other Liiga player, which in my view he most definitely is not.
I'm sticking my neck out on him. He had a very good couple of games at the World Juniors with younger, faster linemates along with strong under-20 tournament performances, and I'm extremely convinced by the idea that he wasn't the root cause of why his results were so poor at pushing dangerous shot rates at both ends. Where do we go from here with Lambert?
I would want to make what's already great with him even better. Get quicker with your feet and hands. Bring that loose puck intensity to defensive cycles with improved pivoting abilities. Have coaches trust that talent and allow him to play minutes, try plays and find a comfortable balance, while also trying to get him to simplify his game at times, especially off puck to get into more dangerous scoring position.
There's a tremendous toolkit to work with here, and it may require patience and a close developmental relationship, but without a contract next season, Lambert could play anywhere he likes. If it were up to me, I'd want to see what he could do for a year in the WHL in a new situation and a system that isn't afraid to stretch the ice and doesn't shy away from exciting, offensive hockey. If he starts slipping in the draft, even in my most conservative line of thinking, he becomes extremely valuable once you get into the teens where most people have him ranked. If he slips to the end of the first, a smart contender or a rebuilding team with multiple picks may be able to add a player with core-level potential in their future, and I'll be cheering Lambert along the entire way.
Final Ratings: Think - 1F, Move - 1B, Get - 2B, Pass - 1C, Shoot - 2B, Overall - 1C