Our CHL Expanded Stats page is now up and fully functional. Values are current as of the end of the regular season for all three leagues under the CHL umbrella and I've tested their validity with active measures to ensure accuracy. There shouldn't be any discrepancies, but if something is off, please report it to get it looked at properly. This post is dedicated to being a full-fledged User Guide for the Main and Individual Player Pages, hopefully answering all the questions regarding functionality.
Our efforts to provide a nightly (or at least weekly) updateable version were met with various challenges – both personal and professional – constricting the extended effort required to ensure full functionality while maintaining competent data integrity. If this project contained limited input sources the venture feasibility would have dramatically improved, but maintaining a proper database with a variety of leagues import data was overwhelming, requiring massive efforts to ensure functionality (without any regression of current processes) and more importantly, data integrity.
Further, 'fancy stat' enhancements were scrapped for the time being, hopefully to be revisited for feasibility in the future – sans other obstacles. However, with the limitation of available data, I'm hesitant to include 'estimations' as part of a statistical dataset out of a fear of misuse/misinterpretation. For the time being, these are labeled 'extended' stats, not full blown 'fancy stats'. Most of the base stats are here to provide extra layers of context, and to further user-initiated data analysis as they can be used in conjunction to precipitate estimates.
Challenge this season were overwhelming based on a personal level. At the very least the project has been complete for the end of the season, and just in time for the onset of draft season (and in conjunction with the McKeen's Draft Guide and subscription package)
The link to the stats site is located here however, the page can be accessed in two different locations off the main McKeen's home page. The first is under the drop down menu from the Kats Krunch blog off the main tool bar: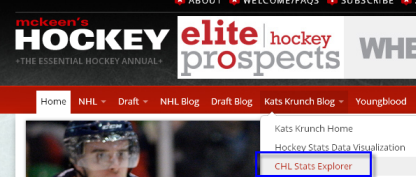 Or by clicking on the link image below located by scrolling half way down the main page:
The page is parameter driven (full details below) with defaults upon loading and a main sort on points.
PARAMETERS
Upon page load, the main parameters are defaults, appearing as in the screen shot below. Users can change parameters or search for specific players first or last name (or both) using the Last Name and First Name input boxes.

The report columns definitions are shown below:

DRAFT STATUS
To filter by a specific draft status, use the drop down menu located at the top right of the screen, available with multiple options as shown below.
Draft statuses are defined here.
Drafted – players selected in the NHL Entry Draft
Eligible – NHL 2014 draft eligible players born between Jan 1, 1996 and Sept 15, 1996
Late BD – Players born after the Sept 15, '95 (Therefore Sept 16, 1996) cutoff for previous season up to Dec 31, 1995.
OA-Draft – Overage players (20+ yrs old as of 12/31/2014) that were drafted in a previous NHL Entry Draft (please note, players signed to Pro contracts are not included in this selection).
OA-NotDr – Overage players (20+ yrs old as of 12/31/2014) that went undrafted in an NHL Entry Draft
POSITIONS
Players can also be filtered by positions. The default is All Skaters, but positional filters are applicable (please note goalie information is unavailable at this time. It's a future deliverable).
DATE RANGE SPECIFIC
There are instances that require a specific date range, for example, players during the World Junior Championships with teammates off representing their respective countries. Another example could be a weekly/monthly breakdown for comparison. Users can specify date range parameters on the far right parameter menu. The site will calculate the values between the Start and End date, displaying results accordingly. In addition, the Seasons drop down menu toggles display results between the 2013 and 2014 seasons (only two season's worth of loaded data).
GAME SITUATION
Directly above player reporting there appears multiple checkboxes. Defaults have all checkboxes marked for full on report display. The check boxes apply to Team, League and for specific game situations.
Unchecking a check box will hide the applicable columns from the results as in the example below with the SHG check box cleared. All check marks – defaults.
SHG check box has been cleared and the SHG and SHA columns disappear from the reporting page:

INDIVIDUAL PLAYER PAGES
In addition to the main player reporting page, clicking on any player name will take users to the individual player pages, a drill down display of individual player statistics.
Using Connor Brown as an example, clicking on his name on the main page will redirect to the page below.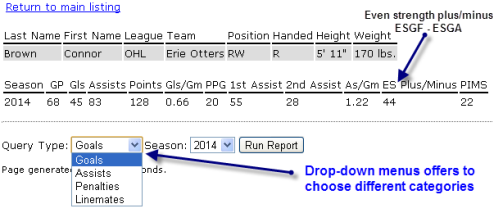 There are two sections: player statistics for all applicable seasons (only 2014 is displayed here, but the individual season will be displayed for 2013 and 2014 if data is available.)
The field ES Plus/Minus is the difference between even strength On-Ice goal differential. The main page displays this as a differential, however here it is displayed as a plus minus stat (On Ice ES GF minus On Ice ES GA).
REPORTS
The second section on individual player pages features a reporting tool to display results for all the variables on display in the drop-down menu in the image above. That is: Goals, Assists, Penalties and Linemates reports for the applicable season.
The report results are self-explanatory, with an additional column labeled, 'Status'. The purpose of this column is to explain the game situation immediately prior to the recorded event. In the example shown below, Connor Brown's first record shows he scored a goal in the 2nd period at even strength while the score was tied, resulting in the Erie Otters gaining a one goal lead.
Brown's second goal in the report was scored on the power play with the score tied. The third was into an empty net with the score 5-3 in Erie's favor – effectively making the score 6-3.
Upon choosing a report query type, a date range drop down will appear to allow users to specify date ranges for reporting. Changing the input criteria on the date range will allow users to filter the results for a specific date range as shown in the examples below.
Example 1, Default Start Date, and modified End date

The values displayed only include those prior to the October 1, 2013 end date.
Example #2 – Modified Start and End Date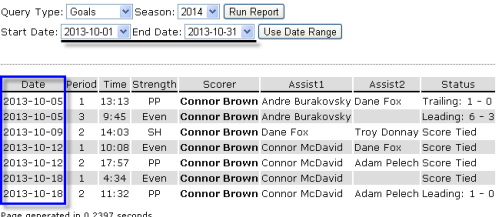 The display only includes results within October 1 to October 31 (inclusive).
***PLEASE NOTE*** There's a known bug found that needs to be addressed where report results sometimes do not display. A temporary solution is to change the START DATE from the Default 2013-09-12 to 2013-090-13 and the issue resolves itself. We will fix this.
LINEMATES
The final reporting feature on the pages is a makeshift WOWY (with or without you) that breaks down player points by linemates. This is not a season specific feature, it includes ALL SEASONS (2013 and 2014), so considered more of a Junior 'career' Linemates report, rather than a seasonal breakdown. 
Also please note, as such the date functionality for the Linemates reports are not functional.
The reports read as such, in an example using Connor Brown and teammate Dane Fox:
Player Scored refers to the player page in this case, Connor Brown. Dane Fox recorded 20 assists on Brown goals, 7 first assists and 13 second assists.
When Dane Fox scored, Brown recorded 36 first assists and 15 second assists for a total of 51 total assists on Fox goals.
**********************************
We hope you found this write up and the new page to your liking. Comments and feedback are welcome.
Site Developer is Steve Laundrie (@super_steef)
**********
 Follow the McKeen's team on Twitter: