I'm redefining 'defensive defenseman' to a dman who kicks off initial transition to offense. May not get recognized much but ultra important

— Gus Katsaros (@KatsHockey) September 4, 2015
I can't stress enough the importance of a player that doesn't contribute much offensive generation, they better be contributing more than strength and toughness elements to the lineup.
Defensemen role are being redefined, but I think that those characteristics should apply to definition of the stay-at-home or defensive defenseman.
Strength/toughness have value, but shouldn't be attributed as key items any longer, and I'd focus less intently on those elements when scouting a player. A set of guidelines for assessing blueliners is vital and with the changing landscape, it's important to key in on the type of skills attributable to today's NHL blueliner. Depth defensemen that could present challenges and difficulties that take multiple views to fully understand skills integration.
The seismic shift from size, strength and toughness is being slowly (actually rapidly) replaced by mobility and skilled sticks and feet, while above all, cerebral ability rules. Today's blueliners have to contribute to the main goal of defending – getting the puck back.
In a perfect world, all swift skating defensemen with slick skills would be six-foot-three behemoths, but size isn't the main point any longer; skills matter more.
This is the defenseman primer, but everything below falls into one of the categories in the Four S's of scouting.
That's a broad array of variables to consider.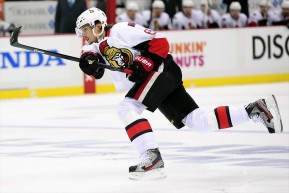 Here's what i would look for when assessing defensemen. I'll break it down offensively and defensively.
Defensively
backwards skating –

Includes transition from forwards to backwards (& vice versa) .. acceleration, skating stride and balance/agility in chases or from a standing start.  
Pivots are included here too. Talented forwards force defensemen to pivot from backwards skating to forwards, because the movement itself invokes an exploitable imbalance. I picture a developing Jake Gardiner, burned on multiple occasions. I call it the question mark ( ? ) where a player, leaning to go wide takes him along, forces the pivot, then cuts right back inside to the net.

I go into more detail about this here

 .. Dion Phaneuf is another example of a player that has difficulty skating backwards and pivots awkwardly, forcing him to move to forwards skating, a vulnerability that results in an exploitable gap. He gave us an example in his Senators debut. 
As Dion Phaneuf makes his Senators debut, watch Henrik Zetterberg blow right past him to score a beautiful goal.https://t.co/Vm82NPYmKU

— Sportsnet (@Sportsnet) February 11, 2016
 Key point here is that as good a backwards skater as a defenseman may be, forwards can exploit that.
Gap Control – this held more significance learning how to assess defensemen than it does now. I think forwards can manipulate defenseman's gaps, compelling them to make unwanted plays. An example is backing up to contain a player's rushing speed, yet when running out of room engages the threat, but by then the shot has been fired. How much of that play is the defensemen 'closing the gap' and the forward engineering a shot on goal (or pass). A bull headed Ovechkin, in full steam attack mode can bash his way to the net, around or through defensemen. 
one more look at #499 for Ovi pic.twitter.com/Whq9OqmCpn

— Stephanie (@myregularface) January 9, 2016
Or how about this gap? Forward walks off the half boards and takes the shot. Instead of closing down the gap, the defenseman freezes and waits for the shot block – an old school, passive method of defending. Forget the gap, block the shot.
Rakell's 2nd goal pic.twitter.com/kUAHSN2tEH

— Stephanie (@myregularface) February 10, 2016
Engage or Support (the first defenseman to engage the puck carrier and start the defensive system to try to get the puck back), or the support? I got into this in more detail in the Jake Gardiner link above and

in this piece on Dion Phaneuf

(who coincidentally made a formidable pairing in this regard)
I've redefined 'defensive defenseman' as per tweet at the top and I look for specifics that would define this type of player. If defensemen aren't going to be big offensive contributors, they better fit this description.

a fairly broad concept that encapsulates: holding the blueline against the attack .. angling players to the outside and eventually to the boards if need be (a judgement call) .. doing something, through body contact or stick placement, or mix of both that disrupts the flow of the offensive foray enough to impose a change of possession – it could be an event, a skating process, anything that fulfills this initializing a change in possession .. sometimes engaging a threat leads to harmless shots on goal from a distance; in essence this could be part of the overall plan, but only if the result is an immediate halt to the threat, change of possession and transition to offense.
 Offensively
Rushing ability (skating) versus passing ability on breakouts. Rushing the puck is an elite skill ( e.g.Tomas Kaberle in his prime). Passers have less effect (Cody Franson) however there are a lot of competent puck movers that can mimic specialty skills of elite puck rushers by simply advancing the puck.

there's a perfect moment to judge two additional characteristics here while the player rushes the puck – hands and feet.
Hands – players stick handle with the puck, cradling it with movement as they maneuver through the opposition.
Does the player stick handle through, or just lug the puck with occasional stick handling to avoid obstacles? Does he push the puck up ice? Does he stick handle to center and make the pass – not a real rusher but a skater that can't gain the zone, but can advance the play?
Feet – here's where judging a player's speed, forward stride, acceleration come into play along with agility, balance, structure and creativity.
Quick stop/starts, cuts or does the player make circular paths when the puck is gone?
How does the player react to when the play dies in the neutral zone?
An example of a more rigid rushing job – and some open lanes – by Washington Capitals Matt Niskanen.
Niskanen calls his own number and takes it all the way. #PHIvsWSHhttps://t.co/0fOzJehARW

— NHL (@NHL) February 7, 2016
Morgan Rielly scored a highlight reel goal that encompasses the end to end rushing, individual effort and slick, skilled hands. he backed everyone up, found the seam and rifled a bullet into the top corner.
Rielly https://t.co/8cAkAqaefL

— Gus Katsaros (@KatsHockey) February 12, 2016
Rielly's teammate had a rushing play of his own we could examine.
I swear, if the Leafs end up getting points because Jonas Hiller can't stop a beach ball.. I mean yay Gardiner? pic.twitter.com/gTumqZRxPv

— The Tank Nation (@TLNdc) February 10, 2016
Top of the zone ability

shooting ability from the point; does he aimlessly blast into nothingness for the sake of shooting or does he get pucks on net. Shots to the net (tippable is better) are very important; consistent puck placement, not mindless bombs off the mark or into skaters legs. Sophistication in shot blocking has forced defensemen to have to have the ability to get (tippable) pucks through – and on target.
Here's an example of a pressured defenseman on the point who shoots through the seam with a puck about a foot off the ice, giving the player in front a chance at a tip, and/or working the puck once it gets to his area.
JT Brown goal pic.twitter.com/2KRm4s75zX

— Stephanie (@myregularface) February 9, 2016
Regroups are quick and efficient - a half breakout that forms in the high end of the defensive zone, instead of a full controlled breakout

this is more of a team level concept, but players should be evaluated within the structure of team play.
Does he follow structure imposed by coaching staff or freelance a regroup?
jumping into and supporting the rush with proper risk assessment. This is fairly self-explanatory.

I'd encourage all my defensemen to jump into the rush if they can, however, only after risk assessment. Defensemen should be able to jump in on the rush turning even-manned situations into odd-man rushes, and stealthily follow up as the trailer, offering options. Again, risk assessment is key here. Smart players, smart plays, everybody wins.

Distribution skill based on heads up creativity. Passing must be crisp and accurate, especially from the point where the turnover risk is the highest.
There's a great example here of Gardiner outskating opposition forechecking pressure, then finding the seam to make a long stretch pass to the open man for a quick break. The ability to do this, in full stride, under immense pressure, and make an accurate tape-to-tape pass is a key component.
This is just clinical from Jake Gardiner. pic.twitter.com/ImNwqT84YW

— Scott Wheeler (@scottcwheeler) February 10, 2016
Having skills and intertwining to create a viable player takes a lot of the above into consideration. There's more to it than just determining raw skills. these are the guidelines, models are created based on the scope of these factors.
What you'll notice here is the lack of negative attributes. I think that's a key. Anyone can pick out what a player doesn't do right; having the ability to determine the skill set of a blueliner should be mostly restricted to the positive attributes. The negative issue will be evident, but that's the scout's assessment to filter out the bad stuff. There could very well be a beautiful flower growing out of that pot of dirt.
************************
Follow the McKeen's team on Twitter: