This week is Halloween. Granted, it is not until Friday but you get the idea. It has been a scary week for fantasy hockey owners yet again. There will probably be one question about an injury from now until the playoffs and maybe beyond. 
It is time to dig into the mailbag and pull out three questions. That sounds like a nice, round number. Hopefully I can help you this week and maybe hey, I can learn a few things too. Humble pie never hurt anyone at all. Let's dig in!
Fantasy Hockey Mailbag Time
1. It was one thing for Victor Hedman to go down with an injury but now Zdeno Chara is out 4-6 weeks with a knee injury. What in the heck do I do?
This one admittedly hit a lot of us in the gut but if you were unlucky enough to have both of these guys then ouch does not do this justice. Sometimes the fantasy sports world can be so cruel and there is little left to do but find a way around it. However, an owner should be thankful that the early portion of the season is a bit spread out. November does start to get congested for some teams (New Jersey has five back to backs) but at least the injuries are not worse. Chara was feared to have multiple torn ligaments. Fortunately, it was only the PCL. That is not so bad. 
So knowing that Zdeno Chara might be back before Thanksgiving is a glimmer of hope. In the meantime, what do you do? First of all, see if T.J. Brodie is available from the Calgary Flames. He is paired with Mark Giordano and that means not only possession goodness but points. I am also seeing if Damon Severson of New Jersey is available anywhere or hell, I am making a trade for him. Then why not look right up to Boston and see if maybe Torey Krug or Dougie Hamilton is on the wire. 
Again if this was a season long injury, the players you would try to pick up would be different. Keep that in mind when a more dire malady occurs because they surely will at some juncture.
2. Who do I keep between David Backes, Tyler Toffoli, and Patric Hornqvist? (I get to choose two of the three).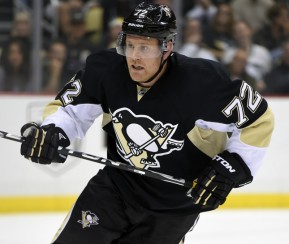 Hey, this is like multiple choice where you can fill in two bubbles. Thanks to Kenny Mulligan for the question by the way. Here is the problem. I know that David Backes has dual position eligibility and that is a good thing (C/RW). However, is his upside enough to offset the potential of Tyler Toffoli and Patric Hornqvist? That is an excellent question. 
My problem is this. Patric Hornqvist is a high volume shooter playing with a high volume play maker(s). When you can be flanked with Sidney Crosby and/or Evgeni Malkin, that has to help, right? Exactly! Hornqvist will stay right around a point a game as long as he stays healthy. Tyler Toffoli plays on "That 70's line" which accounts for 16 of the 21 Kings goals on the season. Yes they will slow down eventually but will that be enough to make Backes viable? I am not so sure of that.
Also, David Backes can be prone to a calamity as well. St. Louis plays a very grinding style and the points are spread all around. That is another strike against Backes. Even though he may possess more value in other categories, his limits on durability could come into question. His knack for power play goals intrigues me but the fact that he has stayed healthy for so long hits the pessimist side of me. 
If it is a non-keeper league, I actually hold on to Backes and Hornqvist. For one year I can live with Backes running wild and doing his thing. However, in keeper leagues, I keep Toffoli and Hornqvist because of the years of prosperity ahead. Give me serenity now!
3. Do I play Ondrec Pavelec against New Jersey this week?
This one almost had to come from a New Jersey fan. It had to, didn't it? Whenever the Winnipeg Jets play New Jersey, they seem to look like playoff perennials. Pavelec has a sub 2.00 GAA and a save percentage near .940 in his last four starts against the Devils (3-0-1 record). I had to look this up three times to even remotely believe it. 
Yes we can spin small sample sizes until we are blue in the face but Winnipeg has this weird effect against New Jersey. They just play better. Evander Kane often looks like the fantasy hockey stud he should be. Magically, the puck finds its way past New Jersey goaltenders and not past Pavelec quite as often. Now, Ondrej Pavelec has also altered between good and bad starts so if the theory holds true, then Thursday should be a good start. Personally, the Jets play a style that often frustrates New Jersey much like how Buffalo plays San Jose for whatever, strange reason. 
It sounds crazy but I actually play Pavelec on Thursday. Now, let me have it New Jersey and fantasy hockey fans!
----------------------------------------------------------------------------- 
That is enough for now. See you next Monday with more of your questions. As always, you can fire off comments, questions, and more on Twitter @ChrisWasselTHW or right here on the site. Bring the heat hockey fans!