This week the Waiver Wire takes a look at some already drafted prospects participating in the World Junior Championship for the fantasy General Managers in deep keeper and dynasty leagues. Typically the WJC is a 19 year old tournament, but this year it has been dominated by draft eligible players headlined by Auston Matthews of the USA who is the consensus top ranked prospect. Finland has their dynamic duo of Jesse Puljujarvi and Patrick Laine along with defenseman Olli Juolevi from the London Knights. These players will be snapped up in the early rounds of your fantasy draft in dynasty leagues, but here are some names of players you may be able to add to your prospect roster with a waiver wire pick up now as they are already drafted.
1. Denis Malgin, C/LW Switzerland – Florida
Malgin was a fourth round pick of the Panthers in 2015 and was the offensive driving force for team Switzerland who had another impressive tournament and are a rising international force in hockey. Malgin scored nine points in six games, but only had one goal.
2. Christian Dvorak, C/LW USA – Arizona
The London Knights were well represented in this year's WJC with draft eligible Matt Tkachuk, Juolevi, Mitch Marner of the Toronto Maple Leafs, and Dvorak. In his draft year, Dvorak suffered an injury which cost him much of his season allowing him to fall under the radar. He had a strong season last year playing with Max Domi and Mitch Marner and is lighting up the OHL again this year. He was offensively strong for USA scoring three goals and five assists in seven games leading USA to a Bronze. Dvorak has top six upside and could be reunited with Domi in Arizona as soon as next season.
3. Adrian Kempe, LW Sweden – Los Angeles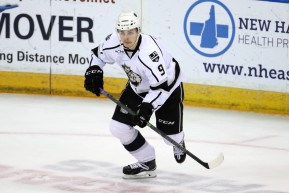 Kempe was a first round pick of the Kings in 2014 and has made his North American debut this season in the AHL where he has an impressive 16 points in 21 games as a rookie for the Ontario Reign. Last year at the WJC he impressed with eight points in six games for Sweden and was a key offensive player again this year with three goals and eight points in seven games. Don't be surprised if Kempe gets a cup of coffee with the Kings before the season ends, and expect him to push for a roster spot next season.
4. Dmytro Timashov, LW/RW Sweden – Toronto
Timashov had a breakout season in his draft year exploding for 90 points in 66 games for the Quebec Ramparts in the QMJHL. His stock rose higher in the Memorial Cup where he scored three goals and had four points in five games. He was a standout prospect in the Leafs rookie camp and training camp and was one of Sweden's more dangerous offensive players at this year's WJC scoring two goals and five assists for seven points in seven games. Timashov is well under the radar as a fifth round pick by the Leafs in 2015 but the Leafs believe he may be their best prospect from the draft after Marner.
5. Sebastian Aho, C/W Finland – Carolina
After going undrafted in 2014, Carolina snapped up Aho in the second round of the 2015 draft. Aho plays in Liiga, the pro league in Finland for Karpat and is having an impressive season scoring 21 points in 26 games this season. He has been playing on a line with the two draft eligible superstars Puljujarvi and Laine for Finland who almost certainly both are top five picks in the 2016 NHL draft. Aho has not looked out of place on the Finish top line scoring two points per game in the tournament with 14 points in seven games.
6. Pavel Kraskovsky, C Russia – Winnipeg
The tall and lanky Russian centre had a strong WJC performance on one of Russia's top lines. Although Kraskovsky did not have a dominant offensive performance in terms of stats, his play received wide praise and at times was a standout. I first took notice of Kraskovsky in last year's Subway super series CHL challenge where he was a dominant player in the game I saw.  At 6'4" and only 185 pounds, he needs time and bulk before he will be ready to contribute in the NHL and to your fantasy roster. If you have a deep prospect bench, and can be patient, Kraskovsky cold pay dividends for you down the road.
7. Alex Nedeljkovic, G USA – Carolina
Both goalies for the U.S. are worthy of consideration for this list. Nedeljkovic played in more games, and was the go to goalie in the Bronze Medal game. Nedeljkovic was solid posting an impressive 1.66 GAA in six games. New York Rangers prospect and heir apparent to Henrik Lundqvist, Brandon Halverson only played in two games but posted an outstanding 0.65 GAA and a .973 save%. Both could project as future starting goalies.
Honorable Mentions: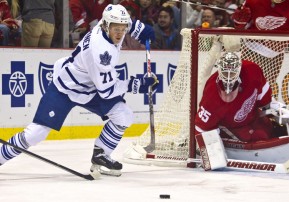 Toronto Maple Leafs prospect Kasperi Kapanen entered the tournament with high expectations and pressure after a disappointing showing last year. He started the tournament slow, but finished strong and was a positive factor in the medal round for Finland scoring five points in seven games in the end, including the game winning Golden goal in overtime. San Jose Sharks prospect Noah Rod was a standout for the Swiss scoring six points in six games. Aleksi Saarela was a 2015 third round pick of the New York Rangers who is playing for Assat in the Liiga league and has 15 points in 27 games this season. He was impressive for the Host team scoring seven points in seven games.