As the 2014-15 NHL season approaches the ten game mark the IR list is beginning to fill up and some players will be heading back to junior. Chances are your fantasy hockey roster has one or two of these players, maybe it just has a dud like Devin Setoguchi or Matt Frattin and it was a mistake drafting and it is time to cut bait.
The first edition of Waiver Wire was a shallow five player list and did not go as deep as some poolies needed. This week I will cover some players who should be owned in more leagues and go a little deeper for you hard core poolies.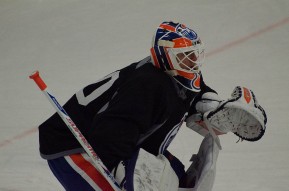 Ben Scrivens – Edmonton, G 69.2% Fantrax owned
With goalie injuries mounting across the league, the 69% owned Scrivens offers the best solution if you find your roster missing a starting goalie. Scrivens is emerging as a legit starting option in the NHL. Last season he had a record setting game making 59 saves for a shut out win over San Jose last January. Last week Scrivens was the NHL second star with a perfect 3-0 record and a 2.33 GAA. Even after Viktor Fasth comes back from injury it is likely going to be Scrivens with the starting job based on his performance lately.
Tommy Wingels – San Jose, RW 67.7% owned
There are plenty of guns on the Sharks so you might assume Wingels is riding coat tails of their star players, but he has been creating his own offense playing on a line with Chris Tierney (16.3% owned) and Tye McGinn (9.9% owned). In 11 games, Wingels has a healthy stat pack of four goals, three assists, 41 shots, and 43 hits. Wingels has quietly established himself as a quality scorer and will soon be much closer to 100% owned. Don't sleep on this player if he is available in your league.
Devante Smith-Pelly – Anaheim, RW 50.3% owned
DSP was playing on the Ducks top line with Getzlaf and Perry while both Heatley and Maroon were injured. On Tuesday Heatley returned to the top line and Smith-Pelly played on the second line with Ryan Kesler and Andrew Cogliano where DSP scored the game winning goal while short-handed. The 22 year old has bounced between the AHL and the NHL but looks to be a full time NHL option now.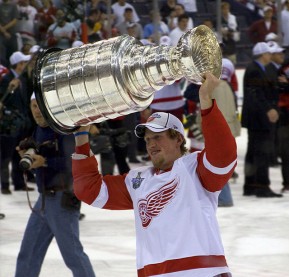 Justin Abdelkader – Detroit, RW 49.7 % owned
Since Pavel Datsyuk returned to the lineup, Abdelkader has been playing on the Wings top line with Datsyuk and Henrik Zetterberg, and he has not looked out of place. Yes it is safe to say at 6'1 and 219 pounds he is the muscle on that line, but he has also produced offense with seven points in nine games and has two goals in Wednesday night's game as I write this article.
Ray Emery – Philadelphia, G 45.9% owned
With Steve Mason struggling to start the season and still looking for his first win after five games and a 3.83 GAA, Ray Emery has taken over with his impressive play winning his last four straight including 73 saves and a 1.96 GAA and .948 SV% in his last two games. For now, the starting job is Emery's.
Michael Raffl – Philadelphia, LW 29.2% owned
The first line left wing spot with Claude Giroux and Jakub Voracek has been filled by Raffl so far this season and he has delivered with five goals in nine games. At just under 30% owned Raffl should be available in a wider range of leagues but that will not last as long as he stays on the top line.
Seth Griffith – Boston, RW 24.1% owned
Griffith has surprised by not only making the team, but taking over Jarome Iginlas spot on the line with David Krejci and Milan Lucic. He did have a slow start to the season going pointless in his first three games but is hot right now and has five in his last four. Because expectations were low at the start of the season for him to make the NHL he was widely available but is going fast.
Blake Comeau – Pittsburgh, LW 21.2% owned
Comeau has had little fantasy value during his career with the Islanders, Columbus, and Calgary, but now finds himself playing on a line with Evgeni Malkin and has a goal and five points in the last four games. As long as he stays on a line with Malkin, he has fantasy value.
Shayne Gostisbehere – Philadelphia, D 19.9% owned
Considering how highly ranked he is as a prospect and that his college career is now over, I am surprised to see Gostisbehere under 20%. It is even more surprising now that the Flyers have blueline injuries piling up in the likes of Timonen, Andrew MacDonald and Braydon Coburn opening a roster spot. He was a standout in training camp and during his time in the AHL with two assists in three games. While he has not recorded a point in two games yet, he is an offensive defenceman and the points will come. This is a buy low opportunity with a closing window.
Scott Darling – Chicago, G 16.5% owned
With an injury to incumbent starting goalie Corey Crawford, Darling has stepped in ahead of backup Antti Raanta and performed admirably. It is expected that when Crawford returns this week Darling will head back to the AHL, however it is worth noting Raanta would not need to clear waivers so it is possible given Darlings strong play he stays as the backup while Raanta sees time in the AHL.
Mike Hoffman – Ottawa, LW 14.9% owned
Hoffman is a proven scorer in the AHL and looks to be a full time NHL player this year playing on the Sens third line with Chris Neil and David Legwand. In five games he has two points, a goal and an assist that came in the same game against Columbus.
David Warsofsky – Boston, D 4.8% owned
Warsofsky is a similar style player as Torey Krug and when Krug went out with a broken finger Warsofsky got the call up. Given the opportunity, Warsofsky has the ability to have an immediate fantasy impact.
Barclay Goodrow – San Jose, C 4.2% owned
Goodrow had an impressive final season in the OHL scoring 67 points in 63 games. He made the roster but has been injured since the final pre-season game. He has been activated and will make his NHL debut Thursday in Minnesota. While he may not have an overwhelming fantasy impact he is a good option for deep leagues.