We're nearing the end of the first round, and boy, have we been treated well. Some series have been more intriguing than others, but that's generally the way it goes. Here's what's on my mind: 
1. SENATORS RODE HOT HAND TOO LONG, NOW PAYING FOR IT 
There's no denying how much Andrew Hammond's performance has meant for the Sens. If not for him, they wouldn't even be in the playoffs right now. That having been said, it became abundantly clear that he'd regressed closer to the mean within the first two games. I'm not saying this was an easy decision, but I would've gone straight to Craig Anderson at the first sign of trouble. 
Hammond's not some proven veteran that you can afford to just wait and see if he snaps out of it. The clock had struck twelve, and yet Cinderella went back to the ball. This could've been a 2-2 series (or, perhaps not, we'll never know for certain). But I do think this played into the 3-1 deficit Ottawa currently faces. 
2. CAPITALS HAVE GOTTEN UNDER ISLANDERS' SKIN
The Islanders played like a visibly agitated hockey club on Thursday night. They were clearly off their game and, by the third period, were taking frustration penalties and not doing much else. Both on-ice controversy and off-ice statements from the Capitals have shaken this younger Islander team, and if that was part of Washington's plan, it has worked rather well. The Isles have fallen right into the trap. If they can't find a way out, their season will be over. 
3. NEVER WRITE OFF THE RED WINGS
People were very quick to dismiss the Red Wings. If Tampa Bay could've won the series in three games, some would've predicted that outcome. This was a mismatch...right? 
Wrong. This is Detroit, this is a hockey team with plenty of depth and experience, not to mention the best coach in the sport. This is a team you never count out. Do so at your own risk. I felt right from the very beginning this was gonna be a tight series, and it's been just that.  
4. SAM BENNETT MAKING HIS MARK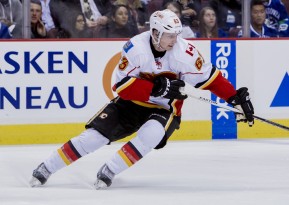 I'm not sure we're talking enough about the job this kid has done, being thrown right into the fire (no pun intended). He's gone hard to the net, he's put up some points and he's looked like a natural. If he's under any sort of pressure, you wouldn't notice it by how he's played. 
Look for him to have a fantastic season in 2015-16. 
5. FILIP FORSBERG WAS ROBBED OF A CALDER NOMINATION
Mark Stone had a fine year, but the choice should've been Forsberg, who had the better start-to-finish campaign despite racking up one less point than Forsberg. Oh, and the day the nominees were announced, Forsberg notched a playoff hat trick. For me, he's the better of the two, and though Stone is also deserving, I would've given the edge to Forsberg. 
Personally, my choice to win the award would be Aaron Ekblad, who put on a fantastic rookie performance as a defenseman.