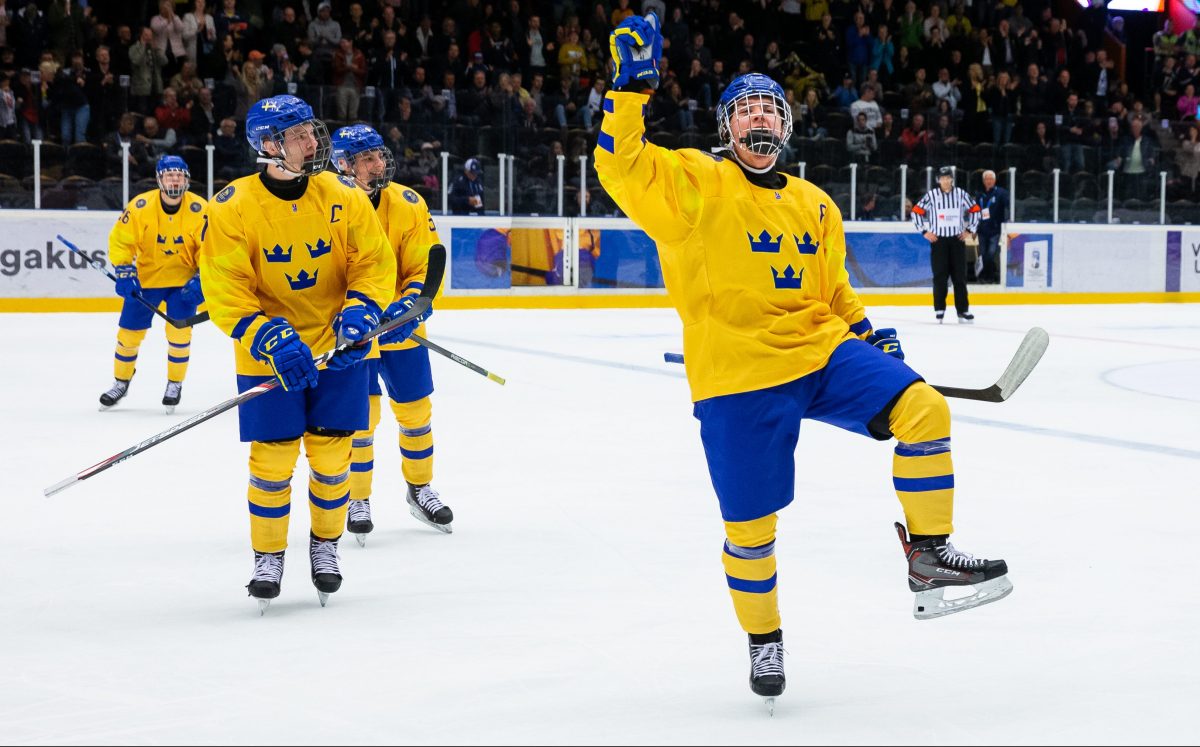 Wow, who would've known one year ago that Sweden's first ever World U18 gold medal was going to be won with their 2001 group (which had been judged as weak) in a tournament where USA probably had their best team ever. Sweden didn't need to beat USA, though, thanks to timely help from Russia, and in fact they lost to the Americans 1-6 in the round robin. That happened to be the only game Sweden lost.
The home advantage, with a strong crowd (and with that, some lucky calls) certainly helped the team come together and play its hearts out in the semifinal and final. Two close games where they both had some luck and some players who came through when they were needed. Albin Grewe's winner versus Canada, Lucas Raymond's extraordinary hat trick in the final and the fact that goalie Hugo Alnefelt won the goalie match-up in both those games certainly helped greatly.
The tournament was also a resurrection of Philip Broberg's prospect status who has been falling in rankings due to a performance with AIK that had trended downwards. Broberg was rightfully voted as the defenseman of the tournament. He really stepped up in the big games as well. Sweden's defense was strong all tournament and also the defensemen who were not as highly ranked had solid efforts. The fact that Victor Soderstrom missed the playoff round with a concussion and Sweden still won shows that the depth on defense was good this year as well.
Sweden was consistent with their lines even when they didn't click. Centers like Oscar Bjerselius and Albin Sundsvik played their parts well. So did 4th line players like Oscar Lawner and Isac Andersson, who played a hard-working team role and killed penalties. The top center, Karl Henriksson had a great tournament and was good in every game, also finishing as Sweden's best point producer. Sweden wouldn't have won without their amazing 2002 born forwards though. Lucas Raymond and Alexander Holtz had some trouble capitalizing on their chances during the round robin portion but in the big situations they stepped up and showed star quality. They created a lot in every game. Zion Nybeck should be mentioned here as well, who also impressed.
This article aims to look at some individual performances by Swedish players and how it could have impacted their ranking ahead of the 2019 NHL Entry Draft in June. It will also highlight some performances of 2020 eligible players.
RISING
Philip Broberg (2 goals, 4 assists, 6 PIM, +2)
Sweden's MVP. Broberg drove the play offensively with his impressive skating and good offensive instincts. He was also a dynamo in the defensive play with size, reach and mobility. A telling single sequence of his tournament was when in the final, he took the puck after a long shift in the own end and just skated it out, tipping it ahead at the offensive blue line which led to Raymond's 3-3 goal.
Karl Henriksson (3 goals, 6 assists, 0 PIM, +1)
There are some similarities to be made here with what Henriksson did this tournament as to what Sebastian Aho did between Puljujarvi and Laine at the U20 WJC a couple of years ago. I'm not saying Henriksson is a new Aho, but he impressed in this tournament. Henriksson drove the play, and hounded the puck all over the ice, he set up plays and the way he can process the game is impressive. My knock on him has been the ceiling of his skating with this small size but at this level, his mind made his skating play up in the way that he read the game and anticipated where the puck was heading. He raised his stock for the upcoming draft and maybe he can squeeze in as early as in the second round.
Hugo Alnefelt (5 gp, 2.75 gaa, .921 SV%)
He has been a top ranked EU goalie all season, but he had a strong tournament. Sweden were under extensive pressure at times in both the semifinal and final but he held them in the game both times. He also shut out Russia in the last group game. He showed composure and calmness in stressful situations. My earlier evaluation of him with the need of better core strength is still the same but his competitiveness and mentality sure should have convinced more scouts during this tournament.
NEUTRAL
Simon Holmstrom (3 goals, 3 assists, 0 PIM, +1)
I guess the stock here is pending on where you have him ranked. At McKeen's we have him as high as 14 and he justified himself as being a first-round pick at this tournament. He scored a strong goal versus USA in the opener where he used his skating to separate from the opponent on a breakaway. He showed a lot of flashes in this tournament in where you truly can see his high skill level. He had a weird position on the point on the power play though and the accuracy of his shot didn't impress. In HV71 he has played more from behind the net where he has been lethal in creating chances for his teammates.
Tobias Bjornfot (0 goals, 1 assist, 6 PIM, -1)
The captain of Team Sweden. Bjornfot showed the doubters of his offensive capabilities that he is a strong puck-mover. He didn't produce enough points though to raise his stock as his power play performance was a bit underwhelming. In Djurgarden, he takes more offensive action and scores beautiful goals at times, but here he almost always passed the puck to either Raymond or Holtz for them to finish the play instead. That said, his defensive game and decision-making Were both impressive. He used his strong skating and made on the right percentage plays all tournament.
Albert Johansson (0 goals, 1 assist, 0 PIM, +4)
Started the tournament on a down note trying to make plays that weren't there but he grew during the tournament. Especially after Soderstrom got injured, allowing Johansson to step up to play in Soderstrom's role and make smart plays with the puck. He defended well and his break out plays with the puck were particularly strong. Johansson's smart two-way game should make him interesting as we near the end of the first-round of the draft.
DISAPPOINTING
Albin Grewe (2 goals, 0 assists, 10 PIM, +2)
It was hard to find a disappointing player as Sweden had such a great tournament, but I believe most scouts/reporters had a higher view of Grewe than he showed. Sure, he displayed a lot of nice offensive hitting and physical play and he scored the game-winner versus Canada but all-in-all he didn't get much offense going. He is a power forward with soft hands and the creativity and offensive drive was mostly lacking from him. He got a lot of power play time, but he couldn't produce and had a hard time creating chances.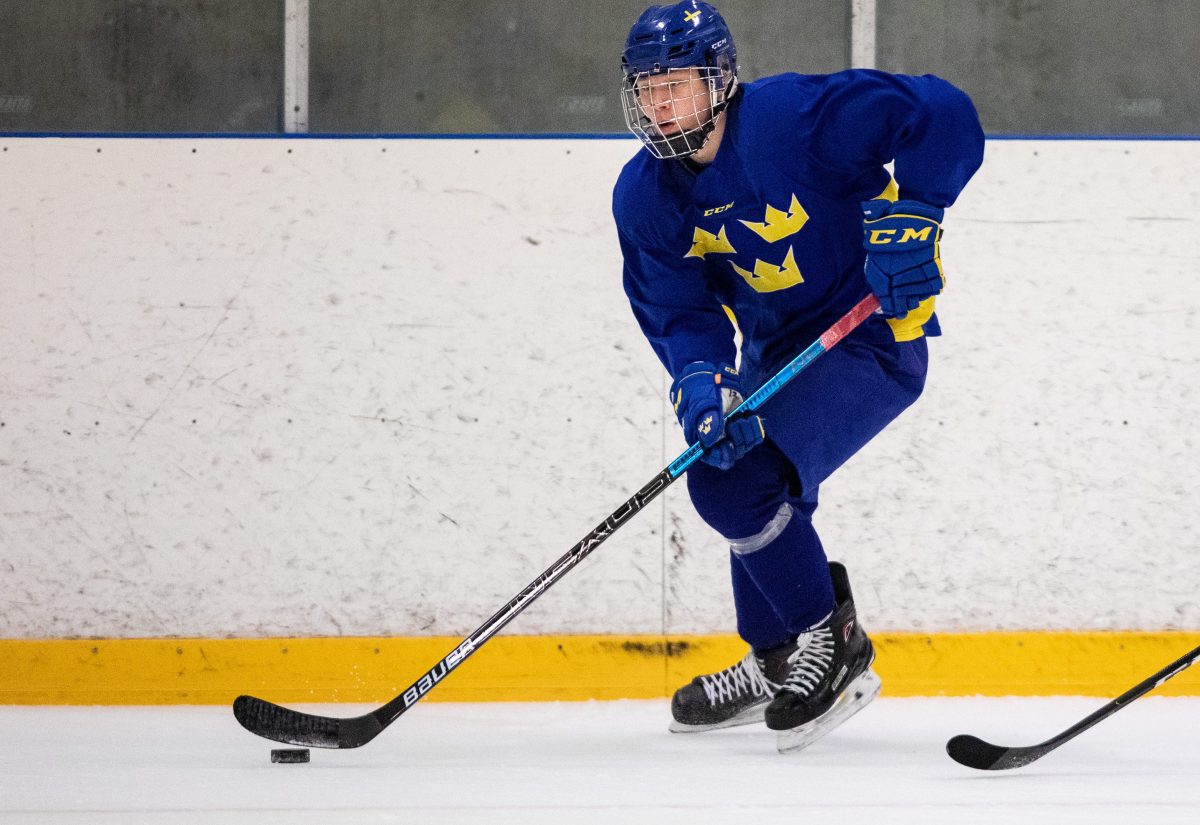 2020 OUTLOOK
Lucas Raymond (4 goals, 4 assist, 12 PIM, -2)
Raymond is the best Swedish forward prospect at this age in a long time. He should be a top five, or even top three prospect for next year's draft. He didn't have a consistently strong tournament, especially his early games. His power play unit struggled in finding the right positions and to capitalize on their chances. He kept playing his game, driving the play and being creative and the longer the tournament went on, the better he got. In the final he was a monster with three great goals including the game winner in overtime. That's the showing of a future star. He has elite NHL potential.
Alexander Holtz (4 goals, 3 assists, 4 PIM, -3)
Had a strong tournament and was, in my mind, the best Swedish forward most games. He was snake bitten on a lot of chances though. With normal production he should have had twice as many goals. Holtz is kind of underrated as a defensive forward and as a playmaker because of his stand out goal scoring. Holtz is useful even when he doesn't score in the way he works and the way he can win the puck with good stick work. Not as strong of a driver as Raymond but very skilled. Top 10, maybe even top 5 for next year.
Zion Nybeck (2 goals, 3 assists, 2 PIM, +4)
A 5-8" winger with a strong offensive tool box. He has a smart hockey mind, great hands and precise passing abilities. He is strong in tight situations and can create for himself and others. His shot is good as well as his vision. He played on a third line and got power play time. He showed that he could handle these types of games already this year and even if he hasn't got the same powerful high-end skills as Raymond and Holtz, Nybeck looks like a first-rounder for next season as well.