I came across a tweet recently that seemed to summarize a struggle many hockey fans are working through these days. The onset of the statistical revolution (which is at varying stages, depending on who you ask) has forced us to reconsider many conclusions that were once considered forgone. If randomness and luck can, and often do, play a significant role in the outcome of a hockey game does it make us any less interested in the result?
I've had this weird ongoing thing or a while where i think about how much luck plays into hockey and i don't really like that too much.

— The Triple Deke (@TheTripleDeke) May 15, 2014
Let's back it up one level here. Why do we love narratives in the first place? What is it about sports that makes us want to have the players, coaches, teams, owners…etc all fit into neat story lines that can be explained and reasoned at the end of every season?
The issue, to my mind, is the idea of "entertainment."
Hockey is considered by most, and rightfully so, a form of entertainment. Heck, the Maple Leafs are owned and operated by Maple Leafs Sports and Entertainment. I know this isn't a new idea, I'm not splitting the atom, but it's important to note the differences between these two terms.
Entertainment and sports certainly overlap, there are parts of sport that would be considered entertaining. However, entertainment, in the classic sense, is associated with many other areas - activities like theatre, music, movies, television shows, and novels are all considered forms of entertainment too.
Things start to get a bit murkier when we add the term "narrative" to this equation. It fits neatly into most items above; cinema, books, musical albums – all of these are produced, edited, directed, and written to follow very specific storylines.
There is no element of randomness or statistical noise in a book. Whether you're reading Lord of the Flies for the first, or the fortieth time the ending will be the exact same. No, the kids won't suddenly get along, be rescued, and bunk together at college.
When watching your favourite hockey team it's easy to want to place its players into pre-existing character roles we've cast in our head. The playoff warrior who simply "knows how to win." Or the upstart rookie who "doesn't know any better." These are story arcs that have been passed down from generation to generation since the NHL first opened its doors. Propagated not only by fans but also by many journalists covering each franchisee.
This isn't to say that anyone was being intentionally deceitful. Statistical analysis has come a long way in even the last five years. Data is becoming available that no one could have dreamed of having in the 1950s or 60s. People like Tyler Dellow and Eric Tulsky are doing some ground-breaking work that is challenging many of our pre-conceived notions about what contributes to winning and how luck and game-to-game variability can play a huge rule in things like save and shooting percentage.
Maybe winning a faceoff isn't actually a positive for your team. Or, dumping the puck in should be considered a turnover as opposed to the smart, safe play. Perhaps a fight doesn't really have any meaningful impact on the final scoreboard, even if you grew up thinking it was an integral as a tactic to inspire the troops.
Discussing these ideas in social media, over twitter, on blogs, or wherever, can sometimes lead to angry disagreements. My theory is that a lot of these disagreements are based in a historical need to have narratives. It's an issue that can be traced all the way back to the start of hockey. Once it became a spectator sport, a form of entertainment for the masses, there was a need to associate something more to it, a more meaningful reason to watch.
After all, if it's just a puck that is bouncing around the ice for 60 minutes with random outcomes and massive unpredictability, who really cares? It's much more interesting to be watching Alex Ovechkin try to vanquish his inner demons and finally win a cup. Or Johnathan Toews put "the boys on his back" and carry them to another finals.
I don't mean to assert that narratives do not exist. In some cases, they very much do. But the best narratives, at least for me, are the ones that write themselves. I enjoy reading about a player who is playing for his parents, or had to take the long road to the NHL through years in the minors, or is trying to fulfill a lifelong dream that started on a community backyard rink. That type of human interest is fascinating stuff and I'll watch it for hours.
Where we can get ourselves into trouble is when we start to associate narratives with scoreboards. Assuming that only the good, proud, and tough teams can be successful. That the mentally strong, playoff heroes will be successful and the losers simply wilted under the pressure. That Daniel Briere found a way to elevate his game when it mattered most and score the game seven clinching goal against Boston. Or that Patrick Kane has the indescribable "clutch" gene and potted yet another OT winner, showing that he is immune to playoff pressure.
Well, maybe Briere just got lucky and managed to bounce a wayward pass off of Chara's leg late in the game that 99 times out of 100 will not end up behind Rask. And it's possible that Patrick Kane has scored four goals that just happened to be in overtime. I don't know for sure either way, but I can assure you the narratives above sound a lot better than some boring drab about "luck."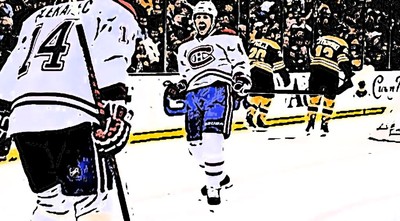 A Die Hard movie wouldn't be very good if Bruce Willis caught a stray bullet in the neck three minutes into the opening sequence and we were forced to watch him in the emergency room for the next two hours getting stitched up. Credits would roll and a mob of angry males between the ages of 16 and 49 would demand their hard earned money back.
Stuff doesn't "just happen" in movies. Every scene, every plot twist, every character, is perfectly crafted (ok, maybe not in Die Hard 2, or 5, but come on, the rest are gold) to develop a story and take the viewer on an emotional journey.
Sometimes and NHL game will do the same. Sometimes it will be as entertaining as a Shakespearean play in which your favourite team achieves monumental things that you'll be regaling your kids with and their kids with for years to come.
Other times, for no rhyme or reason, the puck takes a bounce one way, and your team loses.
In a way that makes me sad. Knowing that the best team and the best players don't always succeed and that there isn't always a deeper meaning to it all. But in the end it's the element of unpredictability that makes sport what it is. And I'm ok with that, I think.