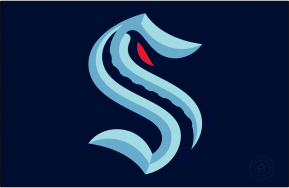 In just under 48 hours, the Seattle Kraken will have the very first roster of players in franchise history courtesy of Wednesday's Expansion Draft. 30 other teams (lucky Vegas is exempt) have labored over protection lists, and now it's up to Seattle to pour through the available players and select one individual from each NHL club to join its organization. There are rules of course: the final roster must include 30 players – one from each team – and include a minimum of 17 forwards, nine defensemen, and three goaltenders with a minimum total cap hit of $48.9 million.
It's a fun but daunting task to think about all the options and resulting on-ice product, so we decided to join the fray and come up with our own projection for the Kraken team with a data-driven approach.
For player valuation, we used Evolving-Hockey's Goals Above Replacement (GAR) measure to quantify what each player contributes on ice. We also considered a player's "expected" GAR (xGAR) to consider how a player performed compared to what was expected of them. We then also looked at this performance relative to cost (using annualized cap hit values from CapFriendly.com) to fill out our roster within the Draft guidelines.
With tremendous thanks to both of those online resources, here is our take on what the inaugural Kraken Draft class might look like.
THE ROSTER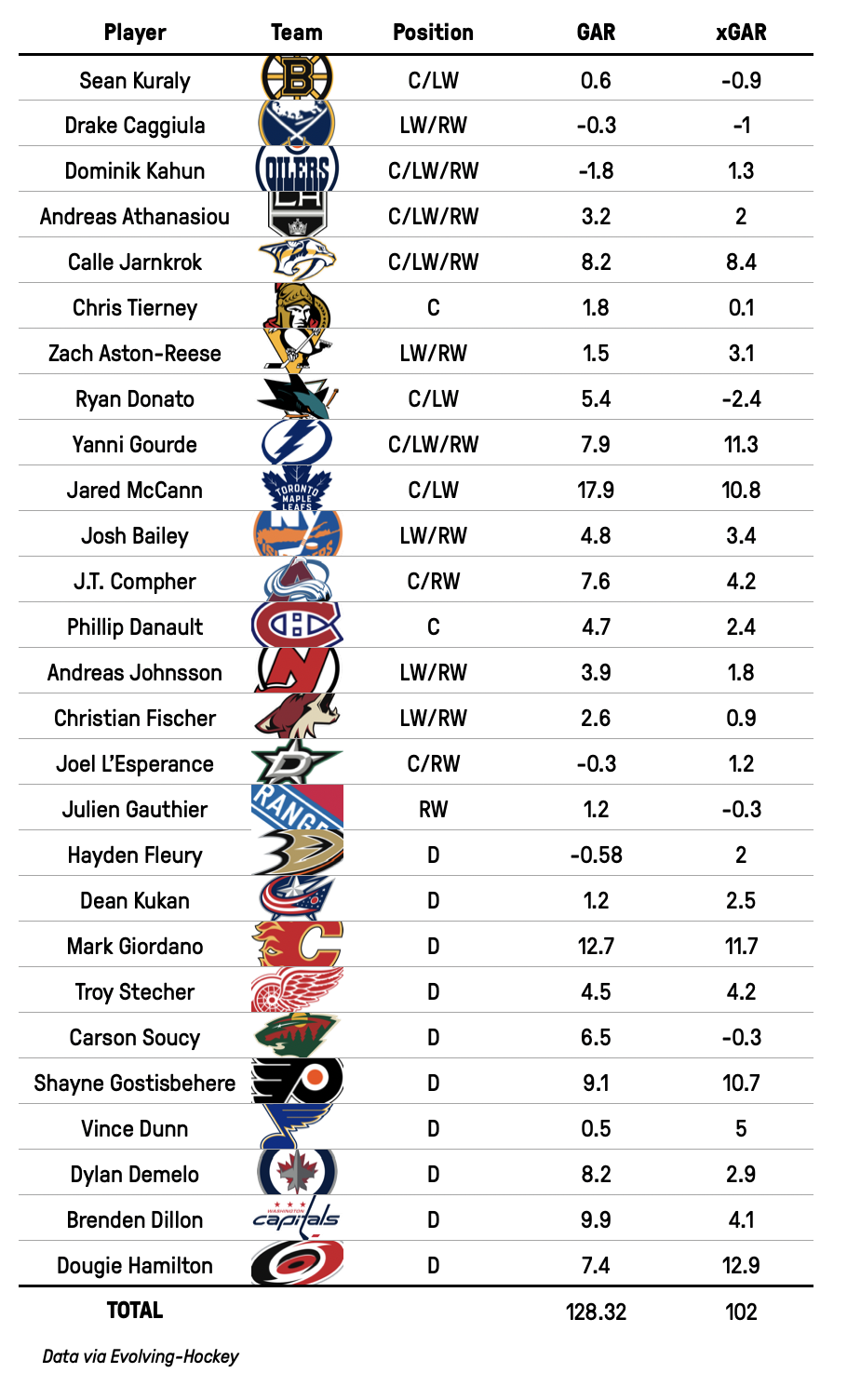 THE DOLLARS AND SENSE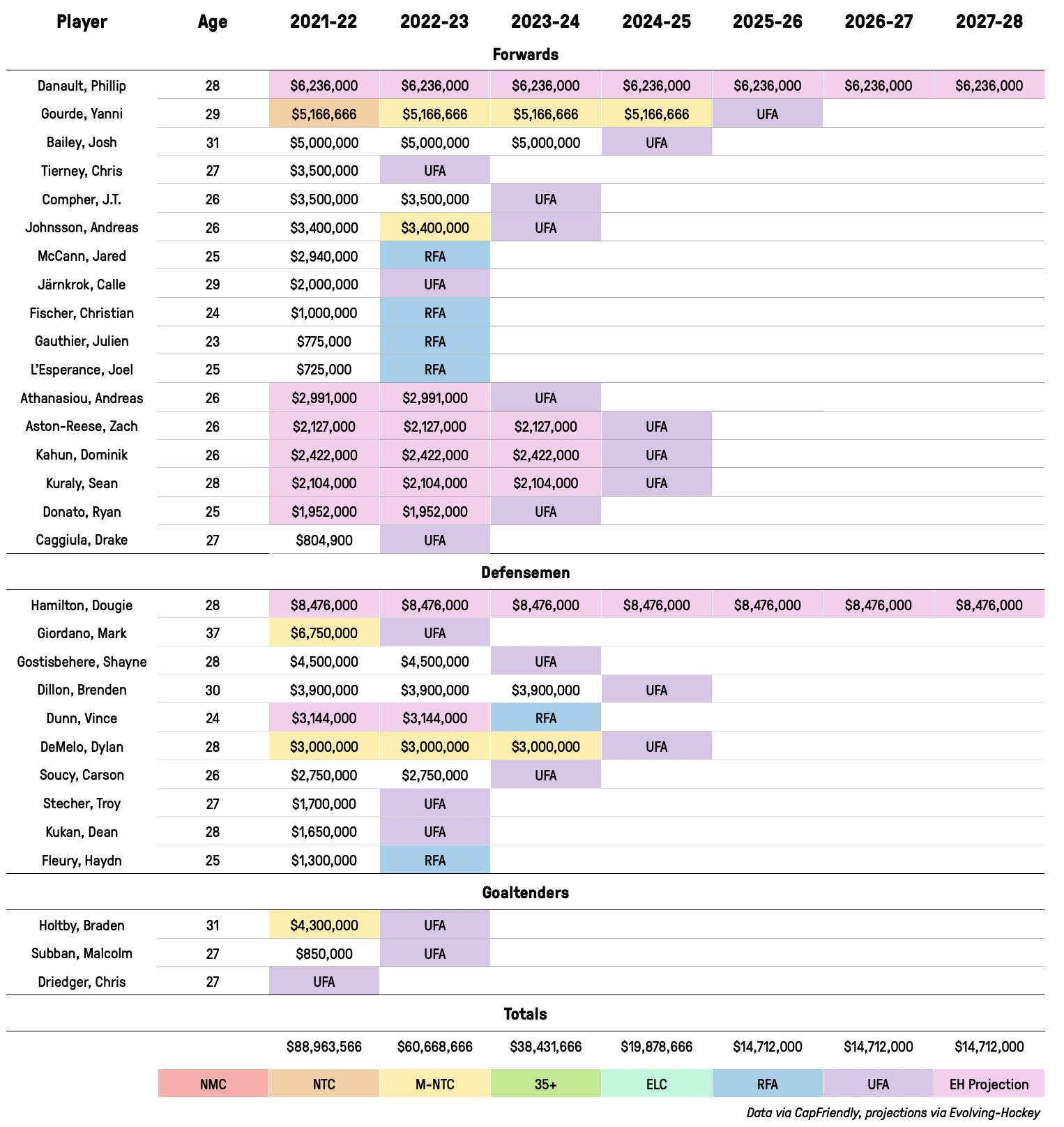 NOTES AND THOUGHTS:
The roster of signed players had a cumulative cap hit of about $58 million. On the viz above, to get a gauge of what some of those free agents could sign for, we used Evolving-Hockey's contract projections. We'll be honest, some teams had fewer attractive options than others and some of our picks (Fischer, Jarnkrok, Johnsson, Tierney) we view as bait for future trades or flips – some of which will help lower that 2021-22 cap that is over the limit with the featured projections. Also, while acknowledging there could be no shortage of side deals that influence these selections, we picked players with the expectation that they were who Seattle wanted without any constraints.
Here's some of the players who stood out to us:
DEFENSE:
Dougie Hamilton (D | Carolina Hurricanes)
We really like our defense overall, and Hamilton is arguably the cornerstone of that. He was a legitimate Norris candidate this past season, as he continues to have driven play while maintaining a positive defense impact. Any blue line would be lucky to have the skill that the right-handed back brings and according to Evolving-Hockey's projection, that comes at a $8.5 million cap hit.
Mark Giordano (D | Calgary Flames)
Here's our nod to the old school traditions of hockey. Giordano is in the older range of players we selected, and while that can raise some concern from a longevity perspective, he's coming off a season where he had a team-high GAR of 12.7, which was also fifth best among all NHL defensemen. Add in a solid reputation as a leader - something a brand new team will need - and Giordano is a natural fit on and off the ice. 
Shayne Gostisbehere (D | Philadelphia Flyers)
Just because the rest of the league passed on acquiring Gostisbehere when the Flyers put him on waivers doesn't mean Seattle will. The leftie's on ice impacts have slipped over the last two seasons, but a change of scenery should help him bounce back – so could time with Dave Hakstol, who was his bench boss for three and a half seasons earlier in his career.
Vince Dunn (D | St. Louis Blues)
Like Gostisbehere, there have been reports that the defender could be on the move. He isn't really used in high leverage situations in St. Louis but has solid results in the minutes he's played thus far in his career. The 24-year-old has the potential to help the Kraken grow on defense for years to come and gives some flexibility as he plays both the left and right side.
FORWARDS:
Josh Bailey (LW/RW | New York Islanders)
Unlike Gostisbehere and Dunn, Bailey's availability is more of a surprise. The Islanders' forward scores at the rate of a top-sixer and can provide two-way play on either wing. His versatility adds value as the veteran could shift around the lineup to wherever he's most needed. If not Bailey, Seattle does have options from this squad; Jordan Eberle is also available and is the better option offensively if management feels they need more scoring up front.
Yanni Gourde (C/LW/RW | Tampa Bay Lightning)
While teams are throwing salary and term at Blake Coleman and Barclay Goodrow, the Kraken have the option of getting one of the most valuable pieces of that line for free. While he primarily played on the third line in Tampa Bay these last two seasons, Gourde could slot into most teams' top-six, and can be deployed in all situations. Skating at either wing or center, the versatile forward creates offense both off the rush and forecheck, driving play with his passing and shooting. He gets to work every shift, pressuring for turnovers, and is defensively responsible despite his 5-foot-9 frame.
Philip Danault (C | Montreal Canadiens)
Danault may not be as high scoring as other top-six centers around the league, but he's one of the best defensive centers right now which is why there's going to be interest in him once free agency begins. Seattle gets to take a crack at him early, and Evolving-Hockey projects a $6.2 million cap hit. On a team of players put together just months before puck drop, Danault's defensive play would be a source of stability. And with the right offensively inclined linemate, he could bolster his play on the other end of the ice too.
Andreas Athanasiou (C/LW/RW | LA Kings)
The knock on Athanasiou has always been that while he's an offensive dynamo, his defensive play is non-existent. That's still true, but paired with proper linemates, a team may be able to protect and utilize him in the proper way. He's coming off a nice rebound last year and could be productive in the Pacific Northwest.
GOALTENDERS: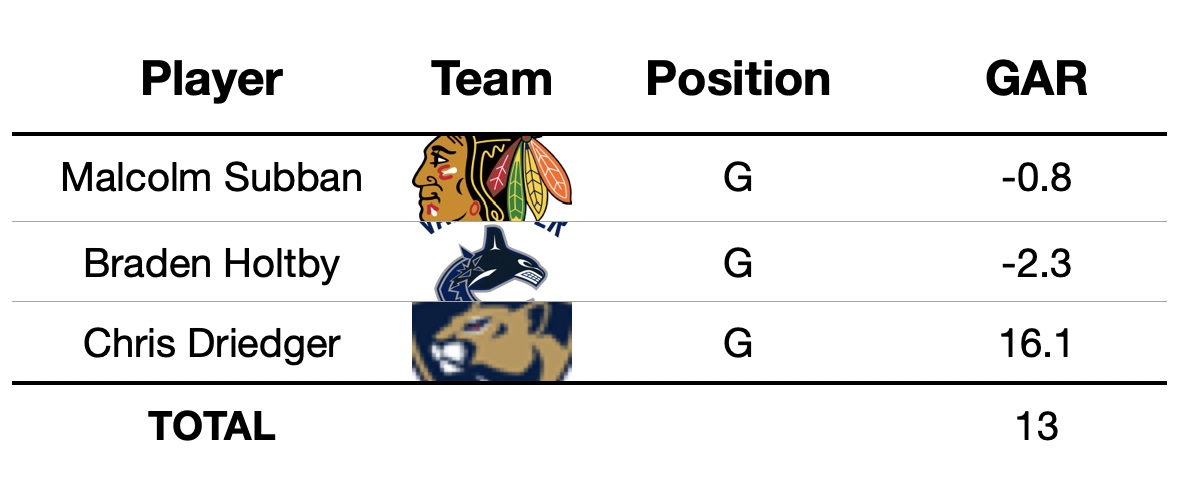 We approached our goaltending choices as a solution in its entirety more than thinking of each player one at a time. We wanted an established and seasoned veteran who understands and has experience with a true starter's role. Enter Braden Holtby. He is still strong in net, and while costly, doesn't have a Carey Price-esque contract. Holtby can provide stability in net while also being a mentor to Chris Dreidger. The young Panther is widely expected to join Seattle and his performance this past season gives a glimpse into what could be an exciting staple in net long term for the Kraken. He can play well in net as a backup while likely carrying a larger load than a traditional backup might, while preparing to become the eventual starter. Our third selection, Malcolm Subban, brings in a very solid security blanket in the number three spot. Subban has NHL experience at an affordable price.
Data via Evolving-Hockey, HockeyViz, and CapFriendly