Intro
With the 2021 NHL Entry Draft just a few weeks away, it's time to take a deep dive into the class and examine the different player archetypes that are going to hear their name selected sometime over the weekend. In this series, we are going to be analyzing five of the most vital attributes - intelligence, goal scoring, skill, skating and physicality - and acknowledging five of the highest graded players by McKeens in each trait (plus a few of my own favourites).
The next skill that we will be looking into is goal scoring. I'd like to clarify that this is not just a "best shot" category, but something a bit deeper. There's more to scoring goals in the NHL than measuring who has the best shot.
Like I mentioned in my last article about intelligence, your tools will only take you as far as your brain will allow them to. A world class shot is not going to succeed in the NHL if it is constantly being fired through traffic from low danger areas. So while this article is primarily about the best players at scoring goals, a common theme among them is how they get the opportunities to score goals in the first place. You will find that a lot of the elite goal scorers in the NHL are involved in the positive sequence that results in them being in dangerous areas in the first place. They know how they want the play to develop so they put the puck in play in one spot with an understanding of what is going to happen next, then they position themselves accordingly so that they are already in the right spot at the right time to shoot.
Now, I am not trying to diminish the obvious correlation between having a good shot and being a good goal scorer. It is no surprise that players like Auston Matthews and Alexander Ovechkin are two of, if not the very best goal scorers in the NHL as they both possess some of the most ridiculous shots the NHL has ever seen. There is also no denying that they would score less goals if their shots were not awe inspiring. That being said, there is more to what they do than just ripping shots as hard and accurate as they can. I believe that their off-puck movement, ability to identify soft spots in defensive coverage, anticipation and timing to move into these soft spots at just the right moment and their pass reception abilities are just as vital to their consistent lamp lighting as actually possessing a world class shot.
Deception, manipulation, being a double threat, understanding when and where open ice is, how to navigate through soft spots in defensive coverage, shot variety, etc; these are the tools you see elite goal scorers use on a regular basis. It is not just about shooting the puck right when you have the chance, it's about putting yourself in the position to constantly generate chances.
The video analysis here differs from the last one. It can be easy to select impressive goals by each player we talk about and break down what happened but highlight reel goals are not easy to replicate on a regular basis. So instead of breaking down a few high-level clips of each player, I think showing a little compilation at the end of each player better demonstrates their habits leading up to the shot. So, without further ado, here are five of the best projected goal scorers in the 2021 NHL draft.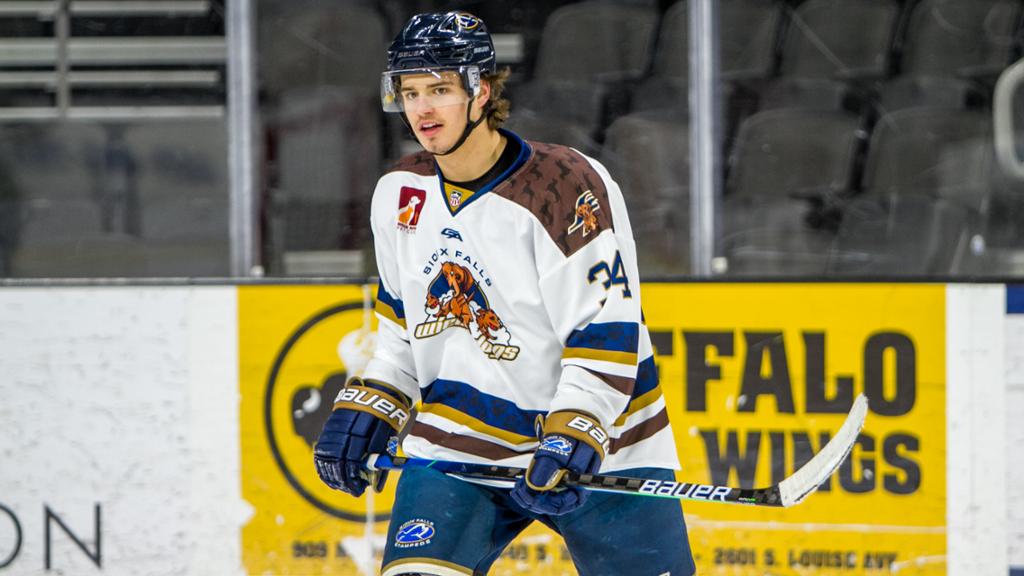 Cole Sillinger
Now, I know I just made a big deal about how it is not just the shot that determines effective goal scorers, but it would be negligent to not start with Cole Sillinger's shot. It is laughable how good his shot is. There exists no angle that Sillinger would be uncomfortable shooting from, nor is there any angle that goaltenders would be comfortable seeing him ready to open fire. No matter what, once the puck leaves his stick there is a rocket speeding towards the net with pristine accuracy, often with little tell that he was even going to shoot it.
The details of his shot mechanics are fascinating, and his shooting arsenal is vast. It does not matter what type of shot he is taking, whether it be a wrist shot, snapshot or a one timer, they all have to be accounted for by the defence. He can change the elevation of his shot by opening/closing the blade of his stick at the last possible second, but what makes that so significant is that he manages to do that without sacrificing the heaviness and precision in his release. Goaltenders must be mindful and not overcommit to protecting low/high areas of the net or else the rubber disc will find mesh. His upper and lower body move in unison throughout his brief shooting motion, even when he is shooting awkward shots from contorted body positions. This ensures that he is fully capitalizing on the kinetic energy his body generates with each motion. There are minor details that can be ironed out, as often noted from scouting reports across various outlets, but if anything, that is something that entices me. If his shot is already this much of a weapon then it is very, very exciting to see what it can become with some biomechanical refinements.
With all of this being said, I still have yet to truly touch on the deception before the release. His shooting motion has minimal give to it - you are probably about to be scored on if you fail to realize what he is doing until it comes off his stick. You will see him threaten shooting lanes to manipulate the defence, then advance into that open ice before actually pulling the trigger. This results in constant hesitation by the defence as they second guess the information he is feeding them, knowing his intentions are likely to differ from what their eyes are telling them. What is even more ridiculous is the fact that Sillinger has the audacity to shoot it on the net mid-skill move, whether that is a curl or a drag, and just like his last second elevation changes, this does not result in a trade-off of power. There has been more than one incident of a USHL defender blocking Sillinger's shooting lane, getting burned by a toe drag and then helplessly watching as he rifles a shot on net. This means he is a shooting threat even when his body isn't positioned to be one. That is just utterly ridiculous and a highly projectable tool to the NHL.
Above all, Sillinger recognizes the gravity his shot threat creates around the ice. The defence has to account for him so that he is not left alone with the goalie, meaning that there are predictable patterns in how the defensive coverage will maneuver whenever he is on the ice. He has a good sense for the opportunities his gravity provides as he slithers about the offensive zone and he moves through these coverage shifts beautifully, slipping in and out of the slot when away from the puck. Either the defence follows him, opening up opportunities elsewhere for teammates to capitalize on, or he is left open to fire away. His off-puck senses when attacking are one of his best assets.
Despite all of this, I have some nitpicks with Sillinger. I am not sure how adaptable Sillinger can be in various offensive systems in his current state. His first instinct after gaining the zone with control is to shoot off the rush. There is inherent value baked into being a dynamic scorer off the rush; however, there is even more value in being able to attack in various ways. I think modern forwards should be dangerous threats as forecheckers, rushers and cyclers, but to do that you need everyone on the ice to be able to identify the right method of attacking and when to do it.
Sillinger is chippy and physical, which fits right into a forechecking offence, and he also possesses the off-puck movement and shot that would serve well in a cycling offence. The problem is that you are not likely to find many opportunities to cycle if he is the one gaining the zone with control, as he is likely looking to shoot or pass to a shooting threat. You do not often see him circle back and involve his teammates in the attack. Personally, I am of the belief that this is the result of joining a team mid-season where his linemates were not always reliable options offensively, potentially providing a sense of burden that Sillinger has to do it himself. His D-1 film supports this theory, as he not only was more willing to pass but a lot better than you would expect based off of his USHL play. No one can truly answer whether this is the truth without talking to Cole themselves, so I can only theorize that better playmaking abilities than what he has shown are bubbling beneath the surface and will reappear when placed in the right situation. Regardless of whether or not this is true, it is undeniable that a larger focus on playmaking will yield more goals at the NHL level. A triple threat player always has more potential than a double threat one.
Another thing I'm concerned about is the consistency with which he will get into pockets of space without improving his skating. He is still likely to effectively move around the ice as he earns his space through smart routing instead of elite footwork, but it is not outlandish to suggest that the ease to which he enters these spaces unimpeded would be higher with better skating.
This montage will highlight Sillinger's deceptive abilities before the shot, his off-puck movement to receive the puck in open space, his propensity for shooting off of the rush, and a few examples of some more selfish shots where a more efficient opportunity exists.
Dylan Guenther
Dylan Guenther was a goal per game player this year. Yes, that is right, a goal per game in the CHL, a feat that would almost always lock someone into a top 3-5 spot in any draft class (regardless of that class's strength). It is not unreasonable for someone with those numbers to be considered the best goal scorer coming into a draft, but there is a little bit of context to provide before we analyze what he does right.
The WHL's shortened season provided us with a more limited sample than we are accustomed to, meaning Edmonton only played a mere 23 games. On top of that, there was no cross-division play meaning Edmonton only played against Calgary, Medicine Hat, Lethbridge and Red Deer. Only one of those teams finished with a positive goal differential (Medicine Hat, +18) while Edmonton ended the season with an obscene +63, around 3.5x better than second place. You can credit Guenther for part of that, as he was a two point per game player during this brief season, but he only played in 12 of the 23 games, meaning Edmonton was dominating this division with or without Guenther. His totals would likely lower if he played a full season's worth of games, or if Edmonton faced higher quality competition during their 2021 campaign. All of this being said, even in those conditions it is still difficult to be a goal per game player. So, while his point totals are inflated relative to past top prospects who played in the WHL, Guenther should be looked at as nothing less than an elite, high-end prospect. The only player who sniffed Guenther's goal scoring rate is generational talent Connor Bedard, who scored 12 in 15 this year.
Guenther projects as the type of player who can score 30 goals in an NHL season, which is no easy feat, and will do so in a variety of different ways. His wrist shot is immaculate. Like the others on this list, Guenther masks the elevation of his shot by waiting until the last possible moment to open and close his blade. He can receive a pass while buzzing up the ice and fire it on net while skating at full speed, a feat that projects extremely well to the NHL. One of the major differences between elite junior goal scorers and elite professional goal scorers is the ability to fire the puck without having to alter your stance and it's accurate to say his mid-stride shooting abilities are the best in this class. At the NHL level, there will be less time than ever to get your shot off as open space and lanes will only exist for mere moments. Entering these spaces at speed without sacrificing your shooting ability provides more options for Guenther as a goal scorer.
It is not just his mesmerizing shooting mechanics while in motion that draws scouts towards him. Guenther has a plethora of weapons that makes him a threat from anywhere past the blue line. He consistently makes skillful touches with both his forehand and backhand, sometimes only needing a single touch to get a quality shot on target. His slap shot looks like it was fired out of a cannon, meaning he is an NHL caliber one-timer threat. Due to both the scale of his toolkit, as well as his ability to get open, Guenther needs to be identified by the defence and locked down as a consistent scoring threat as soon as his line gains the zone with control.
While the sheer absurdity of his shot may not reach the same levels as Sillinger's, his decision making leading up to the shot may very well overcome that deficit. Like I mentioned in the previous series, Guenther's off puck movement is focused around being able to support his teammates while also being in a position to attack. This means he is not just a dangerous threat off the rush, but he fits the description of a versatile shooter in various offensive systems. He can play along the boards with the best of them, battling for control and supporting his teammates before creeping into a shooting lane, waiting to receive a pass. He can also be an efficient passer in the OZ, spacing the ice and reliably getting the puck to the recipient without turnover. These tools allow him to be scoring threats in both forechecking and cycle-based offences. This versatility means he is likely to score goals regardless of who drafts him or what players he is placed with.
It is worth mentioning that I think Guenther has been falsely advertised as a true double/triple threat player by some scouts. He makes good decisions in the passing game and places himself in positions to make his linemates' lives easier, but he does not exhibit the ability to consistently beat players in 1v1 situations due to a lack of elite puck handling skills. So, while he will be effective at supporting teammates, ensuring possession is maintained and getting open looks at the net, I am not entirely sure if he will efficiently create high danger chances for his teammates. Like I mentioned above in the Sillinger piece, being able to generate both high danger shots and passes means the defence has to respect every option. He will not be shooting at the net as much if he is passing more often, but each shot is likely to be of higher quality solely on the fact that defenders will not know if he is shooting or passing until the puck is off his stick.
Guenther's video reveals how he creates shooting opportunities while supporting his teammates, his ability to shoot in motion, the threat of his shot on both wings and his routing through give and go plays. There is not a lot of flash, but there is a ton of substance to work with.
Chaz Lucius
This one might be controversial, so I am gonna fully explain my thought process here. I believe Chaz Lucius has all the potential in the world to be an elite goal scorer. There is not a player in this class who is more lethal with space in front of the net and that is the byproduct of his ridiculous touch around the net. Everything is lethal, whether it is a quick one-tap touch, a forehand to backhand, a backhand to forehand, a wrist shot, a snapshot, a slap shot or anything else from his magical bag of tricks. His hands in tight, close quarters situations are simply the most terrifying in the draft. A big reason for this is because he can pull off every shot listed while in motion - he is pretty much always a competent shooter regardless of the position his feet are in. Again, like the other players mentioned, he has various release points and masks his shot location and intended elevation until the very last second. Anything that can create doubt in someone's mind means that you can make them hesitate. Any time you can make someone hesitate you have just successfully created potential space somewhere, whether it be in a soft pocket around the defenceman or by making a goalie shift laterally enough to leave an open target.
His goal per game status is mightily impressive. Again, like Guenther, the numbers may be a bit artificially inflated due to the unique context of the 21' draft season, but if I had to hazard a guess as to who would be closer to goal-per-game status in a non-pandemic year, I'd pick Chaz. It does not mean that I necessarily think he projects as the better NHL goal scorer, but because I think he is one of the best junior goal scorers I have ever seen. There is nobody like him when it comes to sneaking behind defenders in the net front. It is like his brain has a sixth sense for this that other hockey players just never developed. His timing and anticipation regarding space opening up provides him with ample opportunities to assault goalies on the regular. There is so much projectability to how effective he is in these situations as I do not see NHL goalies fairing much better against him.
When off the puck, Lucius hangs out in dangerous areas. The USNTDP is filled with talented players who advance play efficiently, meaning USHL and NCAA defenders alike cannot focus on where he is lurking at all times. If they slip up and overextend due to a play made by someone elsewhere, it is a safe bet that they just provided Lucius the chance to sneak on through to his sweet spot. If I am an NHL team looking for a goal scorer then everything I have said so far means Lucius is incredibly enticing. So why the controversy?
Well, for starters, something that does concern me with Chaz's projectability is his shooting through pressure. I would certainly not describe it as bad, or even average, but to be a reliable goal scorer in the NHL you will constantly be faced with situations where you need to handle various types of pressure in order to get your shot off. If you cannot handle the pressure with consistency, then it is hard to determine how you will find goal scoring opportunities. That can be the difference between a 30-40 goal scorer and a guy who scores 15-25 a year, sometimes even less considering the pace that the NHL plays at. Sillinger navigates this by welcoming pressure straight on and challenging them to read through his layers of deception, creating space for himself when and where he wants it. Guenther solves this problem by weaponizing his off-puck support abilities, constantly positioning himself in and around the space he wants to shoot from while providing an easy outlet for his teammates.
Lucius' goal scoring abilities are at their best when he has already moved away from pressure before receiving the puck. In those situations, I do believe he will be as dangerous as any goal scorer in this class for the reasons above; however, that begs the question: will he be able to recreate that environment with enough consistency so that he is constantly a goal scoring threat? Personally, I am unsure of the answer. In my opinion, the answer to that question is the root cause of the discussion surrounding him. Some believe the answer is yes, and as a result believe he is worth as high as a top ten pick. Others believe the answer is no, but believe he is still worthy of a mid to late first based on the toolkit alone. One way to get the answer would be to interview him and get a feel for how he thinks the game, but I cannot say I have had the privilege of speaking to him myself, leaving me to answer this question on my own. So, I think an interesting way to approach that question is with another question: what is the opportunity cost of Chaz Lucius' playstyle?
During sixty minutes of play, your team is nearly guaranteed to spend less than a third of that set up in the offensive zone with possession. If the point is to score goals (which it is), then for obvious reasons you are better off shooting from dangerous areas than taking low percentage shots.  The focus as a five-man unit should be working together, moving off of each other and making plays that make it easier to move the puck into quality shooting locations. This is difficult because NHL defences are mostly built around keeping the puck away from these dangerous areas, meaning you have to break down their defensive formation. NHL defences re-adjust and fill soft spots very quickly after breaking down, meaning you do not have a lot of time to capitalize on the opportunity you create. Like we mentioned above, Lucius tends to position himself mostly in the dangerous areas of the ice and he is really good at recognizing fragmented structures and knowing when to jump into the net-front. If he is on your team, then it is entirely understandable that you want him to be the guy taking those shots as his touch and control around the net are at such a high level. This is what you draft him for as those plays will be highly efficient when they happen.
That being said, I cannot help but be under the impression that Chaz Lucius, in his current state, will be providing less opportunities to advance the puck into his dangerous areas and as a result there will be less dangerous chances created. When the puck is on his stick, he can be a legitimate triple threat player, but I came away thinking that Lucius' mental approach is "I can create a dangerous chance by doing x, y or z" instead of "my team can create a dangerous chance if I use x, y or z for the purpose of benefiting whoever is in the best position to score". Even if you are the best on your line in those situations, you never want to be the only guy shooting in dangerous areas. As of now, the onus is on his teammate to get him the puck during the brief window where Chaz has open space after slipping through pressure, which only works if the teammate is able to create a lane to pass through to the slot in the first place.
There has to be improvement towards being able to support his linemates to the lead-up for Lucius to reach his true goal scoring potential, meaning he has to be both more involved in those plays and expand his comfort area around the ice, but that development has to come without sacrificing his ability to get open when the time is right. That task is more challenging than some people think, but it is far from an impossible one. Succeeding at it means you likely walk away with a 30-goal scorer. Failing at it means you likely have a player that plays at the NHL but cannot find consistent success in the areas you drafted him for. I cannot wait to see how he develops.
This is definitely the flashiest highlight reel, which was to be expected. This film showcases just how lethal Chaz Lucius is when left unchecked, punishing defences who were foolish enough to leave him open. His craftiness and touch shine bright and it is very easy to get excited about the thought of what he could be. All this in mind, pay attention to how some of the defenders fail to properly protect the space Lucius is lurking inside, as well as how some of his opportunities are created by the USNTDP's surplus of talent dragging defenders outside for Chaz to go to work.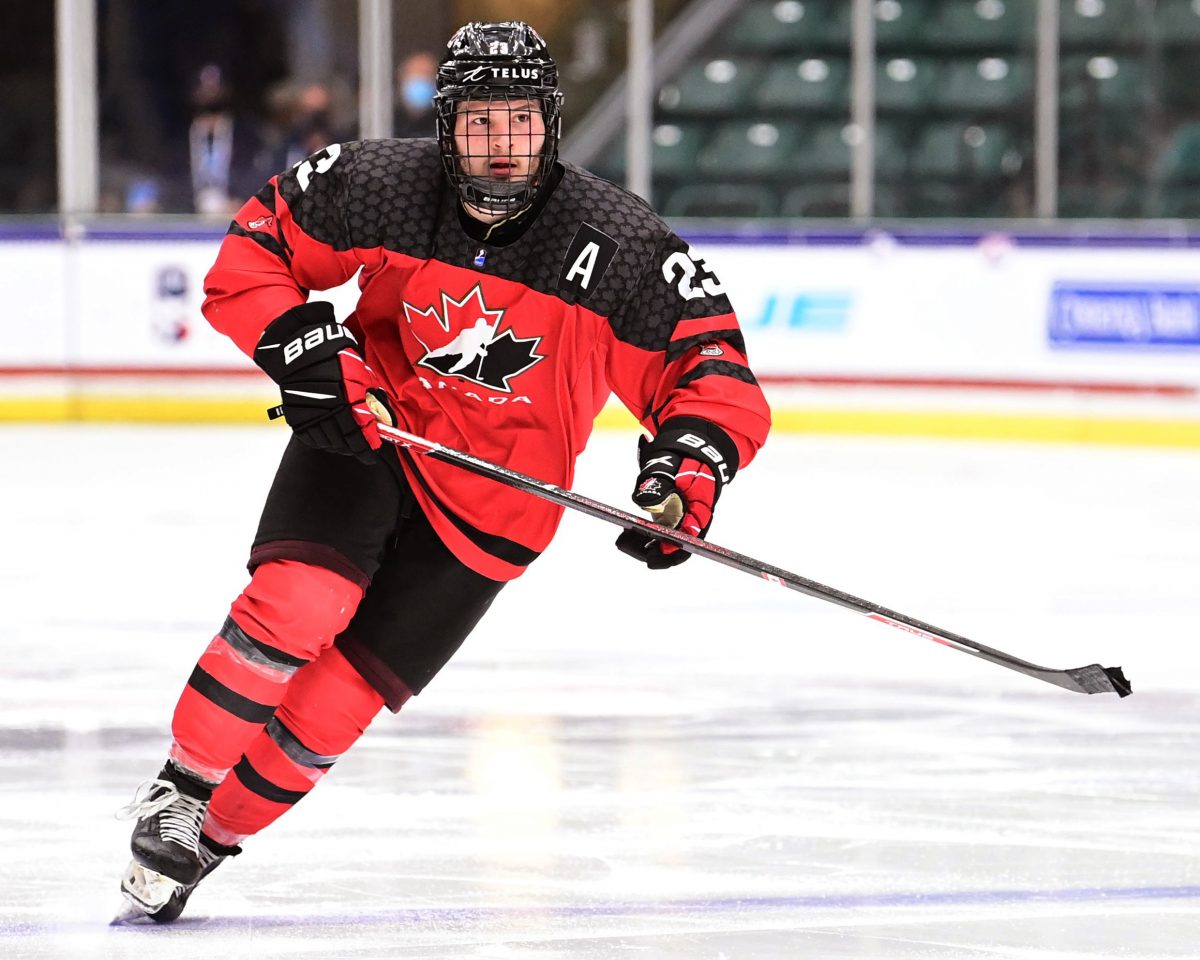 Mason McTavish
Mason McTavish's motor alone is going to get him NHL goals. He is as projectable as it gets as his game is built upon the fundamentals of being a high efficiency, high energy player. This means that he does not get carried away while constantly tracking the puck down and instilling his will to the game. He maneuvers around the ice well, taking optimal routes both on and off the puck while recognizing when/where play is shifting next, before forcing the opposition to handle him. You do not have a choice with Mason McTavish, you have to match his energy levels, or he is going to make you pay. While this is a wondrous example of his physicality (and I promise there is more coming for that), it is also a major contributor to his goal scoring abilities.
While his shot arsenal has a wide selection to choose from, I believe some of his tools lack the sheer dynamism that the above names have; however, I do not see it inhibiting his capacity for scoring. His wrist shot is a pro-ready tool that is constantly used in pro-ready ways. With McTavish, it is less about the creation of shooting space and more about finding it. He is similar to Guenther in this regard, as both players are supporting play, trying to create advantages for the betterment of their team all over the ice and then showing up in the right area at the right time. Under those conditions, McTavish's less flashy arsenal becomes highly effective at putting the puck in the net as anybody's.
So let us talk about the wrist shot, Mason's bread and butter. It is an overly dangerous tool that would be effective even if it was fired with reckless abandon as he can beat keepers from far out - the result of a brief but effective shooting motion that generates tons of force from combined upper and lower body mechanics that move in sync together. These mechanics are extra impressive when you remember that McTavish is the type of player to never stop moving his feet. Considering he is not a pure shooter (there are a lot of playmaking abilities in this young center), the fact that he is able to receive a pass in motion and be able to threaten both a pass and a shot is a testament to how good his foot placement is leading up to the shot. So even if McTavish's high-end puck skills are not on the level of some of the other names here, there is deception built into his mechanics that projects in an efficient way. It is a huge reason why he is considered one of the best prospects in terms of juggling the probability of reaching an effective floor and the probability of being a high-end player, landing him in a top 10 spot on many lists.
But this is not just a list of the best shots, it is about the best goal scorers. Another trait of McTavish that projects well is his pass reception abilities. He exhibits good catch and control mechanics as pucks arrive on his blade, and he combines it with body protection habits that ensure he can find brief pockets of space right before, during and after contact is initiated. McTavish uses this combination to light the lamp in a wide array of ways, including (but not limited to) greasy rebounds, one timers, snap shots and slap shots. These tools do not possess the same level of high-end deception that Sillinger and Lucius showcase regularly, but they get the job done all the same when you factor in how active he is when moving around the ice.
I guess the major thing that does limit McTavish's true upside relative to the rest of this list comes down to the fact that his skill and skating level are likely to inhibit him from successfully winning a lot of one-on-one encounters. If the problem can be solved through proper understanding of leverage as physical encounters are initiated, or by entering an open pocket at the right time, then you are likely to see McTavish make a quality play. If the problem requires shiftiness in his lateral movement, elite stickhandling to manipulate the defenders weight/stick or pure explosivity to enter the pocket at the right time then McTavish may fall mercy to the defence, only able to make a positive play if they slip up. So far, this has not been too much of an issue with McTavish as he approaches most problems intending to solve it with the skills he is confident in using. He is perfectly content to reset when he realizes the variables ahead are out of his scope and will relocate to wherever he believes he can leverage his motor best. Again, just another trait of his that projects well - understanding his limitations.
You will not see a ton of high-level manipulation with this one. What you will see is the beauty behind McTavish's release and his never-ending motor constantly working around the ice as he finds ways to attack goalies. Try to focus on how, despite the fact that his feet are nearly always moving, he manages to show up at the right time to get the job done. There is a lot of subtle projectability with McTavish.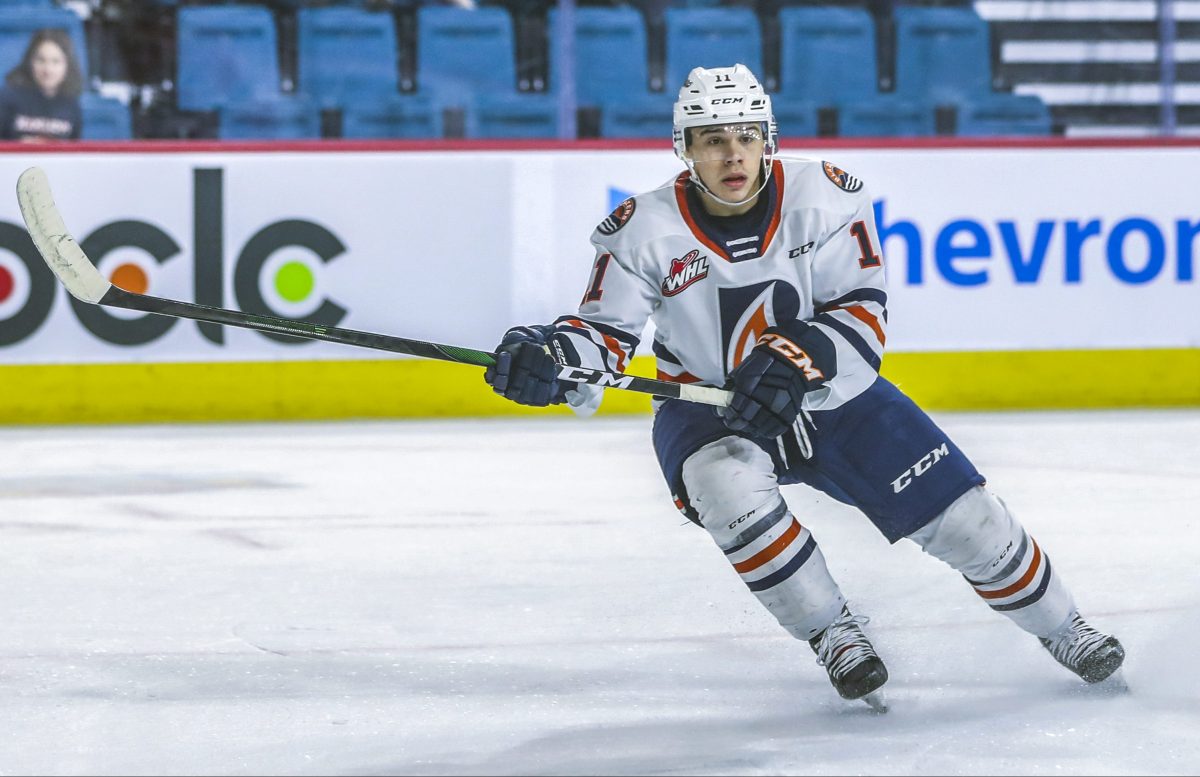 Logan Stankoven
While this is an article that dives deep into those who have the ability to become elite goal scorers, this player simply cannot be properly analyzed without bringing an entirely different conversation into the fold. So, this first bit is not about Logan Stankoven, as he not only fits the archetype of a high end goal scorer, he also fits another brand of player - the small guys.
It seems at this point that a recurring draft theme, year in and year out, is the skilled smaller player that shoots the puck really, really well tends to fall far past where they should be selected. They need to be high end play drivers at that size to make it in the NHL and if they become anything less, are they worth the pick? The inherent risk that is baked into the selection of these players means there is a likelihood that he does not become anything for you at the NHL level, effectively wasting a draft pick. That is a scary thought, especially with a first-round pick, as you hope that those selected on the first day of the draft can at least become a half-decent roster player if all else fails. I think that is a trap mentality.
The job of a scout is to acknowledge all the different paths a player can go down after the draft, as well as assessing the likely probability of each path coming to fruition. If you are on the board and the decision is between two players, both deemed skilled but one with a notable size disadvantage, it is easy to think "both of these players can be really good, but this guy has the extra size, so it is more likely he becomes some type of NHL player". I believe that can lead you down the path where you are improperly weighing the probabilities of what these players can be. Have you properly evaluated their skill levels and their ability to drive offence without factoring size into the equation? If they turn out equal, then you go with the bigger player. If not, do you value having a warm body to line up in your bottom six, something that you can acquire outside of the draft with minimal assets, so much that you would rather take him over someone with a higher probability of becoming a significant asset?
So enough about draft theory, let us talk about why the Stank is the 2021 edition of the age-old question: is this small player good enough to make it in the big, mean NHL?
The laser beam that is Logan's shot commands respect from everywhere on the ice. It does not matter what weapon he shoots with, everything from his wrist shot to his slap shot can and will beat NHL defences. He is not just a shooter though; in fact, it is not outlandish to suggest that it was his playmaking that impressed scouts the most this year. His passing arsenal is almost as good as his shooting arsenal, and he recognizes the value of the gravity that comes with being a double threat player. Leaving him an open shooting lane means you may have to take your goalie out for lunch after he scores off of your mistake, while focusing too much on his shot means he will just pass to any teammate who positions themselves open. He has the brain to track it all as well; the most important part.
The shooting and playmaking abilities are further complemented by a stamina bar that infinitely replenishes. His lack of stature does not result in him backing down from any engagement either. If an opportunity to get the puck and do something is there, Stankoven is going to take it. There is so much movement in Stankoven's game - he is constantly putting the pressure on the defence to make their breakout decisions under a high pace. All of this is reinforced with really, really good support routes that allow the offensive triangle to expand and contract. Give and go's in close quarters to open up space can instantly be followed up by cross ice passes to a lurking teammate. It all happens as a result of Stankoven's movement, and the deception caused by his dual threat abilities.
Most of the smaller players lighting up the NHL do so by combining elite intelligence, skill and mobility. Logan finds his success by combining his understanding of what it takes to drive offensive results, his war chest of diverse attacks, and his feet that are almost never found resting. So why are people lower on him? Scouts are undecided on whether Stankoven's skating projects well to the next level, pointing out the details in his mechanics that are concerning and then following it up with a legitimate question - how often do small players who suffer mobility issues make the NHL in a worthwhile role? This is a completely understandable stance and one that can provide an explanation as to why they believe the risk that Stankoven does not play in the NHL is notably higher than the other names in the first round. It is not that they do not acknowledge his upside, but that the probability of him reaching it is so low that it is not worth dealing with.
I answer back with this - does he really suffer mobility issues? I would not say he is an elite skater, but I do not walk away with the impression that he will have difficulties moving around at an NHL pace. While his skating mechanics need work for consistent separation at the NHL level, they are not prohibiting his tools from working at their best, as he can make just about any shot or pass in motion, which again, is projectable. His fearlessness means he is willing to navigate through small pockets of space without an elite separation gear, and that can be a scary thought against NHL defences, but that should not be misconstrued as ignorance towards his physical limitations. Logan Stankoven is not the type of player to rely on any one way to advance play. If he finds himself unable to make plays in those predicaments, he will just find a different way to attack that involves less physical encounters when hunting for open space.
Stankoven has plenty of time to improve his mobility. It is often said that skating is the easiest thing to develop after the draft in most cases. As he projects up the pro hockey ladder, it is more than feasible to see his lateral mobility and 360-degree agility improve, providing the means to solve some close quarters problems in ways that he currently cannot. Even without improvements, Stankoven's dual threat abilities and non-stop effort is enough to declare him one of the premier goal scorers entering the draft.
The Stank's highlight reel is that of a little firecracker. A lot of plays are made in motion, showcasing his deceptive abilities before the shot. There are a few examples where Stankoven shot where there is likely a better play to be made, but the point is to accurately portray both the good shots, as well as to bring attention to a few areas where some tweaks can be made for more projectable abilities.
Outro
This brings a conclusion to part two, the top goal scorers who will hear their name called the weekend of July 23rd. The main lessons to take away from this is that goal scoring should not be directly equated with the quality of someone's shot, but the habits and play leading up to shooting opportunities. Release deception, angle and elevation changes, pathing when away from the puck, anticipation, and more are all vital traits that have to be assessed when analyzing who can and will be effective NHL goal scorers. There are many different approaches to getting the job done and with the right development, all five of these players have the potential to be elite triggermen for NHL teams looking to lift Lord Stanley at the end of the year.
Coming up next will be the article diving into the most skilled players in the 2021 class and how they weaponize their flashy habits to terrorize defenders. Stay tuned!