With nothing left to do but play out the rest of your 2014 fantasy playoffs, the only roster-management related work left is to monitor the possible "splash" arrivals of next season.
Some of the following players could still be free agents in your league; others may still be had for a reasonable return from current owners with immediate and urgent needs.  One thing is clear however: if you are in a keeper league, these are players you shouldn't ignore going into your off-season preparation.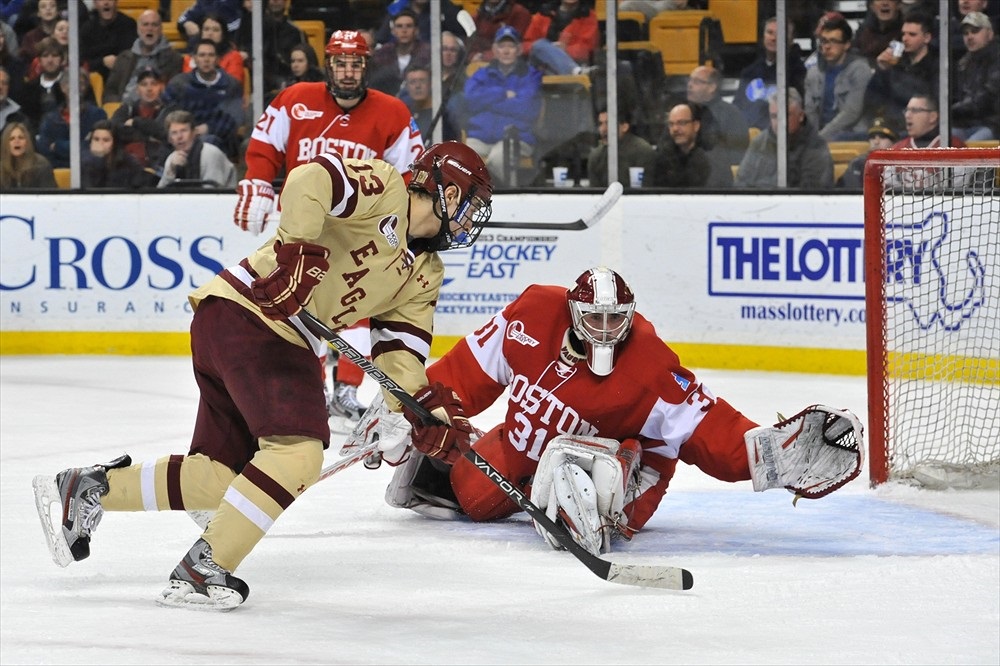 Johnny Gaudreau (LW) – CGY: The 20 y/o junior from Boston College is the odds-on favorite to win the Hobey Baker Award this season.  He has scored at a ridiculous pace of almost 2 points-a-game (39-35-42-77).  Many will remember his impressive performance in the 2013 World Juniors (7-7-2-9).  Sure his size (5' 9" – 150 lbs) could be an issue, but we have seen a significant shift in the "new NHL", where smaller skill players are given a better opportunity to excel.  The Flames are the perfect franchise for Gaudreau to develop at a faster pace: coach Bob Hartley has a good track record with youngsters and loves to ride talented offensive players.  Could end up being considered a Datsyuk or Zetterberg-type steal from the 4th round of the 2011 draft (104th overall).
Jonathan Drouin (LW) – TBL:  Got over a slow start to his season in a hurry.  Once he settled back into his comfort zone following the disappointment of being cut from the Lightning's opening night roster, Drouin dominated the QMJHL like never before.  He actually finished the season with a higher PPG (2.34, 46-29-79-108) than last season (2.14), when he had Nathan MacKinnon as a linemate.  As if that weren't enough, he is bettering this performance in the current playoffs (4-6-7-13).  Tampa Bay is having a solid season and has seen an influx of young up-and-coming offensive forwards fill their lineup this season.  This means Drouin may possibly start 2014-15 in the AHL, but there should be no doubting his all-star potential as a future NHL scorer.
John Gibson (G) – ANA: The big American tender showed he wasn't overwhelmed by the limelight of pro hockey in the first half of his rookie AHL season.  He's hit more bumps in the road in the second half, but a .917 SP and tying for the league lead in shutouts with 5 is enough on the resume to substantiate franchise goalie upside.  The Ducks' brass sees him as its number one of the future and will surely want to give him a taste of the Big Show next season – hint to those of you in formats where duos are valued and who currently own Jonas Hiller.  The 20 y/o has always shown a tendency to excel when games mean the most: .941 SP in two combined OHL Playoffs and .943 SP in two combined World Junior Championships.
T.J. Brennan (D) – TOR: I mentioned him early in the season as an early waiver wire candidate.  Of course he couldn't maintain the ridiculous pace he set after his first three games of the AHL season (7-3-10, +6), but he did keep producing offense at close to a point-a-game pace (22-41-63 in 67 games, with a whopping 240 SOG).  After signing a one-year deal with the Leafs, the 24 y/o never got an opportunity to showcase his skills on the big club since the Buds' D already features offensive-minded youngsters Morgan Rielly and Jake Gardiner.  A pending RFA on July 1st, his stellar performance will undoubtedly have caught many a pro scout's eye among organizations desperate for PP help on the point.  Take a flyer on this under-the-radar gem as he could represent quite a pay off wherever he lands next fall.