Fantasy season has come to an end with the regular season's last hurrah on Sunday...  or has it?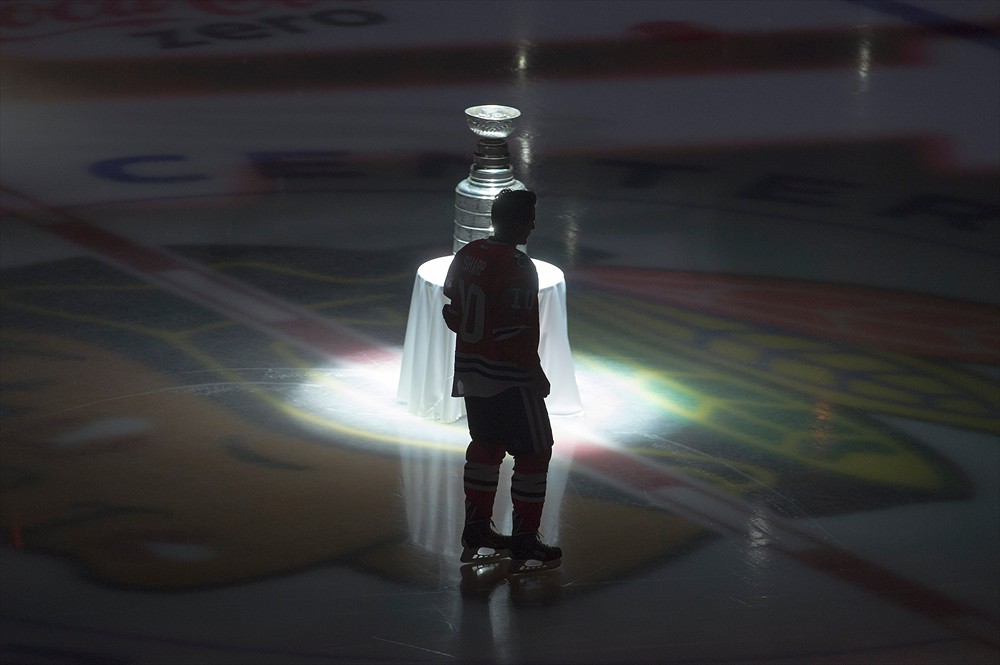 Some of you are probably getting ready for a playoff pool with buddies.  If so, you must be aware that the keys to winning post-season pools vary greatly from the strategy you may use during your pre-season draft.  That is why I present to you my Playoff Pool Golden Rules, along with some bold predictions that could help give you the edge in what is sure to be a highly UN-predictable 2014 playoff run.
GOLDEN RULES
1-      Know the format: Learn the scoring system used in your pool.  Are goals more valuable than assists?  Are there other stats than points tabulated?  How much are goalie wins and shutouts worth?  Are defensemen points scored the same as forwards?  Knowing the format is the first step in elaborating the proper draft strategy.  Make projections according to your personal playoff brackets.
2-      Follow your bracket logic: This is where the main difference between regular season and playoff draft strategy lies.  Spreading your roster throughout many NHL teams is usually a sound tactic during the regular season, but for a playoff pool the only way you can expect to win is to limit the core of your roster to three or four teams you believe will make a solid run (Conference Finals).  If your roster limit is 10, I would suggest to pick at least 7 of your assets from your projected final-four.  A spread-out roster is automatic doom as too many of your picks could end up being early exits.  Go with advanced analytics or simply go with your gut feeling, but be confident in your projected brackets and stick to them throughout the whole draft.
3-      Don't be a hero: We all know about the John Druce's, Fernando Pisani's and Chris Kontos's of the playoff universe.  It seems every playoff season has its share of unexpected point producers.  The reason for this is that when teams play each other for a possible seven straight games, coaches on both sides focus on stopping the opposition's top players.  That usually leaves a little more room to manoeuvre for second, third and yes, even sometimes fourth-liners.  As attractive as the feeling might be, please don't pretend to know who this year's Brian Bickell will be.  If you really must to take flyer on a third or fourth liner, make sure ALL first and second liners from your final-four candidates are taken first.
4-      Goalies are the MVP's: In most formats, picking tenders from Conference finalists gets you more points than you will ever get from any one skater.  Unless your pool uses a system where goals or D-men points are weighted higher than one point, drafting your goalies in the first and/or second round (s) is a sound strategy. 
5-      Stick to your depth cut-off lines: As I would suggest for any fantasy draft, for each one of your positional lists (forwards, defenseman, goalies, teams) draw a cut-off line where you believe there is a steep step down in potential value between the players above and below said line (you can draw more than one line per list).  Use these lines to help guide you throughout the draft.  When your turn to pick comes up, you must consider your current roster and gauge which position is most critical for this particular pick.  If you think all available players above your cut-off line for a given position will be gone before your next pick, then this is usually the position you should go with for this round.  Contrary to your pre-season draft however, your playoff lists should be representative of perceived team strength (your brackets) rather than individual talent.
FEARFUL PLAYOFF PREDICTIONS
I say "fearful" because of the particularly volatile nature of handicapping these 2014 playoffs.  Uncertainty surrounding many key injured and just returning players, perceived stud contenders' disappointing runs to end the regular season and others ending it with positive momentum, the ever-elusive but critical importance of team chemistry and the ever-growing trend toward parity among the sweet-16 post-season NHL dance participants are all factors that will make 99% of brackets across North-America wrong.
For what it may be worth to your chances of winning your playoff pool, here's a brief analysis of each of the first round match-ups and how I see these Stanley Cup Playoffs evolving.
COLORADO VS MINNESOTA: Youth is no obstacle to these Avs.  They are as fearless and competitive as the guy behind their bench was as a rookie.  All the young Avs can play at both ends of the ice.  Their defense may be suspect on paper, but it held up pretty well through 82 games didn't it?  And past Ryan Suter, is the Wild D that much better?  Semyon Varlamov is better than Ilya Bryzgalov at this point.  COLORADO IN 5.
ST-LOUIS VS CHICAGO: Don't let the Blues' season-ending losing streak fool you.  They are still serious cup contenders.  Most of their many injured players are expected back for Game 1.  So are Patrick Kane and Jonathan Toews, but their lay-off has been much longer and the Hawks' team play has been dreadful in their absence.  It will be much more difficult for them to turn the switch back on as defending champs.  ST-LOUIS IN 5.
ANAHEIM VS DALLAS: There simply is no category outside of goaltending that favors the Stars in this series.  Bruce Boudreau will make sure his stellar shut-down duo of Hampus Lindholm and Ben Lovejoy are on the ice whenever Jamie Benn and Tyler Seguin hop over the boards.  Dallas won't be able to match the Ducks' scoring depth nor their overall team structure.  Look for Kari Lehtonen's brilliant athleticism to steal a couple of games for them nonetheless.  ANAHEIM IN 6.
SAN JOSE VS LOS ANGELES: That one will be the all-out war of the opening round: two big, tough California rivals going at it for seven gruelling, physical games.  The edge will go to L.A. because of these key factors: experience among the D-core, battle-tested roster mostly un-changed from their Championship run two years ago and Jonathan Quick's un-matched playoff pedigree.  LOS ANGELES IN 7.
BOSTON VS DETROIT: The only possible obstacle to a Bruins' domination of the Eastern half of the bracket will be their energy reserve following a trip to the Finals last spring.  There simply is no weakness to be found in this powerhouse line-up.  Mike Babcock's Wings will once again be a tough out, but with Pavel Datsyuk and Henrik Zetterberg not being fully healthy all season long, the task will be too much to handle.  BOSTON IN 6.
MONTREAL VS TAMPA BAY: The most difficult series to handicap in the first round because of the many unanswered questions entering Game 1: When will Ben Bishop be fully healthy?  Which version of P.K. Subban will show up?  Will another line but the David Desharnais unit provide offense for the Habs?  Is the Lightning's impressive youth movement ready for the intensity of the NHL playoffs... especially at the Centre Bell?  Both teams have been extremely resilient and well coached this season, but the slight edge must go to the known quality of the veteran leadership group in the Montreal locker room.  MONTREAL IN 7.
PITTSBURGH VS COLUMBUS: I do believe in the age-old adage that defense wins championships, but when you have the two best offensive centers in the world, you should at least be favored to win your first round match-up.  Add one of the best pure snipers in the league to that and the trio of Sidney Crosby, Evgeni Malkin and James Neal is way too much to handle for the up-and-coming Jackets.  Todd Richards finally has Columbus fans believing in a potentially perennial playoff squad, but they drew too difficult an opponent to handle for such an inexperienced group.  PITTSBURGH IN 6.
N.Y.RANGERS VS PHILADELPHIA: The East's version of the San Jose-L.A. battle of attrition.  The difference will be in the style of play, which should be much more free-flowing and less board-battle oriented.  Both teams are almost evenly matched, but I believe the Rangers hold the edge in three critical areas: coach Alain Vigneault's playoff experience, their depth and experience down the middle (Derek Stepan, Derrick Brassard and Brad Richards) and most importantly in the crease, where Steve Mason may not even be available to start the series and face perennial crease stud King Henrik.  NEW YORK IN 7.
FINAL-FOUR: In the West, the Kings will face the Blues in a rematch of last year's epic first round match-up.  Ken Hitchcock's squad has yet to address what plagued them in that series: lack of playmaking skill down the middle.  Much like what the Hawks accomplished a year ago, the Kings will return to the Finals two years removed from winning it all.  In the East, the unstoppable force that is the Bruins' well oiled machine will build upon the confidence boost a victory over the feisty Wings and their old nemesis, the Canadiens affords them, rolling over the Rangers in the Conference Final.
STANLEY CUP FINALS: The Bruins have it all when you analyse what it took to win a championship in the past five or so playoff runs: elite-level coaching (Claude Julien would get my vote for the Adams Trophy this season), four-strong at centre who can all play without the puck, a team-concept buy-in from every player and clear commitment to the system, good team toughness and resiliency and an elite goaltender they can ride to 16 spring wins.  The Kings have that too, but a second series in as many playoffs against the Blues will take way too much out of them.  Just like what happened to Boston in the 2013 Finals, Darryl Sutter's crew will simply run out of gas.
2014 STANLEY CUP CHAMPS: BOSTON BRUINS.