The NHL trade deadline is the second most exciting hockey day of the year, second only to the fantasy draft.
Most fantasy leagues have a trade deadline of their own, and the fallout of the NHL trades weighs heavy on what happens in your fantasy trades.
To help make sense of it all let's look at some of the players who benefit, and some who's value hurt from the NHL trade deadline
Increasing Value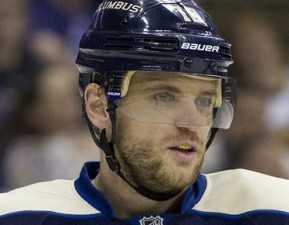 Marian Gaborik, LA Kings
To start his tenure in LA, Gaborik will play on a line with Anze Kopitar and Justin Williams. This should give him a boost, as well the Kings anemic offence. Gaborik has slightly struggled to produce offensively in Columbus this season, partially due to injuries. Injuries will always be a concern with Gaborik who is scheduled to be a UFA this summer. It is difficult to gauge what type of contract he can command, but in the range of $6 million is not out of the question. With his age, susceptibility to injuries and uncertainty of his contract, this could be a sell high opportunity for some one looking at Gaborik for a playoff run.
Lee Stempniak, Pittsburgh Penguins
Often players enjoy a "honeymoon period" when they join a new team. The streaky Stempniak personifies this and with the Dupuis injury, he may see time on a line with Sidney Crosby. He went on a tear after joining Phoenix from Toronto and is only 30% owned in Fantrax leagues. He could be a sneaky great waiver or free agent pick up.
Andrej Meszaros, Boston Bruins
Injuries have cost him his top four pairing rankings and the Flyers have given up on him. Bruins GM Peter Chiarelli is familiar with Meszaros from their time in Ottawa and he played in Sochi with the Czech team with Zdeno Chara. The pair looked good together and with the injury to Denis Sidenberg the Bruins need a top four option. Meszaros could be it. Or he could be the next Tomas Kaberle. Given Meszaros is only 28 and has managed 17 points in only 38 games I think he is worth the risk.
Ales Hemsky, Ottawa Senators
Hemsky was once considered the future of the Edmonton Oilers. But that was a long time ago it seems and now the Oilers belong to Taylor Hall, RNH and Jordan Eberle. Hemsky is a highly talented player who desperately needed a fresh start on a new team with a top six opportunity. Expect the Sens to try desperately to find some chemistry between Hemsky with Jason Spezza and Milan Michalek in an attempt to sneak into the playoffs. If the experiment is successful, the trio could be lightning in a bottle and fantasy hockey gravy.
Ryan Miller, St. Louis Blues
All season long this trade was highly speculated and final came to fruition. Miller had been having a spectacular season with the Sabres, his win stats do not support it but the eye test does not lie. Maybe you can catch a Miller owner sleeping and snag him quick. Now that he is a member of the Blues expect the number of saves to drop, and the wins and shut outs to pile up. It is also reasonable to expect Miller to resign with the Blues as well for keeper leagues.
Jhonas Enroth, Buffalo Sabres
With the trade of Miller (and Halak) the door has never been more open for the starting position in Buffalo. Enroth will battle with Neuvirth for the job. Neuvirth has had chances in Washington and failed to seize the job where as this is Enroths first kick at the can. On a poor Buffalo team this season, he has a GAA of 2.9 and a save % of .911 which is comparable to Millers 2.71 GAA, and .923 save %
Brandon Pirri, Florida Panthers
Former Chicago and current Florida GM Dale Tallon is very familiar with the upside of Brandon Pirri. Pirri was buried behind the depth of the Stanley Cup Champions deep roster, but will be given an opportunity to blossom in Florida. In 29 games ha has only 11 points, but has only played an average of 12:10 minutes per game. Pirri played his first game on a line with Jonathan Huberdeau and he is only 39% owned. Another player worth a pick up if he is available.
Joni Ortio, Calgary Flames
Ortio was not traded at the deadline, but Reto Berra was. With Karri Ramo still injured that makes Ortio the current starting goalie in Calgary. Ortio is only 14% owned this week.
Decreasing in Value
Thomas Vanek, Montreal Canadiens
Vanek had an embarrassing Olympic performance. He is a streaky scorer will not be playing with John Tavares anymore. With a cap hit north of $7 million and heading to free agency, I would not touch Vanek with your ten foot pole.
Martin St. Louis, New York Rangers
St. Louis will still score and provide offense, but expect a slight decline now he is not on the high flying Lightning, and is no longer with Stamkos.
Tim Thomas, Dallas Stars
Thomas was the starting goalie in Florida when healthy. It will be difficult for him to usurp Kari Lehtonen in Dallas and see regular starts. On the bright side, when he does play his stats should be much better as the Stars are a much better team.
Dustin Penner, Washington Capitals
Penner may not respond well to being traded from Anaheim where the team was extremely successful and he was playing on the Getzlaf – Perry line and enjoying individual success. Penner is traditionally a streaky scorer subject to long droughts of indifferent play and motivational issues. This could be project that blows up on the Caps, don't make the same mistake.
Braden Holtby, Washington Capitals
The addition of Jaroslav Halak in Washington ends the rotating three man goalie circus. Halak will be the starting goalie and Holtby will be the backup. The only saving grace for Holtby could be Halak is a UFA this off season, but it looks like the Caps have made a decision on Holtby.
Rene Bourque, Montreal Canadiens
Bourque has struggled this season and his value continues to decline. The addition of Vanek could see Bourque see more time in the press box and fourth line which all but kills his value.