Samuel Poulin is a junior player in an adult body. He is physically strong, plays a mature game and has good work ethic. He is a goal-scoring winger with an excellent shot. There are several aspects of Poulin's game that stand out, namely his shot and ability to get open for clean looks at the net. He can finish in a variety of ways on both his forehand and backhand, and his one-timer from the circles is devastatingly accurate. A shoot-first winger who knows how to find the back of the net. Sniping winger with a lethal shot, he is a high-volume shooter who does a lot of damage off the rush. Can score at will, but his playmaking is highly underrated.
Let's not believe that with his stature he cannot makes a feisty finesse play, because he does. He drives the net and he is hard to deter because he has the size and the hands to score in many ways. Poulin impresses because of his skill set and size. He can handle the puck and he is strong enough to carry it through traffic. As big as he is, he is not the fleetest of foot and not the best skater at the junior level. But those things can be worked on and will not hurt him in the future.
Poulin has a high compete level matched only by his work ethic. Like all snipers, he is dangerous when he is confident and at 100% physically. He is constantly moving and heading for the net. He has the ability to find free spaces and to take advantage of the chances he gets around the net. What I really like about Poulin is how deadly he is around the net. Whether he is finding pucks in front or making moves around the cage, the 2019 draft prospect has a knack for creation. Affording him too much room to shoot is equally as dangerous as playing him tight. His goal scoring ability for a teenager is near elite. It will be interesting to follow him until the end of the season.
| Samuel Poulin | 2019 NHL Draft Eligible |
| --- | --- |
| Position: LW, Shoots L | H/W: 6-1", 207 lbs |
| Stats to date (GP-G-A-PTS-PIMS) | Sherbrooke Phoenix, QMJHL (48-20-32-52-32) |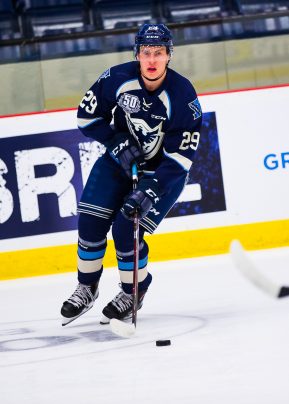 Skating: When it comes to identifying a weakness for the young Poulin, it is often his skating that is pointed out. However, he has improved his skating, and he continues to work on it. No doubt, he will need to round out this aspect of his game, but I'm not ready to say that it will be an issue for his future. He has a very strong skating base, and his edge work is good. He easily manages to change direction or make a tight turn. In terms of speed, he is in the average of his class.  Grade: 50
Shot: Poulin is a pure sniper with both good shooting and deking abilities in close. If we speak strictly of his shot, he has a powerful one. He has an uncanny knack for finding loose pucks, finding the space to make himself available for a pass and being in the right spot to bury rebounds. He is extremely effective when he has the time to set up and shoot or on odd-man rushes.  He is one of the most frequent shooters among forwards in the QMJHL. He has a great release on his wrister, and he can pound the slapshot as well. We can literally say that he has a Pro shot.  Grade: 60
Skills: What makes Poulin an attractive player is the fact that he combines good skills with a big pro size body. He is a technically gifted player. Without a doubt, his major asset is his lethal shot. Plus, he is a good puck handler. He has quick hands that allow him to be a constant threat. He can beat defenders in a variety of ways. His good puck control produces effective plays under pressure and can beat defenders to open up time and space in the slot for his shot.  Grade: 55
Smarts: He is an intelligent forward with good offensive instincts. Poulin's vision and ability to lay claim to space in the dirty areas of the ice make him an elite offensive threat. He has a shoot-first mentality. His above-average playing sense is especially recognized on the offensive side, but he can perfectly fulfill defensive tasks and play the role of an energy player. It is still his touch that makes him an interesting player. We can detect his intelligence from the fact that he does the little things and little details right. He forces the opponent to constantly keep an eye on him because he has the ability to make himself forgotten.  Grade: 60
Physicality: He is big and strong, hard working, sturdy, and he protects the puck well. Poulin has good size and really good work ethic. He brings a lot of energy on the ice and he plays with passion. Poulin is effective in puck possession using his lengthy frame to shield away defenders and maintain puck control. He plays a mature game using his size to advantage. The young player gets his nose dirty and goes to the tough areas of the ice. I said it before, but I will say it again: Poulin works hard. Grade: 60
Overall Future Projection (OFP): 56.25
A note on the 20-80 scale used above. We look at five attributes (skating, shooting, puck skills, hockey IQ and physicality) for skaters and six for goalies (athleticism/quickness, compete/temperament, vision/play reading, technique/style, rebound control and puck handling). Each individual attribute is graded along the 20-80 scales, which includes half-grades. The idea is that a projection of 50 in a given attribute meant that our observer believed that the player could get to roughly NHL average at that attribute at maturity.