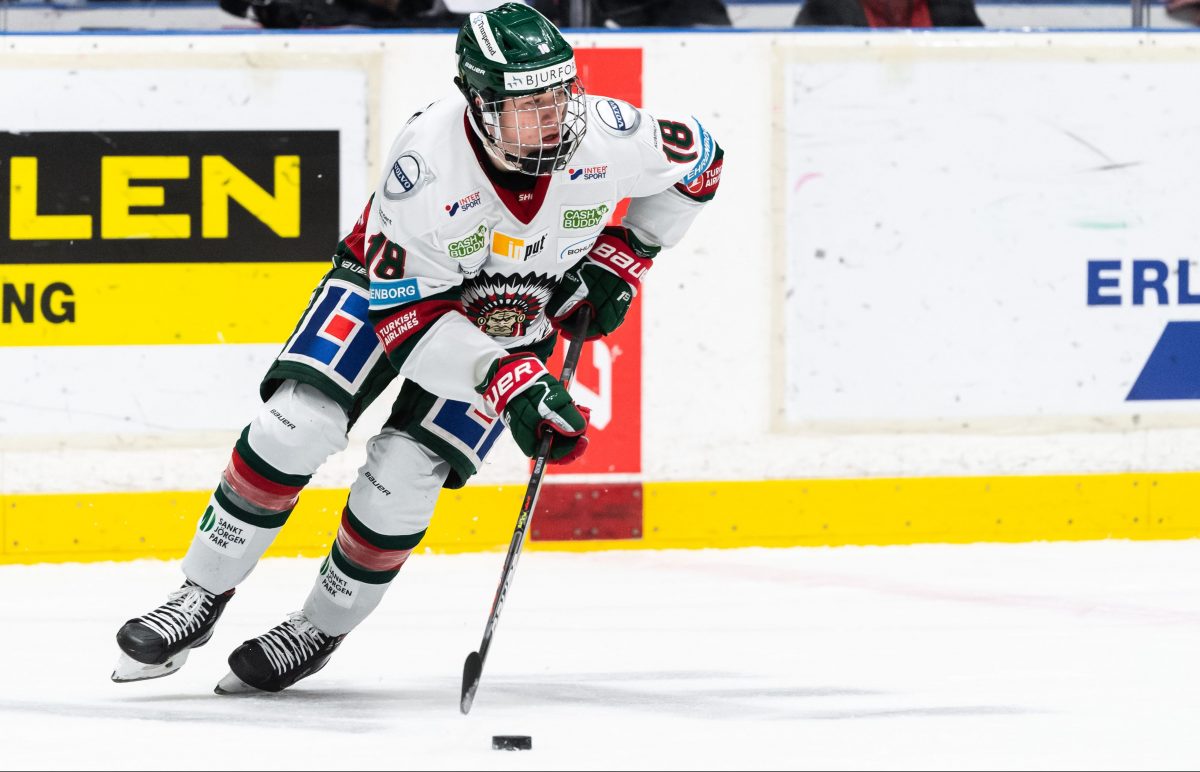 Lucas Raymond - RW - Frölunda HC 
Lucas Raymond came into this season as a lock for the Top-3, especially after a dominant performance in the 2019 Under-18 World Championship. Over time, he has since begun to fluctuate within the Top-5 and even Top-10 range of this year's draft due to his lack of ice time, lack of production, and focus on a bottom-six role in a professional men's league in Sweden. Raymond immediately became a name I wanted to see more of, and he quickly became the first name on my list to craft a report on. If you haven't read the background on my work and approach, please read the embedded article before continuing below.
Once you have read the article, or are familiar with Scouching, here is the full video

Think
Raymond is an extremely smart player who is being taught how to do all those little things coaches want young players to learn before flexing offensive talent against top level competition. He's aggressive, works hard, doesn't put himself out of position often, and is engaged almost every time he steps on the ice. He's a mobile player on his feet, which allows him to close gaps, create pressure, and attempt to force opponents into making unsafe plays that can result in turnovers. His mobility and work ethic also results in him entering puck battles and emerging with possession. With regards to his lack of production, he showed that he was a bit snakebitten in my viewings with both his shot and setting plays up for teammates. He clearly has his head in the right spot and can both drive with the puck and drive in towards the net. As he gets older and stronger, I can see him being able to push deeper in the offensive zone and generate more production that way.
Move
To put it plainly, Raymond is explosive on his feet. Raymond is certainly not the fastest player available this year, clocking a blueline to blueline time of 1.76 seconds, which is good but not great. I do believe he's one of the more explosive off the starting block, and sometimes that's all you need in order to win a race. He can create space to chase down loose pucks or separate himself from defenders quickly. He often gives his opponent no time to think about the play around them and can generate turnovers constantly. He's evasive and resilient on his feet as well, often staying on his feet through a remarkable amount of pressure to maintain possession for his team. When it comes to navigating in traffic, he's more than skilled enough to manage and battles hard for pucks if he loses possession. He is a little undersized for his brand of play and can be knocked off pucks from time to time, but assuming he will get stronger over time, he should become an even firmer player on his feet which should also help unlock his offensive potential.
Get
When the puck isn't under Frölunda's control, Raymond absolutely steps up to the challenge. He's a special talent in this regard considering his youth. He isn't one to float around, he bears down on opponents consistently but is ready to adapt when they do make a play that doesn't get cut off by him. Efficiency is the name of his game and he's more than capable of grinding play down in the defensive end. Opponents maintained possession of the puck just 42% of the time coming Raymond's direction, a metric I call Defensive Controlled Zone Transition percentage (DCZT%). For a young player in a limited role on a good men's league team, that is an outstanding measure that bests other SHL top prospects Noel Gunler and Alexander Holtz by significant margins. With Raymond on the ice, Frölunda faced just 38 shot attempts per 60 minutes of 5 on 5 play, which bests Gunler by 18% and Holtz by 65%. Clearly something is going right for Raymond, especially in his own end. The NHL is still a league highly based around skill and speed, but shutting down an opponent's skill and speed to gain possession of the puck is still a significant part of the game that can be difficult to master. The mantra I always fall back on is only through competent defense can you unlock a team's offence. Raymond is certainly capable of closing gaps and forcing opponents into tough spots as well as turning pucks back up the ice with control when possession is gained. Building off of the DCZT% metric, going the offensive direction (OCZT%), Frölunda maintained possession of the puck 63.5% of the time when Raymond was involved in the play, which is above Holtz's metrics and in line with Noel Gunler, a player with ~15% more ice time in a more significant role. All of these are indicators that Raymond is playing a very mature game that should project extremely well to the next level over time.
Pass
In my tracking, Raymond completed 65% of his passes, which isn't the best measure and puts him between Noel Gunler's 69% and Alexander Holtz's 59%. It is certainly harder to complete passes cleanly when pace gets ratcheted up against men in the SHL, and what helps me rest easier is that even if Raymond ideally could be completing more passes, his line is still shutting down opponents with great efficiency and once his passing gets cleaner and his ability to create some space for himself improves, he should see improvement. Another metric I track is dangerous pass percentage (D.Pass%), which measures the percentage of all pass attempts a player makes that are directed at high or medium danger areas, encompassing all ice from the  top of the faceoff circles between the faceoff dots down to the area directly in front of the net. Raymond's D.Pass% registered 19%, which is notable, even if it falls slightly behind Holtz and Gunler's comparable numbers. His vision is clearly apparent, however and many chances he created went unfinished by linemates, so as with the other categories, as he gets stronger to push even deeper into the offensive zone, be it down the wing or up the middle, he should become a more dangerous passer over time with more confidence and consistency.
Shoot
Raymond's shot is quick, but it's hard to project to the next level considering his limited time on ice and a high danger shot attempt rate of zero. He can quickly cut into medium danger areas in the faceoff dots with his explosiveness to get a shot off, but his game at the moment is more about being strong at both ends, playing smart, and facilitating possession for linemates. I see him as a bit more of a playmaker, but should he get stronger and more confident so he can push to the high danger area of the ice, he could certainly get his fair share of gritty NHL goals that you see far more often than players wiring wide open shots from the boards. I would note however that 55.6% of Raymond's shot attempts were medium danger, which sandwiches him between Noel Gunler's 69% and Alexander Holtz's 22% so again, considering his role and cohort, it may not all be underwhelming.
The Best Part
I wrap up my reports with the best, good, and not-so-good parts of a player's profile, and with Lucas Raymond, all of these are pretty apparent. Raymond is an extremely projectable and admirable two-way player who has tremendous potential at the very least as a shutdown winger with good offensive upside. He may be the strongest winger in the entire draft when it comes to transitional play, especially considering the level at which the player plays. Removing low danger shots when he's on the ice, Frölunda took 77% of the shot attempts, which is absolutely outstanding. Raymond can completely choke out offenses and turn pucks around with a ton of efficiency, and has the explosiveness to have more than enough mobility to translate to the smaller ice in North America.
The Good Part
It's hard to project, but his passing and playmaking could have a ton of potential should he get stronger on his feet. Protecting pucks under a lot of pressure while stationary seems to be no problem for him, but his in motion he can lose control of pucks before getting the chance to set up a play on a consistent basis. Through all that, he does try to create whenever he can, and I believe that over time he should improve in this regard.
The Not-So Good Part
A lot of his weaknesses could be summarized by his lack of strength on a somewhat undersized frame. He plays with the right brain in his skull, battles hard for pucks if he loses them, and can use his stick to emerge from battles with control, but he still can be snuffed out before really being able to flex his offensive ability. He'll need to get stronger if he's going to be as strong a two-way player in the NHL, but for young players in European professional leagues, this is not uncommon. He drives results extremely well as it is, but ideally in the Top-5 of any given NHL Draft, you're looking for something special, and more strength on his frame and confidence could do wonders to unlock his potential.
Overall
Overall, I see a tremendous amount of potential in Raymond's game. One of the hardest things for young players to develop as they enter the professional leagues is that ability to hit the ice and immediately be "on". Chasing down opponents, playing hard, being resilient, shutting down offense, turning pucks around efficiently, all these things need to happen every time you step on the ice. It's entirely possible that there may be players drafted behind Raymond that put up more points over their NHL careers, but in terms of Raymond's mobility,  intelligence, and maturity, these are qualities that you can rely on to give your team a chance to win any given game. He has shades of my thoughts on Vasily Podkolzin from 2019, but the difference is that there's a refinement, explosiveness and maturity to Raymond's game that makes it much more projectable overall to me. Podkolzin's motor seemed to run at 120% capacity constantly, which is admirable, but may have its shortcomings should he not learn to be a bit more dynamic. Raymond certainly is a dynamic player who just seems to get it. There isn't a ton to dislike about Raymond's game, and he may take time to develop into what he could be, but he could be something truly special.
Notes
Data tracked includes controlled and uncontrolled zone entries and exits the player is involved in, as well as shot attempts, their location, the player's pass attempts, and the percentage of those pass attempts that are directed to high or medium danger areas. The grades referred to in the video are assigned with a number and a letter grade. The number from one through four indicates the general tier of talent, with one being highest, and the letter indicating the consistency around that tier of talent.
Click here for all tracked data from every Scouching Report!
https://docs.google.com/spreadsheets/d/1y6dAnYsYQg5f5Zrt0ilo9gR1hfFNIPXl3PuKpubFbrc/edit#gid=664929841
Ranking Breakdown
Think - 1B, Move - 1D, Get - 1B, Pass - 1C, Shoot - 2B 
Overall - 1C