Summer Lovin', Happened so Fast – Why Too Much Time is a Bad Thing    
Your typical poolie has many natural predators. There is of course your day job, where they track internet usage and have reprimanded you for the daily 3.5 hours spent on fantasy research. That sticky mouse pad that almost caused you to click on Dany Heatley in last year's first round. Or your immediate family, who fail to realize that Christmas day may in fact be a holiday from work, but it's not a holiday from following NHL news via twitter.
Of all the many things plaguing poolies, there is one that ranks above them all. Nothing can derail your team faster than "time." I should be more specific – "too much" time.
This is why every summer, inevitably, I make at least one bad trade. This year it was sending out Lundqvist and Kopitar for Yakupov and Schneider. Next year it will likely be more of the same.
During the regular season, like you, I'm busy managing my roster, keeping up-to-date on the latest news and transactions, making fun of my buddy for picking up Travis Zajac for the seventh time – stuff like that. In the summer all that time is available. I end up searching through team blogs and old scouting reports. Reading page after page on various guys around the league.
If you look long enough you can eventually convince yourself of just about anything. Maybe Pacioretty WILL score 50 goals next season. Perhaps Skinner has simply been the victim of bad luck and is destined to play 82 games and fire 350 shots. Or Reimer is going to be dealt to Winnipeg and could easily start 60 games…
These things aren't likely to happen. But when you're sitting on your porch at noon on a Saturday in mid-July, with a touch of heat stroke, you might think otherwise.
The best advice I can give you is to avoid this trap altogether. Take a few months away from your pool. Spend some time with your kids, take a cooking class, join Oprah's book club… something, anything to take a break from the 8 months of sheer madness that being a fantasy hockey manager entails.  
Ahhhh, who am I kidding. We both know you're not going to do any of that. You're putting together a proposal right now that sends Crosby for MacKinnon and pick simply because you saw too many highlights from the Wild-Avalanche series? You're ordering Colorado's home jersey from ebay as you read this, aren't you?
Let's throw caution to the wind. Here are a few guys I've been reading up on (and preparing to overpay for) and what it could mean for 2014-15.
Patrice Bergeron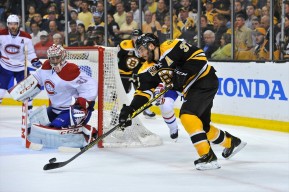 I wrote a bit about the Bruins center over at Dobber Hockey this week. During the regular season he fired 243 shots – the second highest total of his career. Many don't realize this, but way back in 2005-06 Bergeron looked like an absolutely elite offensive option. He ended that year with 73 points and 310 shots. While I don't expect him to ever touch 300 again, 240 is still an elite group (only 23 guys had more). If he can maintain these shots, it could make a real difference to his overall value. More shots, naturally, means more goals, adding to already impressive contributions across plus minus and assists.
Jakub Voracek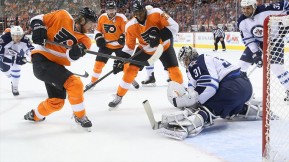 He is one of those guys you should avoid watching. I say that because to the eye he is an incredible talent. Great with the puck down low, nice speed in all three zones, and strong release. Watching him too frequently (as I've done the past few years) can end up pushing his value a tad high. So why am I excited about him this summer? He ended 2013-14 with 23 goals and 39 assists. Which is made more impressive when you consider this was done with a shooting percentage of 9.8%. Granted, it's not considerably beneath his career number of 10.3%. However, we know that it's a stat that can fluctuate wildly from year-to-year. Even with a modest improvement next season he could be a lot closer to 70 points.
Corey Schneider
The Devils had 12 games that went to the shootout this past season – they lost every one of them. There are some that believe this shows their lack of offensive talent and unearths a weakness in their goaltending to make the ineffable "big save". To me, it's simply a horrible stretch of bad luck that is destined to normalize next season. New Jersey's underlying numbers were impressive – they had the fifth best Fenwick% at even strength at 53.3%. If you combine a bit better luck in the skills competition with the expected departure of Brodeur, you're left with what could be a top five goalie in Mr. Schneider.
Alexander Steen
The easy response to Steen's great numbers this year is something along the lines of "career year, won't ever do it again." The actual answer is more complicated than that. Yes, his shooting percentage was 15.6%, a full 5% higher than his career norm. Which means his 33 goals is due for a wee bit of regression. However, one stat working in his favour is PDO (a combination of a team's shooting percentage and save percentage with a specific player on the ice – generally used as a proxy for "luck"). Steen's PDO was 98.8, a full 2.1 below St.Louis' team PDO with him on the bench. What does this tell us? Well, he may have actually been unlucky (we expect this number to always move towards 100.0). I don't have a degree in mathematics, in fact even long division gives me trouble, but if we expect both those numbers to normalize then it's possible Steen produces similar numbers again. If I'm setting expectations for next year I'd look for around 70 games played, 60 points, and over 200 shots.
Darren Kennedy is a contributor for @mckeenshockey and an admitted Valeri Nichushkin propagandist. You can follow him on twitter @fantasyhockeydk. Don't forget to "like" McKeen's facebook page, which you can find here.