Each week the waiver wires focuses on a different theme, from rookies to keepers and players on hot streaks. While there will always be an emphasis to include players on a hot streak, this week I will take a look at those roto leaguers out there.
For your roster the week of December 15th to December 21st the following teams play four times: Boston Bruins, Buffalo Sabres, Carolina Hurricanes, New Jersey Devils, Ottawa Senators, Philadelphia Flyers, Tampa Bay Lightning, and Toronto Maple Leafs. Searching for players from these teams will help to maximize your opportunity to get contributions as they play more games.
With an emphasis on players from these teams, here are a few players who may be available in your roto league and deliver a variety of stats.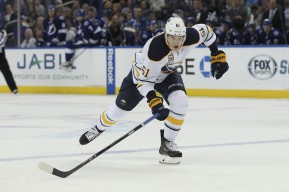 Nikita Zadorov, Buffalo Sabres – 30% Fantrax Owned
The Buffalo Sabres have been red hot lately and Zadorov may be heating up too with two points in his last game. While that game pushes his season point total to three points in 19 games for the season it is his peripheral stats that make this former first rounder attractive. Zadorov has 29 PIM's, 36 hits and 21 blocked shots to date. The Sabres may still lend Zadorov to Russia for the World Juniors but there is very little chance he returns to play junior as he should be a NHL regular going forward.
Jay Harrison, Carolina Hurricanes – 13% Fantrax Owned
Offense may not be Harrison's forte with only four points in 19 games played, the defensive defenseman provides plenty of other value on a struggling Hurricanes team and your fantasy line-up. Harrison is a physical defender and has 40 PIM's to compliment his 34 hits and 35 blocked shots. Consider any offense he produces as a bonus
 Jared Cowen, Ottawa Senators – 16% Fantrax Owned
Cowen can be a headache to own at times as he shows flashes of Pronger-like dominance, but those glimpses can be few and far between. Offensively he has produced two goals and five assists (including a recent two point night vs. LA) in 22 games. When he is not contributing to your offensive stats, Cowen usually provides some of the more greasy variety stats as he has 21 PIM's, 65 hits, and 29 blocked shots.
Chris Kelly, Boston Bruins – 15% Fantrax Owned
Kelly seems to have become a fantasy after-thought due to recent injuries and the Bruins recent lack of offense. Kelly has been healthy so far playing in 28 games this season, and while he has only eight points he has 47 hits, 16 blocked shots and has won 158 face-offs (51%). If you are in a salary cap league, his $3 million cap hit may be a deterrent
Korbinian Holzer, Toronto Maple Leafs – 11% Fantrax Owned
Holzer may be an absolute waiver wire steal. Since his recall in only nine games with the Leafs, he has produced two assists, a plus -6, 17 PIM's, 18 blocked shots, and a whopping 42 hits. Where the Holzer files gets really interesting is he will have to clear waivers to be sent back to the AHL and most certainly would be claimed. It is doubtful the Leafs want to risk exposing him and lose him for nothing so chances are he will stick in the NHL for the balance of the season.  He has been playing a regular shift on a pairing with Jake Gardiner averaging over 18 minutes a game, Holzer also passes the eye test. Consider him found money at only 11% owned and do not sleep on this roto gem.