As buzzer sounds on the first half of the season and draft eligible players take the ice looking to make their final push up the scout's draft lists, Youngblood is proud to release it's midseason 2015 NHL draft rankings. There are no surprises at the top of the list with Connor McDavid, Jack Eichel and Noah Hanifin firmly planted. At this point, it's a near-lock for McDavid to be drafted 1st overall followed by the Boston University phenom Jack Eichel. The chance to add franchise-changing players like McDavid and Eichel is a rare opportunity and as a result, expect the "tanking" chatter to reach incomprehensible levels as the NHL season stretch run unfolds.
The 2015 draft class has one of the most appealing top ends in recent history and talents are not just limited to McDavid, Eichel or Hanifin. London's Mitch Marner has been tearing up the OHL scoring race and is closing in on the 100-point milestone (45GP-35G-58A-93P), justifying his ranking in the Top 5. Following closely, Pavel Zacha (who will be out of the lineup with injury for the next month), Dylan Strome and Lawson Crouse are virtually interchangeable players depending on their most recent performance. The second tier of prospects is as tight as its ever been and an arguement could be made for each individual to lead the way. For now, it's an extremely fluid group that's bound to see some change and they will eventually iron out their places by the time these players head to Florida in June.
After spending two weeks observing the always entertaining 2015 IIHF Under-20 World Junior Championships, several prospects made a jump in the rankings after being very impressed with their live performances. Finland's Mikko Rantanen, Switzerland's Timo Meier and Jonas Siegenthaler, Sweden's Jens Lööke and to a lesser extent, Sebastian Aho and Roope Hintz (Finland), David Kase (Czech Republic), Alexander Dergachev (Russia), Denis Malgin (Switzerland) and Erik Cernak (Slovakia) all left lasting impressions from their WJC performances. With June just around the corner, players have the stretch run and playoffs in their respective leagues to do some final jostling and work their way up the rankings.
Several key injury updates:
Pavel Zacha – out 3-5 weeks with an upper-body injury (as of January 19th)
Mathew Barzal – returned to game action on January 23rd after missing nearly three months of action.
Mitchell Vande Sompel – returned to action after being sidelined with an upper body injury
Mitch Marner – shoken up in London's recent game versus Oshawa, it appears Marner won't miss any significant time.
Rankings in Tiers
As a result of the tightly packed first round, Youngblood has opted to break down the opening round into five tiers as an attempt to separate the gaps in ranking. If a group of players are found ranked inside the same tier then there's likely little discrepancy between their rankings and movement is quite possible (less likely in Tier 1). Please also note that the varying tiers, especially Tiers 3, 4 and 5, are separated by minute differences as well.
First Tier
1. Connor McDavid, LC, Erie (OHL)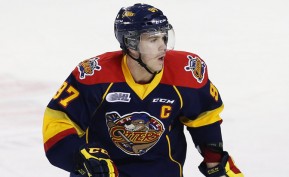 Dubbed "exceptional" at 15 years of age, McDavid has made that tag seem rather ordinary, elevating his play to elite levels. Every challenge thrown at McDavid seems to be met and solved with ease. On the ice, McDavid's elusiveness, first step speed, unpredictable attacks and silky-smooth puck skills appear as though the gaming community developed the ultimate video game player. Off the ice, McDavid is mature, driven, intelligent, humble and professional. In an exceptional draft class, #97 is everything you want in a generational talent.
2. Jack Eichel, RC, Boston University (H-East)
In any other draft year, Jack Eichel is waiting at the stairs of the draft stage waiting for his name to be announced as the first selection. It's rare to have two franchise players at the top of the draft but Eichel is arguably the best consolation prize for the team picking 2nd since Evgeny Malkin who went 2nd to Alexander Ovechkin in 2004. Eichel's 13 goals and 36 points top all collegiate players, a near impossible feat for the underage freshman.
Second Tier
3. Noah Hanifin, LD, Boston College (H-East)
Blessed with great size, outstanding four-way mobility and confident puck skills, Boston College freshman Noah Hanifin continues to hold down the third spot. His high panic threshold and overall poise under pressure allows Hanifin to dictate the pace of the game from the backend. Through strong positioning and an edgy defensive game, Hanifin proves to be as impactful on the defensive end as he is on the attack.
On the fly scouting note…. The next six skaters are tightly grouped and are considered interchangeable. Looking at each individual skill set and their long-term potential, the following is their current ranking. Don't be surprised to see this as a fluid second tier group as the draft draws nearer.
4. Mitch Marner, RW/C, London (OHL)
Making a case to be considered Hanifin's biggest rival for 3rd overall, Mitch Marner is shredding apart the OHL as its leading scorer. In a Patrick Kane-like way, Marner is capable of tying up opposing defenses with his quick, creative puck skills and superb skating ability. Outside of McDavid, Marner owns the best set of puck skills in this draft class and when combined with his elite vision and playmaking skills, he elevates his teammates to star levels. Throw the size concerns aside, Marner's elusiveness, speed and ability to anticipate danger allows him to escape pressure with ease.
5. Pavel Zacha, LC, Sarnia (OHL)
Boxscore watchers might question this ranking but the big Czech import has the best "pro" package outside of only McDavid and Eichel. Willing to stick my neck out a bit with this ranking (even in this stacked Top 10) because of his high-end package of size, skill and physicality… and the fact that he's just beginning to blossom. An explosive skater with good possession skills, Zacha uses high-end lateral agility to evade checkers at top speed and combines quick puck handling ability and a lethal (somewhat underrated) snap shot to strike on the fly. He offers a nasty edge and impressive physical tools that have resulted in two separate suspensions. Pavel Zacha is slated to miss the next five weeks with injury.
6. Dylan Strome, RC, Erie (OHL)
Sitting second in OHL scoring at the CHL/NHL Top Prospects Game break, Dylan Strome is a smart two-way pivot who has excelled offensively in the first half of the season. Point production aside, Strome finds a way to contribute in all three zones and has an ability to adapt his game to operate as a skilled forward or engage in the cycle game. His skating has improved and will remain an area of concentration but his vision and playmaking abilities make him bonafide top line prospect.
7. Lawson Crouse, LW, Kingston (OHL)
The hot-button debate from the 2015 draft class seems to be led by Lawson Crouse's rankings. Originally slated to be ranked 5th on this list, Crouse was surpassed by Marner, Zacha and Strome simply based on their longterm "upsides". Witnessed first-hand at the 2015 WJC, Crouse is a beast of a power forward capable of playing a heavy possession game and nearly impossible to knock off of the puck. Arguably the best defensive prospect at the top of the draft, Crouse is a "coach's player" who can be relied on to play tough defensive minutes. However, don't mistake this "defensive" label as a limitation because Lawson Crouse's offensive instincts are equally impressive. He owns soft hands and is capable of creating his own chances and will only continue to develop on these skills.
8. Zachary Werenski, RD, Michigan (Big Ten)
Excelling as a freshman on the Wolverines' blueline, Zach Werenski also didn't look out of place on a young American blueline at the WJC where he arguably outplayed draft peer and teammate Noah Hanifin. Werenski's tool box is stacked and he uses all of his tools to manage the blueline very well.  His style is reminiscent of Jacob Trouba, a former UofM blueliner. His skating, puck handling, defending and decision making are all above average and he packs one of the hardest point shots of this age group.
Third Tier
9. Ivan Provorov, LD, Brandon (WHL)
An elite processor of the game, Ivan Provorov relies on his astute hockey sense, strong mobility and dominant possession game. Never willing to give up an inch of ice, Provorov suffocates attackers defensively (displaying elite gap control) and attacks with a purpose, rarely conceding possession. Provorov recently competed with Russia at the WJC but didn't start seeing much meaningful ice until the latter part of the tournament, limiting his chance to shine. He's not big or overly strong but his ability to excel as a puck mover in the North American style should squash any concerns that he'll flee back to Russia.
10. Oliver Kylington, LD, AIK IF (SWE-AL)
With the uber-slick Oliver Kylington an NHL team is going to land a future powerplay quarterback who is a bit of an untamed horse at times. He packs an impressive offensive skill set featured around smooth four-way mobility, steady puck skills and an above-average shot. At the next level, he'll need to show that he can execute safe plays and not opt for the "homerun" play everytime to be trusted in all situations. Upside is very high with Kylington.
11. Mathew Barzal, RC, Seattle (WHL)
After an impressive WHL rookie season where Barzal showed he could produce, he entered his draft season with some jump scoring often. Unfortunately, a broken knee cap has kept him out of action for most of the season but he's since returned and is eager to re-establish himself as one of the drafts best offensive talents. Barzal is an intelligent pivot and owns creative instincts. He's always hovering around the puck looking to make a difference and with his slick puck skills and strong attacking skills, he usually finds a way. With his skill set, Barzal has room to climb these rankings with a good return from injury.
12. Mikko Rantanen, RW, TPS Turku (FIN)
Coming off an excellent World Junior showing and after impressing against men in Finland's top professional leage, Mikko Rantanen has shown scouts that he's got Top 10 talent. He carried a Finnish team on his back at the WJC not only showcasing his silky playmaking abilities but unleashing a series of shots from his wicked shooting arsenal. He possesses a competitive motor, engages physically and wants to make a difference on every shift – all projectable character skills.
13. Jérémy Roy, RD, Sherbrooke (QMJHL)
One of the draft's best offensive defensemen, Roy has posted impressive statistics from the blueline. Quick agile skating ability with impressive start-and-stop abilities, Roy's at his best with the puck on his stick using creative stick misdirection and cuts in mobility to evade checking forwards. Precise and confident in his passing abilities, many of Sherbrooke's best scoring chances start from the blade of Roy's stick. Continuing to add strength and developing his defensive game will only assure that Roy remains a lock for a Top 15 selection and a candidate to go Top 10.
14. Kyle Connor, LC, Youngstown (USHL)
Highly energetic USHL pivot with slick puck handling ability, Kyle Connor drives the offense for the Phantoms. Connor was a standout for Team USA at the 2014 Under-18 as an underage forward producing at a point-per-game and he's clipping along over that rate in his third season with Youngstown. Committed to the University of Michigan next year, Kyle Connor has a bright future as a two-way forward who's capable of becoming a top line player at the next level based on his superb skating skills, strong hockey sense and driven motor.
Fourth Tier
15. Jeremy Bracco, RW, U18 USA NTDP (USHL)
Dating back to his OHL draft year, Jeremy Bracco quickly planted himself high in my ranks. Since those days of dominance, Bracco has continued to exceed all expectations setting scoresheets on fire with the Under-18 NTDP. Possessing a truly unique skating technique, relying on crafty edge-work and a heel-to-heel stride, Bracco is a dynamic offensive winger who competes at high speed. His ability to draw in defenders and then exploit their abandoned space is elite and speaks to his high-end vision and creativeness with the puck. He's small by NHL standards but his skill for producing offense is too much to ignore.
16. Timo Meier, RW/C, Halifax (QMJHL)
The hard-working skilled Halifax winger, Timo Meier, has been one of the fastest climbers on this list. After a two-week period of eye-opening hockey on Switzerland's WJC top line, the feisty Meier has quickly become a personal favourite. Blessed with sliick hands in traffic, explosive two-step quickness and the ability to open up space with his physicality, Meier creates an impact every shift he takes. He packs a quick release that catches goaltenders off guard as he exits scrums with the puck and attacks instantly. If it weren't for the stellar group of players ahead of him, he'd be in consideration for the Top 10.
17. Nick Merkley, RW, Kelowna (WHL)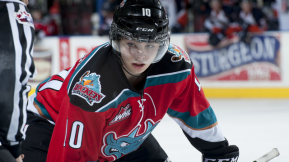 In the mold of a true playmaker, Nick Merkley's vision, anticipation and imaginative passing abilities are in the top echelon of the draft. However, his pass-first mentality is predictable at times, which is a small knock against the smaller forward. Kelowna's top scoring forward is an very good skater with elusive puck skills and he's shown to be one of the WHL's most consistent producers so don't expect him to last long at the draft.
18. Travis Konecny, RC, Ottawa (OHL)
Coming off Team Orr Player of the Game honours at the CHL/NHL Top Prospects Game, Travis Konecny is back on the Top 15 radar that he occupied earlier in the season. He's struggled with his statistical consistency this season but following the holiday break Konecny has looked more determined. An outstanding shooter who competes at an incredible pace, Konecny has arguably the best motor and shot combination of the draft. He's a lethal attacker on the fly and an underrated passer as well. Despite his average size, Konecny plays a physical game and relies on contact to open up space for himself. Will Konecny be able to withstand that relied upon physicality at the next level to play his style of game? That's yet to be determined.
19. Evgeny Svechnikov, RW, Cape Breton (QMJHL)
Next to his draft peers, Svechnikov appears to be competing in a man-like frame – possessing both advantageous strength and power. He's produced impressive QMJHL rookie numbers and it's not a surprise given his silky smooth puck skills. Svechnikov's puck handling  is particularly impressive in tight quarters where he dangles through legs and sticks with ease. His best quality is adaptability, knowing when to use his power game versus his skilled game. This two-way attacking ability only makes Svechnikov a more attractive prospect.
20. Daniel Sprong, RW, Charlottetown (QMJHL)
Born in the Netherlands, Daniel Sprong has the dynamism that teams want in a top-line prospect. He's capable of flashing one-on-one attacking ability with his slick puck skills and then unleashing a deceptively quick shot. Unfortunately, Sprong has struggled to put all of these skills  together on a consistent basis. Sprong is a confident player but has been caught trying to individually carry the team's offensive attack at times as well. Despite being a good skater, Sprong has started to become a perimeter player, especially against tough checking defenses. He owns the skills to be a Top 15 selection and that could happen if he can mature his game.
21. Colin White, C, U18 USA NTDP (USHL)
Staying out of the infirmary has been Colin White's biggest challenge this season (battled mono to start the season) but his all-around package will certainly draw NHL suitors early. A high-character player with blue-collar determination and the hockey sense to excel on both ends of the puck, White has the makings of an impact top-nine playmaking forward. His anticipation and awareness through 200-feet of ice earns him big minutes and it'll be those skills that scouts are enamoured with.
Fifth Tier
22. Brock Boeser, RW, Waterloo (USHL)
The Minnesotan has emerged as one of the best American draft eligible scorers racking up 23 goals with the Waterloo Blackhawks. Boeser is an opportunistic shooter who doesn't need much time to unleash a shot with pin-point accuracy. Teams looking to add goals (who isn't?) and a player with a good two-way work ethic, should move Boeser up their rankings.
 23. Thomas Chabot, LD,  Saint John (QMJHL)
An elite skater, one of the draft's best, Thomas Chabot uses his best skill set to drive the puck up ice and to escape pressure defensively. He's shown to be a willing combatant in loose-puck battles but can be overmatched at times, which shouldn't be an issue longterm as he bulks up. Chabot is a high-upside defenseman who's just starting to scratch the surface and a potential riser on the blueline.
24. Jakub Zboril, LD, Saint John (QMJHL)
Broke out at the 2014 Ivan Hlinka tournament, Czech defenseman Jakub Zboril has the makings of an offensive defenseman. He is a creative passer and displays inspiring four-way mobility offering good offensive zone upside. Zboril has struggled with his game-to-game consistency and will need to continue to improve on his defensive play but he mixes his offensive tools and physicality too well to not be considered a first round talent.
25.Jansen Harkins, LC, Prince George (WHL)
Highly competitive pivot who is always moving his feet wreaking havoc for opposing defenders. Harkins projects as a #2 or 3 energy centerman at the next level, carving out a role as a two-way all-situations forward. He's an adept puckhandler at top speed and owns good vision as a playmaker. Reminescent of a younger Marcus Kruger.
26. Brandon Carlo, RD, Tri City (WHL)
Carlo had a bit of a coming-out-party at the WJC logging big minutes on USA's young blueline. Opportunities to draft 6-foot-5 defensive defensemen with good mobility do not come around often so Carlo should be an attractive prospect as the June draft rolls around. He blends suffocating defensive skills with hard-nosed physicality and, as a bonus, his offensive tools are starting to emerge too.
27. Jens Lööke, RW, Brynäs (SHL)
Competing against men in Sweden's top league, Lööke has not looked out of place and his slowly increasing minutes reflect his rookie success. As an underager on Sweden's WJC squad, Lööke flashed some of his promising offensive abilities and was trusted by Rikard Grönberg during critical game moments, scoring three goals in seven games. Lööke has good wheels and competes at a high intensity, showcasing creative passing and an element of elusiveness. The young Swede is an intriguing prospect with good longterm upside.
28. Paul Bittner, LW, Portland (WHL)
Far from a complete package, it's Bittner's raw tools that warrant a high ranking. He's a good skater given his rangy frame and at his best when playing to his strengths, which are battling along the boards and using a chip-and-chase attacking game. He displays above-average hockey sense and is a tenacious forecheck who wields a quick stick capable of forcing turnovers. He'll forge out an NHL role if he can learn to exploit his best attributes - size, strength and a great shot.
29. Jake DeBrusk, LW, Swift Current (WHL)
Son of former NHL tough guy, Louie DeBrusk, Jake has already smashed his freshman totals midway through the WHL schedule. DeBrusk is a clever attacker who relies on great positioning and quick clever puck movement to maximize possession time with his linemates. He has a great knack for timing passes, shots and arrivals into scoring areas and capitalizing on them instantly. Scouts will love his passion and his complete game, featuring above-average offensive skills, should ensure him a solid NHL career.
30. Nicolas Roy, RC, Chicoutimi (QMJHL)
Drafted 1st overall at the 2013 QMJHL draft, Nicolas Roy was an absolute force at the Under-17 tournament for Quebec looking like a bonafid number one centerman. More recently, Roy has played more as a two-way pivot, demonstrating high levels of hockey sense, a determined 200-foot pursuit and the size and power to wear down opposing teams. His production has been all over the map but that could also be chalked up to Chicoutimi's league worst goals for totals. Whether you consider Roy a 1st line player or two-way presence in the top-nine, he holds good value as a future NHLer.
31. Mitchell Vande Sompel, LD, Oshawa (OHL)
32. Anthony Beauvillier, LW, Shawinigan (QMJHL)
33. Thomas Novak, LC, Waterloo (USHL)
34. Alexander Dergachev, RW, SKA-1946 St. Petersburg (RUS-MHL)
35. Sebastian Aho, RW, Karpat (FIN)
36. Denis Yan, LW, Shawinigan (QMJHL)
37. Jakob Forsbacka-Karlsson, RC, Omaha (USHL)
38. Filip Ahl, LW, HV71-J20 (SWE)
39. Jesper Lindgren, RD, Modo J20 (USHL)
40. Nicolas Meloche, RD, Baie-Comeau (QMJHL)
41. Denis Guryanov, RW, Ladia Togliatti (RUS-MHL)
42. Ryan Pilon, LD, Brandon (WHL)
43. Jacob Larsson, LD, Frolunda (SWE)
44. Jonas Siegenthaler, LD, ZSC Lions (NLA)
45. Nikita Korostelev, RW, Sarnia (OHL)
46. Filip Chlapik, LC, Charlottetown (QMJHL)
47. Parker Wotherspoon, LD, Tri-City (WHL)
48. Alexandre Carrier, LD, Gatineau (QMJHL)
49. Adam Musil, RW/C, Red Deer (WHL)
50. Jordan Greenway, LW, U18 USA NTDP (USHL)
51. Erik Cernak, RD, Kosice (SVK)
52. Michael Spacek, RC, Pardubice (CZE)
53. Gabriel Carlsson, LD, Linkoping (SWE)
54. Roope Hintz, LW, Ilves Tampere (FIN)
55. David Kase, LC/LW, Chomutov (CZE)
56. Matthew Spencer, RD, Peterborough (OHL)
57. Ryan Gropp, LW, Seattle (WHL)
58. Glenn Gawdin, C, Swift Current (WHL)
59. Zach Senyshyn, RW, Sault Ste. Marie (OHL)
60. Blake Speers, RW, Sault Ste. Marie (OHL)
61. Kyle Capobianco, LD, Sudbury (OHL)
62. Denis Malgin, RC, ZSC (Switzerland-NLA)
63. Dmytro Timashov, LW, Quebec (QMJHL)
64. Andrew Mangiapane, LW, Barrie (OHL)*
65. Mackenzie Blackwood, G, Barrie (OHL)
66. Jesse Gabrielle, LW, Regina (WHL)
67. Travis Dermott, D, Erie (OHL)
68. Christian Fischer, RC, U18  USA NTDP (USHL)
69. Sebastian Aho, LD, Farjestad (SWE-SHL)
70. Guillaume Brisebois, LD, Acadie-Bathurst (QMJHL)
71. Callum Booth, G, Quebec (QMJHL)
72. Noah Juulsen, RD, Everett (WHL)
73. Rasmus Andersson, RD, Barrie (OHL)
74. Graham Knott, LW, Niagara (OHL)
75. Vince Dunn, LD, Niagara (OHL)
Be sure to check back to our Youngblood section to view the upcoming mock draft for the 2015 NHL draft.
As always follow @McKeensHockey and @RossyYoungblood on twitter for all of your prospect news.