The hockey world has been reduced from a boil to a simmer after news that Connor McDavid's fractured hand isn't season-ending. With the World Under-20 Junior Hockey Championships slated to begin in six weeks, how coincidental is it that McDavid's prognosis was determined to be five-to-six weeks. Barring a setback, Connor McDavid will return to the ice to help his fellow Canadians and attempt to get them onto the podium after two straight years of failing to earn any hardware. After a 2014 fourth place finish in Sweden, Canada is not only looking to medal amongst a group of strong hockey nations but, rather, aiming to win gold on home soil after a slump of five years.
The Connor McDavid news is more promising today than it was on November 11th when social media blew up after learning that the young phenom dropped the gloves and injuring himself in the fight.
Ranked 1st by virtually every expert in the world for the 2015 NHL Draft, Hockey Canada can breathe a little easier knowing that Connor McDavid's chances of donning the red and white is significantly better than it initially appeared. However, the masterminds behind the construction of Canada's 2015 WJC team won't have as easy a decision with the rest of the roster as they did with McDavid.
Canada remains a top threat in international hockey but no longer do they stand atop as the most dominant nation in the sport. Hockey nations from around the globe have chased the boys from the Great White North for years and it's clear that most of them have not only caught them but are also considered legitimate threats in international play. The USA, Finland, Sweden, Russia and a much improved Czech hockey program have created parity in international hockey and that's a good thing for the sport.
Don't panic Canada. Although the competition has studied how Canada plays the game and developed upon our areas of weaknesses to form an equal and competitive playing field, Canadians still provide the most depth of high-end hockey talent in the world. Because of Canada's depth, creating international teams has become a gruelling and highly stressful process. With a passionate and hockey crazed nation watching critically, Hockey Canada has learned that any accomplishment other than gold has become unacceptable - whether that's fair or not.
With the understanding that every selection will be scrutinized, Hockey Canada have a slew of talented junior players to select a team that they feel is best suited to return gold to Canada and are ready for the challenge.
The bulk of Team Canada's roster is still very much unknown and with several notable NHLers eligible to be loaned for the event, many of the roster spots won't be known until their respective clubs decide their fate. In a similar situation as McDavid, Jonathan Drouin of the Tampa Bay Lightning almost missed last year's World Juniors due to a concussion. Don't expect to see Drouin with Canada this time around. To some people's surprise, Colorado Avalanche star forward Nathan MacKinnon remains eligible but he will also be staying in the NHL.  After being selected 1st overall, defenseman Aaron Ekblad is logging upwards of 22 minutes-per-game with the Florida Panthers and certainly won't be loaned to Canada's blue line. Calgary Flames top 2014 selection, Sam Bennett, underwent shoulder surgery and won't be available for the tournament. Decisions, and tough ones at that, will need to be made with a trio of NHL rookies in Anthony Duclair (Rangers), Bo Horvat (Canucks) and Curtis Lazar (Senators).
Skating on a line with Mark Stone and Mike Hoffman, Curtis Lazar hasn't looked out of place in the NHL registering six assists. Ottawa could be leaning towards holding onto its versatile pivot. There's no rush on deciding Anthony Duclair's fate but several options exist including staying with the Blue Shirts, being returned to the CHL Memorial Cup hosts – Quebec Remparts, or simply loaning him to Team Canada for the duration of the WJC. If he's made available to Canada, he would surely provide an offensive spark. Bo Horvat's destination remains wildly debated with many believing he will be eventually returned to the OHL's London Knights. Despite playing well at the NHL level in a depth role, Horvat could benefit from being a veteran leader on Team Canada and provide the team with a defensive presence up front.
Decisions, decisions.
While some decisions are more difficult, Hockey Canada can certainly jot down some names in pen as locks to make the team. Joining Connor McDavid, Buffalo Sabres top prospect Sam Reinhart will become a vital member of the team. Halifax Mooseheads goaltender Zach Fucale (Montreal Canadiens) is almost assured to be one of the goaltenders named to the squad after showing well in Sweden. Josh Morrissey (Winnipeg Jets) and Chris Bigras are the only two returning blueliners but it will be interesting if Bigras can displace the slew of strong WHL defensemen coming for his spot. The Edmonton Oilers returned defenseman Darnell Nurse to the OHL so he appears destined to represent his country after being one of the final cuts last year. Hockey Canada could certainly use Toronto Maple Leafs prospect Frederik Gauthier in a shutdown role and Nic Petan (Winnipeg Jets) will return after finishing fourth in team scoring last year.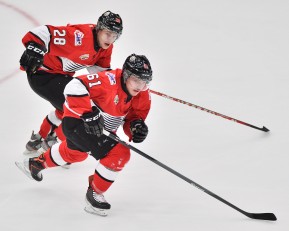 Beyond those familiar names, look for some fresh faces to be introduced to Team Canada with Max Domi (London Knights), Brayden Point (Moose Jaw Warriors), Jake Virtanen (Vancouver Canucks) and Robby Fabbri (Guelph Storm) as top offensive options. Windsor Spitfires forward Josh Ho-Sang will look to prove that he (finally) belongs on Team Canada and with 19 points through 10 games, he's doing everything right.
With Canada's great hockey depth, tough decisions are inevitable. Peterborough's Nick Ritchie, Barrie's Brendan Lemieux, Sudbury's Nick Baptiste are three OHLers who will combine offensive skill with intimidating physicality but there won't be room for all three. Islanders' top pick Michael Dal Colle (Oshawa Generals) is pretty close to a sure-bet as he can play anywhere in the top nine. Neither  Jason Dickinson (Dallas Stars) of the Guelph Storm nor Nick Paul (Ottawa Senators) of the North Bay Battalion receive the credit that they should but I wouldn't count these two out because both combine size and skill extremely well. 
From the Western Hockey League, there will be a heavy contingent of defensemen on Hockey Canada's "Watch List". Dillon Heatherington (Swift Current Broncos) is the steady defensive stalwart that could help solidify the backend, while the undrafted Joe Hicketts (Victoria Royals), who was signed as a free agent by Detroit, is showing to be a threat offensively from the blueline with 24 points through 19 games. Capitals prospect and WHL leading defensive scorer Madison Bowey is one of Canada's few right shooting rearguards. Haydn Fleury (Red Deer Rebels) is rounding into one of Canada's top defenders. Shea Theodore (Anaheim Ducks) is honing his skill in the AHL posting point-per-game numbers after recently returning from an injury. All three are considered heavy favourites to suit up for Canada.  Flyers' top selection from the 2014 draft, Travis Sanheim (Calgary Hitmen), has already surpassed his career high in goals and is on pace to shatter his point totals from last season.
Look for Morgan Klimchuk (Regina Pats) to be heavily considered as he's showing in his fouth junior season that his point-per-game production would be valuable. Other WHL forwards who will be scouted and tested as potential roster players include Devils' pick John Quenneville and Panthers draftee Jayce Hawryluk, both of the Brandon Wheat Kings. Colorado 1st round selection Conner Bleackley (Red Deer Rebels) and Oilers selection Greg Chase (Calgary Hitmen) both would excel in a bottom-six role.
As always, Quebec offers some talented players including a pair of Rimouski Océanic teammates in Flyers 2013 1st rounder Samuel Morin and the high scoring Anthony Deluca are among the league's top Canadians. Hockey Canada will give long looks to Victoriaville forward Yan Pavel Laplante (Arizona Coyotes), Val d'Or's Nicolas Aube-Kubel (Philadelphia Flyers) and Sherbrooke's Daniel Audette (Montreal Canadiens) but they all have stiff competition from the WHL and OHL.
It will be interesting to see whether 2015 draft eligible skaters beyond McDavid receive legitimate consideration. Forwards Mitch Marner (London Knights), Dylan Strome (Erie Otters) and Sherbrooke's right-shooting defenseman (which is a position of need) Jeremy Roy would all serve as assets and are playing outstanding hockey.
The goaltending battle is extremely competitive with returning netminder Zach Fucale (Halifax) being challenged by Dallas Stars prospect Phillippe Desrosiers (Rimouski Océanic), Penguins draftee Tristan Jarry (Edmonton Oil Kings), Jets' Eric Comrie (Tri-City Americans), Avalanche's Spencer Martin (Mississauga Steelheads) and the undrafted Ken Appleby (Oshawa Generals), who is having a season of the ages. An argument could be made for any one of these goaltenders to be named to Hockey Canada's World Junior Team.
As one can easily see, depth of talent surely isn't a problem. Constructing a cohesive team from their bank of players is the difficult aspect of the process. In a short tournament, developing chemistry is the challenging part and that will be the responsibility of the coaching staff and players. Team Canada will be competitive and the team will be revealed in the coming weeks.
Players will report to Canada's National Junior Team final camp on December 11th, followed by two exhibition games and then the team is expected to be named. Official World Junior rosters must be submitted by December 26th.
For fun, here's my projected 2015 World U20 Junior Team Canada Roster and how I would like it to unfold:  
FORWARDS
Max Domi – Connor McDavid – Sam Reinhart
Michael Dal Colle – Nic Petan – Jake Virtanen
Jason Dickinson – Robby Fabbri –Nick Baptiste
Nicholas Ritchie – Bo Horvat – Josh Ho-Sang
Frederik Gauthier
Forward Notes
I have a strong feeling that Bo Horvat will be (at least) loaned to Hockey Canada.
Greg Chase (Owen Sound), Jayce Hawryluk (Brandon), or Zach Nastasiuk (Owen Sound) are good players but I want to see skill this year, hence the inclusion of Ho-Sang. I would also like to find a way of getting Brayden Point into this lineup but spots filled up quickly.
Tyler Bertuzzi (Guelph) is a player I would love to see make this roster and his familiarity with teammates Fabbri and Dickinson would certainly help the chemistry factor but he is a left winger (deep at that position) and may get pushed out as a result.
Sit tight and wait to see if Anthony Duclair gets loaned. If he does, he will like slide into the second line right wing slot.
I am hoping Hockey Canada gives Josh Ho-Sang a chance to prove himself in his hometown. Connor McDavid and Josh Ho-Sang were teammates with the Toronto Marlboros and could form a pretty potent powerplay unit.  Sam Bennett (injured) was also a member of that squad.
DEFENCEMEN
Haydn Fleury – Josh Morrissey
Darnell Nurse – Madison Bowey
Travis Sanheim – Shea Theodore
Chris Bigras
Defencemen Notes
With so many great options, it's tough to narrow it down to just seven defencemen – Sam Morin, Dillon Heatherington, Joe Hicketts, Roland McKeown  and Jeremy Roy are worthy options too.
Canada has a surplus of left-shooting defencemen with Madison Bowey being the lone right-handed blueliner above.
Chris Bigras was slotted into the seventh and final spot but that could easily go to Samuel Morin as well. The final spot is likely between Bigras and the two Flyers' picks – Sanheim and Morin.  Flip a coin.
GOALTENDERS
Zach Fucale
Tristan Jarry
Goaltender Notes:
The goaltending choices were the most difficult. Fucale is a lock to make this squad but it came down to Tristan Jarry, Eric Comrie or Philippe Desrosiers for me. I gave the edge to Tristan Jarry because he does have big game experience from playing in the 2014 CHL Memorial Cup. However, Hockey Canada should probably roll with the hottest goaltender at the time they need to submit their final roster.
Other Top Candidates:
LW – Tyler Bertuzzi, Brendan Lemieux, Remi Elie, Nick Paul, Morgan Klimchuk, Cole Ully, Francis Perron, Yan Pavel Laplante, Clark Bishop, Julien Pelletier
C – John Quenneville, Jayce Hawryluk, Greg Chase, Conner Bleackley, Laurent Dauphin, Daniel Audette, Cole Cassels, Tyson Baille, Dylan Strome*
RW – Nicolas Aube-Kubel, Jaedon Descheneau, Jeremy Gregoire, Travis Konecny*, Anthony Richard*
LD – Samuel Morin, Joe Hicketts, Ben Harpur, Ryan Graves, Olivier Leblanc, Mitchell Vande Sompel*, Alexandre Carrier*
RD – Roland McKeown, Jordan Subban, Nicolas Meloche*, Jérémy Roy
G – Philippe Desrosiers, Eric Comrie, Ken Appleby, Spencer Martin
*denotes underage skater and 2015 NHL Draft prospect
Follow @RossyYoungblood for your prospect news